'Get out, dunk the chief, get a snow cone'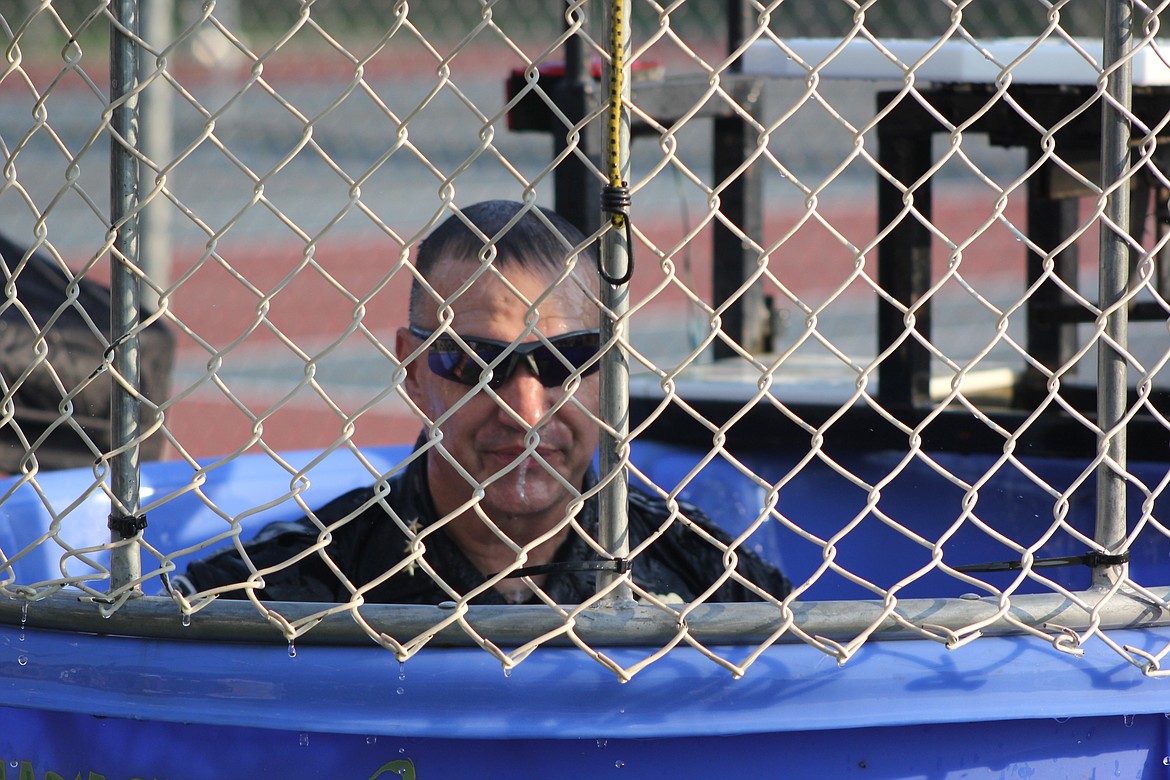 Moses Lake Police Chief Kevin Fuhr resurfaces after being dunked at National Night Out 2018. National Night Out 2022 events are scheduled for Aug. 1 and 2.
FILE PHOTO
COLUMBIA BASIN — Police cars, fire trucks, information booths, Quincy's Chief for a Day, snow cones, ice cream, a dunk tank featuring Moses Lake Police Chief Kevin Fuhr - National Night Out returns with a plethora of activities in three Columbia Basin communities Monday and Tuesday.
"It's a way to increase connections between those who serve and the neighborhoods out there," Mattawa Police Chief Robert Salinas said.
National Night Out is hosted by local law enforcement agencies across the country. Salinas said it's a way for law enforcement officers and community members to get to know each other.
It's the first National Night Out in Mattawa. The Quincy and Moses Lake police departments also have scheduled NNO events.
QPD is combining its National Night Out event with the Chief for a Day program.
Quincy PD is leading off, scheduling its NNO for 5 to 8 p.m. Monday at Lauzier Park, 1400 13th Ave. SW. Quincy PD Sergeant Julie Fuller said the department has been sponsoring NNO since 2011, with a two-year break for the COVID-19 pandemic.
"It's time to get going again," she said.
Quincy PD was part of the Chief for a Day program that involved many Grant County law enforcement and emergency service agencies, but that was canceled for 2022. So the QPD decided to do their own, Fuller said.
"It's so fun," she said. "It's an awesome thing to be involved with."
Christopher James, 12, Quincy, will be the QPD Chief for a Day, with a swearing-in ceremony and a uniform. Along with the NNO event, James will be riding with the QPD in the annual Farmer-Consumer Awareness Day parade in September.
National Night Out events in Quincy include a barbecue for the community - with ice cream - games for children and information booths from local organizations. There's also a "car meet," something new for 2022.
Car meet registration will be at the park at about 5 p.m.
"We're going to let the public vote on their favorite (cars)," Fuller said.
Mattawa PD's first National Night Out is scheduled for 5 to 7 p.m. Tuesday in Hund Memorial Park, 101 Government Road. Salinas said local organizations are sponsoring information booths, from the Columbia Basin Health Association and Mattawa Community Clinic to the Tri-Cities Hispanic Chamber of Commerce. Children's games are planned, and the department will be cooking hot dogs.
Salinas said it's a way to reconnect the community.
"We've gotten away from knowing who our neighbors are," he said.
National Night Out allows people to meet who might otherwise not know each other, he said, and for the department to do something for the community.
"It's another way for us to give back and it's a way to build that bond," Salinas said.
National Night Out 2022 for the Moses Lake Police Department is scheduled for 6 to 8 p.m. Tuesday in McCosh Park, 401 West Fourth Ave.
Miranda Martinez, evidence technician and community outreach coordinator for MLPD, said the Moses Lake Fire Department and Grant County Fire District 5 will be bringing fire apparatus and the Grant County Sheriff's Office and MLPD will have equipment on display. The DUI simulator will be on hand, where people can get a feel for impaired driving to help them see why it's so dangerous. Community organizations will have information booths. Hot dogs, fries and snow cones will be available.
"There's just a range of different things for the community," Martinez said.
And there's a dunk tank featuring MLPD officers, MLPD Chief and Moses Lake School District Board President Kevin Fuhr among them.
Martinez said NNO is a way to give Moses Lake residents information they need to know and to learn what's available to them, whatever they might need.
"So they know where their resources are," she said.
The QPD is encouraging Quincy residents to hold block parties Tuesday night, and QPD officers will stop by if residents ask, Fuller said.
National Night Out is beneficial to law enforcement and to the community, Fuller said.
"It's a way for us to kind of give back to the community. Our officers appreciate all the support we get around (Quincy)," she said.
And it's a fun way to spend a couple of hours, Martinez said.
"It's just fun to get out, dunk the chief, get a snow cone," she said.
Cheryl Schweizer can be reached via email at cschweizer@columbiabasinherald.com.
Recent Headlines
---