Semi causes six-car pile-up south of Quincy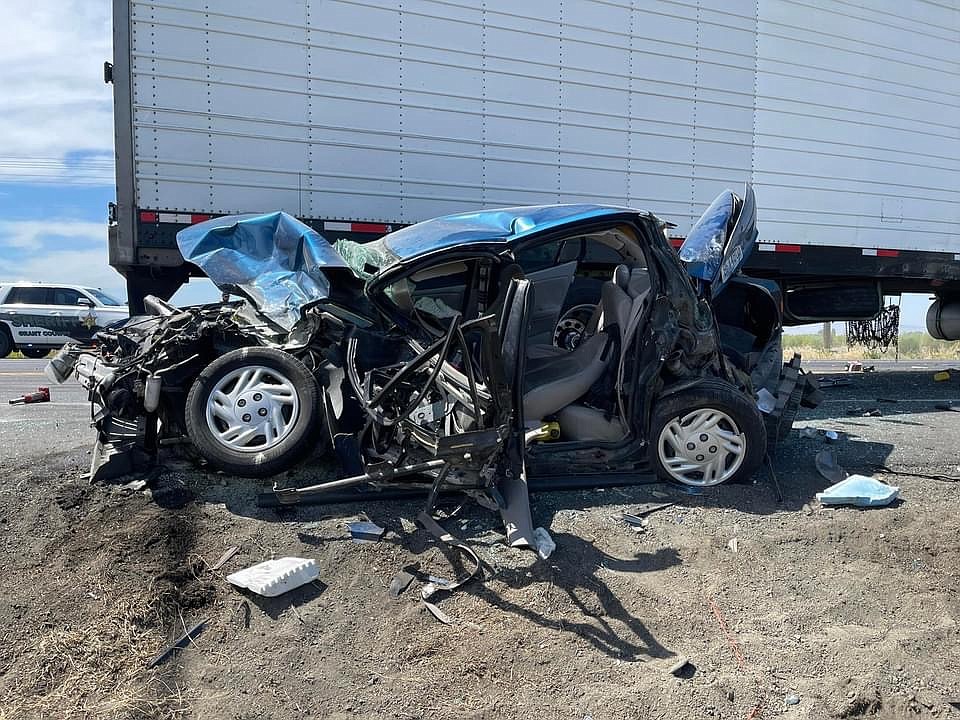 The remains of a 2002 Saturn hit by a semitractor-trailer in a six-car accident on S.R. 281 Wednesday afternoon. According to Washington State Patrol Trooper Jeremy Weber, the driver only sustained minor injuries and was transported to Quincy Valley Medical Center.
COURTESY PHOTO/GCSO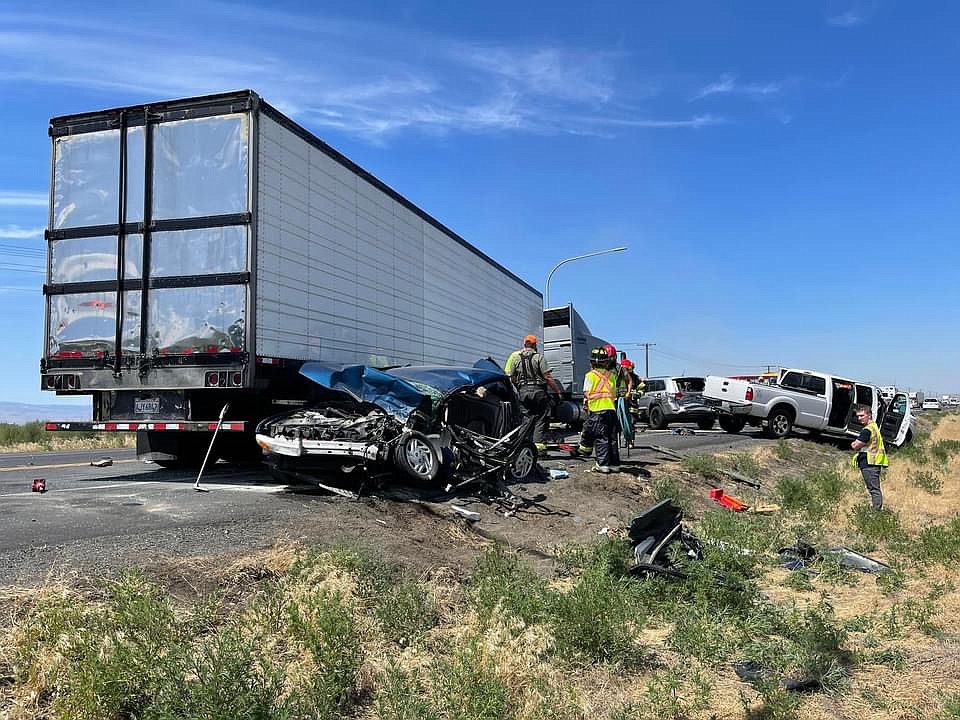 A six-vehicle accident on S.R. 281 Wednesday afternoon was caused when a semitractor-trailer failed to slow down for construction, plowing into five vehicles before coming to a stop and forcing WSP investigators to close the road for three hours.
Previous
Next
by
CHARLES H. FEATHERSTONE
Staff Writer
|
July 28, 2022 4:35 PM
QUINCY — Nine people received minor injuries in a six-car pile-up south of Quincy on Wednesday when a semi-tractor trailer failed to stop for construction work near the intersection of S.R. 281 and Road 2 NW, plowing into five other cars before stopping, according to a report from the Washington State Patrol.
According to the WSP, Alfonzo Zalez, 22, was driving a 2014 Volvo semi truck hauling a long trailer northbound on S.R. 281 when he failed to slow down and stop, initially hitting a 2002 blue Saturn driven by Paul Ramos, 34, of Ellensburg.
Because of the weight of the loaded semitractor-trailer, WSP Trooper Jeremy Weber said Zalez continued moving forward and plowed into a white 2012 Ford F350 pickup truck driven by Emma Blanchard, 24, of Paradise, California, and then into a 2012 Jeep Grand Cherokee driven by Anselmo Quezada, 41, of Moses Lake, and then into 2018 Chevrolet Traverse driven by Maricella Guerra, 56, of Warden, and then finally hitting a 2013 Hyundai Sonata driven by Jacey Dagel, 26, of Belgrade, Montana.
"There was a lot of weight in the tractor-trailer, and it's hard to stop," Weber said.
Blanchard and Ramos were transported to Quincy Valley Medical Center with minor injuries, Weber said. Also injured were Prudencio Geurra, 57, or Warden, who was a passenger in the Chevrolet Traverse, and Maria Lopes, 62, Ahilia Quezada, 12, Fany Quezada, 36, and Manuela Quezada, 57, who were all passengers in the Jeep Grand Cherokee.
Weber said it was fortunate that no one involved in the accident received anything more than minor injuries, especially given the damage done to the first vehicle hit, the 2002 Saturn.
"It could have been real bad," Weber said. "You look at that Saturn and it's hard to believe the driver didn't receive worse injuries."
Zalez was cited for following too closely, Weber said.
The road was closed for three hours Wednesday afternoon, from 1 p.m. to 4 p.m., while WSP officers investigated the accident. All of the vehicles were towed from the scene except for the Hyundai Sonata, the last car hit, which was driven away, the WSP report said.
Charles H. Featherstone can be reached at cfeatherstone@columbiabasinherald.com.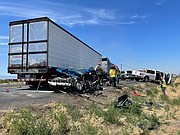 Recent Headlines
---