Leslie Gordon Torrence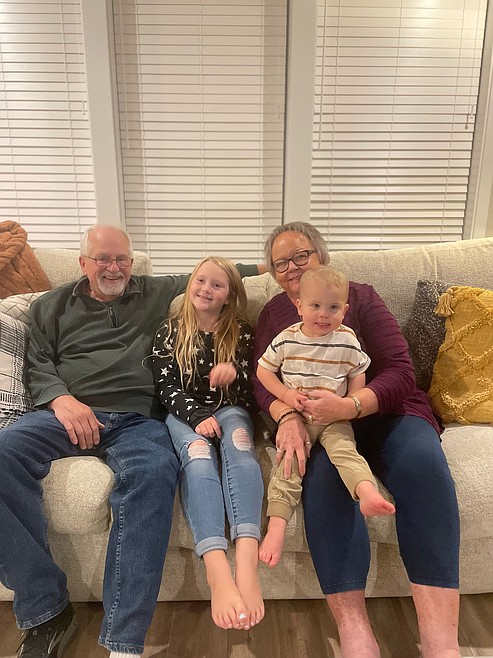 Leslie Gordon Torrence, left, passed away after a fight with lung cancer. He leaves behind a loving family and community that misses him greatly.
COURTESY THE TORRENCE FAMILY
Leslie Gordon Torrence - better known as Les - didn't leave this earth without a fight. In April 2022, Les was diagnosed with stage 3 lung cancer that was fast processing, although his battle was short - we find peace in knowing his body is no longer hurting or fighting.
Born June 15, 1954, in Spokane, WA he resided in Moses Lake for most of his life. He passed away on July 5, 2022, at 68 years old, surrounded by his loved ones.
Les is survived by his wife of nearly 49 years Susan (Sue) Torrence, his two sons and their families: Brian, Brooke & Emma (10) and Brent, Ashley, Max (2) and Toby due in October 2022.
Les was preceded in death by his mother Margaret Thompson, his father Raymond Torrence and sister Leila Pippins.
Les graduated from Moses Lake High School in 1972. He had a few jobs before attending barber school in 1979. He was a 2nd generation barber at Broadway Barbershop in Moses Lake for 43 years.
It was rare to find Les sitting around doing nothing; he was a busy man. He found joy in hunting, fishing, coaching and building RC airplanes. Les and Sue loved to camp together and with friends. They have visited places from the Oregon coast to Yellowstone National Park. They also were frequent visitors to Hotel Playa Mazatlan in Mazatlan, Mexico, with nearly 20 trips under their belt. Last summer they decided on a special guided trip to Greece that holds many memories for the two of them.
Some of Brian's favorite memories with his dad are the fishing trips to Sekiu, WA, where they stayed in a crooked house that had recliners on the front porch. He also remembers always being able to hear his dad from the stands- whether he was cheering him on or making sure the refs were doing their job right.
As a kid, Brent remembers following his dad around, watching and learning as he mowed the lawn or fixed the cars. Brent enjoyed spending lots of time on the lake with his dad- they were always up to something: fishing, hunting, skiing or just taking a swim. Les also coached some of Brent's baseball teams, so games and tournaments were always a family affair. Brent also worked side-by-side with Les in the barbershop for 19 years, he got to hear ALLLLL his stories (over and over again). Les taught Brent to work hard and to take care of his family.
Les's granddaughter, Emma cherishes the times in the camp trailer when she would have a slumber party with grandma and grandpa. Les would always get her donuts for breakfast, when grandma would go in to take a shower, he would sneak her an extra donut and say "here ya go, you little monster and don't tell grandma!"
Les will be missed by many and his legacy in our community will live on through stories and memories. His baby blue eyes will also live on, he was an organ donor and although the cancer prevented more of his organs from being donated, his corneas will go to two separate recipients to save their vision.
Les's Celebration of Life will be at Paradise Bar & Grill in Moses Lake on Saturday, July 30 from 4 p.m.-11 p.m., on the lower level. A brief memorial service will start at 4:30 p.m. Open house style, stop by and celebrate with us!
Recent Headlines
---