Q&A: Grant County Sheriff candidates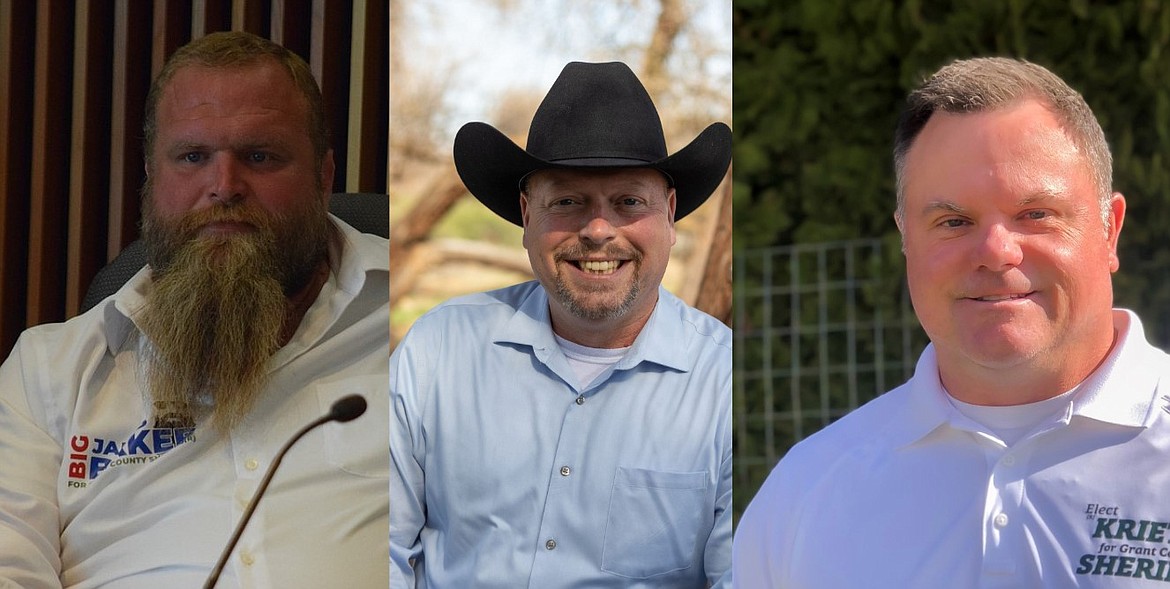 James Baker, left, Joe Harris, center, and Joe Kriete, right, are all running to be the next Grant County sheriff. Both Harris and Kriete are career law enforcement officers while Baker works in local agriculture. All three have expressed a passion for serving the community.
CONTRIBUTED & FILE PHOTOS
by
CHARLES H. FEATHERSTONE
Staff Writer
|
July 27, 2022 1:20 AM
EPHRATA — The announcement earlier this year by long-time Grant County Tom Jones that he would not seek re-election, followed by his retirement in June, threw the race to be the county's next top law enforcement officer wide open. Current Grant County Sheriff's Office Chief Deputy Joe Kriete, former Mattawa Police Chief Joe Harris and farmer James Baker have all filed to run.
The two candidates who receive the most votes will face off in November to see who will become Grant County Sheriff.
Each candidate was asked about their background and the same four questions, with the answers presented below and lightly edited for clarity. Baker did not respond prior to the deadline given to all three candidates.
Tell us a little about yourself.
Harris: I was raised in the military and traveled a lot growing up; born in New Mexico and graduated high school in Alaska. In 1993 I joined the US Marines and proudly served for eight years. I learned a lot about culture, people, and relationships.
I started my LE career in 2001 in Quincy. In 2006 I joined the Grant County Sheriff's Office until 2015 when I became Washington's first Civil Rights investigator with the Attorney General. In 2016 I became the Chief of Police for Mattawa. I retired from Mattawa in 2021 and opened my own business doing private investigations. I am married to my best friend and we have three children. We love the outdoors and spending time with family. I believe in education. My undergrad and graduate degrees are in Intelligence Studies and I hold a Doctorate in Public Administration. I also have over 4,000 hours of law enforcement leadership training.
I am running for Sheriff because I believe in our Constitution, our society, and our people. I am running for Sheriff because I believe there are solutions to these problems. I have served our nation, our state, and our county. I am uniquely qualified to be Sheriff.
Kriete: I'm Joey Kriete and I'm running for Grant County Sheriff. I was born and raised in Ephrata. Multiple generations of Krietes have called Grant County home for well over 100 years. I have volunteered and been on the board of directors for the Boys and Girls Club of the Columbia Basin, I continue to coach baseball for the Ephrata High School, my alma-mater, I'm also the president and coach of the Moses Lake Rattlers Fastpitch Association, and I organize and operate the Shop with a Cop program that provides for less fortunate families in our community during the Christmas Holiday.
When I was hired in 1993, I had the goal of being the Grant County Sheriff. My entire career has evolved toward this goal. I believe change and evolution in law enforcement is healthy. There are things we can do as an organization, working alongside our community members, to make great strides in Grant County. My goal is to make the Grant County Sheriff's Office an agency that sets the Washington State standard for greatness. I know we have the team of employees as well as our communities to make that dream a reality.
What are your qualifications for the office?
Harris: I have 20 years of broad-based policing experience. I am a U.S. Marine veteran. My breadth of knowledge and leadership includes city, county, state, and military. I have real executive-level experience as a police chief where I made good things happen and drove positive change across the region. My experience and leadership led Mattawa to be the safest city in Grant County for 5 years.
As a Doctor of Public Administration, I have a strong academic and practical knowledge of every facet of public administration to include policy, HR, management, criminal justice, public health, governmental operations, and grant management. I have written and managed grants. I have worked across governments and built collaborative groups that work. I understand the differences between government levels and how to bring them together in a more efficient manner.
I have traveled extensively which has exposed me to several cultures, ways of life, and ways to do things. I am bilingual Spanish with deep ties in the Hispanic community. I understand the issues and work towards solutions.
My oath is to the Constitution. I am ethical and principled and I do not go along to get along. I stand up for what is right.
Kriete: I have over 29 years of law enforcement experience with the Grant County Sheriff's Office. I have served as a major crimes detective for five years, patrol sergeant and traffic sergeant for six years, Chief Deputy of Corrections for over 10 years, and current Chief Deputy of Investigations. As a collision investigator, I performed a study and created the motor traffic unit to address traffic fatality resulting in hiring six deputies. I've managed the corrections division's $6.7 million budget, and I am the only current employee experienced in all divisions.
I am proud to not only live in Grant County, but to have the distinguished honor of being able to serve our community for nearly 30 years as a deputy. I have dedicated over half of my life to the Grant County Sheriff's Office and most of my career has been in leadership roles. I have over 18 years of supervisory experience and 11 of those years as an executive leader. I have managed a $6.7 million dollar jail budget during my 10+ years as the Corrections Chief. I have the support of my agency as well as the partnering agencies in the county. My experience and leadership has more than prepared me to be the next Grant County Sheriff.
If you are elected, what are your top three goals?
Harris: First, leadership. Leadership starts at the top. Leadership is solely responsible for everything that happens in an organization. It is the most vital ingredient for public service, especially given today's legal challenges. The Sheriff must uphold the Constitution and be accountable to the people. The standard you walk past is the standard you accept. This means professionalism, integrity, accountability, and transparency.
Second, consistent service. Currently, the level of service you receive depends on where you live in the county. Resource management should focus on serving all residents. This strengthens relationships, decreases response times/costs, increases trust, solves crimes, and makes us safer. This also applies within the agency. So, taking care of the corrections staff by treating them the same way the organization has treated the patrol staff: professionally. That is the first hurdle to the jail bed space problem. People don't leave bad jobs, they leave bad bosses.
Third, recruitment and retention. Building a culture focused on public service that attracts the right kind of people is vital. So is creating an environment that speaks to our employee's needs, provides them with the right incentives, and reinforces the culture we want. Retention is a constant battle that needs to be addressed.
Kriete: First, evaluate and maximize our current resources to efficiently and effectively provide superior law enforcement services to our communities.
Second, communicate with our employees to establish pathways to improve recruiting and retention.
Third, work with our citizens, community members, deputies, and other stakeholders to build programs to address our mental health and opioid epidemic.
What issues do you see as the most important, if you are elected?
Harris: All three issues above are dependent upon each other. Effective leadership is the glue. For recruitment and retention, set the culture and expectations, immediately negotiate pay increases for jail staff, and hire a reputable recruiting firm to evaluate our needs and assist in building a sustainable program. Work with the Commissioners with the goal of hiring 10 more positions (understanding this may not happen immediately). Explore incentive programs that reward positive culture and don't cost a ton of money. We will take care of our people so they take care of you.
For consistent services, open regional precincts and staff them with clerks to provide services across the county. Invite other County offices to use this space in order to better serve you. Stagger work hours so clerks are available during the lunch hour. Deputies will work out of the precincts in which they are assigned. Theft will be prioritized.
The drug task force (INET) will focus on drugs and gangs (what they are funded for) and be inclusive of all agencies. Reopen the work release center. Collaborate with other organizations to provide intervention and prevention services.
Kriete: Find ways to deal with the current opioid epidemic/mental health crisis. This is the root of several crimes in Grant County, like theft, assault, burglaries, robbery, shootings and gang-related crimes. My goal is to expand our resources to address these issues specifically with a Street Crimes or Behavioral Health Type Unit. I will take a stand against these crimes and it will be an aggressive stand!
I will also work with county stakeholders, faith-based organizations, and other government resources to find ways to help addicts get on the road to recovery. Until we work towards some recovery, we will continue to battle the crimes I earlier mentioned.
Communicate with our employees, unions, and associations to find better ways to recruit new employees as well as retain our employees. It is difficult to hire new LE officers in the current times. We will make the Grant County Sheriff's Office the most sought-after agency in the State of Washington
We will get back to involving our citizens by starting a Citizen Advisory Committee to work with our deputies and take care of each other. We will get deputies involved with our kids in our schools.
What do you see as the longer-term challenges for the county?
Harris: Long term there are several challenges for Grant County. As the county continues to grow and bring in development, the need for increased services and stronger infrastructure will be constant. Public services and infrastructure are generally expensive and long-term projects. Part of these services/infrastructure costs will include increases to specialty units like Marine, ORV, Search and Rescue, Posse, and Reserve. People continue to recreate in Grant County and more people means more need for resources.
Recruiting and retention will also continue to be a challenge. Recent research suggests several shifts to the workforce caused by generational, societal, and technological factors that will change how we recruit and retain. It will be important to stay on the cutting edge and develop a sustainable plan now that accounts for attrition and growth in the future.
Finally, legal challenges. Legislative changes have lasting impacts and it is important for the Sheriff to be proactively involved in the process. This means spending more time in Olympia and helping our legislators fight for what's right for Grant County.
Kriete: As in several communities in the nation, the opioid crisis is the largest long-term challenge for Grant County. This crisis is the core of several crimes and homelessness in our communities. It is time for Grant County to start working together with other stakeholders in the community to proactively find solutions to these issues. The Sheriff's Office will have a "seat at the table" when it comes to having input on the battle of the opioid epidemic.

Charles H. Featherstone can be reached at cfeatherstone@columbiabasinherald.com.
EDITOR'S NOTE: The Columbia Basin Herald does not endorse nor decry any candidate for elected office. We encourage all voters to thoroughly educate themselves and vote as they see fit.
CORRECTION: An earlier version of this article misattributed some responses from candidates due to a collating error. That issue has been corrected in the text above.
Recent Headlines
---