Lucha in Moses Lake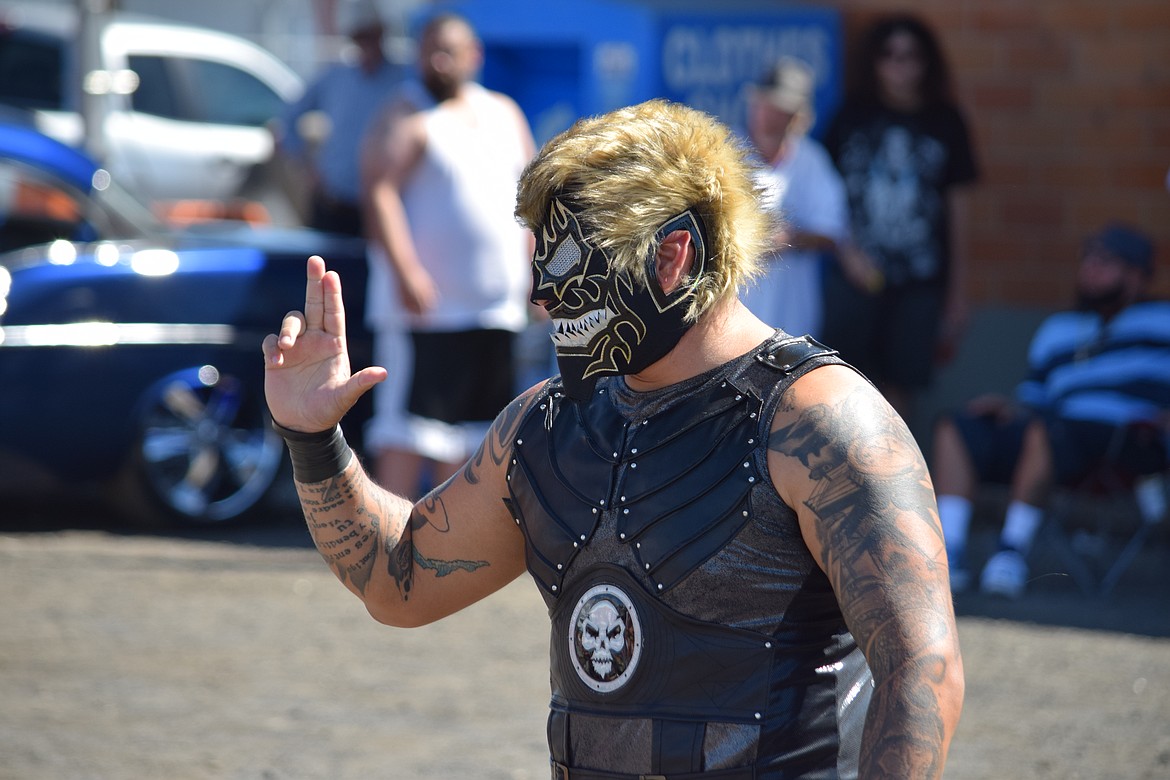 Lucha Libre wrestler Black Danger signals to the crowd as he walks out to face El Quete in the ring during an exhibition of Mexican-style professional wrestling in Moses Lake on Saturday.
CHARLES H. FEATHERSTONE/COLUMBIA BASIN HERALD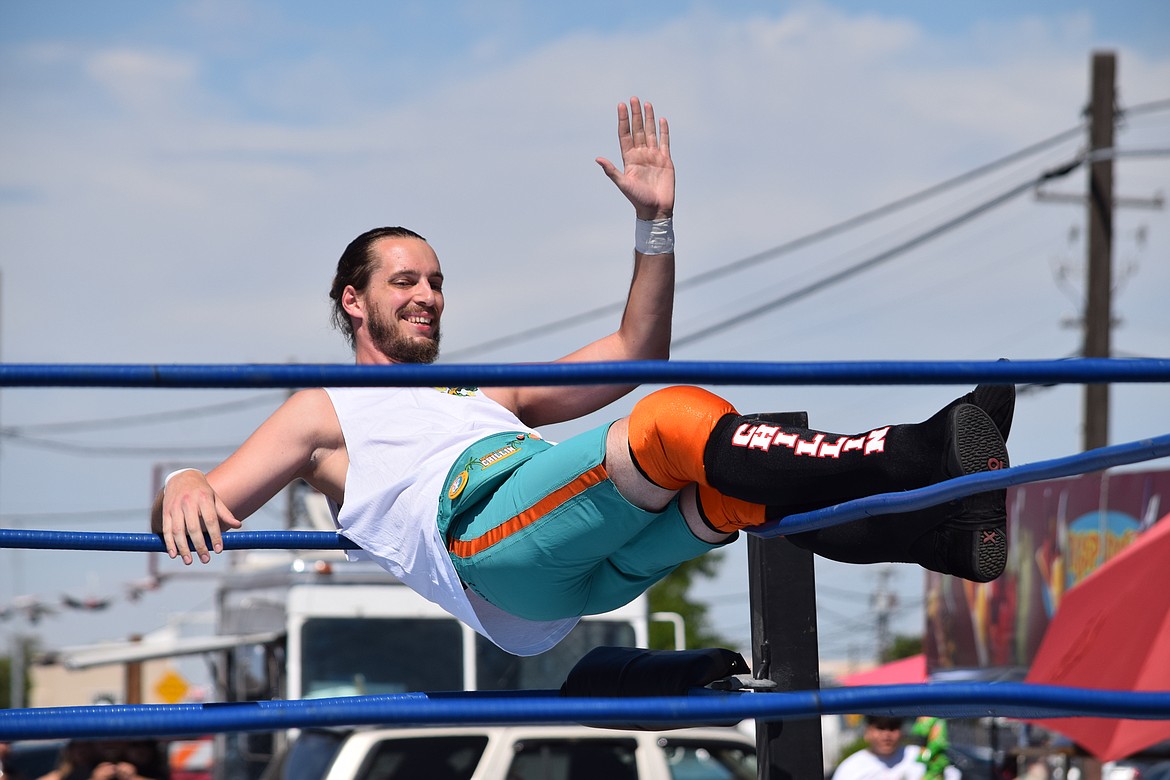 Some Dude Chillin chills and waves to the crowd before his Lucha Libre match on Saturday.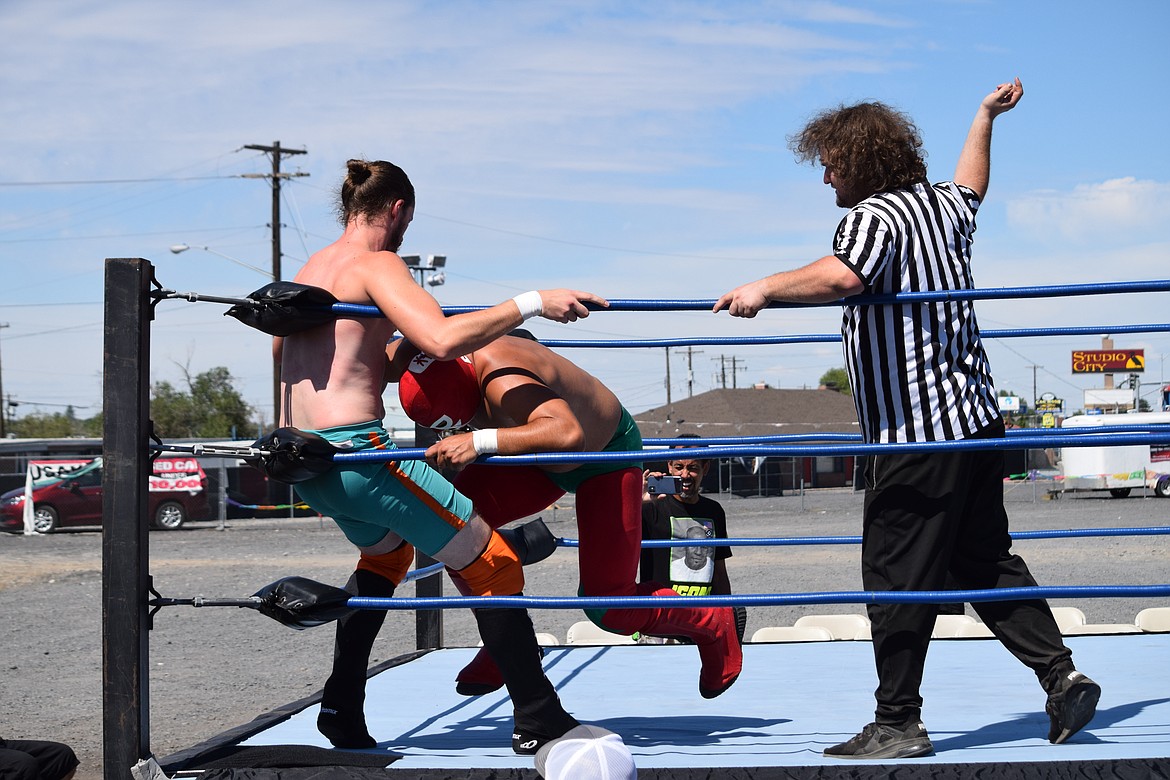 Lucha Libre wrestler A.J. Melon delivers a knee to the groin of his opponent Some Dude Chillin while referee Garrett Ambrose looks on during a wrestling match on Saturday.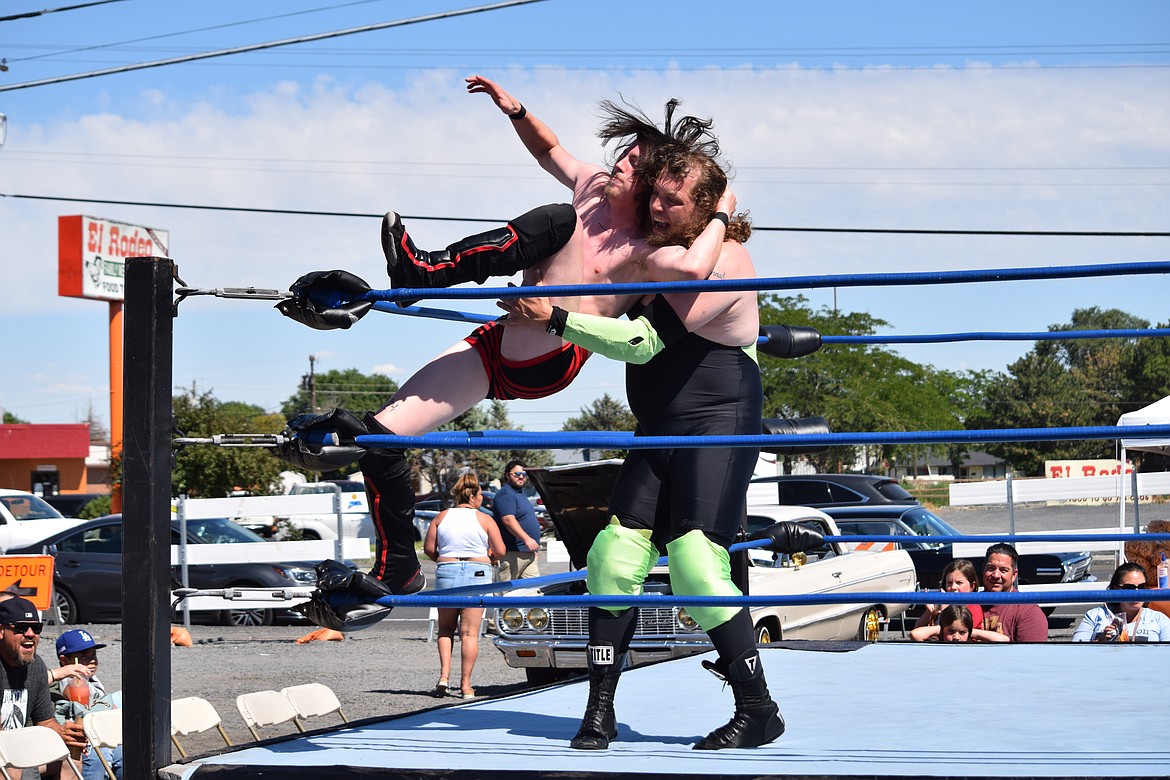 J.D. Mason pushes Christian Wide up against the corner of the ring during a Lucha Libre match on Saturday.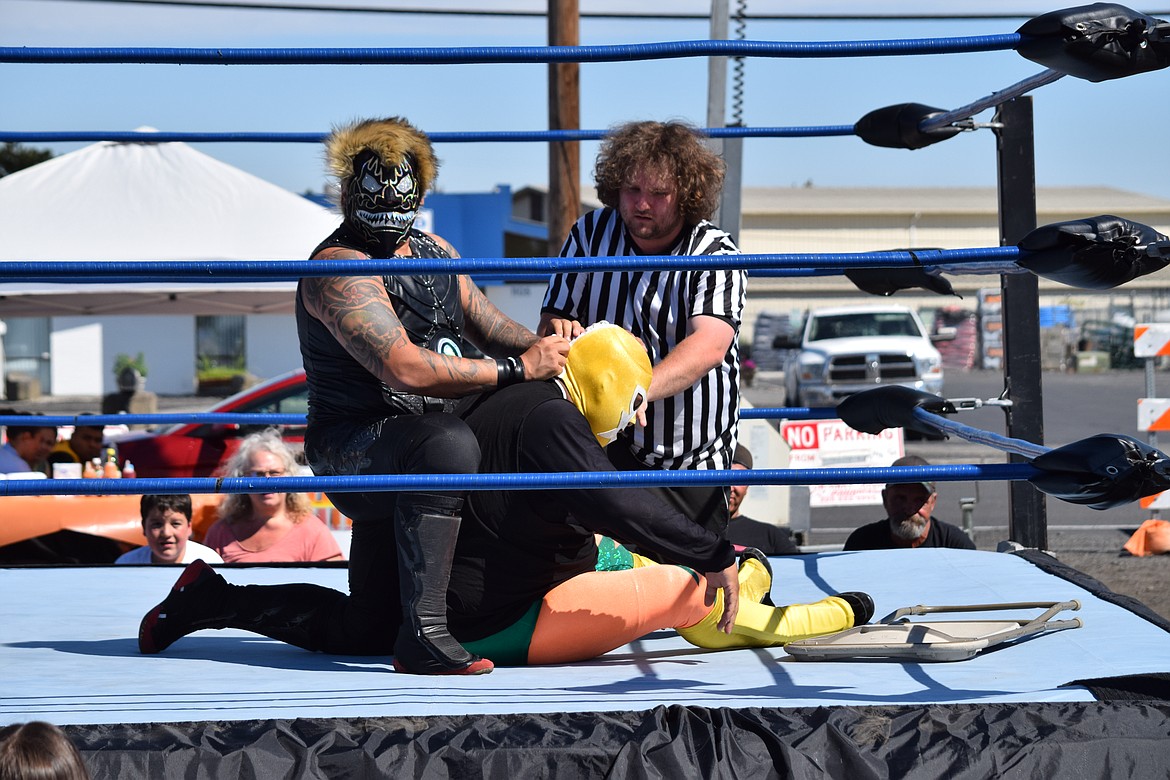 Black Danger slowly unlaces the mask of his opponent, El Quete, as referee Garrett Ambrose looks on, during a bout on Saturday at the grand opening of EDUBB C/S in Moses Lake.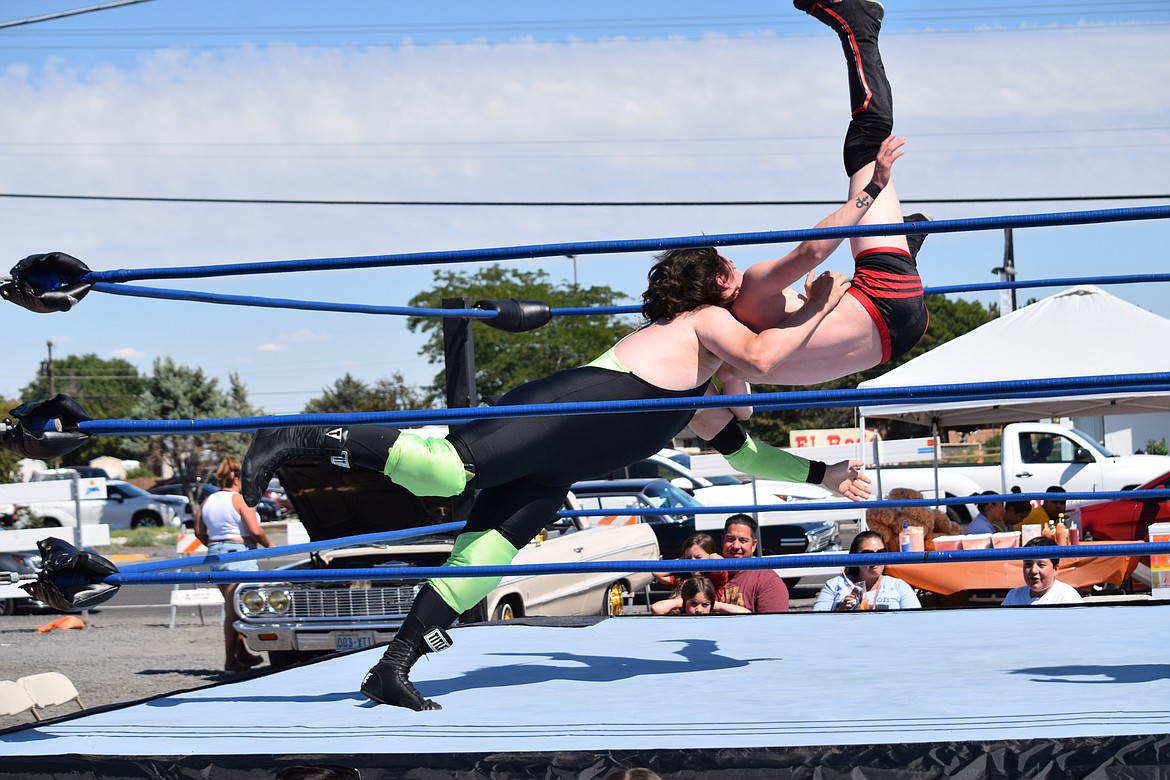 Wrestler J.D. Mason, trainer and owner of North West Pro Wrestling, throws Christian Wide during their bout at the EDUBB C/S grand opening on Saturday.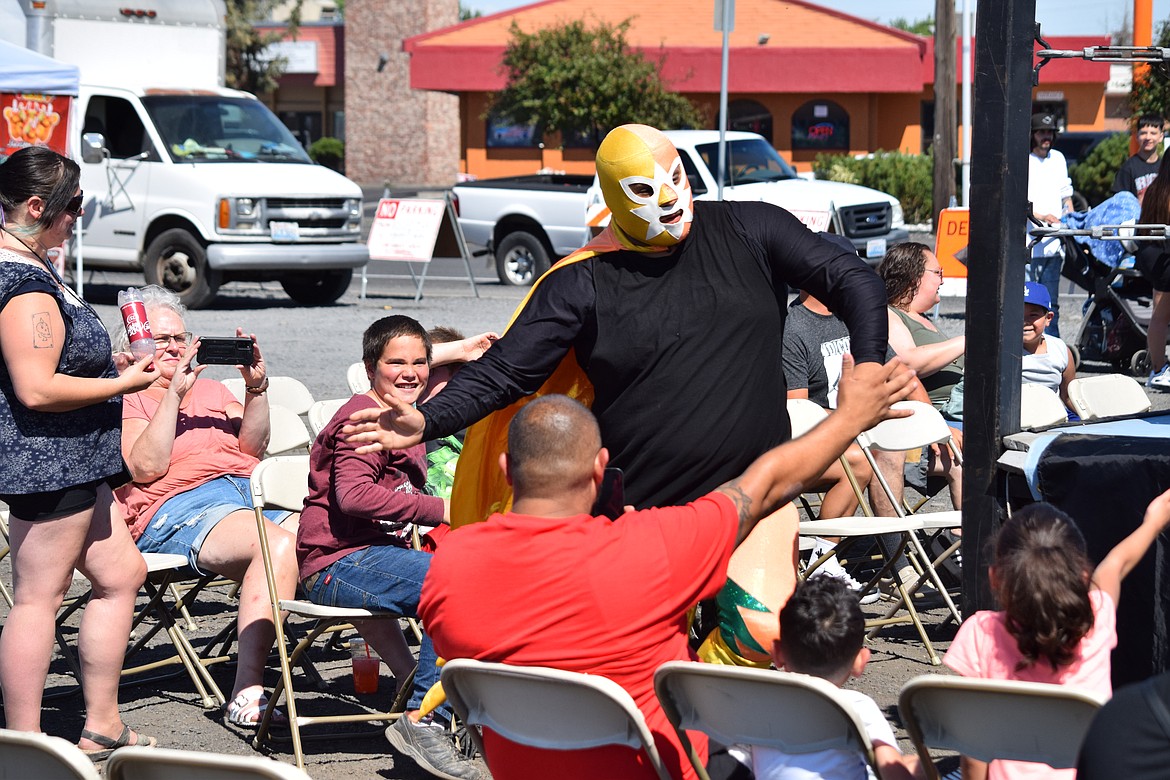 Lucha Libre wrestler El Quete high fives and fist bumps with the crowds prior to his match at the EDUBB C/S grand opening on Saturday.
Previous
Next
by
CHARLES H. FEATHERSTONE
Staff Writer
|
July 27, 2022 2:46 PM
MOSES LAKE — There have been a lot of grand openings, ribbon cuttings and celebrations for new businesses in Moses Lake, but nothing quite like the shindig Paul Carney threw to mark the formal opening of EDUBS C/S at 1102 W. Broadway Avenue last Saturday.
"It's a great day today," said Yesenia Guzman, an insurance agent with Comparion Insurance in Moses Lake. "It's hot out here, we've got some misters out over at our tent, but absolutely, it's a wonderful day today."
She shook her arm and smiled broadly. Guzman, at least, has had a good afternoon, twice throwing a dayglo yellow softball accurately and hard enough to send Grant County Sheriff candidate Joe Harris splashing into a dunk tank.
"I've got quite an arm," she said.
"It's not my first time," replied former Mattawa police chief Harris of the dunk tank as he retrieved his hat from the water, put it back on his head, and positioned himself on a platform to await the next well-thrown softball to send him splashing. "It comes with the territory."
The dunk tank was only one feature of the afternoon-long grand opening celebration for EDUBS C/S that also included a lowrider show and Lucha Libre — Mexican-style professional wrestling — all ways owner Paul Carney wanted to honor his late half-brother, Eric "E-Dubb" Kruger, an aficionado of lowrider cars. Carney moved to Moses Lake from Las Vegas a few years ago and decided to open the business here in Moses Lake because he wanted to live someplace where he could build a business, provide for his late brother's children, and even raise sons or daughters of his own.
"I wouldn't have named my shop after my brother if he wasn't important to me," Carney said.
Carney often chokes up a bit when he thinks about Kreuger. He hopes to build a business he can someday pass off to his brother's children, he said. His nephew, Jackson, would often help with car repair work because he was small and could easily get his hands and arms behind the dashboards of older American cars before firewalls created enough space to work on instrument clusters.
"I'd be like, 'Yo, Jackson, come here bud,' and he'd be 'You're going to pass me that wire, huh Paul,' and I'm like, 'You already know,'" Carney said.
Even with his long love for lowrider cars — a lowered suspension created by Mexican Americans living in Southern California beginning in the late 1940s and early 1950s to force drivers to cruise slowly, allowing them to show off their cars — Carney said he didn't discover Lucha Libre, Mexican free-style wrestling, until a recent trip to San Diego for a cousin's funeral.
"I flew out there to attend the funeral. And it just so happened, I got invited to this match the very next night. So I'd like to say that both my brother and my cousin guided me to this," he said.
In the center of the big gravel parking lot — EDUBS C/S shares space with T&M Surplus and a U-Haul dealership — a fight ring surrounded by some folding chairs was set up for the event. There was no action until about 3 p.m. when a pair of fighters — A.J. Melon and Some Dude Chillin — wander out and climb into the ring. It may very well be the very first Lucha Libre match ever staged in Moses Lake.
It's also the first of an afternoon of bouts, all organized by Gig Harbor-based North West Pro Wrestling, owned and managed by J.D. Mason, with a little help from Norris Jarman, a wrestler and owner of San Diego's LevelUp Pro Wrestling School. There is everything you'd expect in a professional wrestling match — leaps, slams, kicks, attempts to pry off masks, pulling hair, knees to groins, the hurling of chairs, wrestlers taunting the audience, audience members howling for blood — and even under the hot basin sun, it makes for a compelling show.
"I love everything about this," said Mason, who also wrestled on Saturday under his own name. "Literally everything, the excitement, the feel of just being out there in front of the crowd. It's the most addictive drug there is, honestly."
Some Dude Chillin, or SDC, a 27-year-old wrestler from San Diego who said he made his debut only earlier this year, explained that it took a lot of work to get and stay in shape to be a professional wrestler, and he has also been inspired by some of the older wrestlers.
"It just depends on mind, body and spirit and how much you're willing to work for it," he said.
He's also looking forward to facing off later with Level Up coach and pro wrestler B-Boy.
"He's a legend in the independent wrestling scene," SDC said.
B-Boy — otherwise known as Benny Cuntapay — looked out over the arena as he wrapped his wrists in tape. He said he got into wrestling because it's something he and his mother watched together. So when the family moved to San Diego, he called up a local pro wrestling school and enrolled.
"I've been doing this for 24 years, and it takes a toll on the body, the physicality and everything like that," Cuntapay said. "But it's also a rewarding thing too, because I've been doing this a long time and visited a lot of places and the reward has been nothing but a blessing."
A lot of the training involves learning to do, and to take, the slams, the kicks, the slaps and all the other maneuvers safely, according to Garrett Ambrose, a student of Mason's at North West Pro Wrestling who was also the referee of the Saturday bouts.
"We do drills like cardio drills, workouts and we go into what goes into certain moves," Ambrose said. "For example, (Mason) would teach me how to do a back body drop, how to take a chokeslam, how to bump correctly."
"They walk us through it safely. Big emphasis is on safe," he added.
Carney said hopes to have Lucha Libre back in Moses Lake, even possibly stage a tournament complete with a big EDUBB C/S title belt. However, what matters most to him is fun — watching people, especially children and teenagers, appreciate the spectacle and even discover something they can either enjoy as a hobby or do with their lives.
"When the community continues to come together like that we're all going to just grow in a positive way for these kids," he said.
He also said that for as much work as he's put in organizing this event, it's clear he's happy.
"Of course I am. Because these kids are smiling," Carney said.
Charles H. Featherstone can be reached at cfeatherstone@columbiabasinherald.com.
Recent Headlines
---