Bronco Inn named Travelers' Choice hotel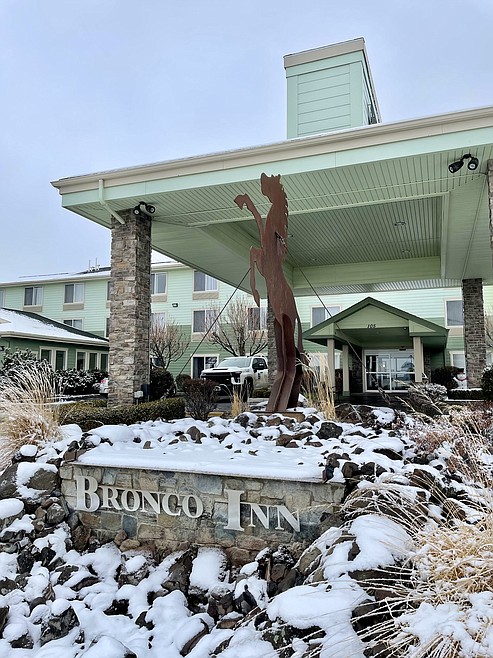 The Bronco Inn, shown here in December 2020, recently garnered the 2022 Travelers' Choice Award from Tripadvisor for being among the top 10% in good reviews on the Tripadvisor website.
FILE PHOTO
by
JOEL MARTIN
Staff Writer
|
July 27, 2022 4:52 PM
RITZVILLE — The Bronco Inn, a Best Western hotel in Ritzville, was recently selected for a Travelers' Choice Award by the online travel company Tripadvisor.
The Travelers' Choice Certificate of Excellence is given annually to hotels, restaurants and other travel-related businesses that rank in the top 10% in consistently good reviews on Tripadvisor's website, according to Bronco Inn General Manager Nichole Thiel.
"This has been a time of unprecedented challenges for hospitality businesses around the globe," wrote Kanika Soni, chief commercial officer for Tripadvisor in a letter to Thiel. "Against this backdrop, standing out to your guests and maintaining high levels of customer satisfaction is a massive accomplishment. Earning a Travelers' Choice Award means you have consistently delivered positive experiences over the past year, promoting guests to leave you great reviews on Tripadvisor."
According to documentation from Tripadvisor, a business must meet certain criteria to receive a Travelers' Choice Award:
• It must have an overall bubble rating of at least four out of five on Tripadvisor.
• It must meet a minimum number of reviews.
• It must have a listing period of at least 12 months on Tripadvisor.
Tripadvisor's website describes the company as the world's largest travel guidance platform, with more than 1 billion reviews relating to over 8 million businesses.
"We're very prideful and our staff works hard to earn this," said Thiel.
Recent Headlines
---