Basic American Foods addresses labor shortage during tour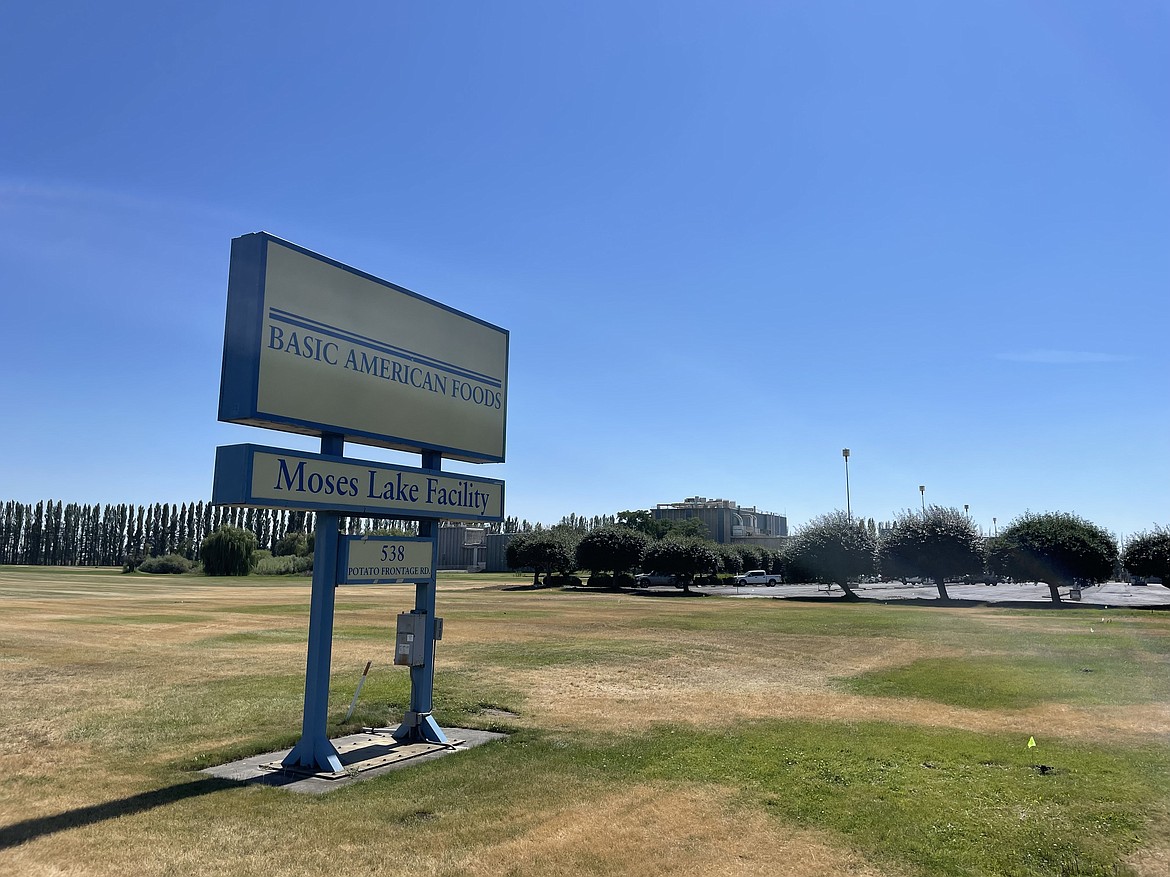 The entrance to Basic American Foods facility in Moses Lake, where the company produces dehydrated potatoes and dehydrated pinto beans. Rep. Dan Newhouse, R-Yakima, toured the facility on Monday as part of a series of visits with manufacturers and businesses across the 4th Congressional District.
CHARLES H. FEATHERSTONE/COLUMBIA BASIN HERALD
by
CHARLES H. FEATHERSTONE
Staff Writer
|
July 25, 2022 3:55 PM
MOSES LAKE — Even as business in the Columbia Basin expands, companies like Basic American Foods are finding it difficult to find and retain employees, according to Brian Meiners, the Basic American Foods plant manager in Moses Lake.
"We have not had a full slate of people since before COVID," Meiners told Rep. Dan Newhouse, R-Yakima, during a visit to the company's Moses Lake production facility Monday morning.
Newhouse toured the facility as part of an extended visit with manufacturers and businesses across the 4th Congressional District. The representative is running for re-election this fall against six Republicans and one Democrat.
Meiners said Basic American Foods, which produces dehydrated potato granules used by fast food restaurants to make mashed potatoes and dehydrated pinto beans used by restaurants to make their refried beans, is looking to automate as much of its production process as it can because it's difficult to find and keep workers.
"We've got to improve automation so that we can reduce the number of people in the workforce. Not because we don't want people. It's hard to get people and to get them well trained to run these more and more automated factories," he said.
"The good thing is we're expanding all over the area, but with more and more companies coming into the area, it's going to be harder to find the workforce," Newhouse said in response.
Walnut Creek, California-based Basin American Foods has facilities in Moses Lake, Rexburg, Blackfoot and Shelley, Idaho, as well as Kankakee, Illinois. While the company does have some branded products — such as Idaho Spuds hash browns, Hungry Jack hash browns and Santiago instant refried beans — Basic American Foods mostly produces for restaurants and institutional customers like school districts.
Potato processing starts on one end of the factory, and bean processing on the opposite end, Meiners said, with the two production lines meeting in the middle in a packaging area. The mashed potato granules are a fine powder designed to keep the starch intact, Meiners said. They're created through an extensive cooking and drying process developed in the late 1940s. The company also makes standard dehydrated potato flakes and a potato pellet that puffs out into a Popchip at high temperatures and pressure.
According to Jay Jacobs, a vice chair with Basic American Foods, the Moses Lake facility is best situated to help the company take advantage of expanding demand for potatoes in Asia. Much of that rising demand is driven by the increased consumption of potato-based snack foods, Jacobs explained.
"Japan is the largest, and then the Philippines, Malaysia and China," Jacobs said.
Monday morning also saw Seattle-based Rabbi Yitzchak Gallor of the Orthodox Union making a regular inspection of the Basic American Foods facility to ensure production processes still adhere to the strict standards for kosher foods. He said potato production is very stable and doesn't change much, though any small change in how food is processed — a new enzyme fed to a bacteria used to make cheese, for example — requires careful examination to ensure it does not violate kashrut.
"We sign off on it and they put the label on and it goes to the grocery stores, and we have zero tolerance," Gallor said.
Gallor said because of the work of organizations like the Orthodox Union, most foods made and sold in the United States are kosher.
Meiners said Basic American Foods in Moses Lake employs around 130 people and operates 24 hours per day, 330 days each year, going down in July for maintenance, cleaning and upgrades.
"Next week, we'll start the beans and the week after we'll start with tables, and then we'll run straight through," he said.
Charles H. Featherstone can be reached at cfeatherstone@columbiabasinherald.com.
Editor's Note: Dan Newhouse is currently running for reelection and facing seven opponents in the primary: Democrat Doug White and Republicans Jerrod Sessler, Loren Culp, Corey Gibson, Brad Klippert, Benacio "Ben" Garcia III and Jacek Kobiesa. The Columbia Basin Herald does not endorse any candidate for political office and encourages readers to educate themselves thoroughly prior to casting their ballots.
Recent Headlines
---