Professional Dentures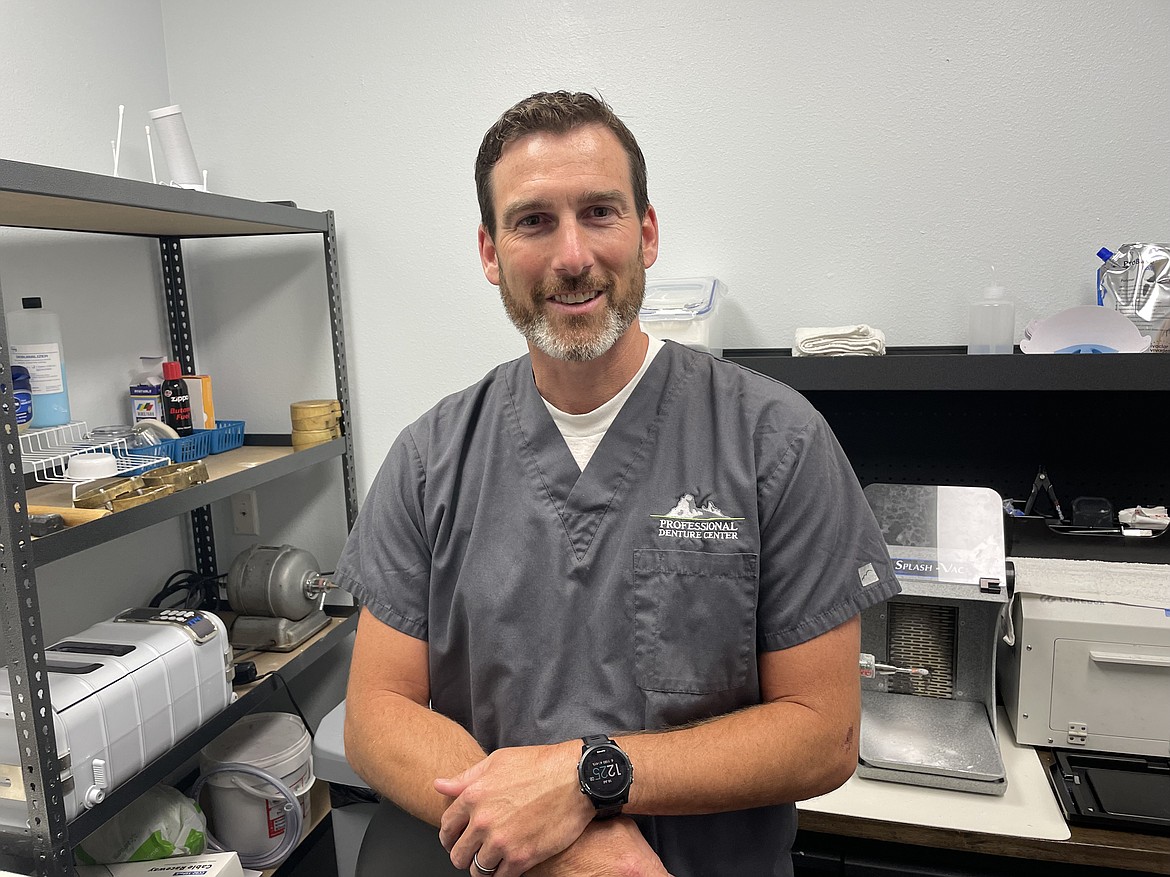 Jon Dickson, a dentist and oral surgeon who specializes in making dentures, in the lab of his new Moses Lake office, Professional Dentures. Dickson and partner Walter Walden have a clinic in Wenatchee and have just opened their Moses Lake operation.
CHARLES H. FEATHERSTONE/COLUMBIA BASIN HERALD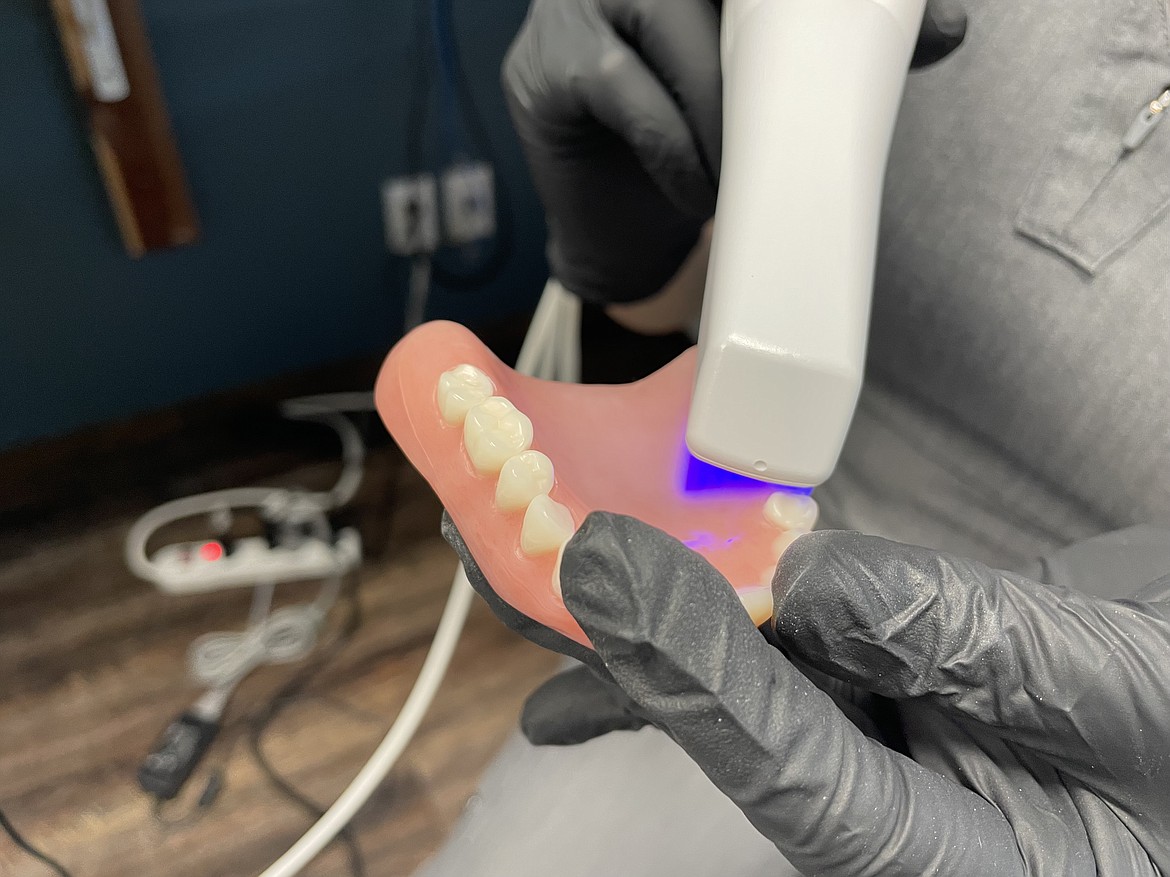 A close-up of a bottom plate being scanned.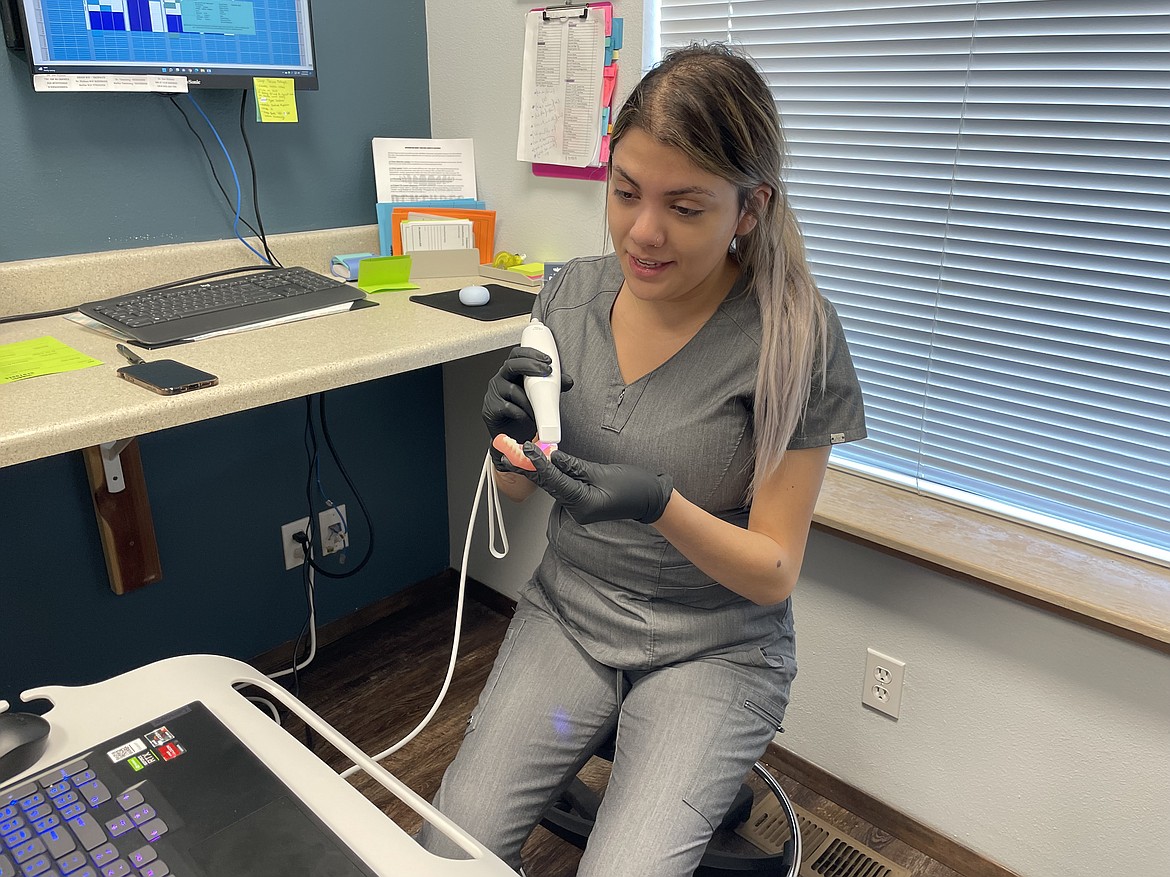 Professional Denture employee Jaylea Luna scans a denture.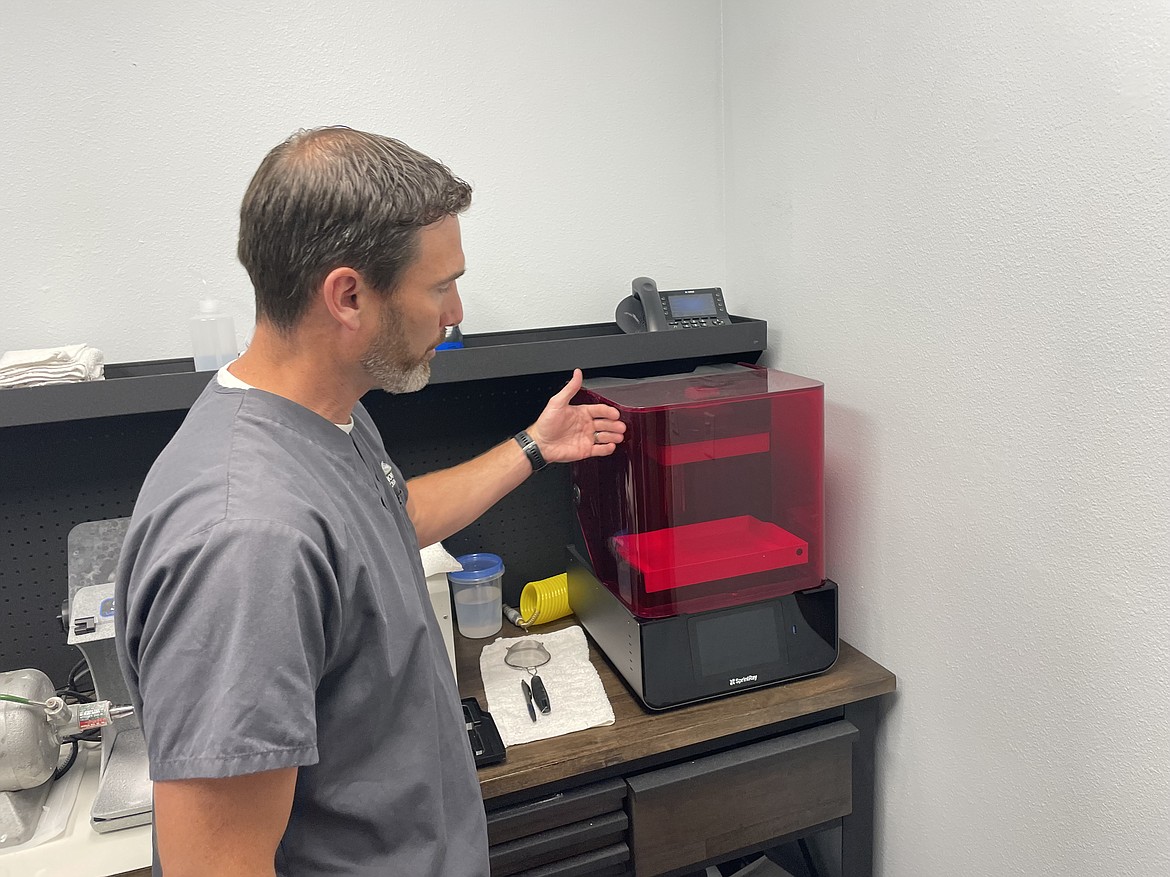 Dentist and denture maker Jon Dickson shows off the 3D printer he uses as part of Professional Dentures' manufacturing process. The printer isn't used to make final dentures, at least not yet, Dickson said, only to make test dentures to ensure they fit right.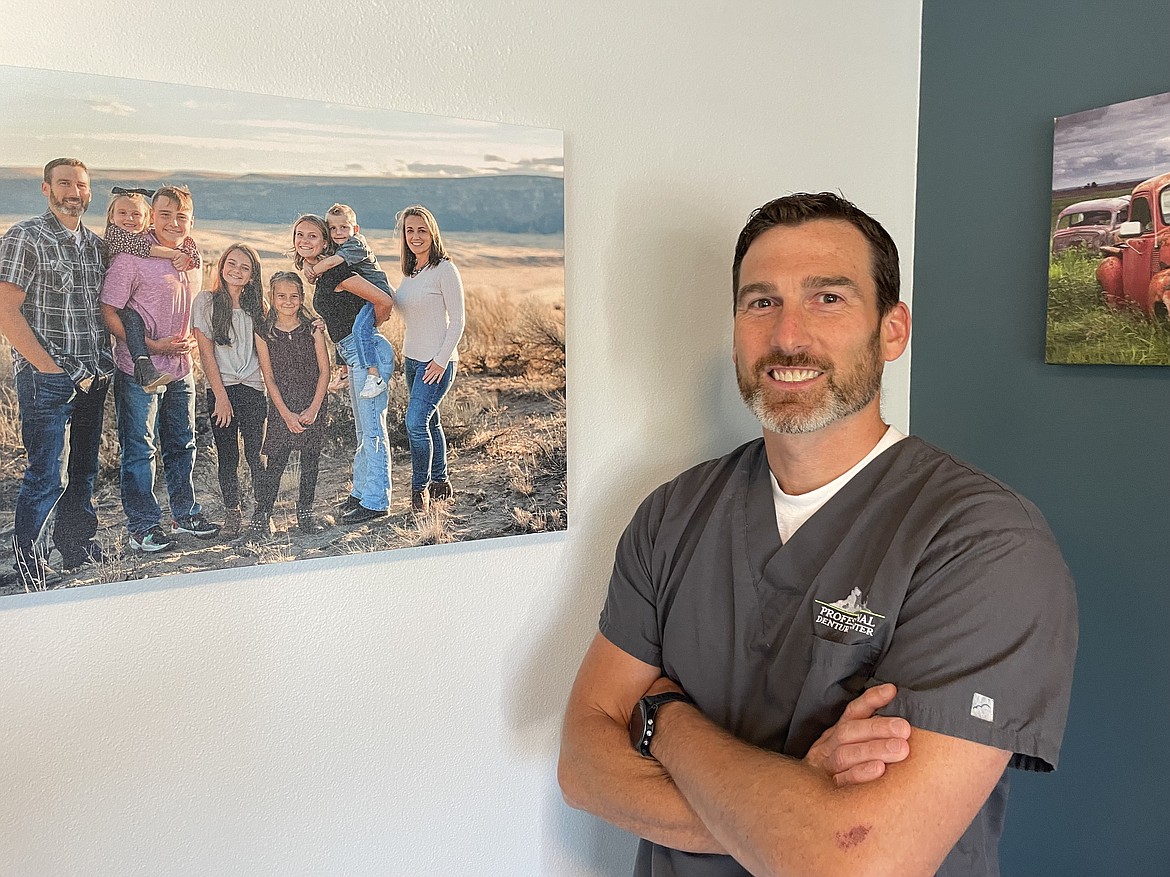 Jon Dickson, a dentist and oral surgeon who specializes in making dentures, stands in the lobby of his new Moses Lake clinic next to a photo of himself with his wife and their six children. Dickson and his partner Walter Walden, who have had a clinic in Wenatchee for a number of years, have just opened a Moses Lake clinic.
Previous
Next
by
CHARLES H. FEATHERSTONE
Staff Writer
|
July 22, 2022 1:20 AM
MOSES LAKE — Jon Dickson loves to see people smile.
"The smile is a big thing," said Dickson as he sat on a tiny stool in one of his small examination rooms. "I can be a part of that … helping people regain confidence."
It's why he's not only a dentist but an oral surgeon who specializes in making dentures.
"A lot of people that we see haven't been able to smile for a number of years," he said. "For whatever reason, they're at the point where a lot of them need to have their natural teeth removed, and we're working on a denture."
"And just the fact that even though it's a denture they can smile with confidence, they're going and getting a new job, or they're going in asking the girl out on a date, you know, that makes a huge difference for them confidence-wise, and just quality of life to be able to have that smile again," Dickson said.
Dickson and his partner Walter Walden have practiced for years in Wenatchee as Professional Dentures and just opened an office in Moses Lake, with the aim of helping people regain the ability to smile.
A typical client has already lost a number of teeth, Dickson said, and frequently patients lose a tooth to decay or abscesses every year or two. What remains usually needs to be pulled — something Dickson does under an intravenous anesthetic that keeps patients somewhat awake and responsive but gives them no memory of the surgery.
"First they've lost their back teeth, and it's come to the front teeth, and that's where things tend to have higher priority," he said. "So they come in looking for options, sometimes they come in to say they want dentures other times they're coming in and just, 'hey, what can we do?'"
Dentures are not implants, Dickson said, though he will frequently create implants that allow dentures to firmly snap in and secure in the mouth. Dentures are wholly removable, and usually replace all of the upper or lower teeth, he explained.
At their clinics in Wenatchee and Moses Lake, Dickson said they use some of the latest technology — digital scanning and 3D printing — to help create dentures. It's quite a change from the lengthy process of taking an impression of someone's mouth, making a mold, and then creating a set of false teeth from that mold, and it allows for quicker manufacture, more precision and a more customized fit that is less likely to cause any problems, Dickson said.
"The way that you fabricate dentures that hadn't changed for probably 90 years, maybe they tweaked materials a little bit here, little there, but in the last five years, it's really just blown up," he said.
Dickson said now he can start by making a scan of the mouth, then he creates a 3-D model which is used to eventually make the final milled product. All of it is computer controlled now, he said, and makes it possible for someone to come in and get the work done very quickly.
"You know, there are some cases where they'll say, hey, there's a wedding this weekend. And I don't want to go like this. What can we do?" he said. "And we do have the flexibility to do things on a quicker turnaround time than most because we control the whole process."
A typical denture lasts around 10 years before it needs to be replaced, and Dickson said he charges around $2,800 for a complete set that includes the upper and lower teeth. Extractions are extra, and are judged on a case-by-case basis, he said, with most dental insurance plans covering at least some portion of the cost of extractions and dentures.
Dickson said one of the reasons he came to Moses Lake is he was already seeing a fair number of patients from the area in his Wenatchee office. As a result, he saw a need that wasn't being met. A lot of people focus on their families and their work, Dickson said, and not necessarily on their teeth.
"We fill a niche. So I can focus on these things and get good at these things and not have to worry about everything else that dentistry entails," he said. "We're excited. We're getting busier."
Charles H. Featherstone can be reached at cfeatherstone@columbiabasinherald.com.
Professional Dentures
835 E. Colonial Ave. Ste. 103
Moses Lake, WA
509-707-0707
Recent Headlines
---