Rowland goes full-time for SLPD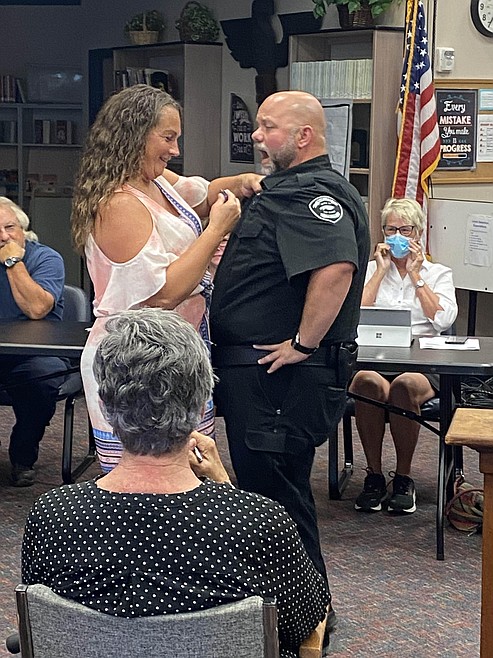 Justin Rowland's fiancée, Amy Morris, pinned on his badge at the end of his swearing in and Rowland pretended to get poked as she pinned it.
REBECCA PETTINGILL/COLUMBIA BASIN HERALD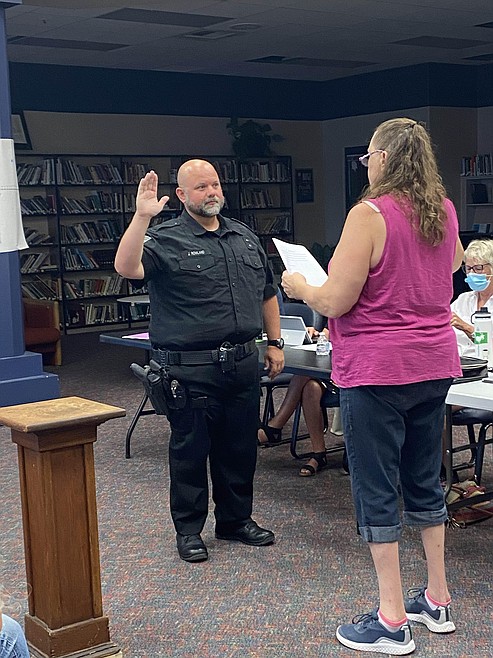 Justin Rowland takes the oath of office to be a full-time police officer for the Soap Lake Police Department with Soap Lake Mayor Michelle Agliano.
Previous
Next
by
REBECCA PETTINGILL
|
July 21, 2022 4:04 PM
SOAP LAKE — Officer Justin Rowland was sworn in as a full-time officer Wednesday after 12 years as a reserve officer for the city of Soap Lake.
"(Rowland) has always been the person to be there for the city no matter what," said Soap Lake Police Department Chief Ryan Cox. "…I have no doubt (he) will continue to be an amazing asset to this community for many years to come."
Rowland grew up and graduated from Soap Lake and in 2010 was sworn in as a reserve police officer for Soap Lake Police Department. Upon his full-time employment with SLPD, Rowland ends a 22-year career as an emergency dispatcher for Multiagency Communications Center and the Kittitas County dispatch centers.
Many in the Soap Lake and surrounding communities may recognize Rowland for his singing grams he does during Christmas time.
Cox gave a small speech during the small ceremony, chronicling Rowland's journey to becoming a full-time officer.
Rowland's fiancée, Amy Morris, pinned on his badge at the end of his swearing-in.
Rowland then gave a small speech also talking about his journey and noted, as Cox had, how many people and times he was asked to go full time before he finally said yes.
"I have my community, my family, my mom, most importantly I have Amy to thank because if it wasn't for her having more faith and seeing in me what I couldn't see in myself, you wouldn't be listening to me drone on," said Rowland.
Rowland also relayed the four rules that Cox had told him upon his signing to go full-time with SLPD:
Come to work and always have fun.
Put bad people in jail.
Be more professional than everybody else.
Go home at the end of every shift safe.
Rowland then said, "Amy, girls, I promise you I will always come home safely to you."
Rebecca Pettingill may be reached at rpettingill@columbiabasinherald.com.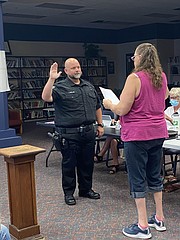 Recent Headlines
---