Riverdogs 13U,15U head into pool play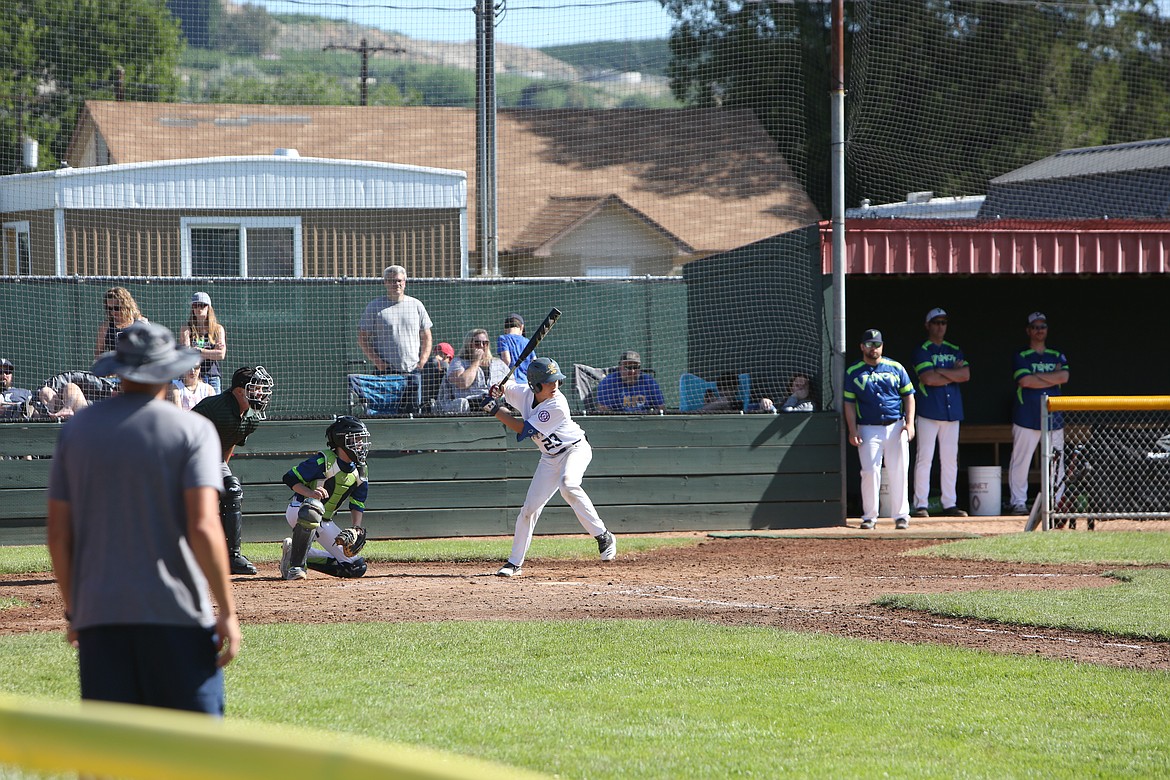 After sweeping through the state competition, the 13U Columbia Basin Riverdogs will head to Ferndale for the Babe Ruth Regional tournament.
IAN BIVONA/COLUMBIA BASIN HERALD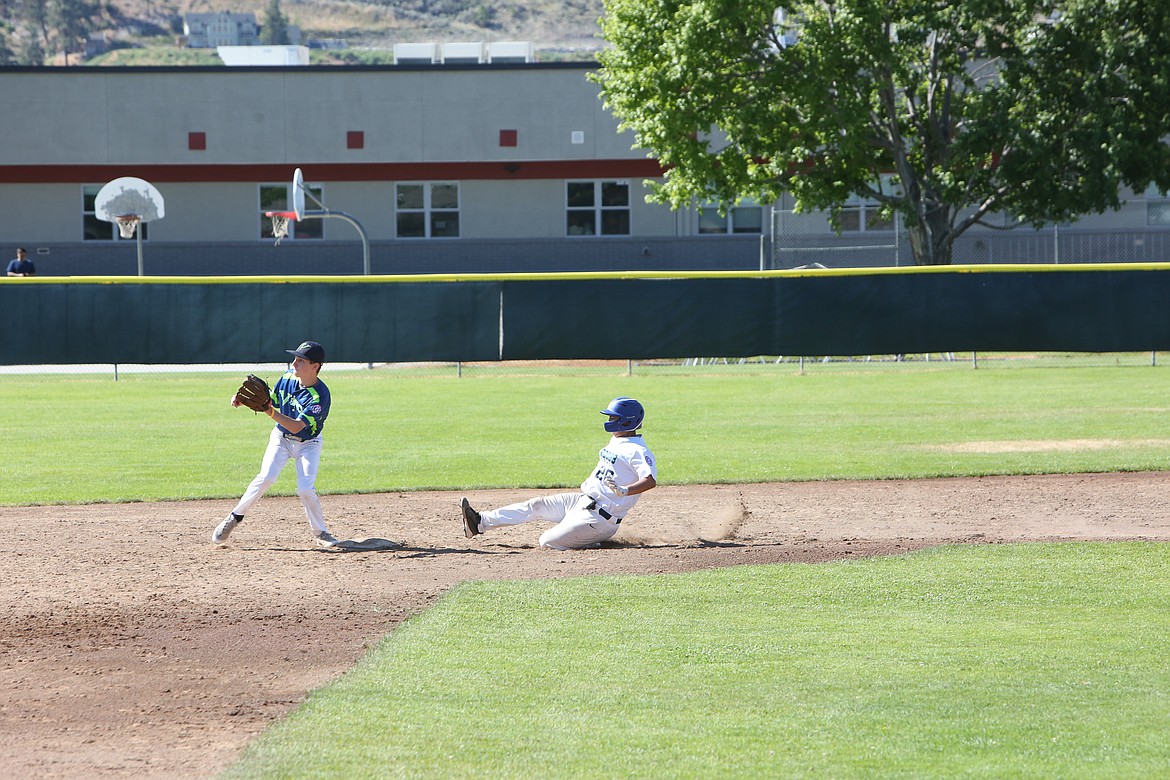 A Riverdog slides into base as an opposing player keeps an eye out for the ball. Pool play begins on Sunday for the 13U Riverdogs and Monday for the 15U Riverdogs.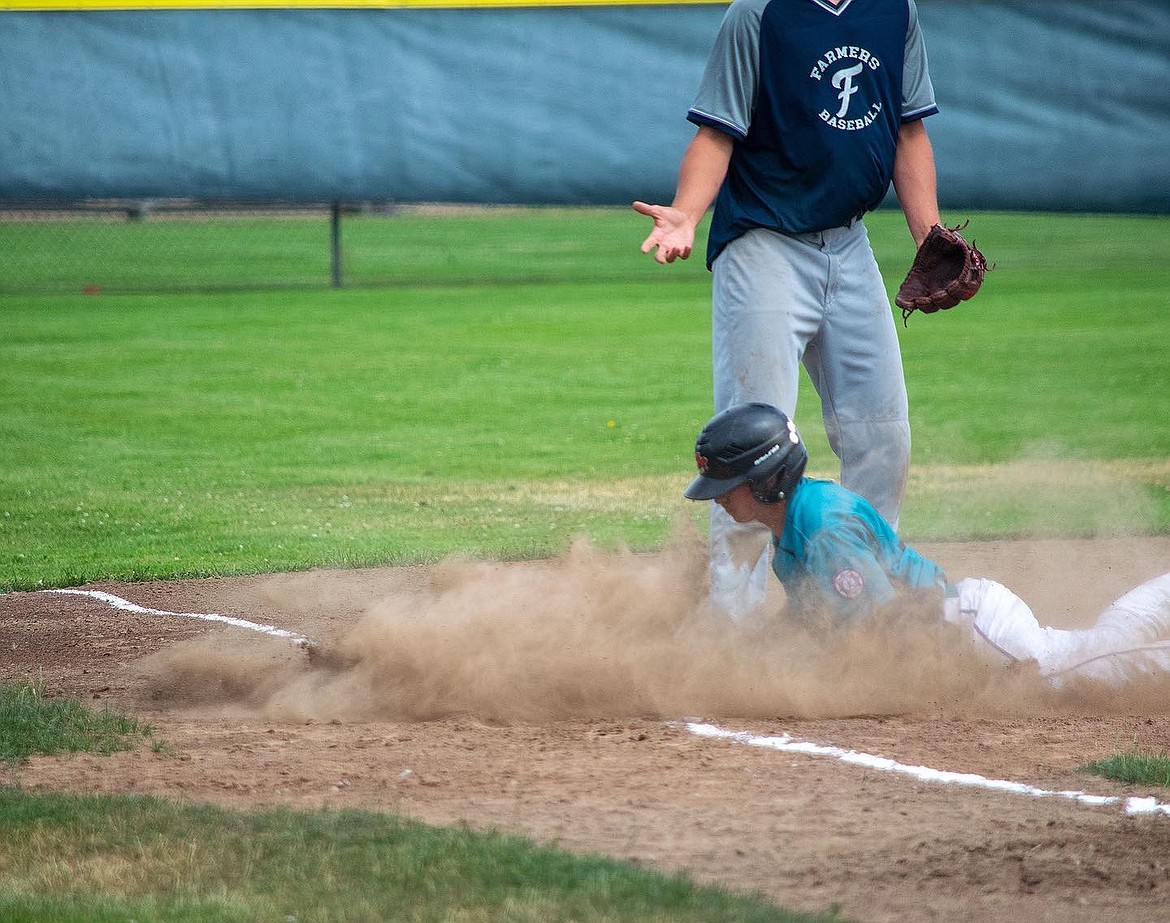 The 15U Riverdog squad swept Farmers in a best-of-three series at the state competition to qualify for regionals.
Previous
Next
by
IAN BIVONA
Sports Reporter
|
July 21, 2022 5:14 PM
EPHRATA — The 13U and 15U Columbia Basin Riverdogs will head to 2022 Babe Ruth Regional competition this weekend, held in Kelso for the 15U and Ferndale for the 13U.
Each team will play a minimum of four games against teams from the Pacific Northwest and more, with a chance to advance to the World Series.
"Just to come out, be confident in their ability and play within themselves and they'll meet their expectations," 13U Head Coach Jaret Fulbright said of what he's told his team in preparation for regional play. "(The) team's pretty ready to go and compete, and try to win the regional tournament. And I believe we have a team that can win the regional tournament, and move on to the World Series."
15U Head Coach Jaime Vela shared similar sentiments to Fulbright, believing that if his team plays while having fun, they have what it takes to advance to a World Series.
"If they go out, have fun and do the little things correctly and play the game that they've been playing for the last six or seven years of their lives, they'll be successful," Vela said. "We've got a great group of kids, a great group of talent."
In moving to regional competition, the teams will be getting accustomed to a different playing surface – turf. Both the 13U and 15U teams have taken steps toward getting used to how turf affects the game in recent days.
"We've utilized knowing that we're going over to play on turf fields," Fulbright said. "We've been utilizing The Six Training Facility to work on their turf infield. On grass, it's sometimes uneven surfaces and you can get bad hops. When you're playing on turf, it's going to be quicker. The ball is going to come off quicker and you're not really going to get bad hops, everything's going to be true."
Vela and the 15U squad made ways to Wenatchee on Wednesday for a night for a game on a turf infield.
"We played on the turf a little bit in Wenatchee (Wednesday), and it was definitely a little bit different," Vela said. "Baseballs roll a little bit faster, hops are very true. So, you have to play things a little bit different."
Along with new playing surfaces, weather will play a factor as the teams head to the west side.
"The heat as well plays a big factor," Vela said. "It's been a really cold season for the most part. So getting into the heat next week is going to be a challenge for us while trying to keep things cool. Turf is obviously a lot hotter."
Each team will play four games of pool play, with the top two of each pool advancing to the semifinals. Each team will play one game per day, with an off day during the week. Both the semifinal and finals will be held on the same day, Friday for the 13U regional and Saturday for the 15U regional.
"Some of the teams we've never seen," Fulbright said of the competition. "When you're playing in tournaments around here and in Washington, you kind of get to see the same teams over and over. But now you got teams coming out of Canada, Montana, Idaho and Oregon, that we've never seen so you don't know what to expect. But I've told the kids and we're prepared for anything, and been ready to go."
Both Fulbright and Vela credited their pitching staff for helping get them to where they are now.
"Each player on our team has contributed in some way or another throughout our season," Fulbright said. "So, our pitching has definitely been what carries us through our tournaments, and recently our bats have been coming more alive, that's definitely helping out as well."
Vela said his rotation of Kason Whitaker, Wyatt Cole, Caden Conger and Nolan Betz has been key for the 13U Riverdogs up to this point and noted that Cole was one out away from a no-hit performance recently.
"If we can go out there and we can demand a zone, we can throw strikes, that's ultimately I think what's going to determine the outcome to those games," Vela said. "We got to minimize walks, we have to pound the strike zone, and we have to control the tempo of the game."
The 13U Riverdogs begin play on Sunday, with games held at the Lummi Nation Playfields and Pioneer Park in Ferndale. Vela's 15U squad begins play on Monday in Kelso, with games at Rister Stadium. Ian Bivona may be reached at ibivona@columbiabasinherald.com.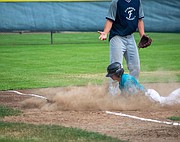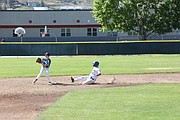 Recent Headlines
---