Lowriders & Lucha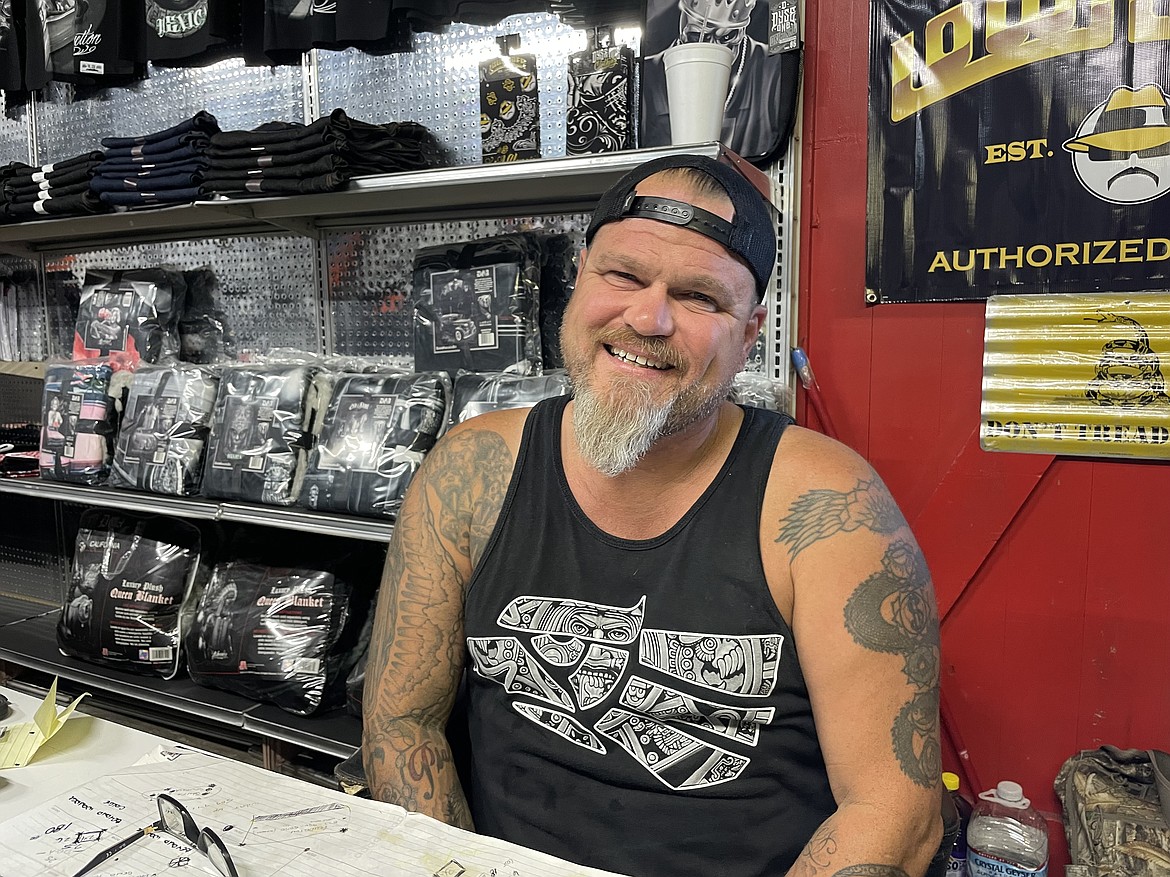 Paul Carney, the owner of EDUBS C/S, in the clothing and custom auto detailing shop he's busy putting together at 1102 W. Broadway Ave. Carney is hosting a big party on Saturday, complete with a lowrider show and Lucha Libre Mexican wrestlers, to celebrate his business' grand opening.
CHARLES H. FEATHERSTONE/COLUMBIA BASIN HERALD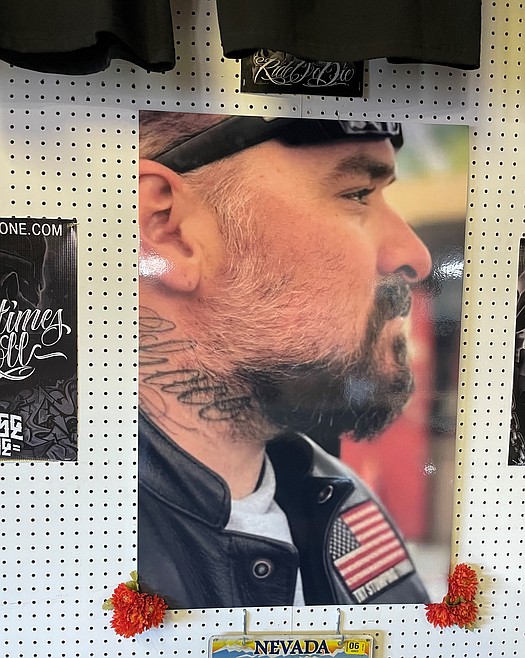 A photo of Eric "E DUBB" Kreuger, the namesake of EDUBS C/S, a custom auto detailing shop and clothing company owned by his brother Paul Carney. "C/S" means "con safos" — with safety — in Spanish, and is a saying used by Mexican Americans.
Previous
Next
by
CHARLES H. FEATHERSTONE
Staff Writer
|
July 20, 2022 11:01 AM
MOSES LAKE — It's not often a brand new business throws a big party for the entire city, but that's what Paul Carney is planning on doing this Saturday when he formally opens the doors on his clothing store and custom auto shop, EDEUBS C/S.
"I figured what better way to do a grand opening with a lowrider show," Carney, an event promoter who relocated to Moses Lake a few years ago from Las Vegas.
Sharing the building at 1102 W. Broadway Ave. with T&M Surplus, Carney is planning a day-long grand opening event complete with the lowrider show, food trucks, and Lucha Libre — Mexican freestyle professional wrestling.
And it's all for a good cause with each $30 lowrider entry and 10% of vendor sales going to support programs with the Moses Lake Parks and Recreation Department, Carney said. The sole winner of the lowrider show — and Carney believes there should only be one winner — will receive $1,000 and bragging rights.
"Kids love car shows, but the majority of 10-year-olds, 12-year-olds that you know, after two hours walking around in the sun, they're like, come on, I want to go, I want to go."
So what better way to keep people interested than having Mexican professional wrestlers come show off their skills in the ring?
"I got invited by a pastor in San Diego to come down and check out these Lucha Libre guys, and when I saw the Lucha Libre guys, and I saw how the kids reacted, I was like, 'I so gotta have this,'" Carney said.
Carney named the business in honor of his late brother Eric "E DUBB" Krueger, who created customized lowrider cars in a garage in Las Vegas, and sees the event as a way to bring the area's English-speaking and Spanish-speaking communities together. He also sees the grand opening party as a way of giving something to the community. That includes showing children who might not see any alternatives that there are ways to live that don't involve gangs and crime.
"Being born in California and raised in Las Vegas, I've seen streets. I've seen what the block looks like, you know, I've had my troubles with the law," he said. "There's nothing wrong with staying and being a cop in your own town. There's nothing wrong with being a fireman and staying in your own town. There's nothing wrong with working for Parks and Rec in your own town."
In addition, Carney said the Moses Lake Fire Department and Moses Lake Police Department have both said they will have vehicles to display. All three candidates for Grant County Sheriff — James Baker, Joe Harris and Joe Kriete — have accepted an invitation to spend an hour atop a dunk tank.
"They each get one hour to spend in the dunk tank and let the low rider community dunk them — three balls for $5 — and they all accepted. Every single one of them. They're actually even trying to help me find this dunk tank," he said.
The event is scheduled for the EDUBS C/S parking lot on Saturday, July 23, with the published schedule saying things start at 9 a.m. Lowriders and Lucha is scheduled to last until midnight, with the winner of the lowrider contest expected to be announced at 9 p.m. However, Carney said it's likely going to be closer to 11 a.m., with the first Lucha Libre match expected at around 1 p.m., in large part because Carney said he doesn't want to take business away from the city's farmer's market.
"I adore the farmers market. My wife and I walk it. This would be the first Saturday we have not walked in a while," he said.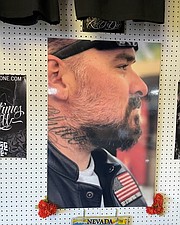 Recent Headlines
---