County candidates speak at forum
Grant County Sheriff candidates Joe Kriete and James Baker talk with each other following the candidate forum on Tuesday at the Moses Lake City Council chambers.
CHARLES H. FEATHERSTONE/COLUMBIA BASIN HERALD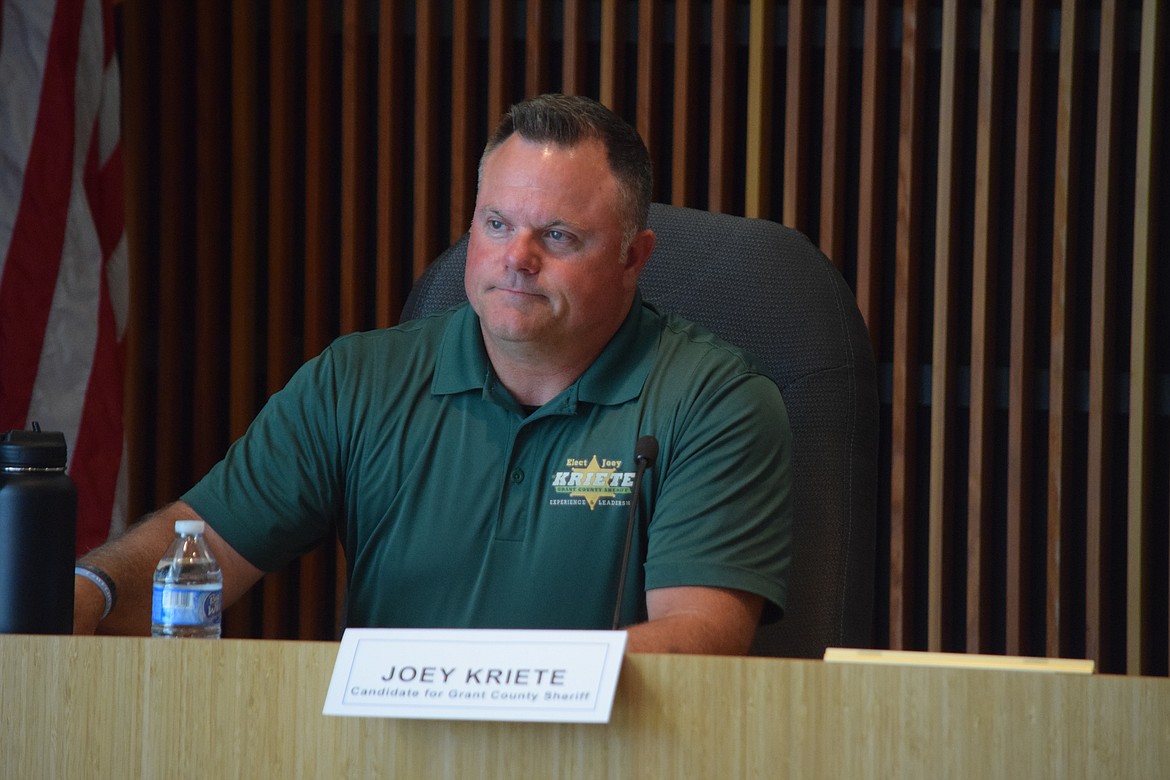 Grant County Sheriff candidate and current GCSO chief deputy Joe Kriete said staff at the Grant County Jail need to be treated as career professionals and properly paid for their services in a dangerous job.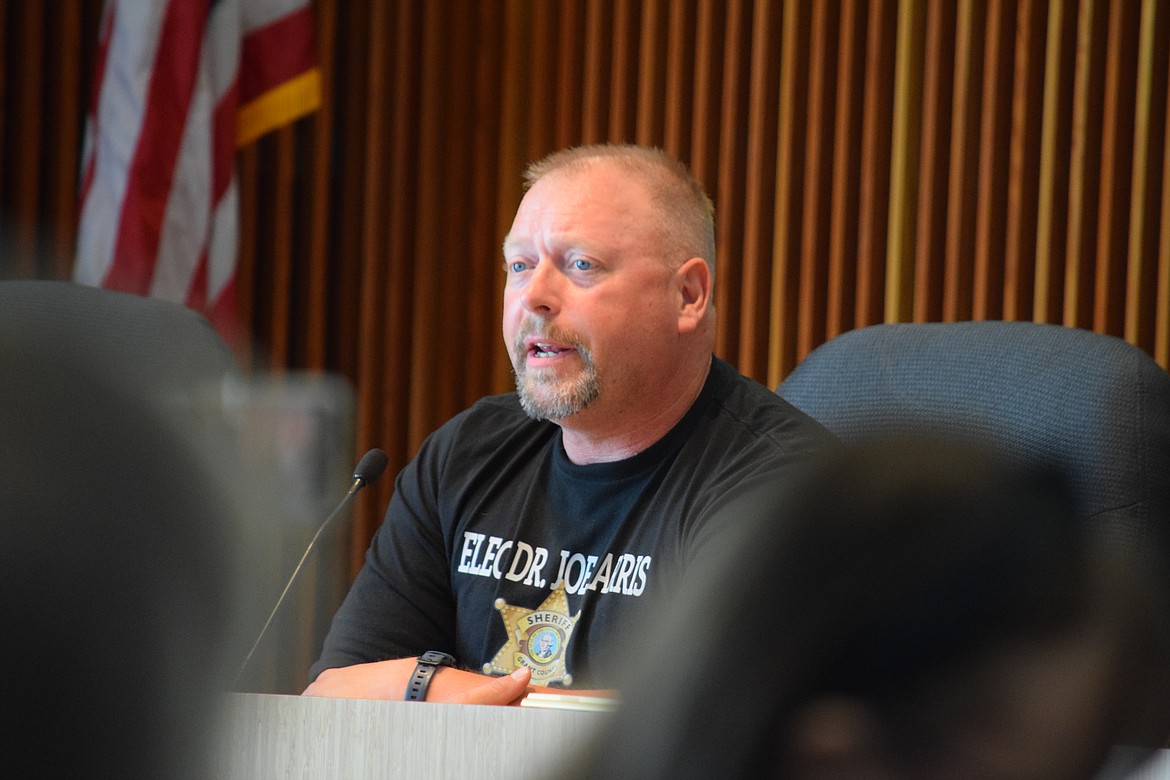 Grant County Sheriff candidate and former Mattawa Police Chief Joe Harris said he was interested in establishing precincts for the Grant County Sheriff's Office.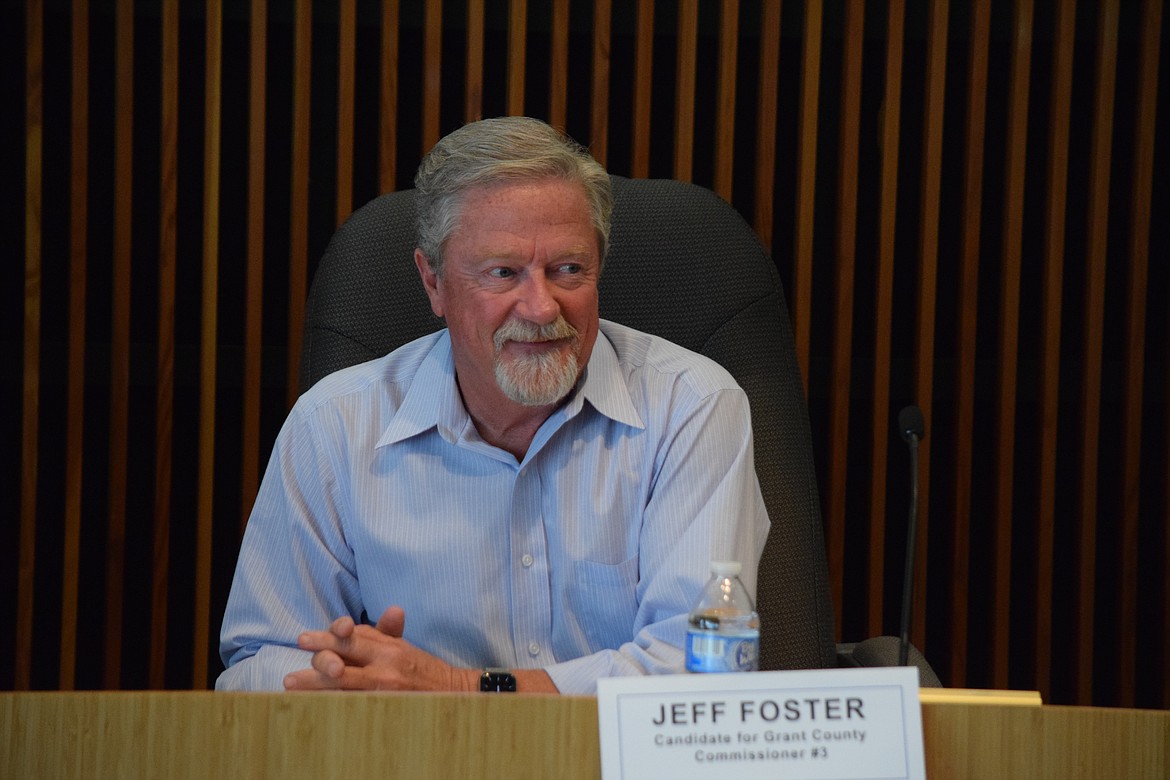 Grant County Commission candidate Jeff Foster said he has lived in the Columbia Basin for a long time and would not make a career out of being a commissioner, if elected.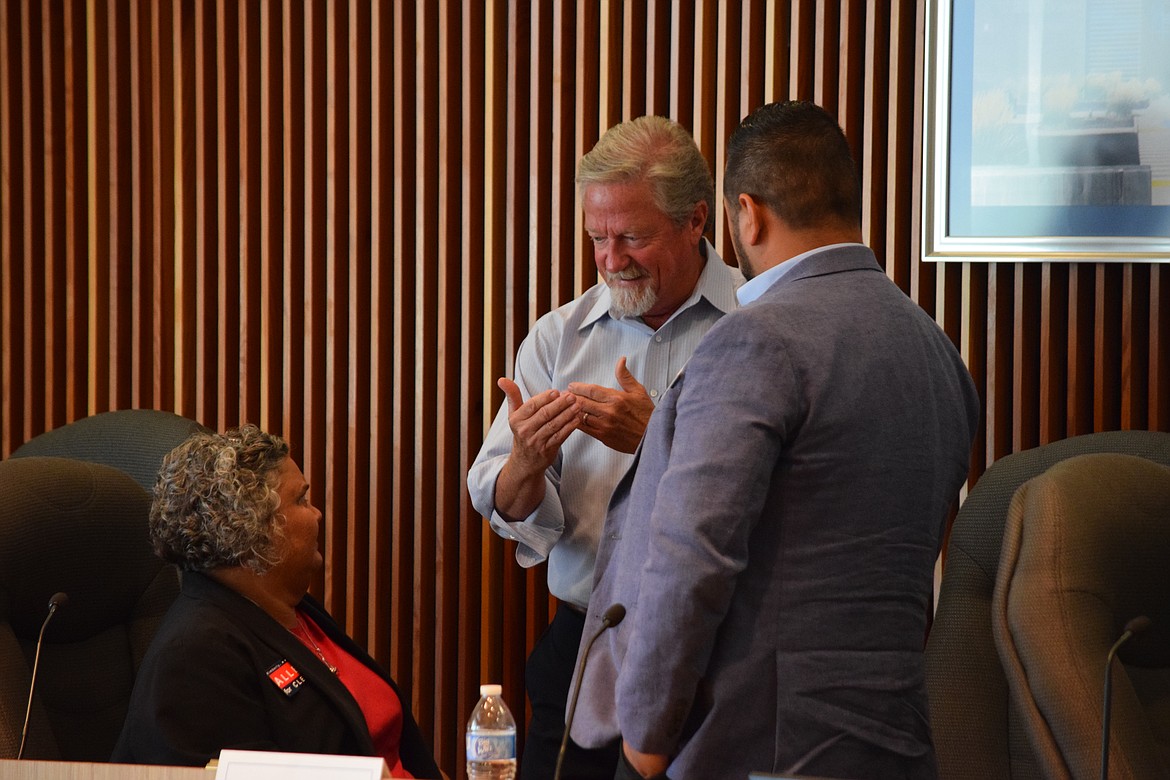 Grant County Clerk Kimberly Allen, commission candidate Jeff Foster, and clerk candidate Ulises Infante speak during a break at the candidate forum on Tuesday.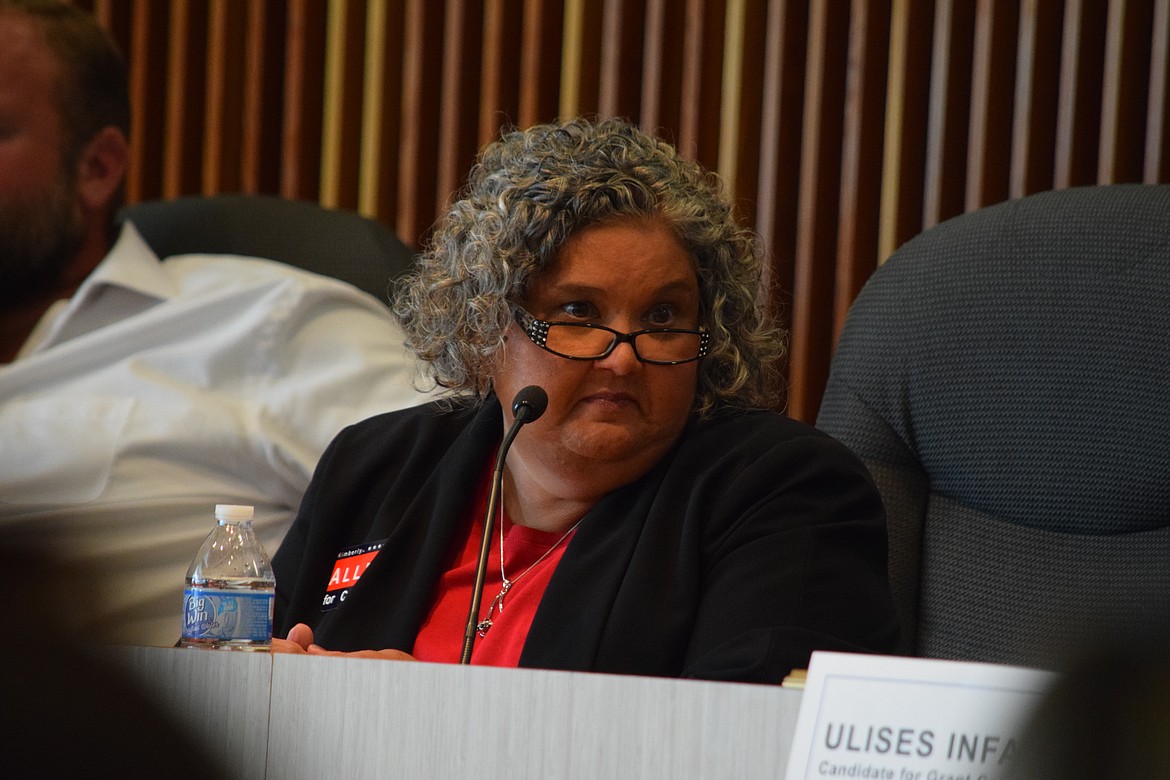 Incumbent Grant County Clerk Kimberly Allen is the incumbent for the clerk's position and said she has steered the department through several legislative changes and other challenges during her tenure.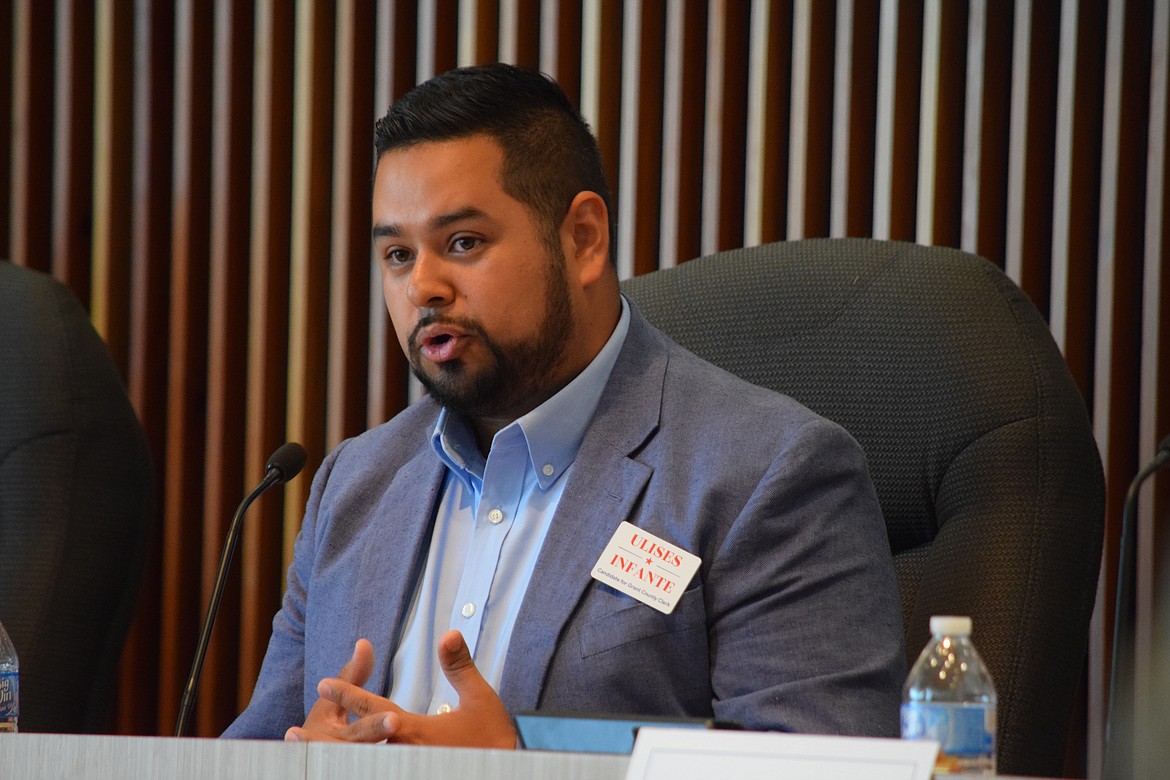 Grant County Clerk candidate Ulises Infante, who attended the forum with his wife and children, said he has worked at the Grant County Clerk's office for more than five years.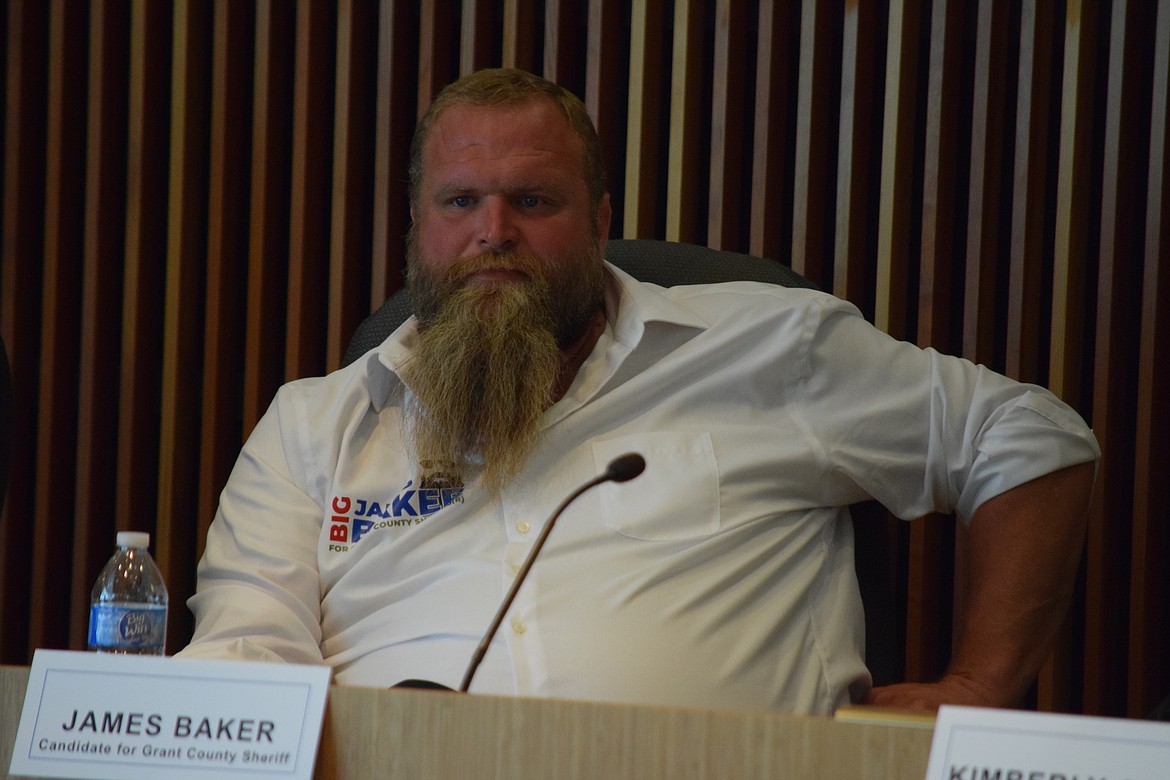 Grant County Sheriff candidate James Baker said during his comments that he would like the Grant County Sheriff's Office to do more community outreach.
Previous
Next
by
CHARLES H. FEATHERSTONE
Staff Writer
|
July 20, 2022 4:51 PM
MOSES LAKE — Elected officials should set a high standard for themselves and hold the people who work for and with them accountable — that was something most candidates at Tuesday evening candidate forum could agree upon.
"Leadership begins and ends at the top," said Joe Harris, former Mattawa police chief and one of three candidates vying to become Grant County's next sheriff. "We have an obligation to call attention to things that need to be called attention to, and how can you preach that if you're not living it?"
Harris was one of nine candidates competing for three contested county offices to speak at a candidate forum on Tuesday organized by the Moses Lake Chamber of Commerce and held in the Moses Lake City Council chamber. Harris was joined by the two other candidates running for Grant County Sheriff, Joe Kriete and James Baker, as well as the three candidates for Grant County Clerk — incumbent Kimberly Allen, Ulises Infante and Marla Roduner — and the three candidates running for Grant County Commission District 3 — Jeff Foster, Dan DeLano and incumbent Cindy Carter.
They faced questions from moderator Alan Heroux as well as the audience but were not allowed to debate each other. The three races were featured at the candidate forum because three candidates are running for each position. The top two vote-getters in each race when Aug. 2 primary ballots are cast will then go on to the Nov. 8 general election.
Sheriff Candidates Harris, Kriete and Baker
Candidates for sheriff — a post vacated when former Sheriff Tom Jones announced he would not seek reelection, followed by his retirement at the end of June — focused on crime, homelessness, drug use and recruiting department staff.
Kriete, a current GCSO chief deputy, said he believes it's important to get the county's drug court program off the ground because it will reduce recidivism and make it possible for county law enforcement and behavioral health specialists to deal with the core problems that lead to homelessness and drug addiction.
He also said the GCSO is currently short-staffed, especially among jail deputies, who are only paid around $17-$19 per hour to start.
"We are roughly 19 positions down," Kriete said. "They need to be treated and paid as professionals, and the best way (to recruit and retain) is pay."
Harris agreed that establishing the drug court — originally proposed several years ago by Grant County Superior Court Judge David Estudillo, who was appointed Federal District Court judge in 2021 by President Joe Biden — is important, and said breaking the county up into precincts with dedicated deputies and bases of operation would improve coverage and response times. In response to an audience question, Harris said he does not believe creating precincts would cost very much, given the GCSO already uses city facilities in a number of the county's smaller towns, like George, as substations.
"Public-to-public partnerships don't cost a whole lot," he said. "With the (reduced) time to respond and more presence, it will more than pay for itself."
Baker, who said he has no formal law enforcement experience, said the GCSO needs to be more proactive and less reactive in its approach to crime and communicate better with youth. He said one approach could be to have officers visit every junior high school in the county to ensure that the first encounter a young person has with law enforcement is positive rather than negative. He also said it's important for GCSO deputies to be out and visible to ensure people reacting to crime don't take the law into their own hands.
"We don't want to live in a vigilante society," Baker said.
Commissioner Candidates DeLano, Foster and Carter
When asked about the issue of crime and homelessness, county commissioner candidates Foster and DeLano said Grant County should take a tougher line on dealing with the homeless, with Foster noting that he remembered being asked this question in 2018 when he last challenged Carter. Foster said the county needs to deal separately with those who want help, those who need help, and those who are simply criminals.
"We should jail those who are criminal and help those who want to work," Foster said. "We should give a hand up, not a handout."
DeLano generally agreed, noting that Portland and Seattle, in their compassion for the homeless, have descended into chaos. He expressed concern that Grant County was heading that way by being too generous with its public support for the homeless and fostering dependency.
"We are falling on the side of enabling," DeLano said.
Carter said the county is looking at putting behavioral health specialists in the county jail, adding that around 80% of the county's general fund is dedicated to law and justice — the sheriff's office, the county jail and the county prosecutor.
"That's always been a priority. We're looking at corrections officers and salaries. I would say they are probably underfunded and we will take care of it," Carter said.
DeLano suggested that some county offices need to have better hours, and should remain open at noon or even until 6 p.m., so people who work can do business with the county a little more easily. It was a sentiment that Foster, a banker and a real estate broker, agreed with.
"How do we close the county courthouse and expect to service the citizens of Grant County?" Foster asked.
Clerk Candidates Allen, Infante and Roduner
When asked about office hours, Allen — who has been Grant County Clerk since she was first elected in 2006 — said her offices hours of 8 a.m. to noon and 1 p.m. to 4:30 p.m. follow the Superior Court schedule and make sure her staff have time off for lunch. She also noted that her office currently doesn't have much more room for additional staff.
"I have room for only one more desk," she said.
Infante, who currently works in the clerk's office, said he would like to keep the clerk's office open through the lunch hour, noting that deputy clerks could probably taks staggered lunches in order to ensure there is coverage in both the office and the courts. He also said, as one of the clerks being trained on the new procedure for filling out protection orders, that clerks need to be able to fill in for each other, and that includes the elected boss.
"I will be a working clerk," Roduner said.
Roduner, who worked in the county clerk's office for a number of years, said she thinks that a staff of 15-16 should be enough, but that clerks need to be cross trained and more deputy clerks need to be trained as family law facilitators.
"We need to increase those slots," she said.
Under the Washington state constitution, the county clerk keeps the county's court records, legal filings and other legal documents.
Charles H. Featherstone invites you to contact him at cfeatherstone@columbiabasinherald.com.
EDITOR'S NOTE: The Columbia Basin Herald sponsored this forum in an effort to support the voters of Grant County being informed. The paper does not endorse any candidate for public office and advises voters to research each candidate thoroughly and vote as they see fit.
CORRECTION: Marla Roduner said she would be a working clerk. This correction has been incorporated in the above article.
Recent Headlines
---