15U Riverdogs prepare for regional play
by
IAN BIVONA
Sports Reporter
|
July 18, 2022 1:20 AM
EPHRATA — Following a sweep in the 2022 North Washington Babe Ruth State Tournament, the 15U Columbia Basin Riverdogs will be heading to Kelso for the regional matchups.
The winner of regionals will qualify for the 15U World Series in Stafford, Virginia next month.
"We got them prepared for the state tournament the week before, and it ended up working in our favor," 15U Riverdogs Head Coach Jaime Vela said.
Due to a pre-planned trip, Vela was unavailable to coach in the Riverdogs' state tournament win over Farmers, allowing assistant coach Quintz Whitaker to step in to help lead the team to a win. Whitaker, who has served time as a coach at Moses Lake High School, said the team's performance in the tournament was an "expectation."
"It's an expectation for us," Whitaker said of the team's state tournament win. "Our goal going in is to compete at that tournament and get a chance to move on to the next phase. So, to be able to put the time in and the effort to compete in that way was a goal for us, and I think it was good to see the boys execute."
The Riverdogs won back-to-back games in the tournament, sweeping 15U Farmers in the process. Both games ended in 4-3 wins in walk-off fashion, the first by shortstop Cruz Martinez in the bottom of the seventh inning and the second by first baseman Kason Whitaker in the bottom of the eighth inning.
As head coach, Vela was complimentary of his coaching staff guiding the team to success despite his absence.
"It's huge," Vela said. "Yeah, they call me the head coach, but there's (really) three head coaches on our team … our coaching staff, seriously, it's phenomenal. It's next guy up, and it's awesome having that as a coaching staff."
Vela, who graduated from Moses Lake in 2015, is excited to give back to his community through the lens of coaching.
"To be involved in coaching with the sport I love and having such an impact on some of these kids - I started coaching in 2018, and I've already seen some of my kids grow into young men and mature, and it makes you really proud."
With wins over Cashmere, Naches and Eastmont in the days following the state tournament win, the 15U Riverdogs sit at 22-10-2.
"It's been fun, because I feel like we've been building," Whitaker said of the team's performance through the season. "With young men that's always the goal, to finish better than they start off. I think that as the summer's progressed they've gained confidence in their abilities and the way we've played as a team it's been fun to see and watch."
With regionals beginning on July 25 and running through July 31, the Riverdogs will be playing in a handful of games before heading to Kelso on July 24.
"After (those games) it's just about fine-tuning our little things," Vela said. "We run a lot of plays, we're not really a team that's going to - we don't have guys who throw 90 miles an hour, we don't have guys hit the ball out of the park - we do a lot of little things correctly."
The team is composed of players from around the Basin, with two players from Almira/Coulee-Hartline, one from Quincy High School and the rest from Moses Lake High School. Vela credited the likes of center fielder and leadoff hitter Adrian Martinez, shortstop Cruz Martinez, third baseman Kane Conger, first baseman Kason Whitaker, catcher Holden Koziol and more for the success of the Riverdogs up to this point.
"Several guys on the board have just been lights-out for us," Vela said. "Really helping us out a lot."
Now with a trip to the 2022 Babe Ruth World Series on the line, Vela believes it will come down to his team's pitching to be able to make the cross-country trip to Virginia.
"It's going to take great pitching," Vela said of what it'd take for his team to make a run. "We got to go out and we got to pitch, and we got to play great defense. I'm a firm believer that defense wins championships, so if our pitching staff shows up and they do what they're supposed to do, we're going to be in a good position to win."
Ian Bivona may be reached at ibivona@columbiabasinherald.com.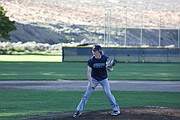 Recent Headlines
---