Murray legislation fails to get unanimous Senate approval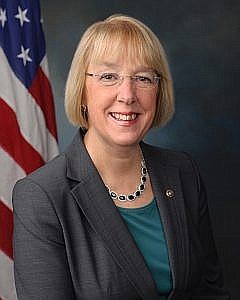 U.S. Senator Patty Murray (D-Wash.)
FILE PHOTO
by
STAFF REPORT
Staff Report
|
July 14, 2022 3:50 PM
WASHINGTON, DC — A speech by an Oklahoma senator stopped an attempt by Washington Senator Patty Murray and co-sponsors to get unanimous consent to pass a bill related to women traveling for abortion services.
Senator James Lankford (R-OK) gave a speech opposing the Freedom to Travel for Health Care Act, sponsored by Murray, Catherine Cortez-Masto and Kirsten Gillibrand, (both D-NY) and Sheldon Whitehouse (D-RI).
"The legislation would protect every woman's right to travel across state lines to receive abortion care, and to protect the providers that care for them," Murray said in a press release issued by her office.
"It's disgraceful that anyone would object to making sure people can travel to other states for reproductive healthcare," Murray said in the statement.
A copy of his speech on Lankford's website said in his opinion the bill isn't necessary.
"No state has banned interstate travel for adult women seeking to obtain an abortion. No state has done that," Lankford said in the speech. "Now, am I confident there are some people that are out there talking? Yes, but there's also in this Senate 5,000 bills that have been filed, but how many of them are actually going to move? As it is in every legislature across this country, and everyone in this body knows it."
Murray's statement did not say whether or not efforts would be made to pass the bill without unanimous approval.
Recent Headlines
---