Moses Lake volleyball camp brings together young athletes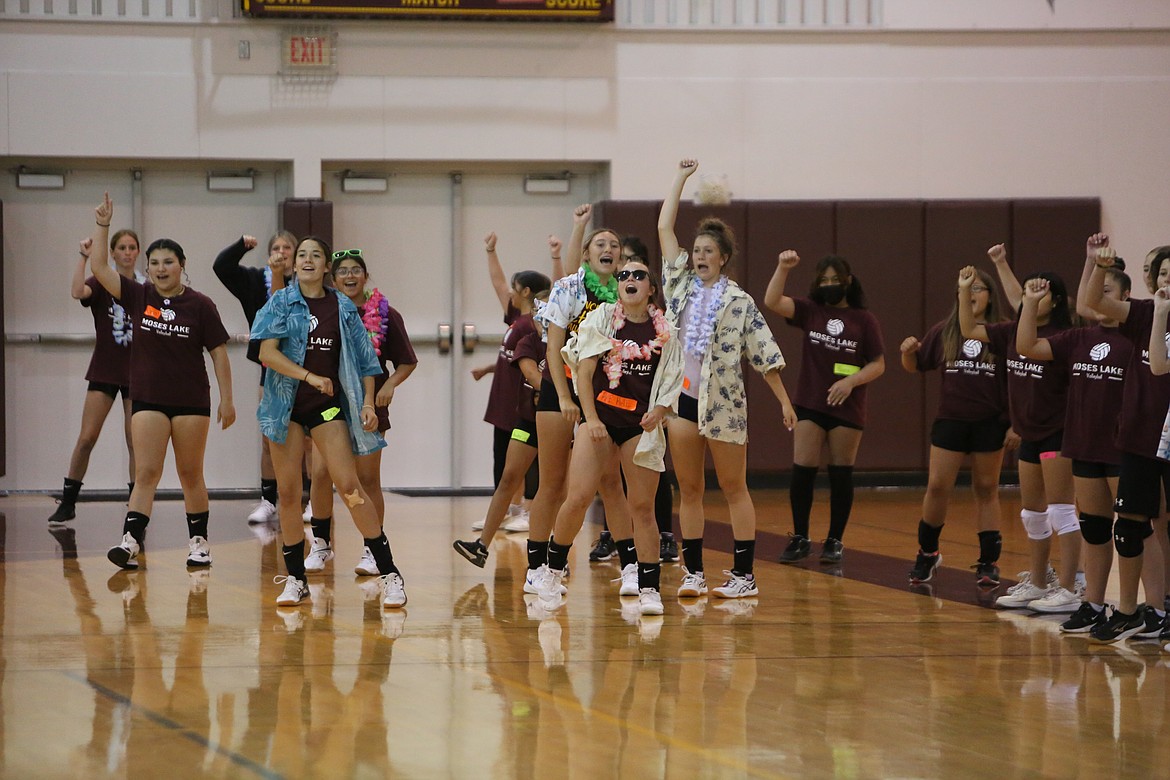 Following a warm-up period, a loud cheer broke out among the campers before training began.
IAN BIVONA/COLUMBIA BASIN HERALD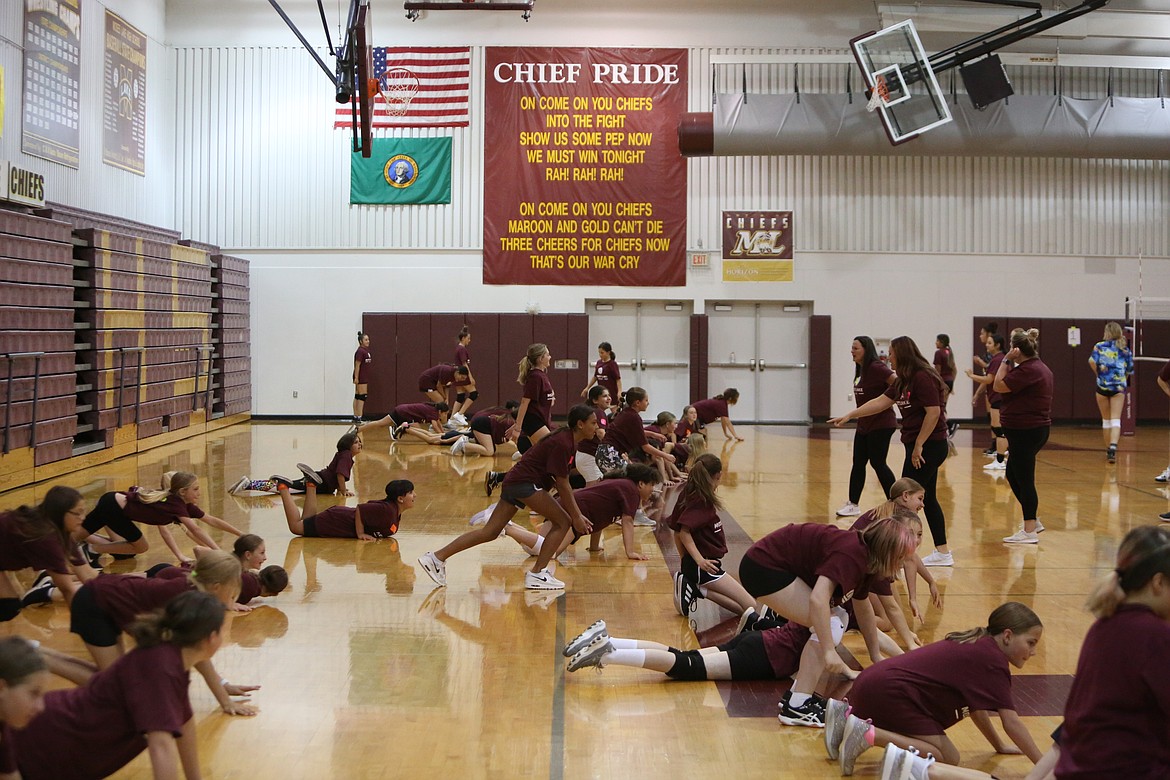 Campers focused on different skills each day, practicing diving on Thursday.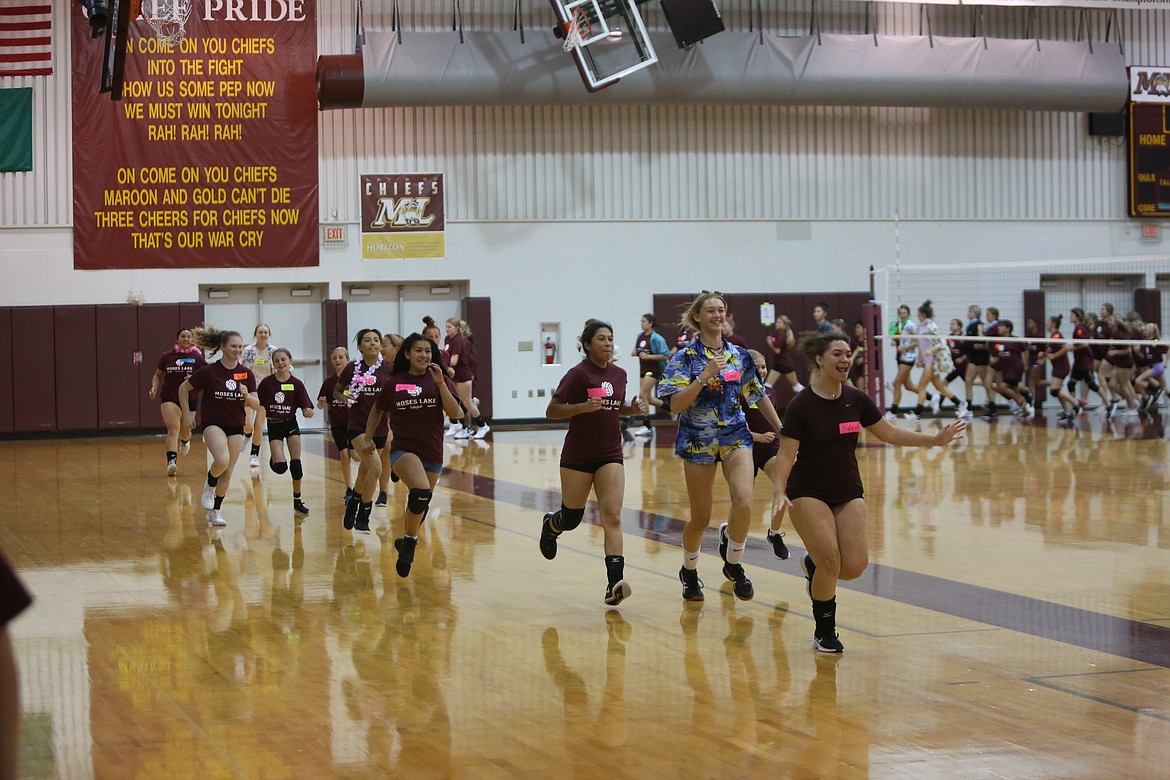 The Lil Mavs camp was held at Moses Lake High School this past Tuesday-Thursday, bringing in young athletes from Moses Lake and the Basin as a whole.
Previous
Next
by
IAN BIVONA
Sports Reporter
|
July 14, 2022 5:04 PM
MOSES LAKE – Moses Lake High School hosted a volleyball skills camp this week, bringing in over 60 participants from grades 5-8.
The Lil Mavs camp was held from Tuesday-Thursday this week, put on by the Moses Lake volleyball coaching staff.
"We're re-establishing it," Moses Lake Volleyball Head Coach Krystal Trammell said of the camp. "We haven't had it because of Covid, and so with the new program we're trying to establish our program culture."
Trammell, who is in her first year as head coach of the Mavericks after serving as an assistant coach the previous five years, said she wants to bring the community together through sports, starting with the Lil Mavs camp. A majority of the campers are from Moses Lake, with some sprinkled from the surrounding area.
"One of our core principles in (our culture) is a sense of community," Trammell said. "So, by working with the younger athletes in the Columbia basin, it's a great way to start relationships and they're going to be the future of the program."
The camp taught the young athletes many skills to become better volleyball players, including passing, setting, attacking the ball, serving and diving. In doing so, the Lil Mavs camp prepares the players with what skills are needed at the high school level.
"Just playing," Trammell said of what the camp consisted of. "Get them out there and rotate, they have to be fundamentally sound. It's nice to start them here, and every year as they come and watch the girls and continue to come to our camps, they're going to already know the basics of what we expect when they get here."
Along with the coaching staff, many returning players on the Moses Lake team have volunteered to help run the camp. Players were dressed in a variety of different outfits, as Moses Lake also had its spirit week coinciding with the camp.
"The girls have been helping out," Trammell said. "A lot of our returners, even some of our freshmen that are into the program. They weren't sure what it was when they came the first day, they were like 'this is a lot of fun.' Every day, a lot more of our own girls have been coming to help out with the little ones."
Ian Bivona may be reached at ibivona@columbiabasinherald.com.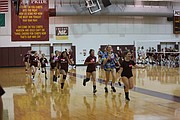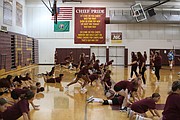 Recent Headlines
---