Moses Lake athlete beats personal records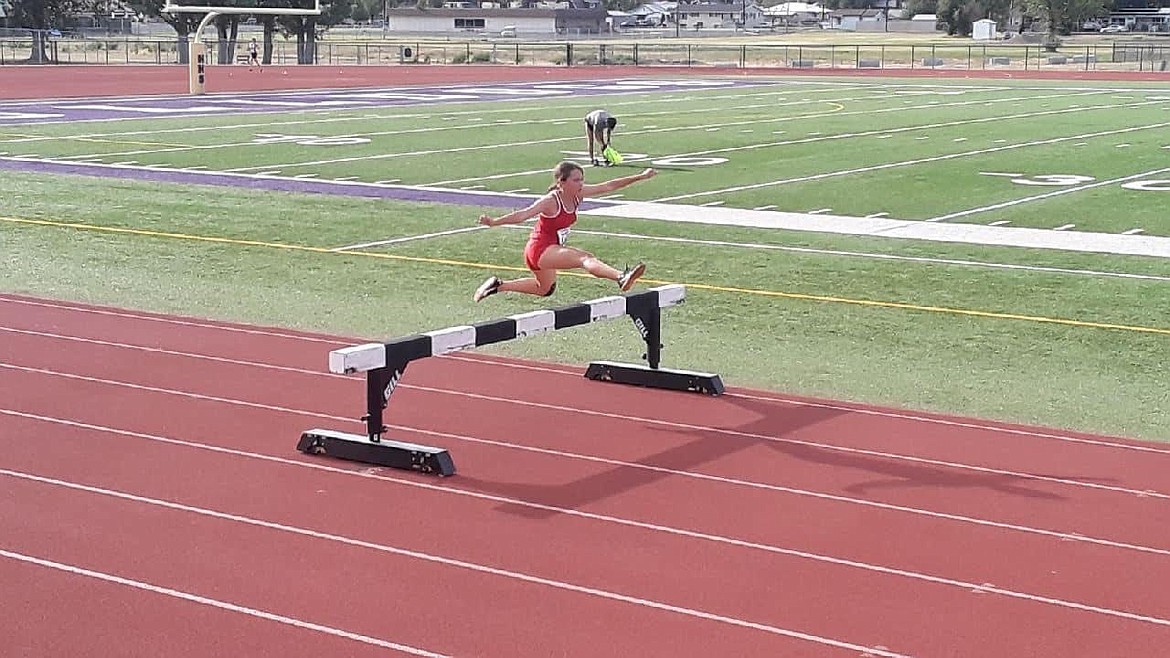 Paige Perkins placed first in the 2000m steeplechase and third in both the 1500m and 3000m races last weekend at the USATF Region 13 Championships.
CONTRIBUTED PHOTO/TY PERKINS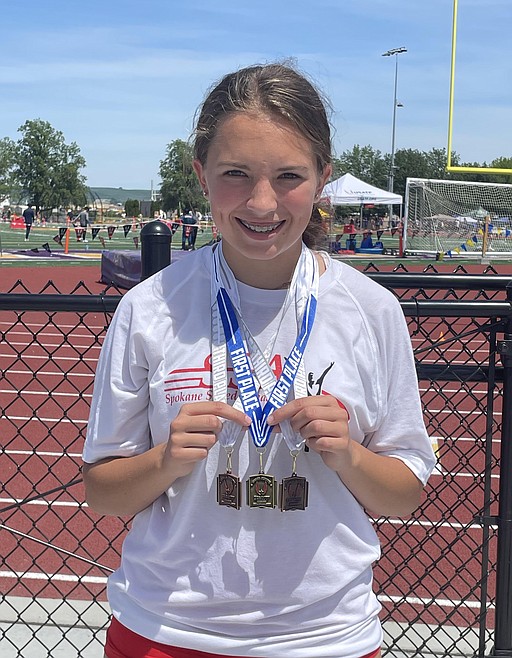 Moses Lake's Paige Perkins will be competing at the 2022 USATF National Junior Olympic Track and Field Championships in Sacramento, California later this month.
Previous
Next
by
IAN BIVONA
Sports Reporter
|
July 13, 2022 2:59 PM
MOSES LAKE — Rising junior Paige Perkins went into the summer with a goal in mind, to make it to the 2022 USATF National Junior Olympic Track and Field Championships.
After spending time healing from injuries and training with the Spokane Speed Academy over the summer, Perkins competed in the USA Track & Field Region 13 Championships in Richland - qualifying for Nationals in the process.
"They were actually pretty good runners and it pushed me a little bit more from getting back from knee injuries," Perkins said of her competition at the meet. "It was actually a fairly good meet for me."
Perkins competed in the girl's 1500m, 3000m and 2000m steeplechase in the Region 13 Championships - setting a personal record in the 1500m and 3000m events, finishing at 5:38.88 and 12:12.68, respectively. She placed third in the 1500m and 3000m events and first in the 2000m steeplechase.
"It was pretty good," Perkins said of the races. "I (beat my personal records) by nine seconds in the 1500 and 12 seconds in the 3000m, and tried out the steeplechase … it was just that I had taken the time off and still did that little work to at least get better, but also to be healthy enough to run."
Part of the regional competition was held at Hanford High School in Richland, with the steeplechase being held at Hermiston High School in Hermiston, Oregon.
"This was kind of an unusual thing, but it was a lot calmer at Hermiston," Perkins said on having to travel to two places for the regional competition. "It's just the mind prep I do just before a regular race at the other place. It's just getting excited and pumped up for it kind of thing."
With her success at the regional meet, Perkins will now move on to the USATF National Olympic Junior Track and Field Championships in Sacramento, California.
"It feels good because I've worked hard," Perkins said. "Yeah, there were only six people in my heat even though the top eight qualify, but it feels good to have this sense of accomplishment that you put in the work. You're at least there, and that you get to go to something big because you are there."
While running with the Spokane Speed Academy, Perkins said the academy offers another level of training, promoting healthy competition between participants from a range of ages. The difference in age of those training with the academy gives Perkins unique opportunities for friendly competition.
"Being able to run with faster kids when you do go to practice, it gives you somebody to catch," Perkins said, "Because there's a girl that's older than me, but she's faster, so it pushes me more than what we may have at our school."
Typical training with the academy focuses on runners maintaining health and improving speed. Runners train in a group with individualized regimens, tailored to the needs of each runner and based on what they need to improve and overall health.
"It's more of a be healthy, and then practice the speed and then practice your endurance somewhere else," Perkins said of what training is like with Spokane Speed Academy. "You do endurance on your own and work on the speed while you're at practice."
On the injury front, Perkins said that she had been battling with runner's knee, also known as patellofemoral pain syndrome.
The pain from the injury sets at the top of the knee, and has a set dull pain where the knee connects with the lower end of the thigh bone, according to Johns Hopkins.
"At the end of our track season I had runner's knee that started acting up really bad and I'd been in-and-out all season," Perkins said. "So, there's been (times) that I don't finish a meet, or I just take off for coach requests just because (of) the knee and acting up."
Despite the injury taking its toll during the season, Perkins used the time off during summer training to recover.
"It's been holding up fairly nicely this week because we've been taking time off and it was able to hold up through the meet," Perkins said.
People from throughout the Columbia Basin, especially Moses Lake, have been supportive of Perkins's efforts on the track.
"You may not think that you're doing the best, but people are still rooting for you to get better and get to those places - and it's nice," Perkins said of the community support she has received, including donations to a GoFundMe page to help her get to Nationals.
The USATF National Olympic Junior Track and Field Championships meet will be held July 25-31, with Perkins competing on July 30-31. With just more than two weeks until her events, Perkins will continue to train for the National meet.
"The endurance, I definitely need a little more of that," Perkins said regarding her meet prep. "The healthy aspect, I'm still working on making sure that I can withstand (the full meet), because I'm still trying to (beat my personal bests)."
Ian Bivona may be reached at ibivona@columbiabasinherald.com.
Funding success
A GoFundMe page has been published by Paige Perkins' father, Ty Perkins, to raise money for the trip to Sacramento. $560 of the $1,500 goal has been met as of Tuesday, with the funds going toward food, gas and hotel accommodations throughout the trip to Nationals. The fundraising page can be found at https://gofund.me/df52e19e.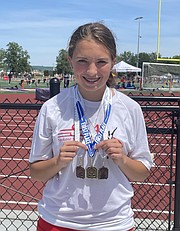 Recent Headlines
---