Q&A: Grant County Clerk candidates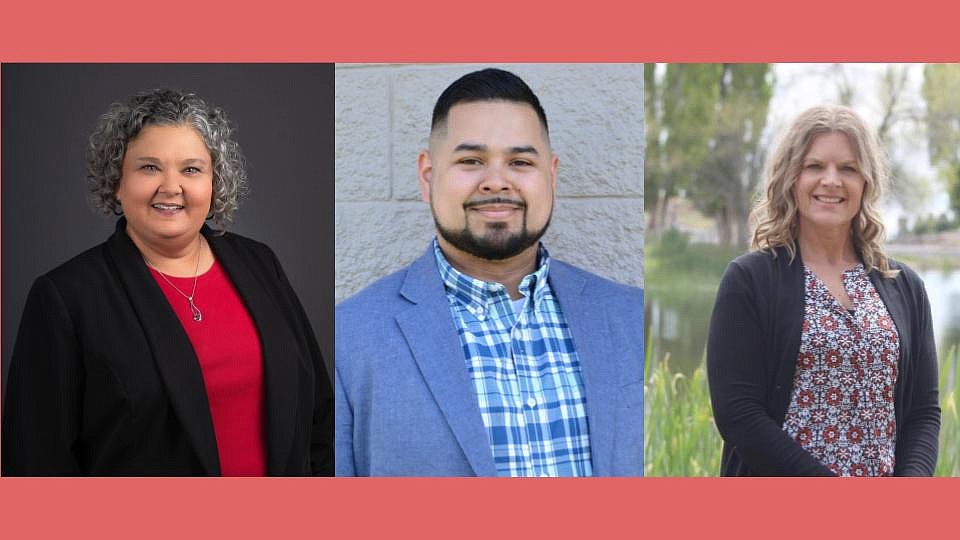 Incumbent Kim Allen (left) is running against Ulises Infante (center) and Marla Roduner for the position of Grant County Clerk in this year's elections.
CONTRIBUTED PHOTOS
by
Rebecca Pettingill
Staff Writer
|
July 12, 2022 6:12 PM
Kim Allen, Marla Roduner and Ulises Infante, all of the Republican Party, are in the running for the position of Grant County Clerk. Each candidate was presented with four questions and an opportunity to provide a short bio to introduce themselves to the voters in the county. Each candidate's responses are provided below and have been lightly edited for clarity.
Background:
Allen: I am a 53-year-old married mother of two adult children and grandmother of four. Grant County has been my home for 49 years.
1986 Ephrata High School graduate. I attended Big Bend Community College and many continuing education classes.
I have worked in the legal field over the past 37 years gaining the experience and growing the skill set that is needed to serve as Grant County Clerk.
I have actively served the Grant County Republican party since 2006 in various roles, including: Candidate Committee member, elected Precinct Committee Officer, volunteering with Lincoln Day Dinners and in the fair booth, attending central committee and PCO meetings, and serving as Republican Women Treasurer for 15 years.
I am a member of the Community Church of Ephrata and have been involved in women's ministry, two pastor search teams, and enjoy singing in the Praise Band to lead Sunday worship.
It was an honor to be voted Washington State Clerk of the Year in 2014-2015 by my fellow Clerks for my dedication and hard work.
Infante: I was born and raised in North Central Washington and graduated from Brewster High School in 2009. I married my wife, Alicia, in August 2011 and we are now the proud parents of two boys, Nathan age 4 and Isaiah age 6 months. I have been a resident of Grant County for over 10 years. In my time in Grant County, I have demonstrated my passion and commitment to serving its residents. I am the current president of an affordable housing non-profit in Quincy, I am a board member of Moses Lake Community Health Center, I am the second vice president of the Grant County Public Employees Association, and I am the chairperson of the Grant County Health and Wellness Committee. All of this in addition to my service as a volunteer associate pastor and worship leader at my local church in Quincy.
Roduner: I have lived my entire life in Grant County. After graduating from Ephrata High School in 1992, I took a break from my schooling and entered the workforce. My family instilled early on in my life the value of hard work. As I gained experience in customer service, I realized that public service was my passion. I then decided that taking additional courses that focused on customer service and technology was the next step in furthering my education and attended Big Bend Community College. I have been married to my husband, Adam Roduner for 5 years and between us, we have 3 children. As a family, we enjoy horseback riding, camping, boating, UTV riding, and working on our small family farm.
Q: If elected, what are your goals as Grant County Clerk?
Allen: To maintain the work that I have done over the past 16 years hiring and shaping an amazing team of 15 staff members who are well educated, cross-trained, and dedicated to serving Grant County.
Implementing Phase II of our new eFiling program that allows authorized users to file documents electronically with the Clerk's office.
Continuing my work with the Secretary of State's Digital Archives and County Technology Services department to store digital records, which will help us move toward a paperless environment.
Infante: My goals if elected will primarily be focused on serving the people of Grant County and making our office more accessible and efficient. I would like to change the office hours to be open during the noon lunch hour, to accommodate those with similar schedules as ours. I would like to make e-filing accessible to all, currently, it is only accessible to attorneys and their staff. We are the fourth largest county in Washington by area, and being able to save people from having to drive long distances is a priority. I would also like to provide greater assistance to individuals in our family court system without attorneys, by rearranging the duties of the current Family Court Facilitator staff. I will build stronger relationships with Grant County Superior Court judges and staff, the Grant County Prosecutor's Office, the office of public defense, and local attorneys in order to work more cohesively. Lastly, as a long-term goal, I would work to make our office paperless.
Roduner: To be a true working clerk. One who realizes the importance of working alongside other staff within the office to ensure the daily operations of supporting Superior Court and serving other county offices and the public are a priority.
Increase professional public service through training and implementation.
Improve relationships and communications with other County offices through healthy and open (dialogue).
Increase open hours of operation to accommodate the citizens of Grant County.
Look for ways to decrease costs within the office to save County tax dollars.
Q: What are your qualifications for this position?
Allen: I have 28 years of management experience, 23 years of experience in the clerk's office, and nearly 16 years proudly serving Grant County as your elected clerk.
For 15 years I worked for attorneys at various law offices as a legal secretary and office manager. My career as a courtroom clerk started by working for Clerk, Dedra Osborn, and later Gordon Harris. Previous experience in the Clerk's office was answering phones, front counter service, courtroom clerk, trainer, and liaison between the judges and Clerk.
I am an active member of the Washington State Association of County Clerks, holding the following Executive Board positions: Secretary 2010 – 2012; Education Committee 2010 - Present/Co-Chair 2015-2016; Vice-President 2016-2018; President 2018, and 2021-2022
Immediate Past President 2018-2020, and 2022.
I am passionate about providing excellent customer service at the front counter, on the phone, and in the courtrooms. I am a problem solver and prefer to bring people together to come to a mutually agreeable solution if problems arise. My strong desire and interest to keep current with changes due to legislation and revisions to court rules affecting the Clerk's office.
Infante: I spent four years in retail banking and lending before coming to the Clerk's Office where I have been the Interpreter/Collections Deputy for 5.5 years and part of the transition to our new primary operating system. I have taken advantage of every opportunity to learn about the various case types that come through the office. I have opened and helped process cases of all kinds, from criminal to probate, various domestic and family cases, protection orders, and a variety of juvenile cases. I would not claim to know all there is to know, we are all always learning, and there is still a lot for me to learn. I have demonstrated that I am not only capable of learning, but I am capable of being taught. I have also built relationships with the office and departments that the Clerk's Office works closely with. My work experience coupled with my experience serving in church and on different boards with a group of people to get jobs done help to qualify me for this position. I know the importance of being surrounded by not only like-minded people but people who think differently and can offer different perspectives, solutions and ideas.
Roduner: I was employed in the Grant County Clerk's Office from July 2006 until April 2018. During this time, I gained experience in several areas: Proficient in courtroom procedures for eight case types (Criminal, Civil, Domestic, Probate, Paternity, Mental Health, Truancy/Dependency, and Juvenile); Proficient in serving the general public, attorneys, prosecutors, other county officials, and their staff with their legal filings and different needs provided by the County Clerk's Office; Proficient with county filing systems; Proficient in the preparation and processing of legal documents for eight case types for court proceedings; Proficient in county accounting processes and banking procedures; Proficient in understanding the legal process and document requirements in processing passports
Proficient in tracking and recording exhibits for legal hearings and trials
Proficient in the legal requirements for retention and purging of records for Superior Court and the County Clerk's Office
Proficient in the most recent Judicial Information System, Odyssey
Proficient in training requirements for Deputy I and II Clerks
Supervised a staff of nine Deputy Clerks
Knowledgeable of RCWs and WAC requirements for county operations. I believe my years of experience and knowledge of government operations make me a qualified candidate for your next Grant County Clerk.
Q: Why do you want to be Grant County Clerk?
Allen: I love being your Grant County Clerk! I enjoy the challenges, the variety, the legal aspects of the position, and serving the public.
I have a unique skill set that makes me the best-qualified candidate for this position. I have proven this through my actions and hard work over the past 16 years. You have elected me four times because of my knowledge, experience and drive. Now I am even more knowledgeable and experienced, and I still have the desire and drive to serve you well.
I still have important goals for the Clerk's office that I would like to see through to completion. I have always pledged to not only work IN the office but to also work ON the office. I have made great strides in bringing the office up-to-date, laying the foundation for building a future with eFiling and a paperless filing system. I look forward to working with the commissioners, judges, and my staff to accomplish these goals.
Infante: I am running for Grant County Clerk because I have a genuine passion for serving the residents of Grant County that goes beyond mere work experience. I want to bring that passion, commitment, and focus on service to the Clerk's Office. As a current employee, I know the current strengths and weaknesses of the office. I believe the time for change has come and I am the right candidate that can lead us into the future. It is for this reason that I am asking for and would be honored to receive your vote.
Roduner: When I worked at the Grant County Clerk's office from 2006-2018 I was very passionate about working in public service. I realized in the last few years that serving in public service roles has empowered me to serve others in an elected position, my mission is to persevere in bringing positive change while maintaining the integrity this position demands.
Q: What do you think is important for voters to know about you or the position that they may not know?
Allen: My knowledge of Clerk procedures ranges from how things were done with microfilm, bound index books, docketing by hand in those old books, how old financial records were kept, and how cases are handled with the Secretary of State's Archives Division in Ellensburg, to eFiling and Digital Archives storage now. My institutional knowledge has created my foundation for leading the Clerk's office regarding constitutional and statutory duties to preserve the records of (the Grant County) Superior Court.
Many recent legislative and Supreme Court decisions have affected the courts and Clerks statewide. I am the most knowledgeable candidate regarding those current issues.
Several times I have analyzed whether the Clerk's office could be open during the noon hour. Each time, I have determined the expense outweighs the benefit. It is fiscally irresponsible. The bulk of our workload comes through the mail or from offices that also close at noon. The payroll costs of adding staff and the space modifications needed to accommodate them is too great for the potential benefit.
Infante: In simplest terms, the clerk is the recordkeeper. We are there to provide the public unfettered access to a fair, accurate, and independently established record of the opinions, decisions, and judgments of the court. Yes, there are policies, procedures, and rules that must be followed just like any other office. While I believe the proper rules should be followed in maintaining our records, we must not lose sight that as public servants we are there to serve the public. My passion for service is what sets me apart, I want to make the office more efficient to save the public's money and I want to make it more accessible to allow the public to do their business with us as effortlessly as possible.
Roduner: The Grant County Clerk is one of 39 county clerks in Washington State. They serve as an ex-officio clerk of the Superior Court. The clerk is an elected official whose responsibilities are governed by local and state rules and statutes. Supporting Superior Court as a County Clerk brings the responsibility of leading deputy clerks and other staff to professionally and accurately process legal documents and maintain the integrity of those records according to RCWs and WAC requirements and county clerk procedures.
Correction: A prior version of this story misstated the position this election is related to. That has been corrected in the text above.
Recent Headlines
---