Time Out Pizza looks for a consistent slice in Othello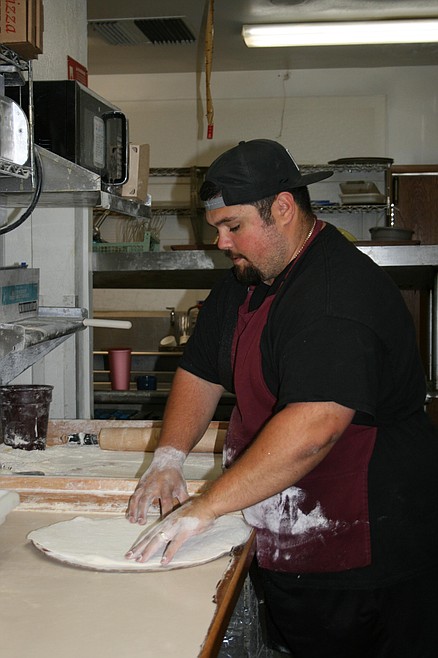 Timeout Pizza co-owner CJ Garza works the pizza dough Thursday morning. Garza said the support of Othello residents has been crucial to the business's survival.
CHERYL SCHWEIZER/COLUMBIA BASIN HERALD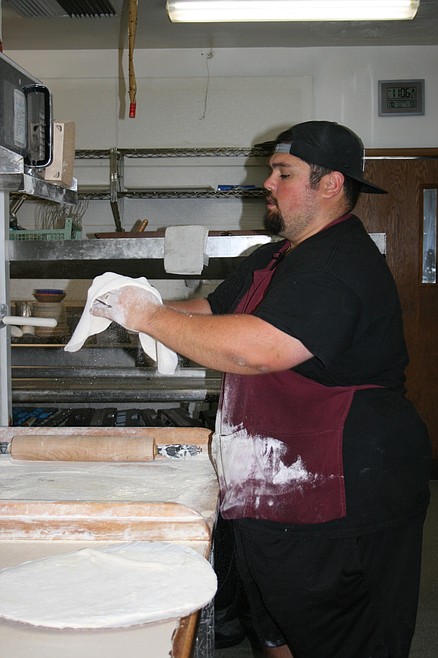 CJ Garza, co-owner of Timeout Pizza, gets pizza dough ready for the oven.
Mushrooms, sausage and white sauce smother a Timeout pizza.
The Antonio is among the specialty pizzas available at Timeout Pizza in Othello.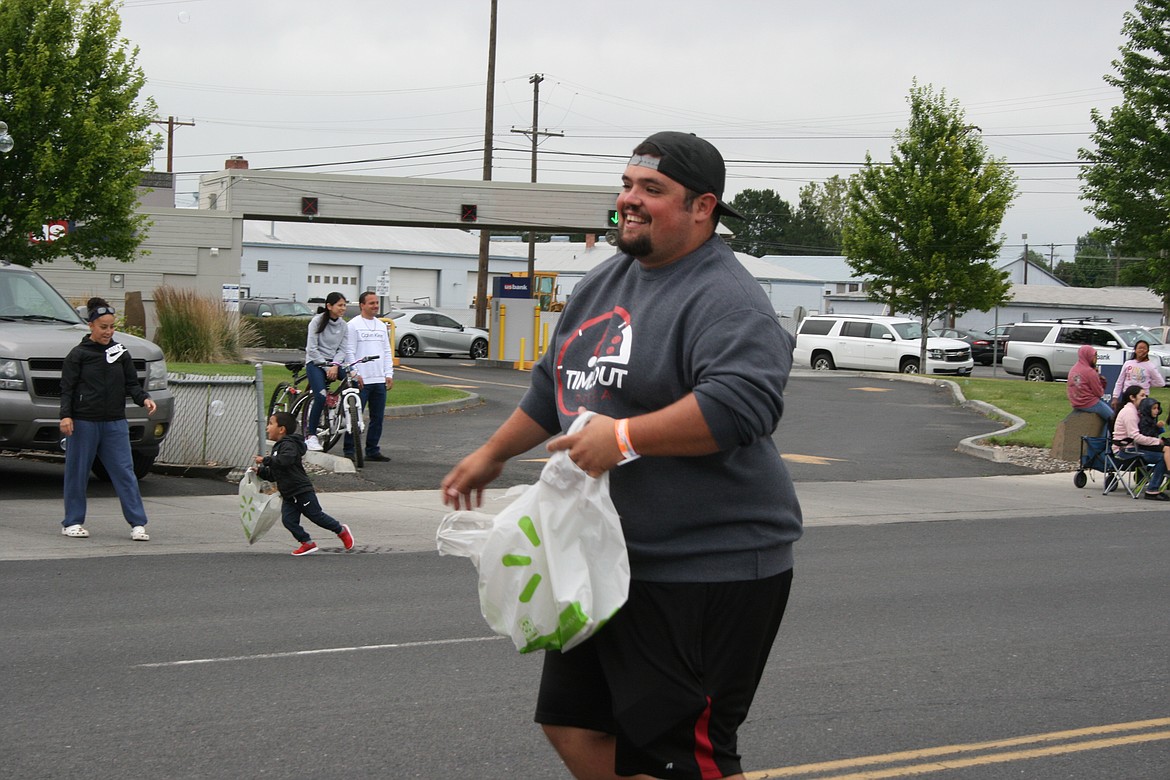 Timeout Pizza co-owner CJ Garza throws out candy during the July 4 parade in Othello.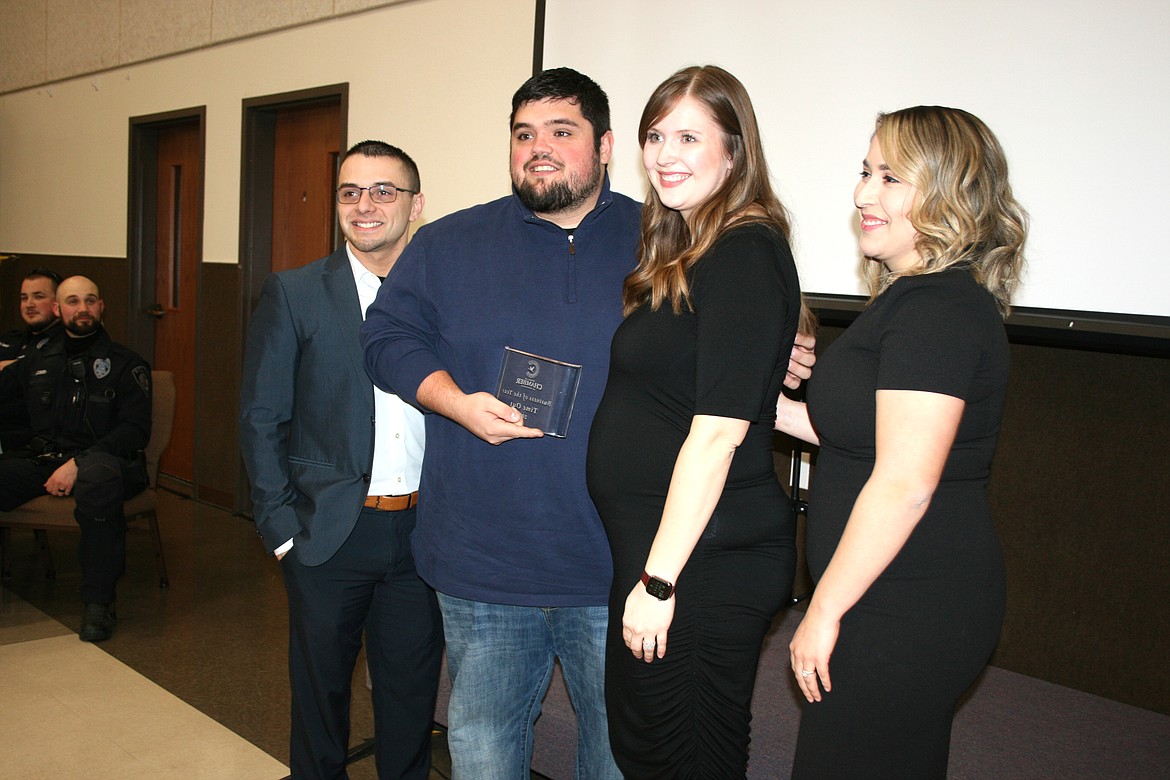 CJ (center left) and Carli Garza (center right), owners of Timeout Pizza, accept the Business of the Year award from the Othello Chamber of Commerce during the Chamber banquet in February. The award was presented by 2022 Chamber president Mat Garza (left) and 2023 president Thalia Lemus (right).
Previous
Next
by
CHERYL SCHWEIZER
Staff Writer
|
July 11, 2022 1:20 AM
OTHELLO — Timeout Pizza co-owner CJ Garza said the crucial ingredient in making good pizza isn't so much an ingredient as good habits of mind.
"I think what makes good pizza is to have consistency," Garza said. "Yes, the ingredients matter. All that stuff matters, but I feel like consistency in our prep, in our ovens – everything kind of ties in, the cheese, the sauce amount. It all matters, but being consistent day in and day out is really important."
There's another component to good pizza that's just as crucial, if not more so.
"We serve the community, and we take pride in how much they mean to us because through the pandemic and through everything, they took care of us. They made sure to support us as a community. And we take pride in making sure we make ours with love so that we give back that way. Because we know we wouldn't be here without the community," Garza said.
He also credited Timeout's employees, who kept coming to work through the shutdowns and uncertainties.
"Especially during the pandemic, it took a lot of courage for them to be out here, and come and help us – their families not wanting them to be out. They made it work, and they didn't give up on us. It just all worked out well together. And it all started from Othello and its support," he said.
The menu features classics like pepperoni, options for meat lovers and vegetarians and specialties like the Ranchero, which had chicken, bacon and a garlic ranch sauce. Customers can put together a specialty order from various toppings and sauces.
Timeout also serves hamburgers, specialty burgers and sandwiches, and has a salad bar. There are daily specials as well. People can place takeout orders on the restaurant's website, www.timeoutpizza.com, or by phone at 509-488-2788.
Garza and his wife Carli are second-generation owners, having inherited the business from Carli Garza's parents. (Carli Garza was not at the shop Wednesday, having given birth to the couple's third child on Monday.) Ownership has been in transition for a while, with CJ and Carli Garza taking over full ownership in October 2021.
"We've been acting owners for seven years," CJ Garza said.
Both CJ and Carli Garza are Othello natives, and while they left town for a while after graduation, they came back.
"We met in high school, went to college in Missouri," Garza said. "We stuck through it for five years there. Then we came back and said, 'Let's have a family and run a business,' I guess. It's been awesome."
The restaurant business is very competitive in the best of economic times, not to mention the circumstances of a worldwide pandemic that required restaurants to close their dining rooms for months. Garza said pizza restaurants were better equipped to handle the shutdown, due to the nature of the product.
"I think pizza in itself was the best option during the pandemic, because it was takeout, it was delivery. Very minimum contact needed to get the pie from here to there," he said.
Othello residents were willing to support businesses in town, like the pizza parlor, he said.
"Honestly, it was the community," Garza said. "They were like, 'Man, we're going to support them still.' We kind of felt that. They didn't have to say it."
That really held the Garza's through during those tough times.
"We thought, 'Our doors are going to be shut, we had to shut our dining area, we're going to be slow.' We never felt that. And we kind of use that as the symbol of community support. It was all year long, it was the next year, and even through the shortages that we had, and the products that were being replaced and substituted, they were there and supporting us through all the challenges," he said.
Business conditions have improved with the easing of the pandemic, he said, but there are still challenges.
"Every year just feels like there's a different challenge," he said.
But the couple's upbringing and their experiences have helped them meet the challenge, he said.
"Hard work, obviously, is humongous. Carly's parents and my parents, they both are perfect examples of hard workers," Garza said. "I think they did a good job teaching Carly, and I think they did a good job teaching me. All the stars aligned for us, and I think it starts with the roots of the family. There's no other way to say it, honestly,
"Stepping into this business, it just felt natural. Like coaching," Garza said.
His background in sports also helped him when the couple took ownership, he said. He went to college as a baseball player and graduated with a degree in computer systems management. But baseball provided a different – and very useful – education for business.
"Just being part of a team," he said. "Playing sports kind of teaches you how to handle competitiveness, how to handle teamwork, how to handle everything. So jumping into this, it almost felt like I was part of a team.
"Because you're competing, not only with other business, but you're competing with inflation, you're competing with everything that's going on. I think being in those (competitive) situations a lot, you learn how to go with it."
Timeout Pizza is located at 1025 E. Main St. in Othello and is open from 11 a.m. to 9 p.m. Monday through Thursday and 11 a.m. to 10 p.m. Friday and Saturday.
Cheryl Schweizer can be reached via email at cschweizer@columbiabasinherald.com.
Recent Headlines
---