Othello July 4 celebration hosts two tournaments
by
IAN BIVONA
Sports Reporter
|
July 7, 2022 1:20 AM
OTHELLO — As part of the Othello Chamber of Commerce's Fourth of July celebration, there were two tournaments held in Lions Park on Monday, one for volleyball and one for basketball.
Lions Park was packed with spectators dressed in red, white and blue, and the basketball and makeshift volleyball courts were alive with the sounds of cheers.
"I think it's awesome," volleyball tournament organizer Evelyn Miron said of the turnout at Lions Park. "Our community is big into volleyball. Actually, I feel like volleyball isn't as exposed as it should be, so when you see families do this it's super fun to watch."
The volleyball tournament raised money for an upcoming camp and was put on by the OTown Volleyball Club. This was the second year that the tournament was held, and 11 teams participated in the games.
"It's a fundraiser for our high school girls," Miron said, "to go to club camp."
Several volunteers stepped up to support the tournament, including donating nets and volunteering to referee the games. Many of the volunteer referees are involved in the OTown Volleyball Club, Miron said.
"The nets come from the various people who volunteer with the program," fellow tournament organizer Jackee Carlson said. "They're set up the morning of."
The teams were composed of members over the age of 14, with a minimum of seven players per team. Six teammates were on the court at one time and played a best-of-three to advance.
"A lot of the teams are family members, so that's always cool to see the families come together and play," Miron said.
On the basketball courts, the three-on-three tournament received less turnout than that the volleyball tournament, but teams still found a way to play on the courts.
"I had an expectation for a high turnout, and we didn't get that, but what we did get was a lot of good volunteers that wanted to play and I think that's what it's all about," organizer Rolando Pruneda said. "It's people coming together and forming a team; it was kind of on the spot and it worked out really good."
The atmosphere on the basketball courts was a friendly one, Pruneda said, and teams rallied together to play a handful of games despite the lack of a turnout.
"I had a great time, and I can tell everyone else did," Pruneda said. "It was great sportsmanship, everyone was cheering. It wasn't that competitive, 'I'm gonna be the champion,' it was more, like, fun. As it should be. I was really stoked at how everything went."
Pruneda said that he believes the basketball tournament will carry on into future years.
"I think we learned a lot this year, and next year and next year we'll implement some things and every year it'll get better," Pruneda said.
Ian Bivona may be reached at ibivona@columbiabasinherald.com.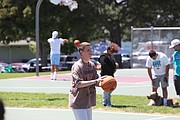 Recent Headlines
---