George goes all-out for patriotic bash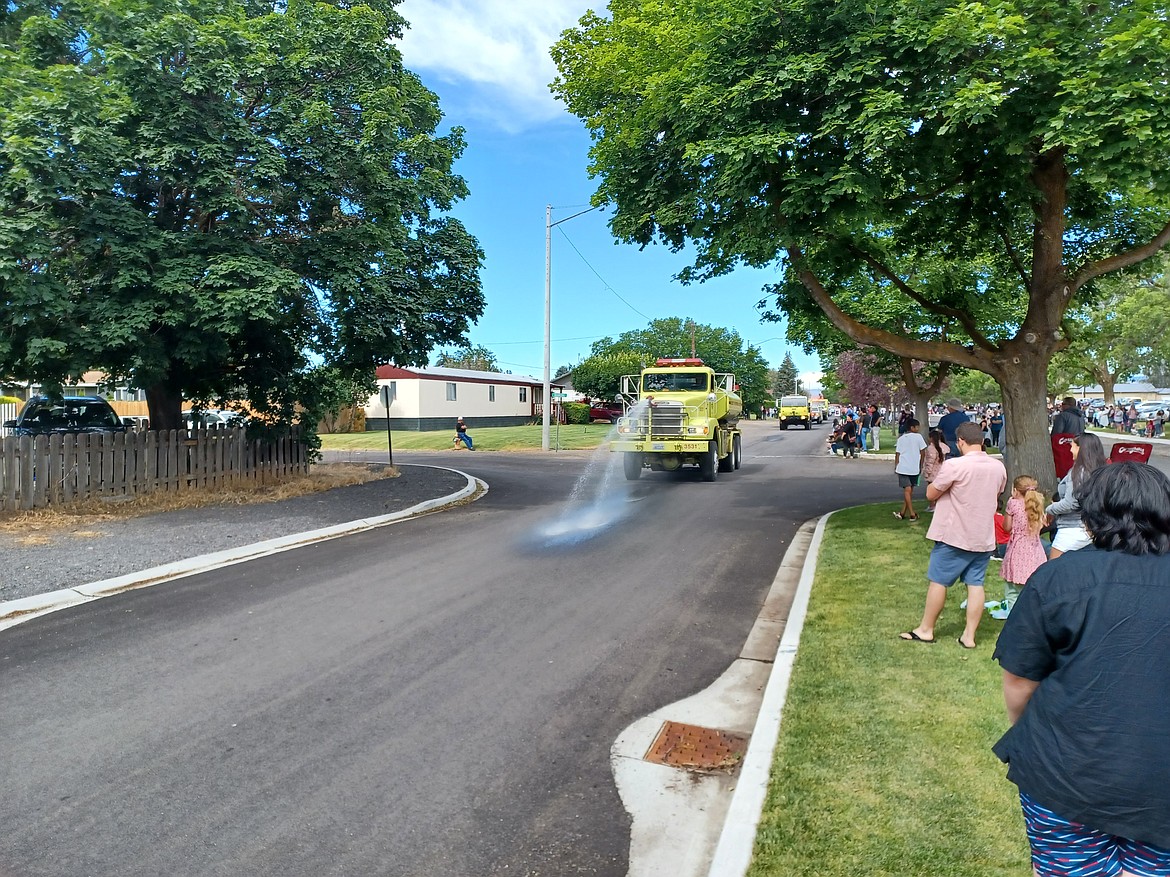 A Grant County Fire District 3 truck sprays water on the street – and some of the crowd – in the parade at the town of George's Fourth of July celebration.
JOEL MARTIN/COLUMBIA BASIN HERALD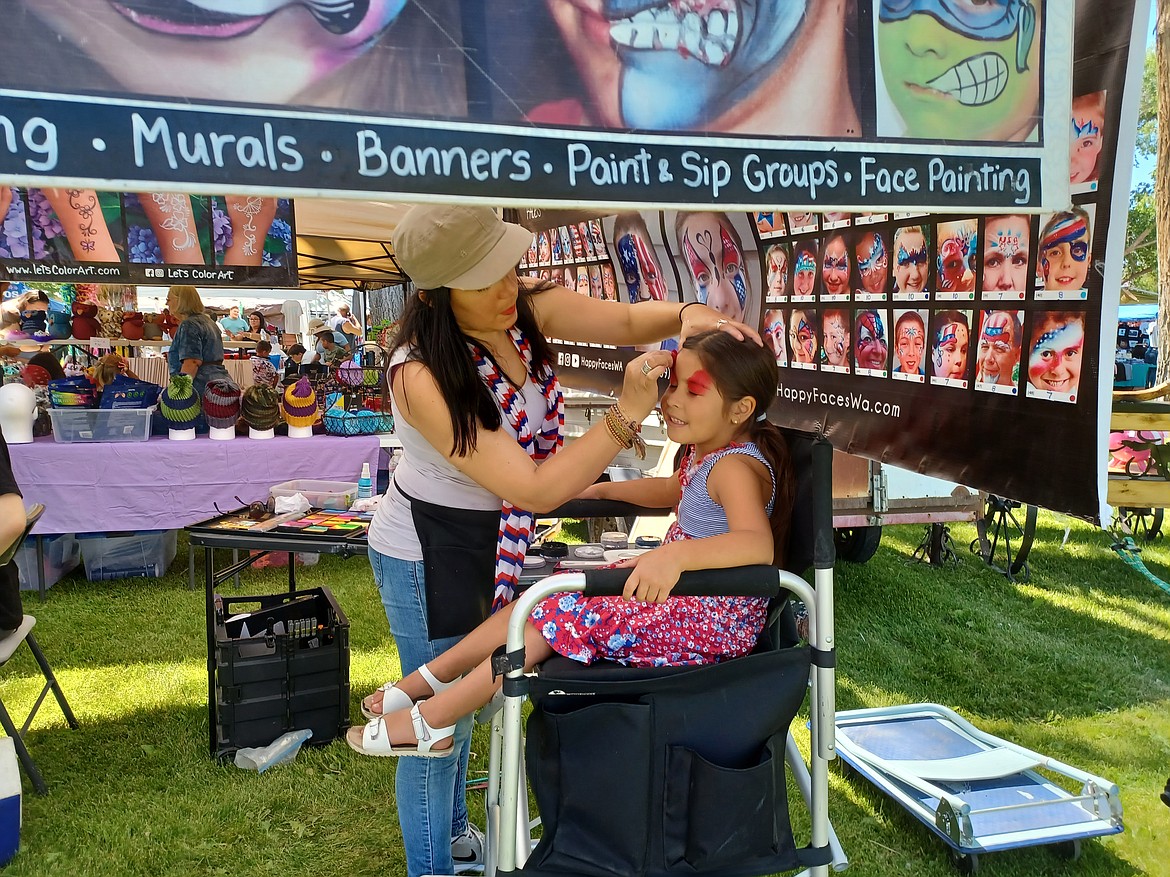 Kathy Hirschel gusses up 5-year-old Camila Ramirez at the George Independence Day celebration Monday. Face painting was one of several family-friendly activities at the event.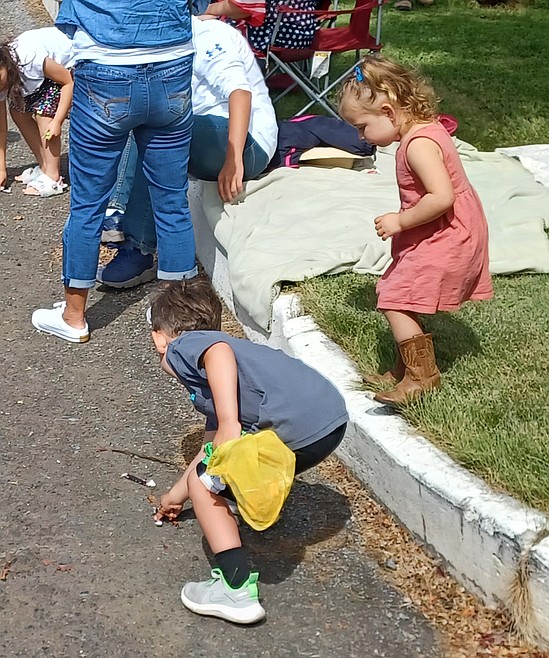 Elijah Gates, 4, left, and Anneliese Gates, 2, go after candy tossed out from the Fourth of July parade in George Monday.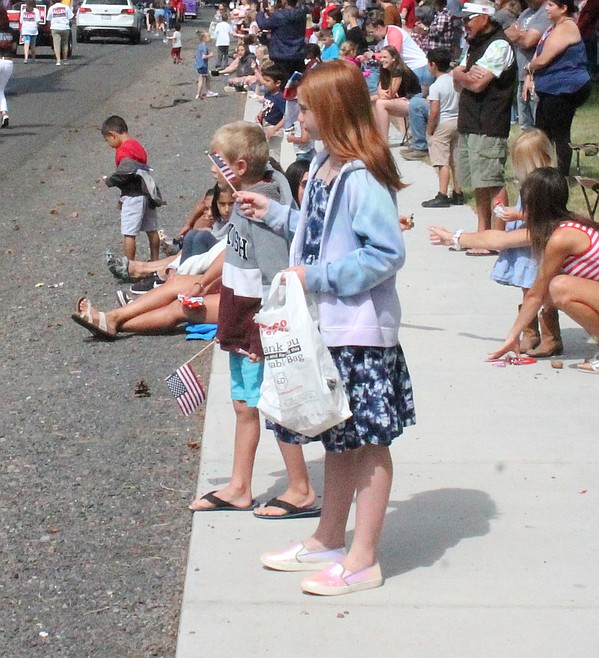 Nya Quinn, 9, right, and her brother Liam Quinn, 6, wave flags at George's Fourth of July parade Monday morning.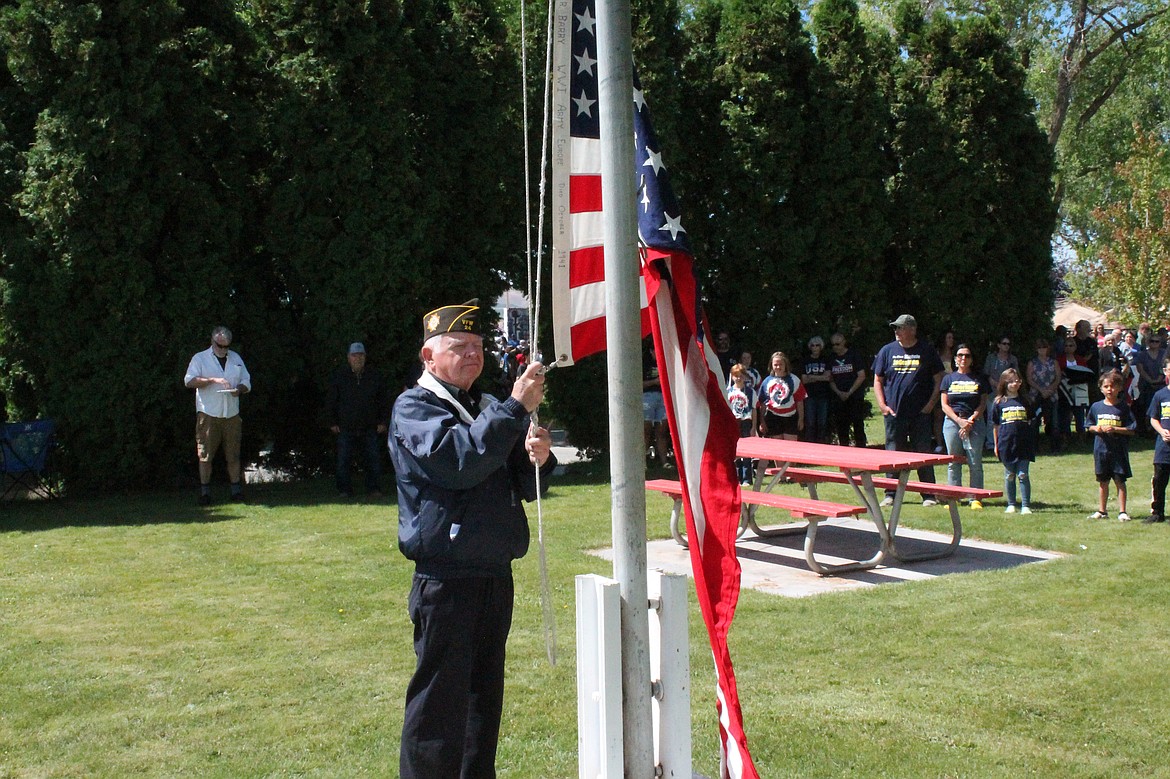 Jim Devany of Quincy raises the Stars and Stripes at George's Independence Day celebration Monday.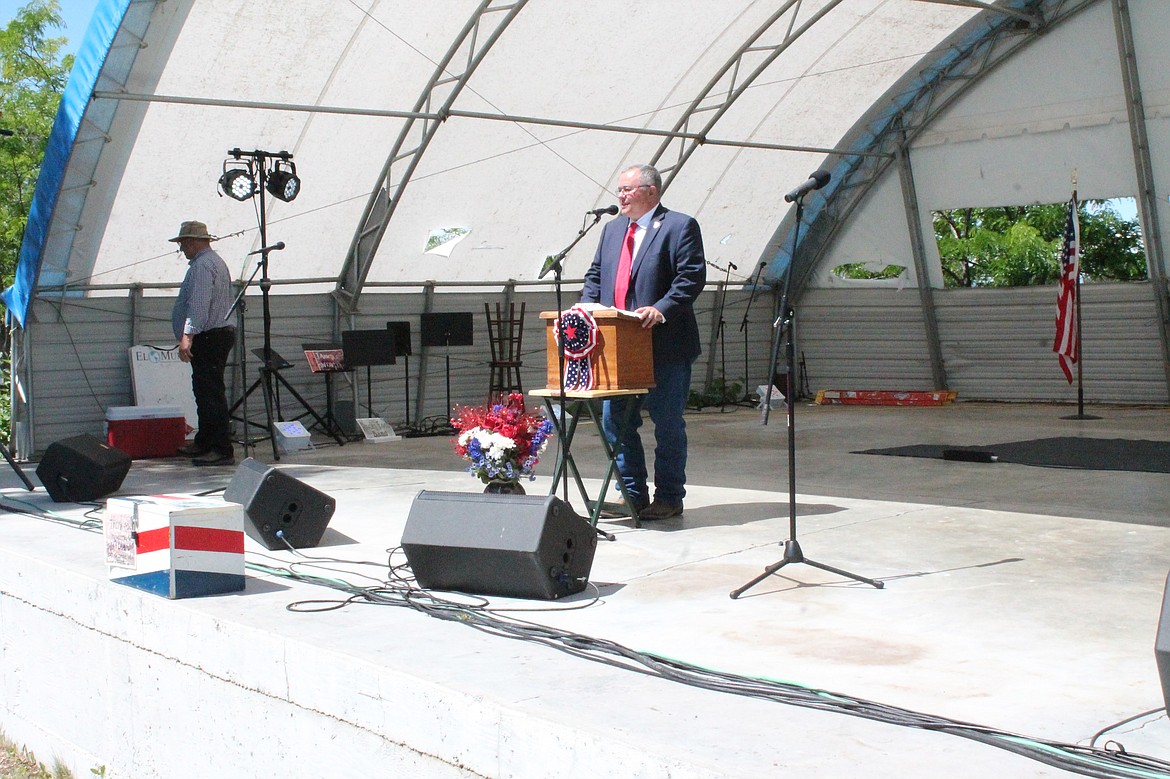 Congressional candidate Loren Culp addresses the crowd at the Fourth of July celebration in George Monday. Culp's speech included reading the entire Declaration of Independence.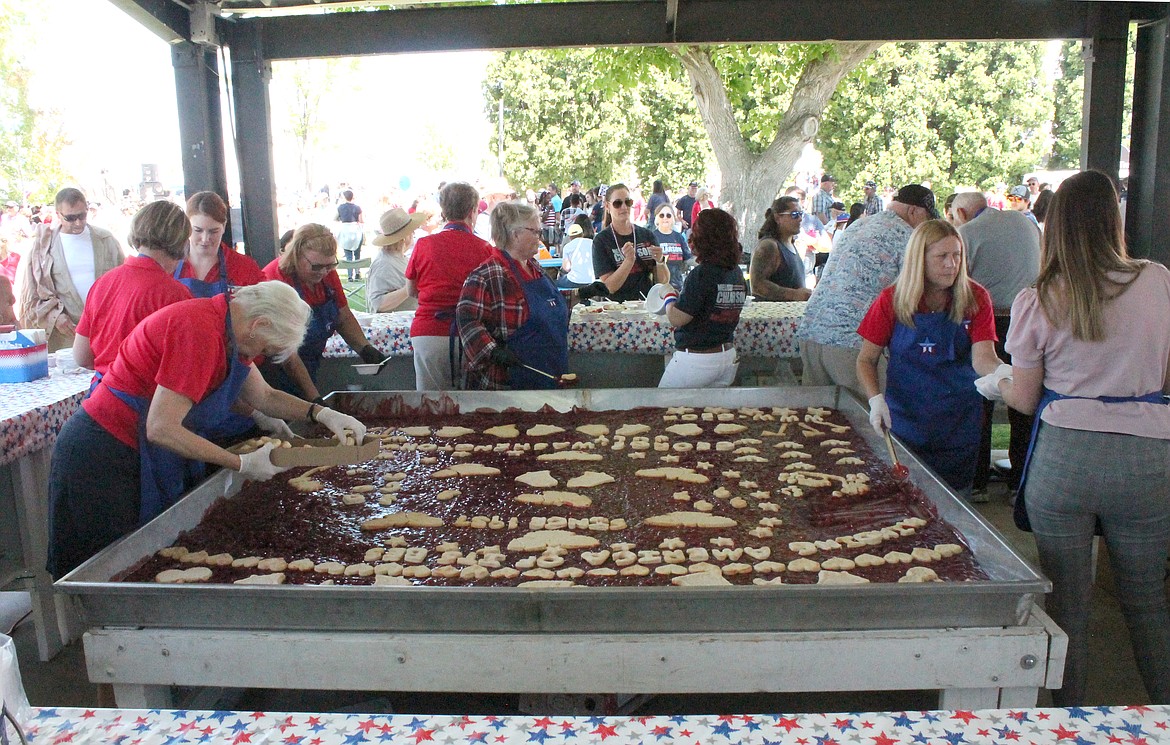 Members of the Georgettes prepare to serve up slabs of what's been billed as the world's largest cherry pie at George's Independence Day celebration Monday.
Previous
Next
GEORGE — You would expect a town named for our first president to pull out all the stops for the Fourth of July - and you'd be right to do so.
"It's a chance to meet with people, and let them get a taste of the healing waters," said Andrew Vozniy of Soap Lake, who manned a booth with Nikita Vozniy to sell soaps and lotions made with Soap Lake water.
This is the business' second year participating in the festivities put on by the little town of 800-ish souls which was founded on Independence Day in 1957. George has been celebrating America ever since its founding. This year's festivities started with the Cherry Bomb Fun Run, followed by a parade up and down the town's main drag, Montmorency Boulevard. Then came the raising of the flag and the ringing of the Freedom Bell in the town's park, led the Veterans of Foreign Wars. The crowd sang "The Star-Spangled Banner" while James Devany of Quincy raised the Stars and Stripes.
The park was filled with food and craft vendors of all kinds, offering everything from tacos and burritos to cowboy boots to elephant ears to T-shirts.
Traditionally, George's Fourth is a chance for candidates for public office to introduce themselves or address the crowd, and many did. Candidates for Grant County sheriff, clerk and commissioner stood on the stage and gave their qualifications and visions for their prospective offices. State Rep. Alex Ybarra, who is running unopposed this year, spoke about the founding of America and Americans' shared heritage.
"We're here to celebrate the Fourth of July, the independence of our country," Ybarra said. "And when I say 'our country,' you know, we talk about our forefathers and some people say that, 'Well, Alex, that's not your forefathers. Our forefathers are from America, and you're from a different country.' But as we all know, some of us came, our parents came from Ireland. Some came from Italy; some came from Germany; some came from England; others came from Mexico - from all over the all over this world. And we all celebrate our forefathers … So Alexander Hamilton is my forefather. George Washington is my forefather."
State Rep. Tom Dent drew comparisons between the British Crown in 1776 and Gov. Jay Inslee's administration in Olympia. State Sen. Judy Warnick had similar complaints about Inslee's administration.
The final and keynote speaker was Loren Culp, who ran unsuccessfully for governor in 2020 and is currently running to replace Rep. Dan Newhouse in the U.S. Congress. Culp read the entire Declaration of Independence to the crowd and followed with his own thoughts.
"This is why we celebrate Independence Day," Culp said. "I never say 'Happy Fourth of July'. You know why? Because I don't say 'Happy 25th of December' either. It's Independence Day. We never want to lose the meaning. We never want to lose what our founders did for us and what they said and what they wrote. This is the greatest nation in the history of the world, and I am very proud to be an American."
After the speeches were finished, the line formed up for a slice of the famous George cherry pie. The pie may or may not be the largest in the world, depending on whom you ask and what year, but at eight feet square, it's certainly enormous. Slices are free, although donations to the Georgettes, the organization that makes the pie, are encouraged.
Debby Kooy, the director of the George Community Hall and coordinator of the festivities, cited John Adams to the crowd about celebrating Independence Day.
"'It ought to be solemnized with Pomp and Parade, with Shews, Games, Sports, Guns, Bells, Bonfires and Illuminations from one End of this Continent to the other from this Time forward forever more.'" she quoted. "That kind of sounds like what we're doing today, doesn't it?"
Joel Martin can be reached via email at jmartin@columbiabasinherald.com.
Recent Headlines
---