Food, fireworks and music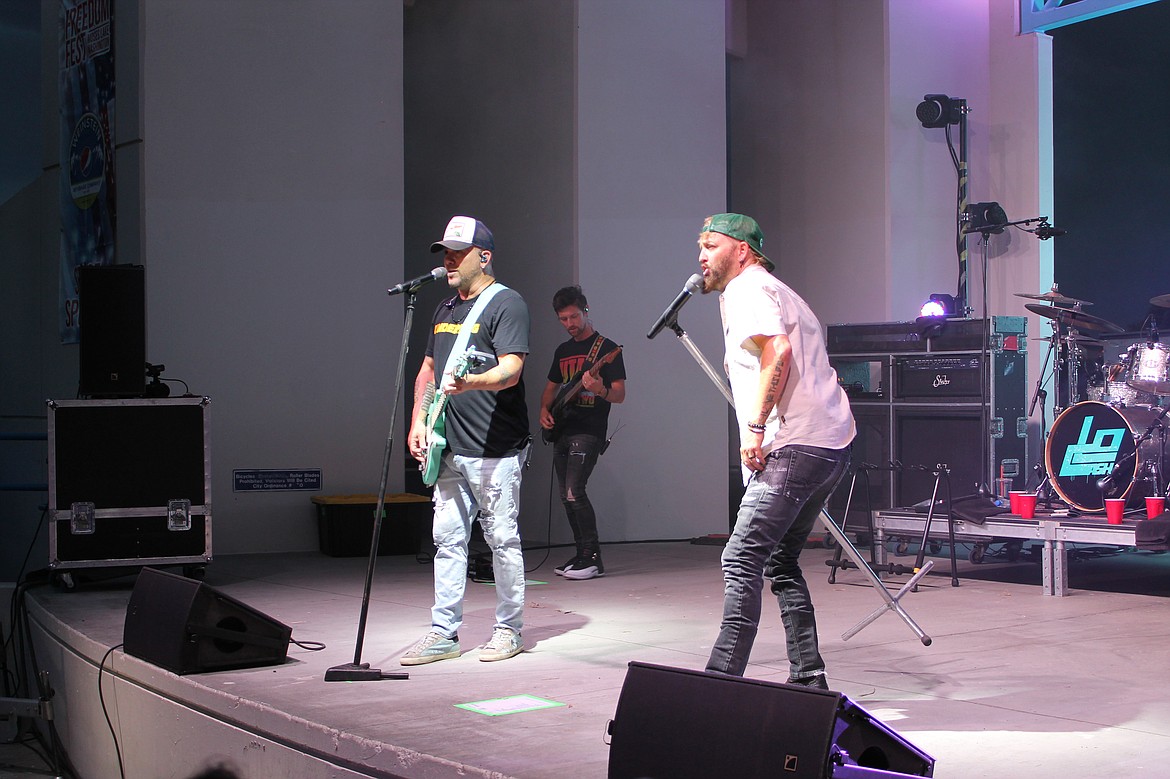 Chris Lucas, left, and Preston Brust whip up the crowd at the Moses Lake freedom Fest Saturday. The duo, known as LoCash, headlined the event with raucous, high-energy country music.
JOEL MARTIN/COLUMBIA BASIN HERALD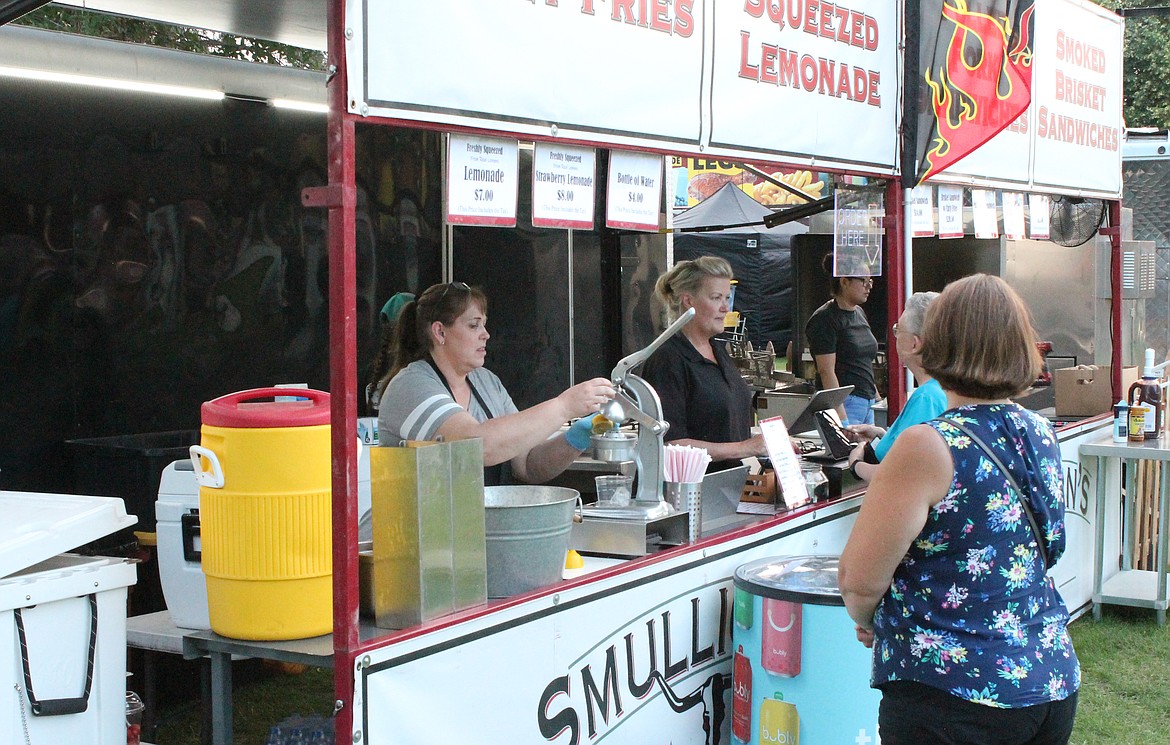 Cynthia Small, left, owner of Smulligans Pizza & BBQ in Moses Lake, squeezes lemons for lemonade while Kris St. George helps a customer.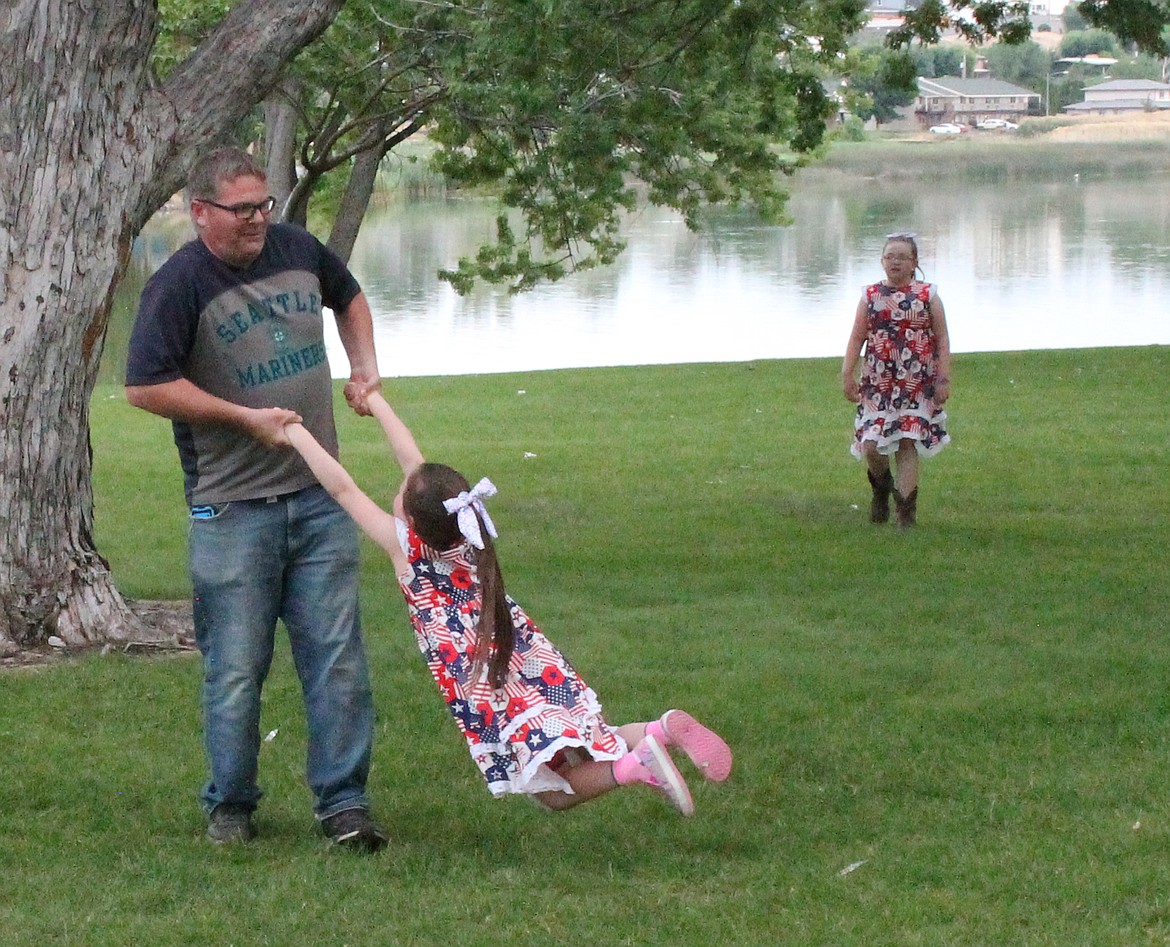 John Thompson of Basin City swings his daughter Shaylee Thompson around while her sister Brieley catches up at McCosh Park during Moses Lake Freedom Fest.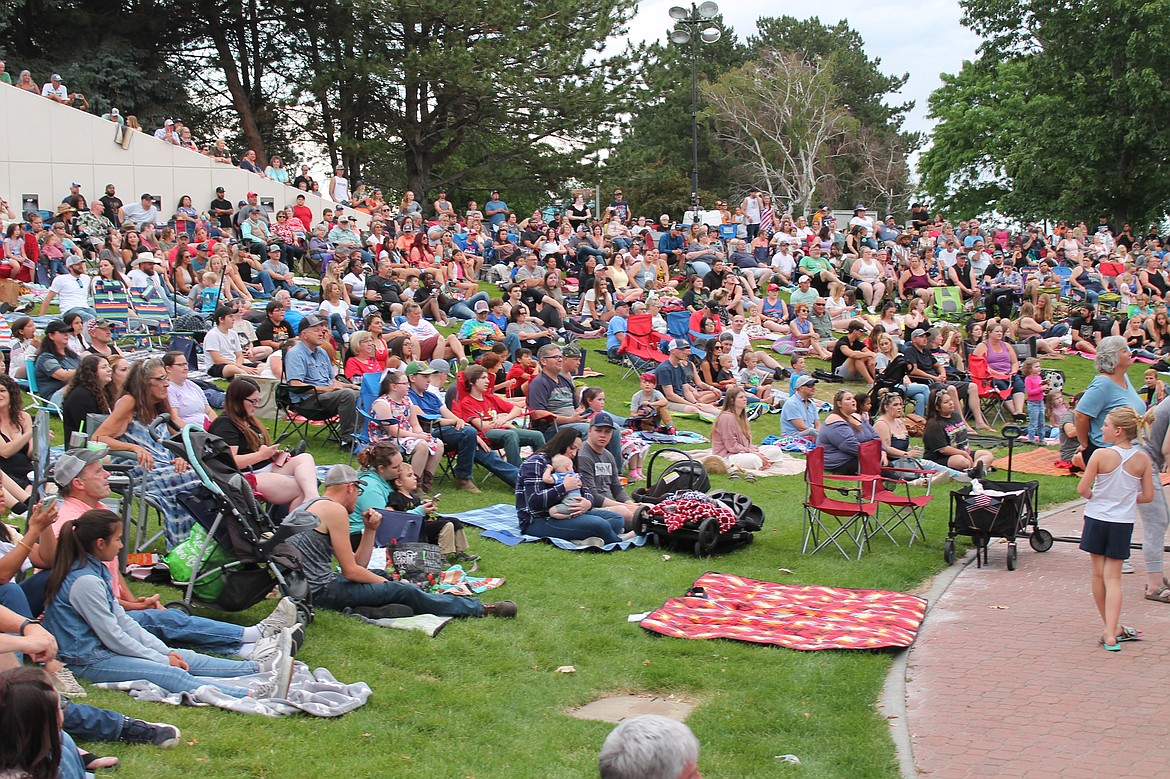 Crowd members stake out their spaces on the grass for the free LoCash concert at Centennial Amphitheater in Moses Lake Saturday.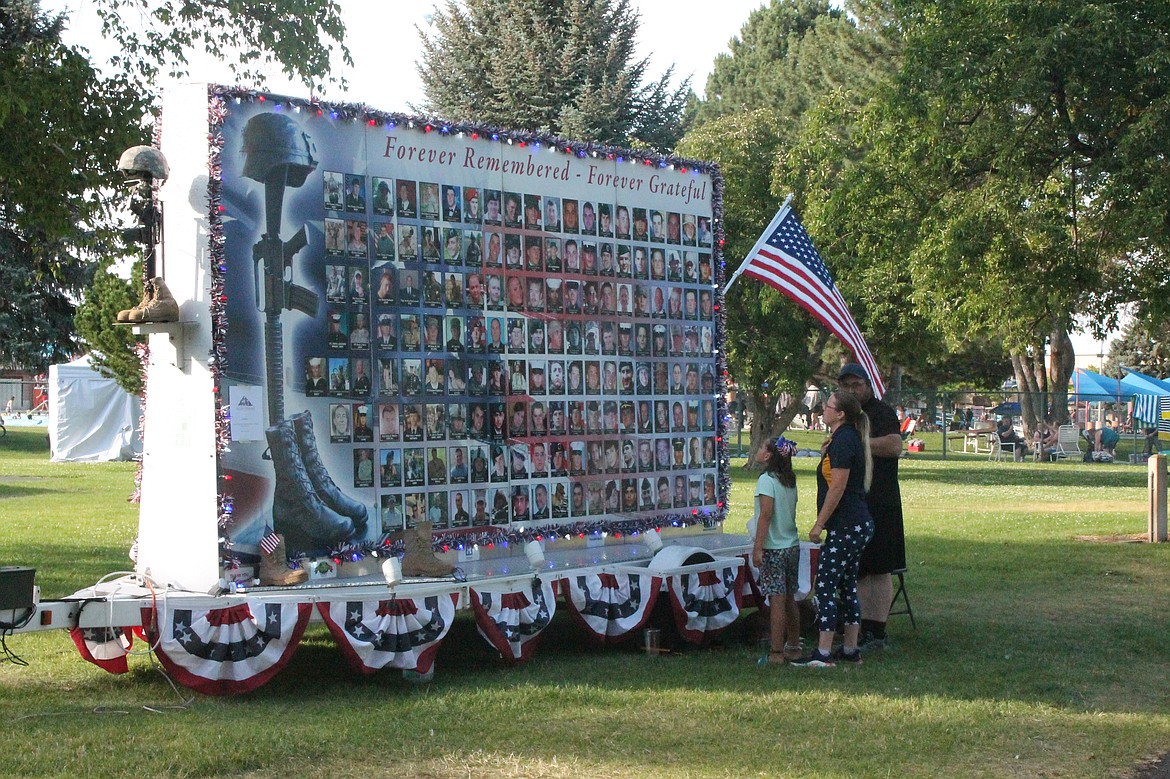 Kris Hemmerling, right, talks with Cassandra Sallis and her daughter Joy Sallis about the Time of Remembrance wall of photos. Each photo is of a northwesterner who gave their life for their country in the U.S. military.
Previous
Next
MOSES LAKE — Moses Lake marked America's founding over the weekend with Freedom Fest, a three-day celebration held in McCosh Park.
The crowd wasn't as big as at the record-setting Spring Festival the town held over Memorial Day weekend, which included a carnival, car show and basketball tournaments.
"It's been really slow," said Cynthia Small, owner of Smulligans Pizza & BBQ, as she dished out brisket sandwiches and lemonade Saturday. "Springfest was huge, so we expected the same."
"It came in spurts," added employee Kris St. George.
Nevertheless, there was no shortage of things to do. The festival started Friday with food and vendor booths set up in McCosh Park. Also on hand was the portable wall of photos from Time of Remembrance, an organization devoted to gold star families - families who have lost a loved one in military service. Time of Remembrance was started in 2006 by Shirley Schmunk of Warden, whose son Jeremiah Schmunk was killed in the line of duty in Baghdad, Iraq.
"I was sitting next to him when it happened," said Kris Hemmerling, who was on hand to talk about the wall with passersby. Hemmerling served with a number of the service members on the wall, he added.
"As long as their names continue to be spoken, they're never forgotten," he said.
Friday evening there was a free showing of the Disney movie "Encanto." The animated feature, which came out last year and deals with a Colombian family which has served its community for generations with family magic. When the magic begins to fail, it's up to 15-year-old Maribel to find out why and fix it.
Saturday was taken up with a bean bag toss tournament that lasted six hours. At 8 p.m. the main event of the weekend fired up: a free concert by the country duo LoCash.
LoCash, consisting of musicians Chris Lucas and Preston Brust, has released three albums and numerous EPs, as well as a recent single featuring Mike Love and Bruce Johnston of the Beach Boys. LoCash brought a raucous country sound to the stage, with songs like "I Know Somebody," a flirtatious attempt to pick up a woman in a bar, and "One Big Country Song," a look at the universals in life: "Who ain't got a story to tell? And who ain't made it through some hell? Who don't love somebody, don't miss somebody? … Ain't the whole wide world just one big country song?"
Sunday was the final day of the celebration, and featured free concerts from Cruise Control, out of the Tri-Cities, and Moses Lake's own Lake City Blues topped off with a fireworks display over the lake. The fireworks marked a departure from the usual Fourth of July, organizer Sean Sallis said on social media, probably due to rainy weather Saturday.
"Drum roll please!" Sallis posted. "No fire this year at the launch site!"
Joel Martin can be reached via email at jmartin@columbiabasinherald.com.
Recent Headlines
---