Spreading out: Grant PUD is expanding its fiber-optic network to every corner of Grant County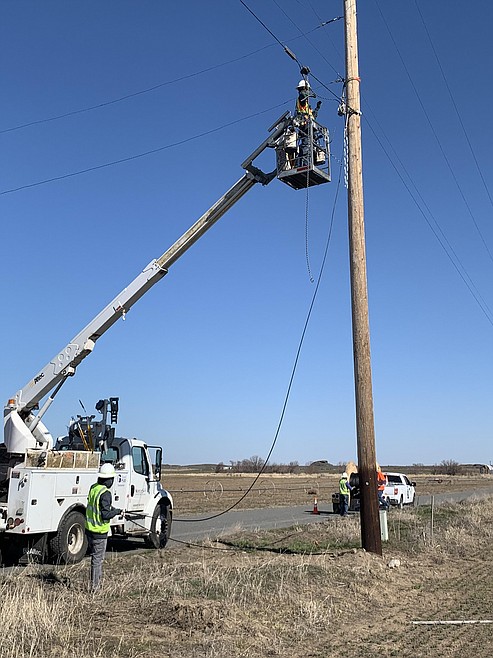 Workers with North Sky Communications install fiber-optic cable.
Grant County PUD/courtesy photo
by
CHERYL SCHWEIZER
Staff Writer
|
January 21, 2022 1:07 AM
Most business owners knew it already, but one of the lessons learned over the course of the coronavirus outbreak is that fast, reliable communication is a necessity.
It might seem like urban areas have the advantage when it comes to networks, but in fact Grant County Public Utility District officials have been thinking about keeping the county competitive for years. They said that's what the fiber-optic network is all about: making wholesale high-speed internet service available.
Utility district commissioners voted in 2018 to finish the system throughout the county, from Grand Coulee to Mattawa.
Russ Brethower, senior manager of the PUD's wholesale fiber division, said the work has continued despite challenges ranging from the coronavirus pandemic to supply chain problems.
"Since the commission said 'go,' we've built fiber to 5,000 new homes and businesses," Brethower said.
Actually, the PUD provides the fiber-optic network, and local service providers sell to retail customers.
In addition, Grant County's population is growing, and the fiber network has expanded with it. Growth has accounted for an estimated 2,000 homes and businesses, Brethower said.
"We actually planned for that growth," he said.
Fiber is available in all or part of Moses Lake, Ephrata, Quincy, George, Mattawa, Soap Lake, Warden and Royal City, among other places. The buildout continues around all those towns, as well as further into rural areas.
The network extends all the way down Stratford Road, part of the way down Dodson Road and Beverly Burke Road. South of Moses Lake, north of Quincy, north of Moses Lake, south of Ephrata — hey, the construction crews are out and about all over.
"We're getting long distances out there," Brethower said.
As a public utility, the PUD can support the buildout in a way that would be almost impossible for a private company, Brethower said.
Fiber is still a crucial part of a communications network, Brethower said. It's more reliable than wireless, and can be expanded to meet demand more easily than wireless. Wireless is susceptible to interruption due to weather conditions, something that doesn't happen with fiber.
Fiber is going to work regardless of the weather conditions, Brethower said.
Completion tentatively is planned for 2024. Brethower said initially it looked like completion would come in early 2024, but now it looks more like late 2024 or early 2025.
The buildout has encountered some challenges, starting with the difficulty of getting adequate supplies after the pandemic started in 2020. Delivery of equipment, especially the fiber cable, has been delayed due to disruptions in the manufacturing process.
But the project manager stockpiled additional cable, allowing the PUD project to continue with fewer disruptions. Even with supply issues, construction crews should have enough material on hand to keep working through the end of 2022, Brethower said.
Obtaining permits also presented some challenges, holding up some sections of the project. Permits are required to cross Interstate 90, whether overhead or underground, and to cross railroad crossings. Brethower said PUD officials don't know when those permits will be issued.
Fiber has given Grant County residents and businesses an advantage, Brethower said.
"This network brings value," he said.
He cited the Sunland development near Quincy as an example of the way fiber has helped people meet the challenges of the coronavirus pandemic. Traditionally, most of its houses are summer homes for their owners, or are rental properties. But the year-round population increased during the pandemic. And Grant County has grown as the pandemic demonstrated people don't have to live close to the job.
"They can do their work wherever, but they want to be in Grant County," Brethower said.
The town of Mattawa is another example. Brethower said a higher percentage of eligible customers in Mattawa have signed up for fiber than in any other town in Grant County.
"They see the value," he said.

And, there is a robust roster of internet service providers across the county, giving customers options.
"We're one of the shining examples of open access in the country," Brethower said.
Recent Headlines
---