Ephrata takes narrow win over Othello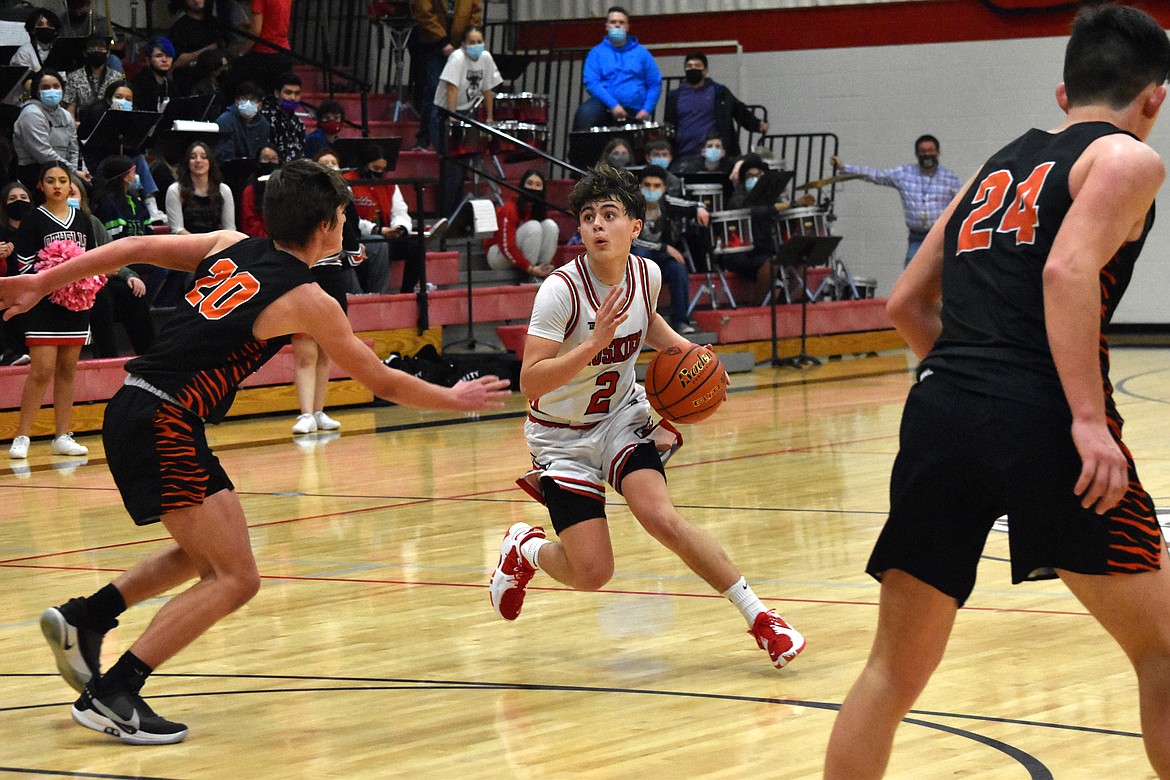 Othello High School sophomore Joshua Tovar (2) attempts to drive past his guard, Ephrata High School sophomore Cody Black (20) on Tuesday at Othello High School.
Rebecca Pettingill/Columbia Basin Herald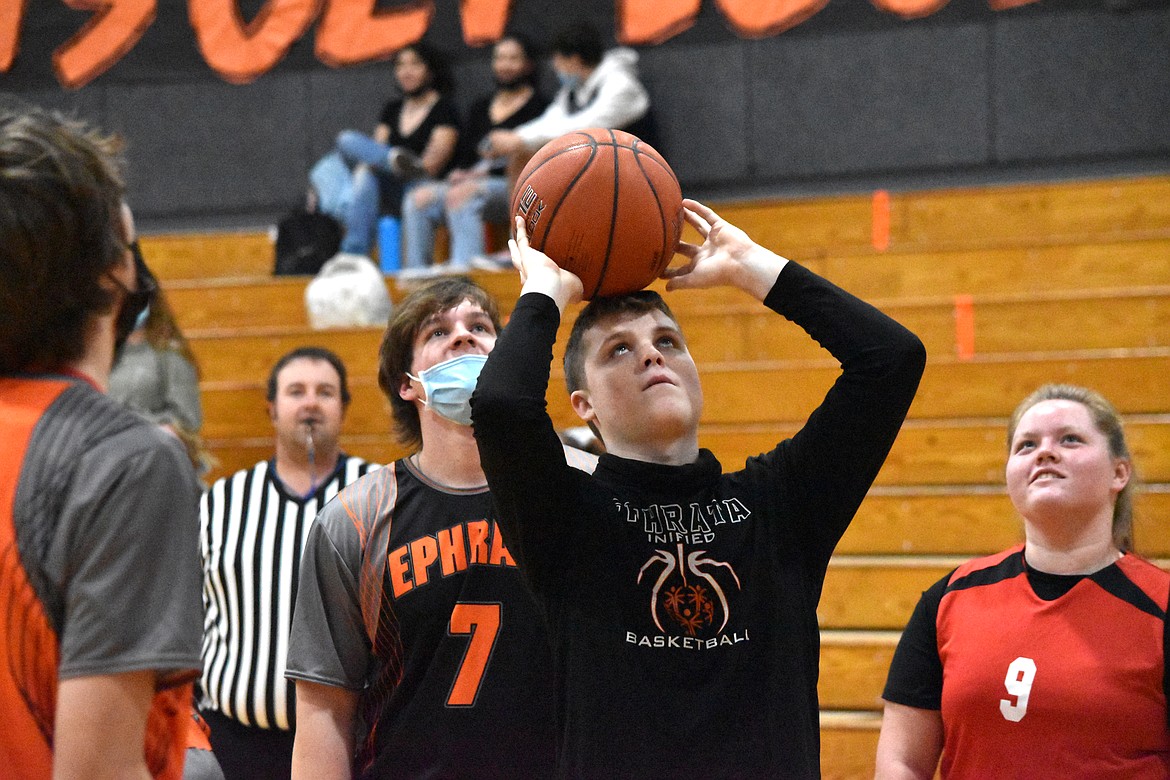 Ephrata High School senior Ethan Black (24) drives the ball down court as Othello High School senior Jorge Buenrostro (24) follows closely.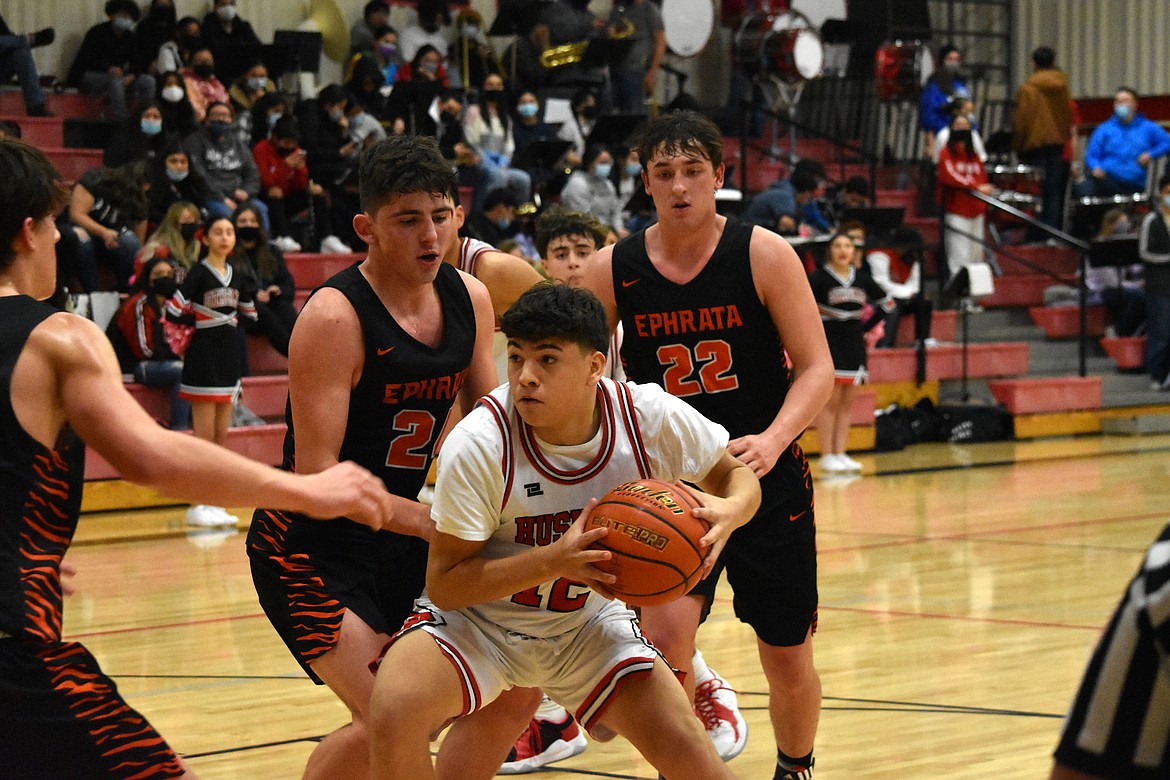 Othello High School sophomore Michael Vallejo (12) has possession of the ball while three Ephrata High School opponents surround him during the game on Tuesday at Othello High School.
Previous
Next
by
Rebecca Pettingill
Staff Writer
|
January 21, 2022 1:00 AM
OTHELLO — The Ephrata High School boys basketball team took a tight victory over Othello High School on Tuesday.
It all came down to the final couple minutes of the game between the Othello Huskies and the Ephrata Tigers.
Othello sophomore Joshua Tovar was the first athlete of the game to get on the board, with a three-pointer. As the first quarter went along, it was clear both teams were willing to leave it all out on the court that night. Back and forth, Ephrata and Othello fought their way to the hoop. As soon as one team seemed to make progress toward getting ahead, the other would bounce right back to level the playing field. The first quarter came to an end with Ephrata ahead by four, 19-15.
The second quarter didn't let up and again, both teams appeared to be equally matched. But, just like the first quarter, Ephrata managed to hold its lead by scoring one more point than Othello, bringing the score to Ephrata 40, Othello 35, at the half.
Coming into the third quarter, both teams seemed refreshed and ready for battle. While they were able to keep pace with each other, things slowed down, with the 20-point quarters dropping to a 10-point quarter for the teams. The third quarter ended with Ephrata at 50 and Othello not far behind at 43.
The fourth quarter came down to the wire when, with just under two minutes left in the game, Othello was only three points behind. The intensity of the final minutes of the close game resulted in a more scrappy style coming out of the players, and they were all over the floor. Making lots of turnovers, steals, fouls and jump balls. Those fouls in the fourth quarter seemed to make the difference, with Ephrata senior Ethan black scoring five out of his six free throws, pulling the Tigers ahead to take a six-point victory. The final score was Ephrata 61, Othello 55.
A majority of Othello's points came from three-pointers, 12 to be exact, while it only managed seven two-pointers. Ephrata's Black and Othello senior Jorge Buenrostro each had 18 points, the highest scorers of the game for their teams.

Ephrata head junior varsity coach Aaron Ross stepped in on behalf of head coach Brandon Evenson, who was absent from the game.
Ross said he felt his team's strongest assets of the night were defensively and rebounding.
"It was a hard fought battle," said Ross.
Othello head coach Roman Pruneda said he knew it was going to be a tough and close game based on how games have gone between the two teams for the last few years.
Pruneda said he felt both teams shot fairly well, but it came down to turnovers.
"They got a couple more loose balls than us; I think it was that," said Pruneda.
Pruneda also mentioned one of the anchors, senior Andre Garza, was absent from the game, as well.

Ephrata is now 6-9 overall and 2-5 in the Central Washington Athletic Conference. Othello is 3-8 overall and 1-4 in the conference.
Box Score
Ephrata - 19 21 10 11 - 61
Othello - 15 20 8 12 - 55
Ephrata - Ethan Black 18, Hans Roberts 11, Aidan Devine 8, Cody Black 7, Winston Roberts 5, Brayden Chornuk 4, Tucker Cobb 4, Travis Hendrick 4.
Othello - Jorge Buenrostro 18, David Alegria 12, Joshua Tovar 12, Rodrigo Garza 7, Adriel Deleon 3, Travis Murdock 3, Ashton Pruneda 2.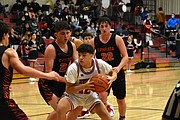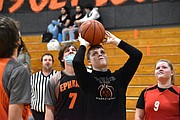 ---