Othello girls basketball team sprints past Ephrata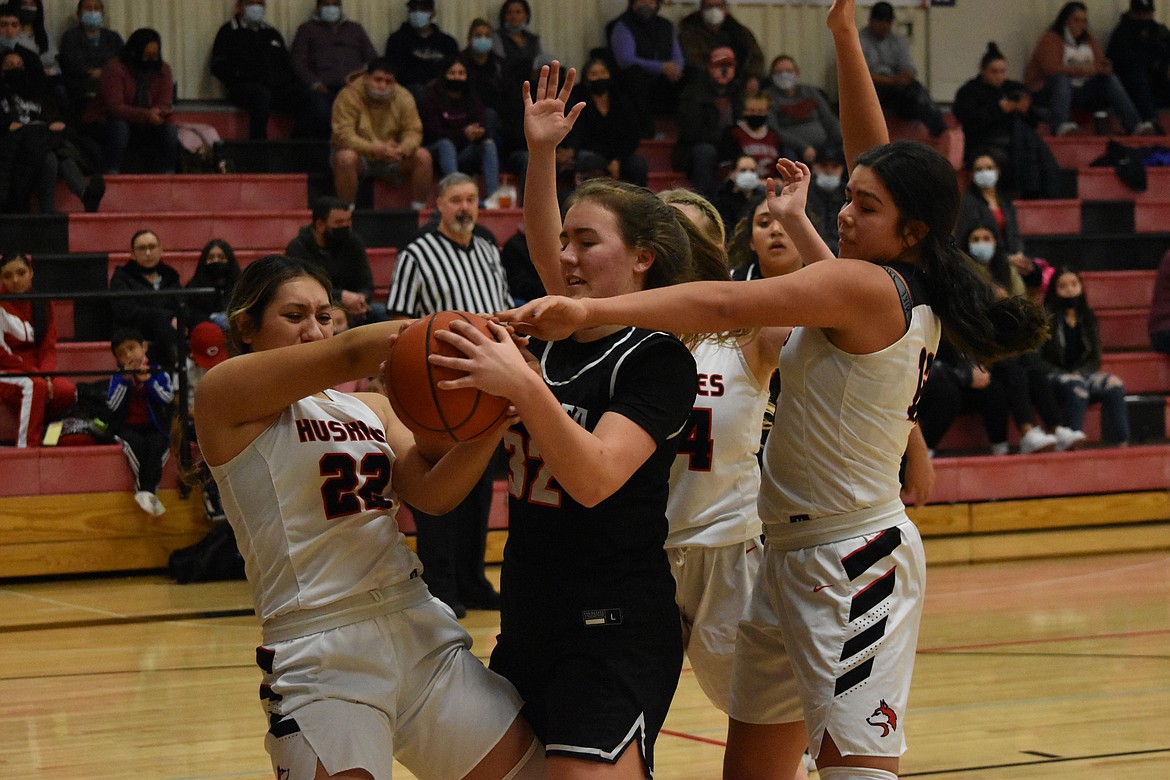 Othello High School junior Briana Andrade (22) fights for the ball with Ephrata High School senior Hayden Mills (32) during a game Tuesday.
Rebecca Pettingill/Columbia Basin Herald
by
REBECCA PETTINGILL
Staff Writer
|
January 20, 2022 1:00 AM
OTHELLO — The Othello High School girls basketball team saw a big victory over the Ephrata High School Lady Tigers Tuesday night.
Defending its home court, Othello managed to score double what Ephrata did, taking a 58-29 victory.
The first quarter was almost as close as one can be, with each team returning the points that the other team had just made. The first quarter came to a close with Othello only one point ahead.
The second quarter, however, was not as close and Othello managed to gain a lot of ground over the Lady Tigers. The only scorer for Ephrata during the second quarter was senior Hayden Mills, with eight points.
At the half, Othello led the game, 34 to 21.
The third and fourth quarters only seemed to slow down for both teams, however Othello kept its lead, scoring double and triple what Ephrata did. The final score was Othello 58, Ephrata 29.
Adolfo Coronado, Othello girls head coach, said he was really proud of not only how his girls played against Ephrata, but also against Ellensburg High School and Prosser High School earlier in the week.
"There's no quit in them," Coronado said about his team.
Ephrata head coach Dale Hagy gave Othello a lot of credit for being a really good team and specifically mentioned Othello High School junior Annalee Coronado was hard to handle and is one of the best players in the league.
He mentioned he is just simply happy they have not had to cancel any games yet.
The Tigers' overall record is 3-11 and 0-7 in the conference. Othello has a 8-4 overall record and 4-2 record in the conference.
Box Score
Othello - 14 20 17 7 - 58
Ephrata - 13 8 5 3 - 29
Othello - Annalee Coronado 17, Jeweliana Pruneda 12, Ashley Perez 8, Hailee Guzman 8, Briana Andrade 4, Riley Farman 4, Emi Pruneda 3, Kali Gomez 2.
Ephrata - Hayden Mills 17, Addison Mills 10, Kendall Laugen 2.
Recent Headlines
---