Giving voice: MLHS Chamber Choir members discuss their experiences, competition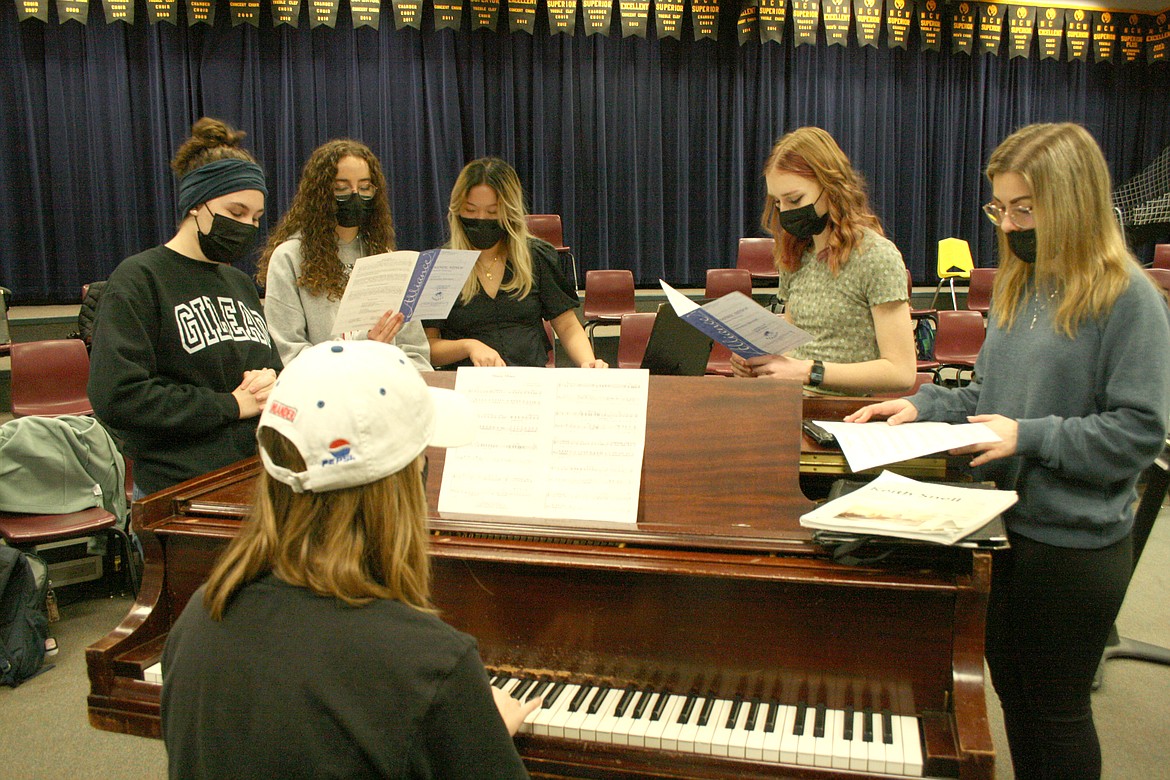 With choir member Rebecca Shaporda at the piano (foreground) Moses Lake High School Chamber Choir members (from left) Alivia Badgley, Tessa Bowen, Tina Nguyen, McKennah Solders and Kaylin Hampton break down a song Jan. 13.
Cheryl Schweizer/Columbia Basin Herald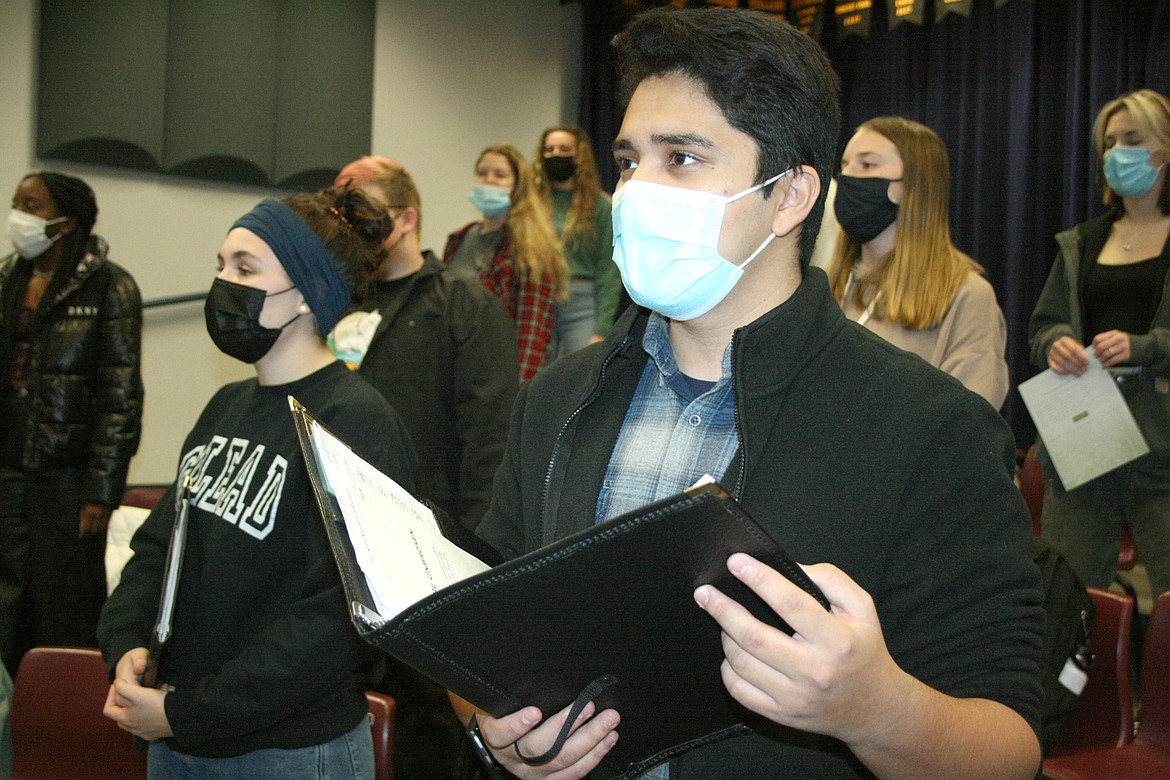 Chamber choir members Alivia Badgley (left) and Nick Lara (right) practice during class at Moses Lake High School Jan. 13.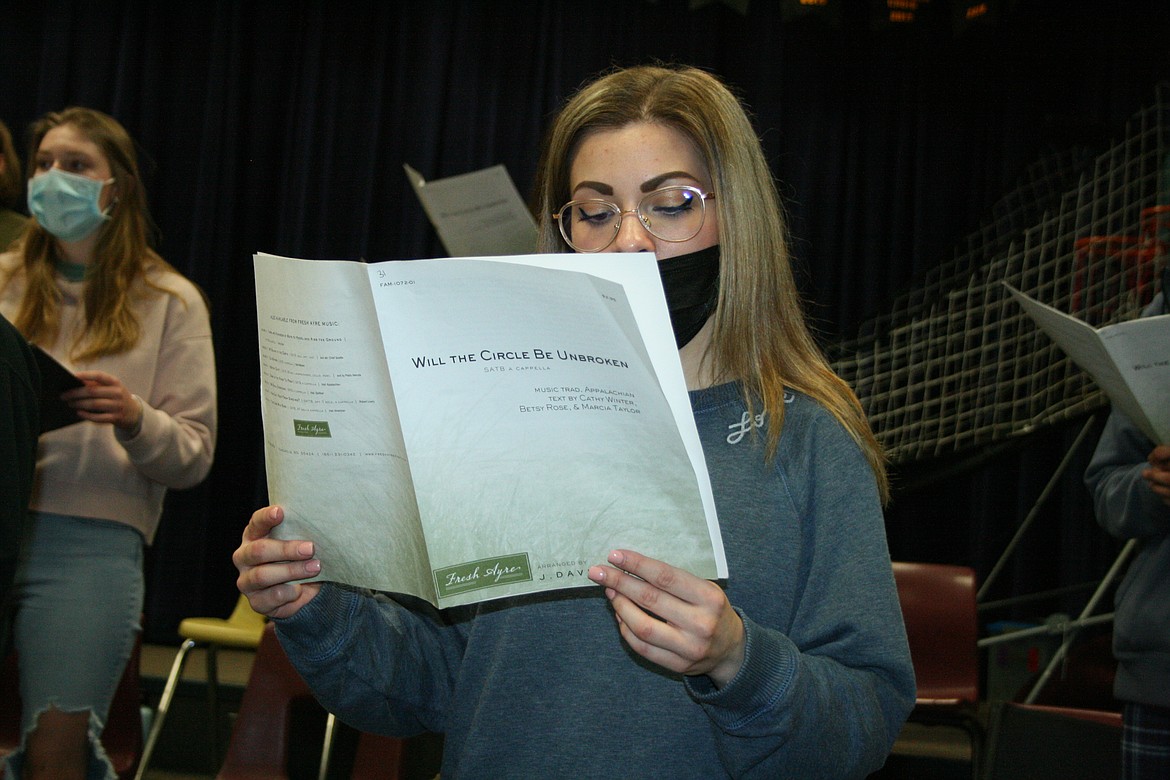 Moses Lake High School Chamber Choir member Kaylin Hampton practices during choir class Jan. 13.
Previous
Next
by
CHERYL SCHWEIZER
Staff Writer
|
January 20, 2022 1:00 AM
MOSES LAKE — The chamber choir broke apart into smaller groups, working on the music, trying to get the sound right.
Moses Lake High School choral music director David Holloway then picked it up during group practice, voices a little bit off here and there.
Precision matters in choir. Competition season is coming, beginning in late January. So altos gathered in one practice room, sopranos in another, dissecting the sound and putting it back together.
Competition season begins with solo and ensemble competition in Wenatchee. Singers don't compete against each other, but against a standard.
Zachary Terrell said it's a good way to learn music he might not learn in choir, and Roeber said it's a good way to learn more about music in general. The judges review performances with each singer.
"They (the judges) give you a little mini-class," Roeber said. "I've always improved afterward."
Another way to improve is through cooperation, which is one of the lessons learned in the MLHS music program, on the way to chamber choir. Zoe Sterner has been in choir throughout high school, and learned that lesson through experience.
"I do remember my first year, and I remember how mature people in my choir were, which was not very mature," Sterner said. "We would fight over solos, nobody made friends easily. And then once you get to these (audition required) choirs, you see that somebody gets a solo and instead of some people being grumpy that someone else got it, we'll be congratulative."
"We all know that we worked our way here, so anybody who gets a solo earned it," said Esther Roeber.
Any student can take the men's and women's choir class, but anybody who wants to join the chamber choir must audition, Holloway said.
Kaylin Hampton remembered that audition.
"That was scary," she said.
Not everybody gets in, and the audition is about more than just talent. Discipline and cooperation are crucial when it comes to blending voices together.
"That's actually what chamber's about – who has the most discipline, who can work best with Holloway. Because some people can have an amazing voice, and they still don't make it in," said Summer Bowen. "It's all about how you can work with people. And also how much effort you're putting in. It's more about effort than talent."
"It's not even always about who sounds the best at the auditions and the callbacks, too," said Jordan Nelson. "Because I know for a fact that I bombed it. I sounded so bad."
But Holloway assigned Nelson to the chamber choir even after the audition.
"Not based on that (the audition), but based on how he knew I could work with everyone else," Nelson said.
Aiden Dryer was in the men's choir for three years, and said he wasn't really all that interested in chamber choir.
"It doesn't really feel like it'd be something I was in, but Holloway kept badgering me," he said.
But with senior year coming he decided to try it. And he noticed a difference.
"It just feels like an extended family," Sterner said.
"I like the community it creates," said Emma Selmann.
"When you sing, you're very vulnerable. So when all of us are being vulnerable together and learning music and taking a class, but also having fun; it's so easy to make really good friends and just be able to laugh. Because we're all just working hard and doing our best in choir," Roeber said. "Most of the time."
"I really like that we're able to be part of something bigger than ourselves," Bowen said. "Because when we perform, we're all in it together. You can't just think, 'Oh, I'm going to outshine everyone else.' Because we're all trying to blend and make something beautiful with all of us together."
"Choir doesn't sound good unless you're working together," said Daria Lawson.
"Someone can be amazing on their own, but if they decide they don't want to give that to the choir and not try and work with us, it just sounds really bad," said Taylor Mack.
Producing the sound they're looking for requires practice, and that's difficult enough in person. The COVID-19 pandemic closed MLHS and forced students into online classes. The choir kept working anyway.
"We did it all online," Roeber said. "We had (online classes) every day, we had meetings, we had online recordings that we were doing."
"That was awful," said Zachary Nelson.
"It was awful," Roeber said. "And the only reason it was worth it is that we're back here now. It was really hard to push through that."
"Because we pushed through it, and because when he told us (to sing) we actually did do it, instead of just mooting our mikes and not singing. I'm glad that most of us did, because ultimately we're better for it," Sterner said.
"We made it back. We made it back to normalcy, in a way," Roeber said.
All the practice has resulted in substantial improvement from those early days in the non-audition choirs.
"It's crazy to look back at my first solo and ensemble song, and I can see how different my voice is," Sterner said. "I can sing lower and higher than I used to be able to do – it's just crazy."
Nelson said he sang bass as a freshman, but his voice has changed to the point where he's a tenor. Roeber said singing is a form of exercise, and it's like any other exercise – muscles get stronger.
"It really is like working out," Sterner said.
"Not only have we improved (in) understanding music, but my voice is so different. You have a similar sound, but the strength and the range really grows with maturing into an adult," Roeber said. "And Holloway is kind of there through all that, and gets to see all of his students grow into more mature singers."
The choir students said Holloway was important to their success.
"Holloway, he's very patient with us," Roeber said.
"Everyone wants to be here,' Holloway said. "The kids and myself, we get to challenge each other."
"Every time I come to choir, I just have a good time," said Maddie O'Neil.
"And it's the best part of my day, honestly," Sterner said. "After fifth period, I'm just – happy."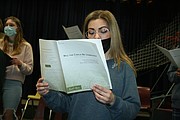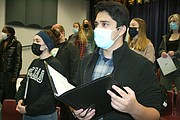 ---