Royal High School boys win two games; Wahluke boys lose two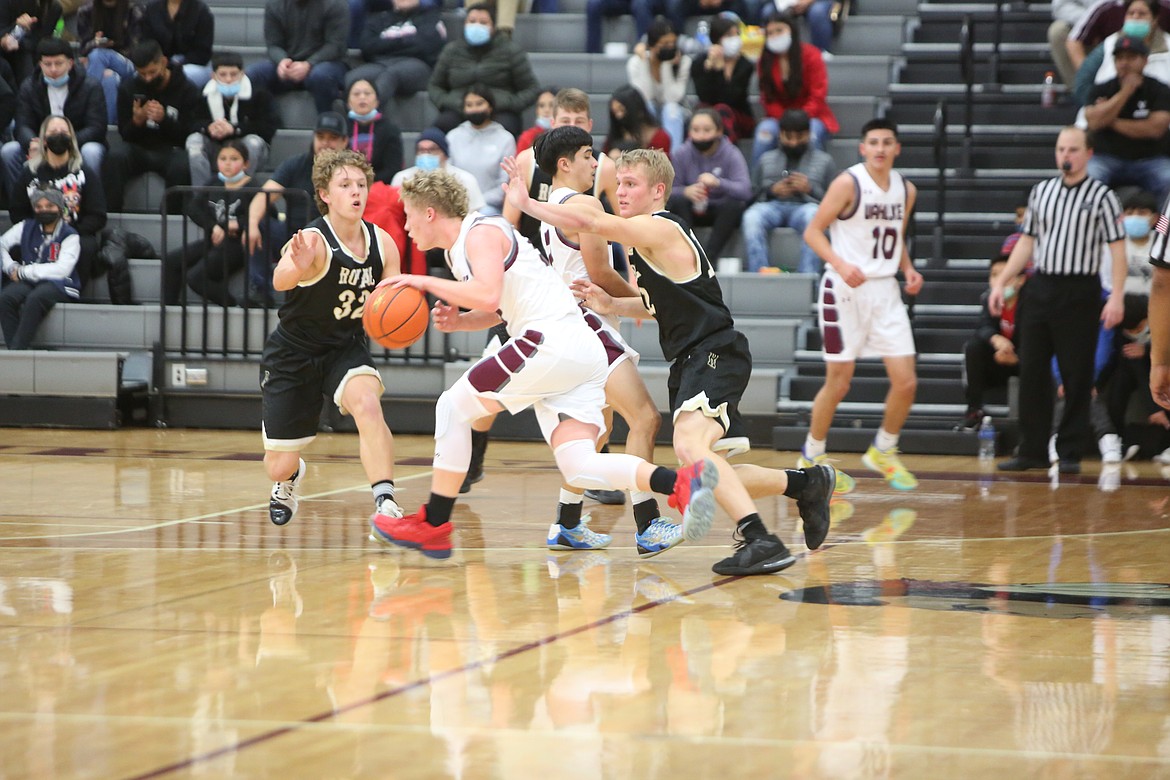 MATTAWA — The Royal High School boys basketball team came away from Mattawa with a 50-45 league win Friday over Wahluke High School in a wild and hard-fought game that had the WHS gym rocking.
Cheryl Schweizer/Columbia Basin Herald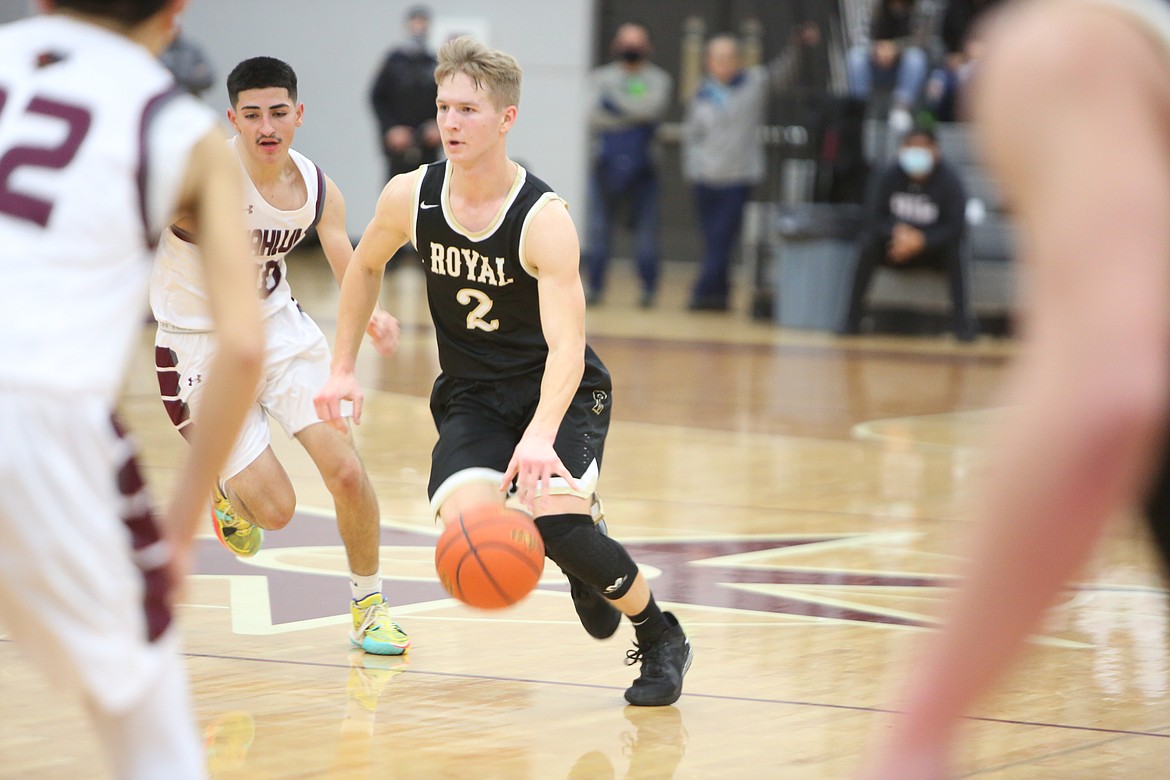 Luke Bergeson (2) of Royal High School drives the lane during the Friday game with Wahluke at Wahluke High School.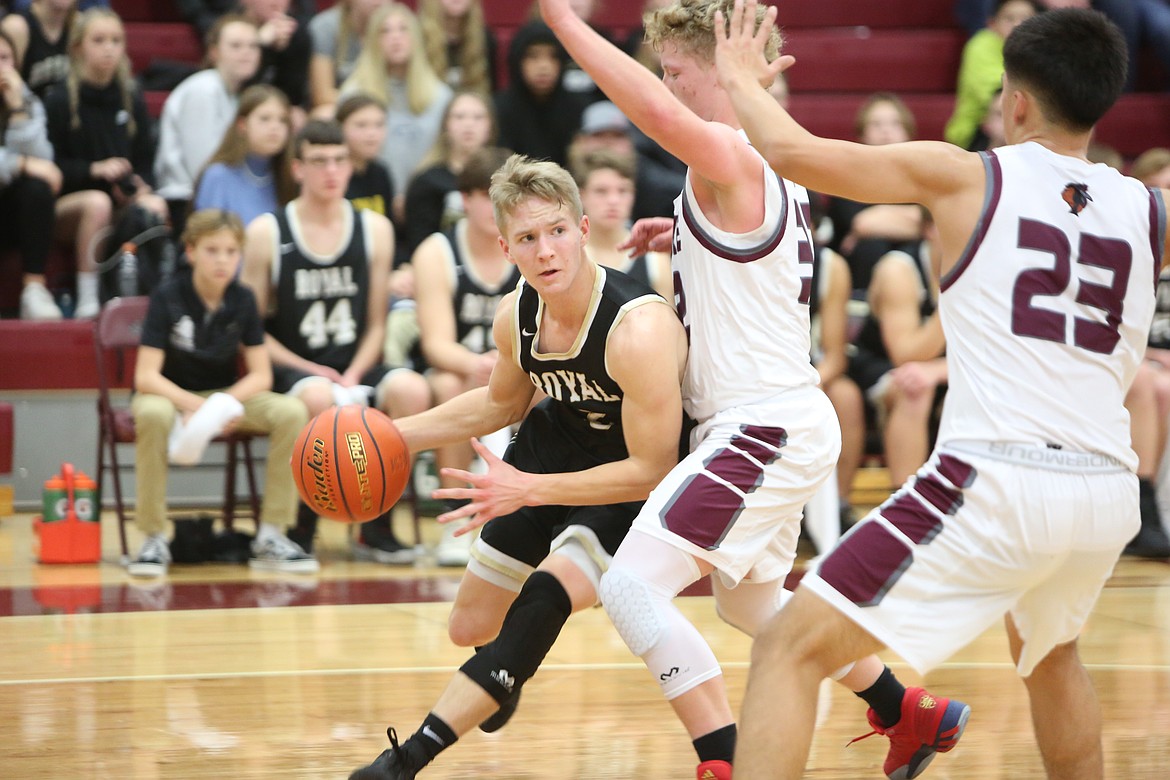 Luke Bergeson (2) of Royal High School drives for the basket against Andrew Yorgesen (32) of Wahluke High School and Orlando Nunez (23) in a league game Friday at Wahluke High School.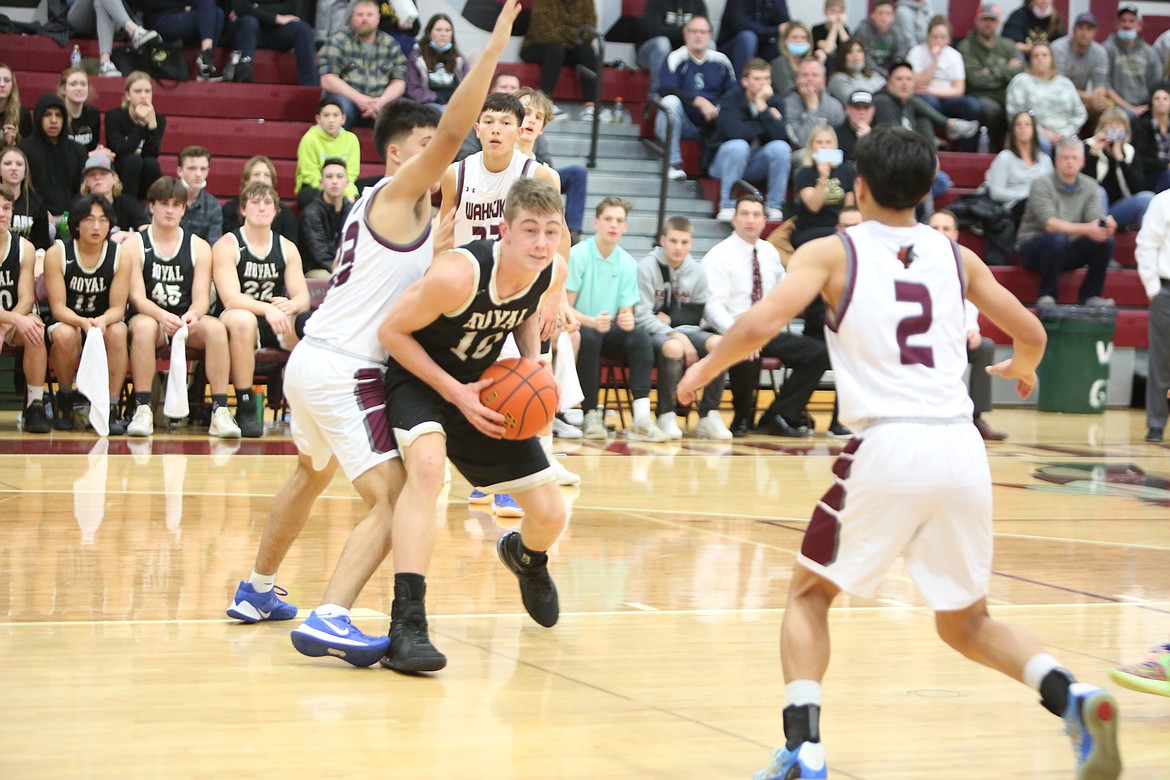 Gunnar Andersen (10) of Royal High School looks to pass the ball between Orlando Nunez (23) and Arnoldo Ramos (2) in a league game at Wahluke High School on Friday.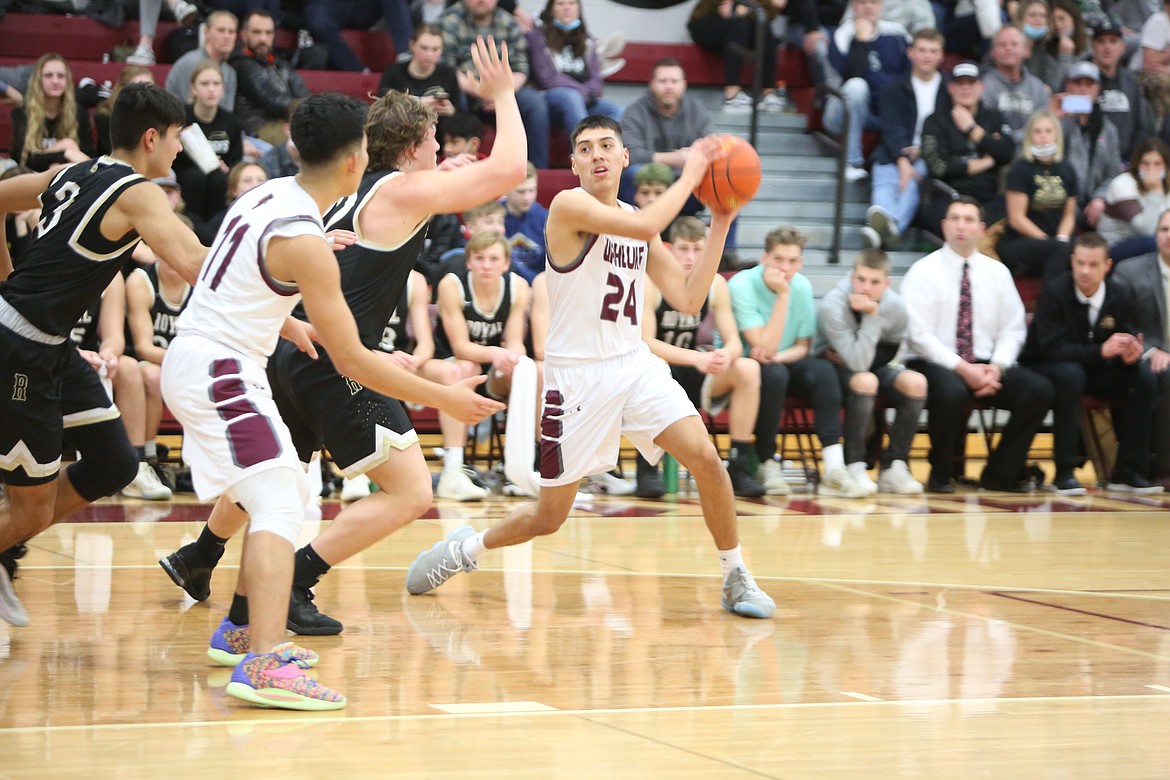 Brayan Calvario (24) of Wahluke High School looks to pass the ball during the Friday game with Royal at Wahluke High School.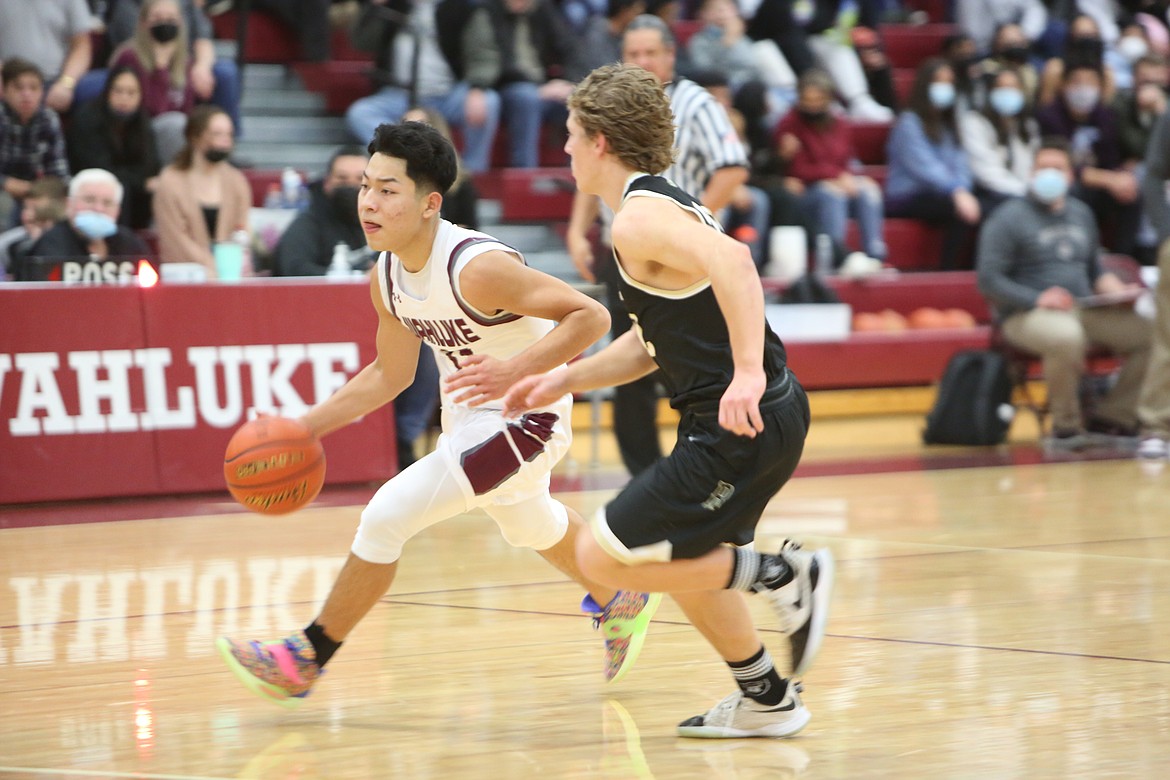 Maximiliano Urrutia (11) of Wahluke High School brings the ball up the court against Dylan Allred (32) of Royal High School during the Friday game at Wahluke High School.
Previous
Next
by
CHERYL SCHWEIZER
Staff Writer
|
January 19, 2022 1:00 AM
MATTAWA — The Royal High School boys basketball team came away from Mattawa with a 50-45 league win Friday over Wahluke High School in a wild and hard-fought game that had the WHS gym rocking.
Wahluke coach Clayton Buck said the Warriors play a lot of underclassmen, and the game was an indication of the progress they've made.
"I've got a young group of guys. I'm really surprised at our progress so far," he said. "We're progressing and we're competing."
Royal coach Ray Valle said both teams were ready for the game.
"They definitely didn't fold, Wahluke. Good team," Valle said. "They came physical and they came ready to play."
Royal jumped out to a 10-4 lead to start the game, although Wahluke cut the lead to 10-9 about halfway through the first quarter. The quarter ended with Royal leading 16-13.
The Knights stretched the lead to 13 points with one minute, 31 seconds left in the second quarter, but Wahluke scored just before the half to keep the game at 13 points, 30-17.
The Warriors came back in the third quarter, cutting the lead to 33-26.
Buck said the Warriors did a better job rebounding in the second half.
"We boxed (out) a lot more and trapped a lot more and got back in the game," he said.
Royal had a 36-32 lead at the end of the third quarter, and pushed it to six points on a basket with about six minutes left in the game. Wahluke fought back to tie with four minutes left, and took its first lead, 41-38, on a three-point shot with about three and a half minutes left.
Royal responded with a three-pointer of their own, and Wahluke took a 43-41 lead. But Royal fought back to tie again. The Knights took a one-point lead with two minutes left, and pushed that to three points, with a basket by Luke Burgeson. Free throws by Derek Bergeson, including one that bounced around the rim before falling in, put the game away for Royal.
Valle said seniors make up a large part of his team, and their leadership was a big part of the win.
"That was a fun one," Buck said.
Valle said Royal tried to take advantage of its height.
"We pounded it inside every chance we had," Valle said.
Both teams rebounded well, Valle said, with Royal finishing with 46 rebounds, Wahluke with 31.
Royal was a league game, and Buck said his team was focusing on that game, which had an effect the next night against Brewster.
Wahluke lost to Brewster High School Saturday, 63-43, in a non-league game.
"It was hard to get going again," he said.
The Bears took an early lead, and the Warriors couldn't overcome the deficit, he said.
Royal played its fourth game in five days Saturday against College Place High School, with games earlier in the week with Connell and Chelan high schools. That made an away game even more challenging.
"College Place is a tough place to play," Valle said.
The Knights fell behind 12-8 in the first quarter, and were missing some shots, Valle said. But the Royal defense helped with the comeback. Royal defeated College Place 65-40 at College Place.
The Warriors are scheduled to play two non-league home games against Toppenish and Wapato high schools Friday and Saturday, respectively.
Royal will play league opponent Kiona-Benton City High School in Benton City Friday, and a non-league game against Naches Valley High School at home Saturday. Saturday's game will feature a ribbon-cutting ceremony for the newly refurbished RHS gym.
Recent Headlines
---