Ralph B. 'Pie' Medrano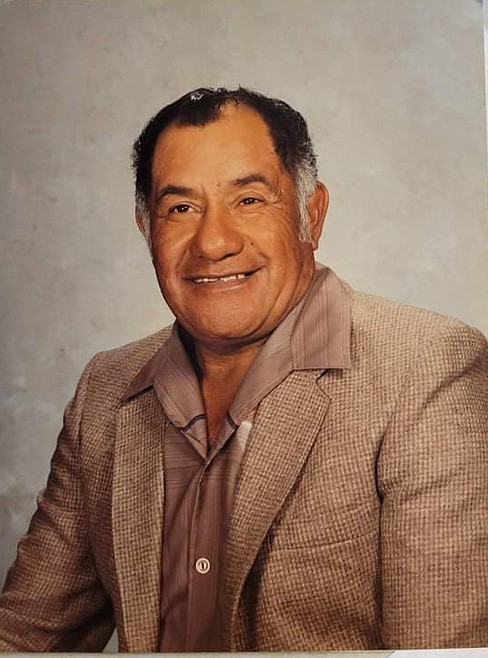 In the early hours of Jan. 12, 2022, in the care of his loving daughter and granddaughter, Ralph Medrano left his earthly home to meet his savior.
|
January 19, 2022 1:00 AM
June 10, 1927 – January 12, 2022
In the early hours of Jan. 12, 2022, in the care of his loving daughter and granddaughter, Ralph Medrano left his earthly home to meet his savior.
Ralph was born in Billings, Montana, to Remigio and Refugio Medrano. As a child growing up, Ralph worked with his family as a farm worker, moving to Worland, Wyoming, with his parents and 12 siblings. They migrated to Toppenish, Washington, settling in Moses Lake in 1958.
In 1945, he served in the armed forces of America during the Korean conflict and worked as a mail carrier. He was honorably discharged after several years. On his return to Toppenish, Washington, he met and married the love of his life, Lorraine Hedspeth, and there they started their family. Ralph attended JM Perry Institute to learn auto body and fender repair work, then started a business in Outlook, Washington. He continued to advance his skills when he had the opportunity to join the workforce on the Columbia River, helping to build The Dalles, Wanapum, Priest Rapids, McNary and Rocky Reach Dams. He took pride in continuing to work for our nation at the former Larson Air Force Base, employed by the Boeing Co. working on KC-135 fuel tankers, and then also the Titan missile silos at Batum, Warden and Royal City.
Ralph was a very dedicated and hard worker and found his true gift while working at the Moses Lake Golf and Country Club for over 15 years. His passion for tending God's green earth definitely showed in his work as a greens keeper and landscaper. He took this same pride to Our Lady Fatima Catholic Church. For the next 25 years he maintained the grounds and helped build the new Catholic church. Ralph was devoted and involved with many church activities, the Knights of Columbus, the Sacred Heart Guild, cursillos, the Mexican fiestas and traveling with staff and priests to functions and other countries.
Ralph worked hard to provide for his family. Together they built a home with farm animals that he loved to tend to. Later it became a beautifully landscaped park for family and friends to gather and enjoy special occasions. These included Easter egg hunts, birthday parties, anniversaries, family reunions and many family campouts and bonfires.
Ralph had many hobbies and kept busy with arts and crafts. He was always manicuring his yard, building, restoring, painting or getting his tackle box and poles ready to go fishing. He loved sightseeing and taking Lorraine on drives which took them to many states and lots of camping and fishing trips.
Every year during Christmas people would stop and admire their Nativity scene that he built. It lit up the night and looked so real. A tradition he always looked forward to was family and friends meeting annually at Blue Lake for opening fishing. When the "side of the road camping" became too dangerous as the families grew, it moved to Sun Lakes Resort. The catchphrase "fish on!" will always be a happy memory of Ralph and the many adventures shared.
Ralph is preceded in death by his parents Remigio and Refugio Medrano, two infant daughters Lilette and Linda, son Ronny and nine siblings: brothers Robert, Emilio and Junior and Guadalupe and sisters Nora Alamos, Marty Guerrero, Jenny Harless, Vicky Langlot and Christina Mitchell.
Ralph leaves behind his loving wife of 72 years Lorraine Medrano; his children Johnny (Betsy) Medrano, Arthur Medrano and Debby (Robert) Padron; grandchildren Josh (Kacey) Medrano, Melea (Nathan) Kelsch, Caleb Medrano, Aubrey (Brian) Medrano, Louis Linnenburg, Carlos (Leslie) Padron, Vanessa Padron, Sofie DeLaRosa, Berta House, Kim Mears, Brenda Funk and Lucas Devereau; and great-grandchildren Elijah, Roslyn, Paisley, Audrey, Austin, Marley, Jessica and Presley. He also leaves his sisters Rosie Gonzales, Ruth Arreola and Gloria Medrano Guzman and numerous nieces and nephews.
The family would like to express their deepest gratitude to All Ways Caring Homecare, for the compassion and smiles they brought to him, and to Vanessa, for her devotion and special care of her grandpa, for dancing and making him smile and laugh, always keeping his mind busy with crafts over the last few years. He always looked forward to her reading to him and their special prayers, ending each day with a kiss and the sign of the cross on his forehead.
Rosary will be prayed at 10:30 a.m. Friday Jan. 28, 2022, at Our Lady of Fatima Catholic Church, 200 N. Dale Road, Moses Lake, Washington, followed by Mass of Christian Burial at 11 a.m. Military honors will be held during the committal at the church columbarium.
He is going to be greatly missed by his family and friends. "Mind you…"
---