Legislators discuss officer pursuits, catalytic converter tracking program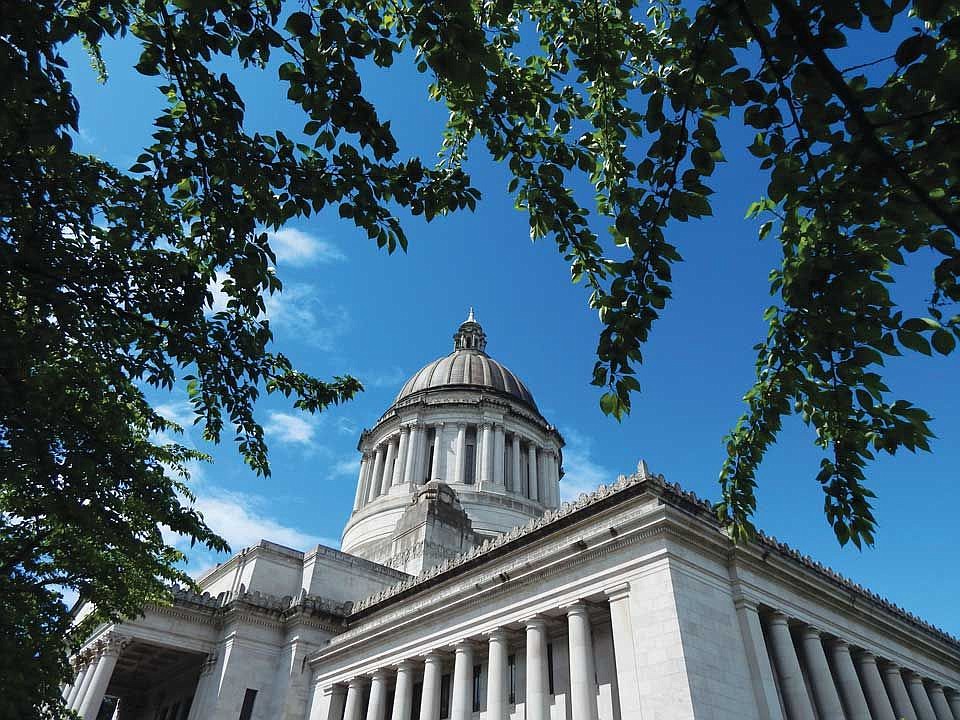 An exterior view of the capitol dome in Olympia, as seen in spring 2014.
File photo
by
TIMOTHY FAIRBANKS-CLOUSER, Herald Legislative Writer
|
January 19, 2022 1:00 AM
Legislation loosening law enforcement's restrictions to vehicular pursuit and hampering catalytic converter theft passed through the Washington State House Public Safety Committee on Tuesday.

If passed, House Bill 1788 would allow officers to pursue a person in their vehicle under reasonable suspicion if the suspect committed or is committing an offense(s). Requirements relating to supervision now state an officer only needs to notify his superior of pursuit, not ask permission beforehand.

Klickitat County Undersheriff Tim Neher said last year's HB 1054 took away officers' ability to pursue under reasonable suspicion for most crimes, extremely limiting their ability to serve and protect. He testified in support of the legislation for the Klickitat County Sheriff's Office.
To rely on probable cause would mean officers need to build up an entire case to arrest a person before making a stop, Neher said. If law enforcement can only stop a person in the act or right after a crime occurs, it limits their ability to prevent crime beforehand.
Po Leapai, of the Washington Coalition For Police Accountability, testified against HB 1788, citing several studies which show minorities are more likely to get stopped by police in some counties. He said the bill backsteps last year's HB 1054 and puts more minorities at risk.
"Racial bias clouds the judgment of everyone," he said, "including law enforcement."
Klickitat County Sheriff Bob Songer argued against testimony claiming racial bias throughout the state during traffic stops. He said his department has no problem with bias in traffic stops.
HB 1788 restores law enforcements' ability to perform their duties accordingly and keep the state safe. Songer urged a steady increase in unintended victims of various offenses may occur if this bill does not pass.
A different bill addressing catalytic converter theft also moved through the House Public Safety Committee without opposition.
House Bill 1815 would require the Washington State Patrol to establish a catalytic converter tracking program to deter a wave of recent thefts throughout the state. The program uses vehicle identification numbers and other identifiers to track the auto part.

The bill also establishes a task force to review state laws on catalytic converter theft to recommend the Legislature on policy. WSP would provide staff and facilitation services to the task force as needed.
Language in the bill notes it is illegal for a person to alter identification numbers on scrap metal, which is typical for criminals when stealing property.

Community members regularly message Seattle City Council member Lisa Herbold about theft in their neighborhoods, she said. Criminals sell precious metals from these parts for quick cash, causing expensive damage to owners' vehicles, she said.
This problem is bigger than the state boundaries, Herbold said. Thieves can easily ship the part out of state and overseas. She testified in support of the bill on behalf of the Seattle City Council.
"This appears to be an area that's preempted by state law," she said. "We need these changes in state law as soon as possible."
Lobbyist Brad Tower testified in support of HB 1815 and urged the potential task force to find out where all the catalytic converters are going. He said a large flow of these parts is being trafficked to areas law enforcement is unaware of.
The state should not be too quick when relying on vehicle identification numbers (VINs) to track catalytic converters, said Jim King, Independent Business Association lobbyist. The state should cross-reference other identifying numbers and markers to ensure the part came from the correct vehicle.
King complained legislators did not consider auto manufacturers when crafting the bill.
James McMahan, Washington Association of Sheriffs & Police Chiefs policy director, testified in support of the bill, but said an altered VIN does little to deter a future sale of a stolen catalytic converter. He suggested a provision to require proof of purchase from the title to sell a converter.
The charge for those convicted of stealing a catalytic converter ranges from first to third degree. Theft in the first degree is a Class B felony, the second degree is a Class C felony and the third degree is a gross misdemeanor.
Both bills passed through the committee with the intention of making future adjustments.
---