Betty Noel Bensal (Betty Sue)
|
January 19, 2022 1:00 AM
Betty Sue was welcomed home by the Lord on Monday, January 10, 2022, after a short illness. Betty Sue was a kind soul who loved all of her animals and her family. Betty Sue enjoyed spending time outdoors and especially loved spending time around her friends and family. She loved writing and would do so any chance she had. She was very creative and had a fantastic imagination.
Betty Sue was preceded in death by her loving grandparents David and Betty Bensal, her aunt Jessie Bettes and uncle Dave Bettes.
Betty Sue is survived by her mother Susie Bensal, brothers Dave and Mike Bensal, sons David Lee Bensal-Thurman and Dustin Warner Jr., aunt Josephine (Jerry) Kopp, cousins Brian and Brandon Bettes and cousin Marcy Becher. She also leaves behind close family friends Bob Richardson, Katrina (Jonifer) Balderas and Rebekah Kehn.
Betty Sue will be missed by all who knew and loved her. She was a bright light with some sass and will not be forgotten easily.
In lieu of flowers and gifts, donations should be made to Grant County Animal Outreach in Betty Sue's name.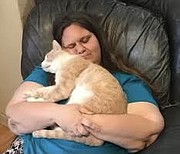 ---