Donation to Serve Moses Lake helps another person in need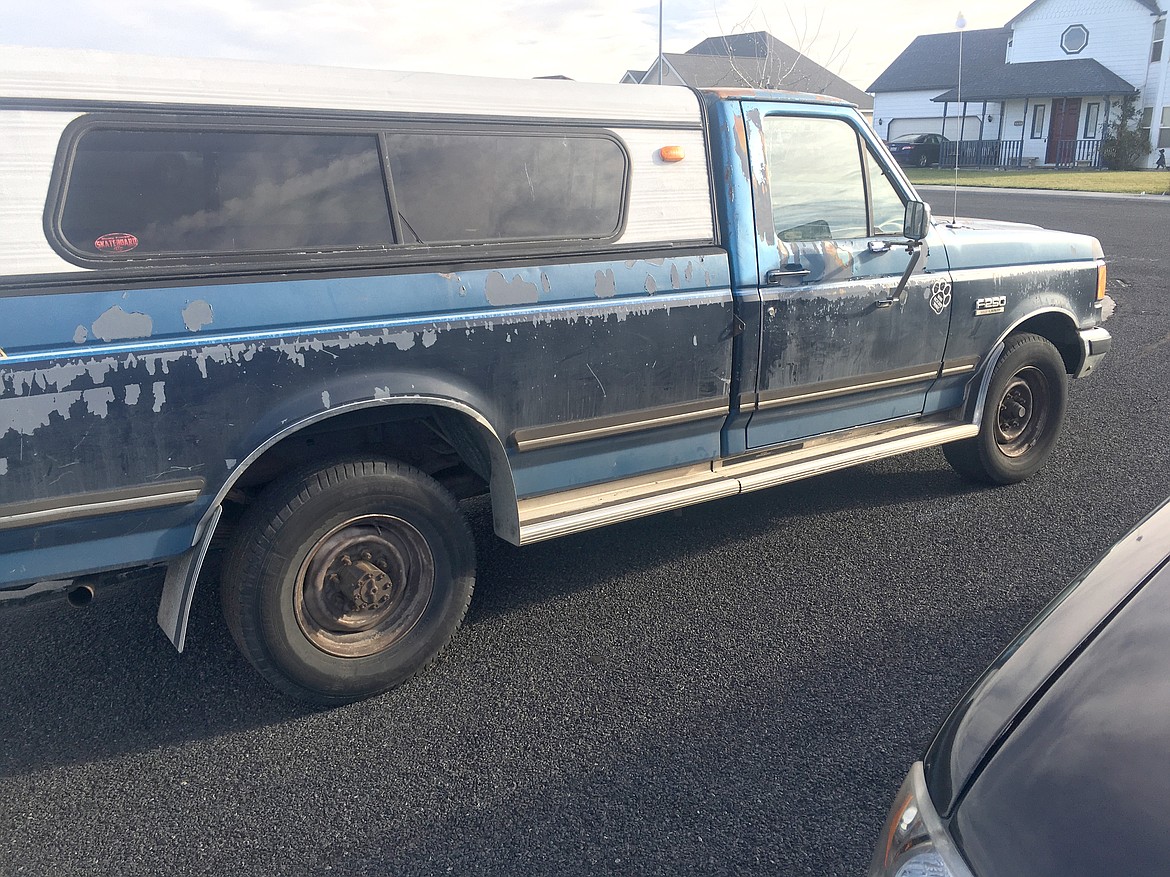 The truck donated to Serve Moses Lake, shown here, was paid forward to a new owner.
Brandon LaBonte/courtesy photo
by
CHERYL SCHWEIZER
Staff Writer
|
January 18, 2022 1:00 AM
MOSES LAKE — Serve Moses Lake Director Brandon LaBonte said the donation of a truck was unexpected.
Serve Moses Lake's mission is to help people in crisis find the help they need to deal with the crisis, and in the case of one former client, the help he received was the motivation to make a donation of his own. LaBonte talked about the donation and its message in a letter to the Herald and an interview Jan. 12.
"'I'm heading to Arizona,'" LaBonte quoted the client. "'You treated me well and I thank you. I leave you my truck; consider it a donation for all you have done for me.'"
Some Serve Moses Lake clients own a vehicle, and sometimes they abandon it when they leave town, he said. That means it's left for city authorities and property owners to deal with.
"He (the client) could have just left it in the parking lot somewhere," LaBonte said.
But he didn't. He had improved his life, LaBonte said, and he took the opportunity to improve somebody else's life. He met LaBonte at the vehicle licensing office to transfer the title.
"After a couple of days of arranging the paperwork, I had keys and (was) anxious to find a family in need," LaBonte wrote.
"Lupe Hernandez comes into Serve quite often to share his ministry experiences with me. He is a committed community leader and man of God. I asked him to help me find someone within his network that needs a vehicle. He took the assignment gladly," LaBonte wrote.
"Within a week of saying goodbye to my client, who was looking forward to warmer weather in Arizona, a family in need was located," he wrote. "The family was thrilled and so excited for this truck, according to Lupe. Serve helped with a full tank of gas, license and registration fees. This too was a gift to our client."
The truck is not, perhaps, the best-looking truck in town.
"It was an older Ford pickup with a canopy and a self-cut hatch door with a padlock. The paint was a dilapidated blue, decent tires, the heat worked. A small triangular window on the driver side was broken out, but the engine was strong – started right up in the coldest days we recently experienced. Aside from the sheer beauty of this beast, our new client was humbled and more than grateful. This would help him with his work landscaping and sheetrocking," LaBonte wrote.
"It was a neat experience to be able to connect his donation to a family," LaBonte said Jan. 12.
It was the first donation of a vehicle since he's been director at Serve Moses Lake, LaBonte said. Some charitable organizations have a vehicle program, but Serve Moses Lake doesn't.
"That's not a request we ask of people, because it's not a normal need," he said.
The organization doesn't have room to store vehicles, or money to pay prospective repair and maintenance costs. But a unique donation allowed the former client, and Serve Moses Lake, to help a person in need in an unusual way.
"Some families in our community live paycheck to paycheck," LaBonte wrote. "Some may struggle to find work. Affording a vehicle is not on their list of priorities; they are doing what they can to survive. In this case a great present was given to Serve, and we paid it forward."
---