The unexpected sometimes happens: Homeowners can protect against snow, water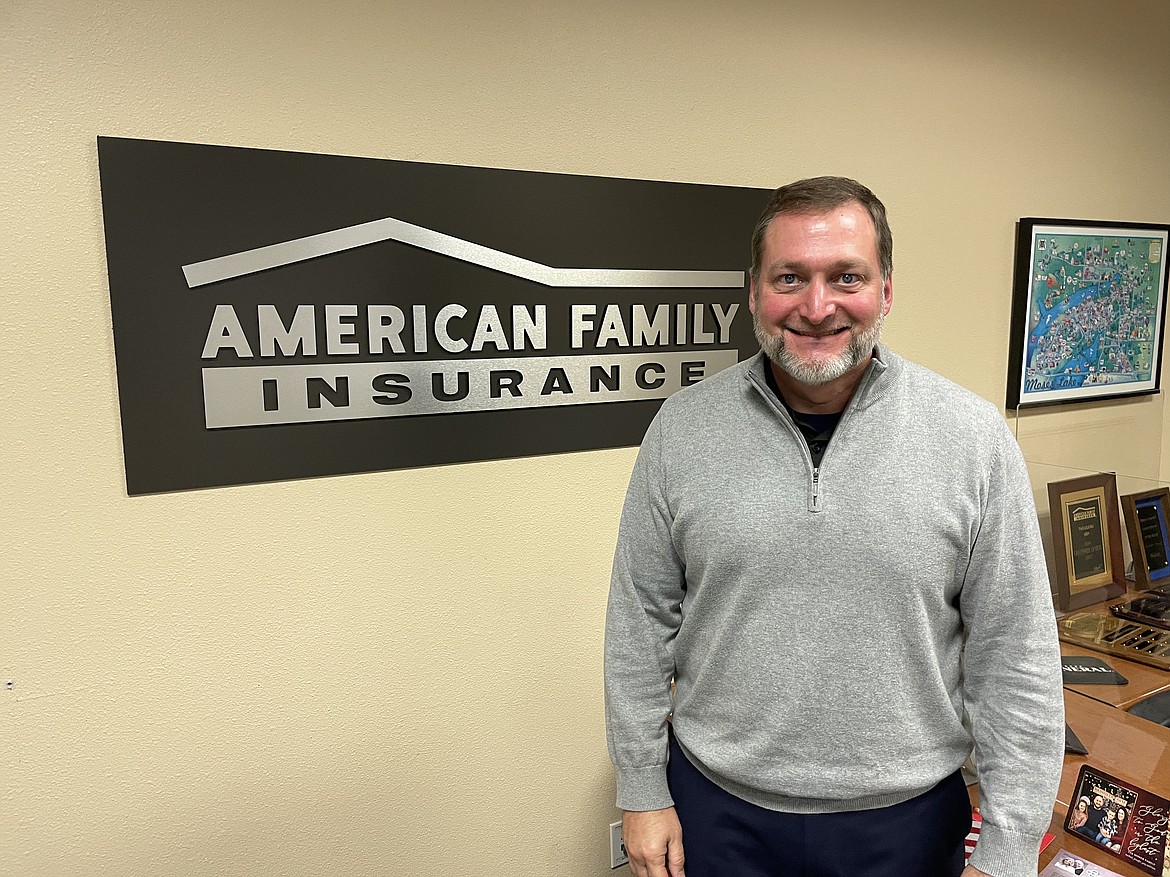 Chris Arnberg, owner of the American Family Insurance agency in Moses Lake, stands in his office.
Charles H. Featherstone/Columbia Basin Herald
by
CHARLES H. FEATHERSTONE
Staff Writer
|
January 15, 2022 1:00 AM
MOSES LAKE — The snow falling upon central Washington can be beautiful.
But it can also pose a risk to people's homes, so homeowners need to take care their homes are protected and they are adequately insured in the event of damage.
"Well, the main thing is your roof," said Chris Arnberg, owner of the American Family Insurance agency in Moses Lake. "What happens a lot of times, if you get snow, heavy snowfall, when it starts to melt, water can spread the shingles and can leak through the shingles."
Arnberg recommended homeowners check their roofs regularly to make sure the seals between the shingles are good, and said there are a number of companies in the Columbia Basin that can do regular roof inspections and maintenance.
The Northwest Insurance Council also recommends if it is safe to do so, homeowners should remove heavy snow and ice from their roofs and rain gutters in addition to shoveling snow from walkways and outside stairs.
In a press release issued Jan. 5, the council also recommended homeowners "check the perimeter of your property for snow that may be blocking vent pipes for furnaces, dryers and other flame-heated appliances," noting improperly vented gas or propane-fired heaters "could cause deadly amounts of carbon monoxide to build up inside a building."
Arnberg said the great enemy to every home is water — whether it comes in the form of melting snow seeping between and underneath shingles and siding or freezing and bursting pipes.
"Water is just the most powerful thing that we see, you know, we have the occasional fire loss, but water is what we really have," he said.
Arnberg said homeowners need to check their policies and make sure any basement water damage caused by burst pipes or snowmelt isn't considered a flood and therefore not covered by the company's homeowner's policy, but rather under separate flood insurance.
"You know, if somebody leaves their sprinkler on and floods their basement, that's not a real flood. That's just the same thing as your dishwasher leaking, you know," he said. "If you have a basement, talk to your agent about what coverage you have."
Arnberg suggested adding a flood insurance rider, which won't be very expensive for people who do not live in a flood zone, to their homeowner's policy.
He also said state registered vehicles — car, boat, RV, trailer — damaged while parked in a carport or garage in the event of a roof collapse are not covered by homeowners policies, and should each have their own comprehensive insurance policy.
"Your classic car or whatever you're not using regularly," he said. "You want to keep it covered at all times. Because, you know, a tree limb falls on it because of the weight of snow and puts a big old gash in it."
Because he said he fields a lot of claims following big snow storms, Arnberg said anyone seeing water damage should report it immediately.
"Because if you have long-term water damage, like dry rot and stuff, a lot of companies don't cover that," Arnberg said.
Finally, Arnberg said people also need to make sure they have enough insurance to cover damage not just to their homes, but also to detached structures like workshops — some of which, he explained, can be more valuable to property owners than their houses.
"And if the shop burned down, they'd probably be way more upset than if their house burned down," he said. "I really recommend everybody talk to their agent, and just go over their needs and say, 'This is important to me.'"
Charles H. Featherstone can be reached at cfeatherstone@columbiabasinherald.com.
Recent Headlines
---