A new way to do school: Leaders of Moses Lake's Vanguard Academy greet prospective students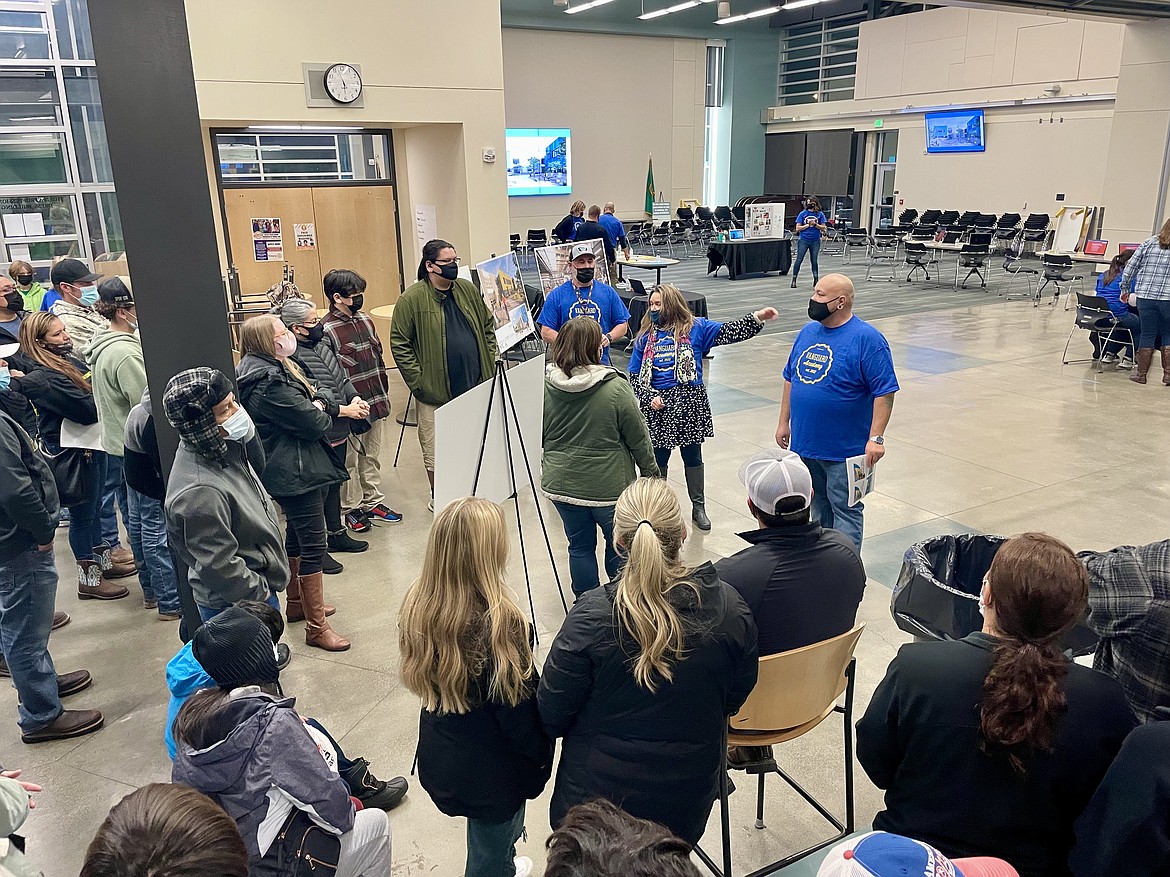 Vanguard Academy Planning Principal Kelly Cutter (center, pointing), along with academy teacher Amador Castro, welcome parents and prospective Vanguard Academy students at the Columbia Basin Technical Skills Center Wednesday.
Charles H. Featherstone/Columbia Basin Herald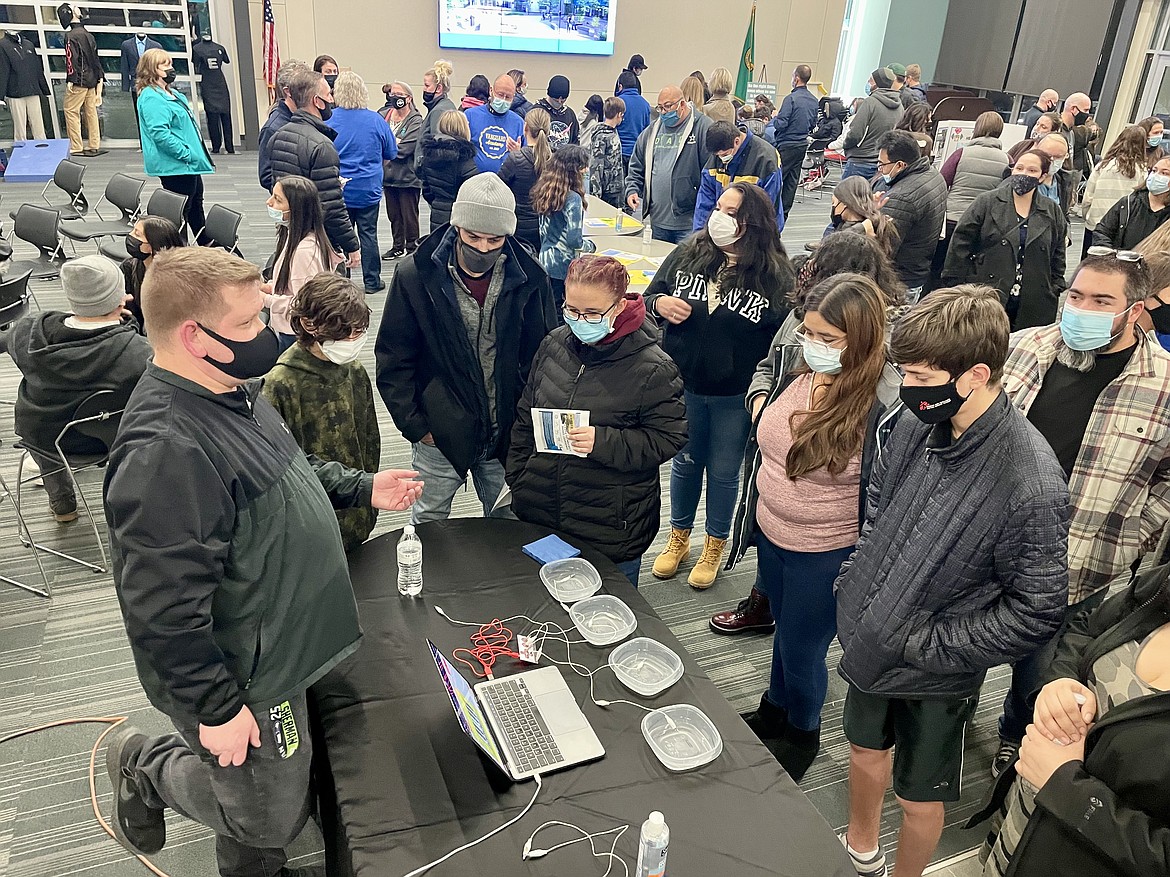 Drew Kostelnik, a teacher at the Moses Lake School District's Vanguard Academy, which is scheduled to open this fall, demonstrates how electricity is conducted as part of a meeting for parents and prospective Vanguard Academy students at the Columbia Basin Technical Skills Center on Wednesday.
Previous
Next
by
CHARLES H. FEATHERSTONE
Staff Writer
|
January 14, 2022 1:07 AM
MOSES LAKE — Elijah Brown and Dawniella Castleton are focused on the task at hand.
They each have six square wooden blocks, and they have to put them together in such a way so each block touches only two other blocks. And there isn't just one, single solution.
"It's interesting and I'm trying to figure this out," Castleton said as she shuffled and stacked the blocks on the table in front of her.
"It's really making me think," Brown added.
Dan Beich, the music director at Moses Lake High School who will start teaching at the Moses Lake School District's new Vanguard Academy, at 740 E. Yonezawa Blvd., this fall, watched over the two prospective students. He pointed to a computer screen in front of both students.
"So, do you see the solution?" Beich asked them both.
The block exercise, Beich said, is an example of the kinds of exercises and tests the Vanguard Academy will have to challenge its students as part of the school's approach to project-based-learning once it opens in late August.
"These are little brain games you can play to prompt lateral and sequential thinking and insight, and a whole series of ways of thinking that have nothing to do with what we normally associate with school whatsoever," Beich said.
There were lots of these brain games on display for prospective students to touch, fiddle with and even splash in at the Columbia Basin Technical Skills Center on Wednesday night as the MLSD held a well-attended open house for prospective Vanguard Academy students when the new school is set to open its doors to freshmen and sophomores this fall.
"Our staff is all chosen and they've been working really hard to put together some opportunities for families to come in," said Vanguard Academy Planning Principal Kelly Cutter.
Cutter said she hopes to have between 400 and 450 students at Vanguard Academy its first year — all freshmen and sophomores — and develop the upper classes slowly over time. The incoming class will be split into three "houses" of roughly 150 students each, with the school day split up into three distinct sessions with a school-wide check-in session every morning and check-out just before going home, Cutter said.
"There will be a lot of flexibility," she said.
As the school creates its own juniors and seniors, they will get internships and do job shadowing at local companies, Cutter said.
Teacher Drew Kostelnik stood behind a computer hooked up to wires draped into small plastic containers of water. Splashing some water triggered a note on a virtual piano keyboard, an activity Kostelnik said is designed to show how electricity flows.
Part of how Vanguard will teach students will be deliberately creating problems in its projects in order to force students to think through what might be wrong and then solve them.
"That's what we're all about," Kostelnik said.
"I'm very excited with the turnout tonight, it's more than we expected," said MLSD school board member Shannon Hintz. "People seem to be really engaged with the material we have out, and I'm excited to see what the future holds for Vanguard Academy."
For some of the parents present, the new school presents a new opportunity for their children in Moses Lake School District.
"We're looking at it," said Castleton's mother Julirae Gunter-Castleton. "This is the way she thinks. It's very different, and the high school doesn't quite fit with how she thinks."
And when asked if the exercise arranging the blocks is something she's interested in doing more of, Castleton doesn't hesitate.
"Yes," she said firmly.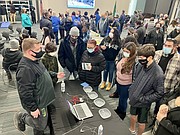 Recent Headlines
---