'Healing music': Violinist to perform benefit concert in Moses Lake
by
CHERYL SCHWEIZER
Staff Writer
|
January 14, 2022 1:00 AM
MOSES LAKE — An upcoming violin concert will help further Christian ministry and complete a local church.
Violinist Jaime Jorge will perform at 7 p.m. Jan. 27 at the Crestview Christian School, 1601 W. Valley Road in Moses Lake.
Jorge said he chose a musical career because it's a way to connect with people, no matter where they are.
"I believe music is the international language," he said.
The Jan. 27 concert will be his third in Moses Lake, and he's gotten to know the audiences and made friends here, he said. That makes the music more meaningful.
"I just love the people," he said. "Very down to earth, hard working, not pretentious. Yet they love music."
The concert is sponsored by the Moses Lake Seventh-day Adventist Church. Admission is free, but donations will be accepted. Social distancing and masks will be required.
Proceeds from the concert will go toward Jorge's Christian ministry and to the fund to complete the Seventh-day Adventist Church. The congregation has been working on construction of the new building for more than a decade.
Jorge is a classically trained violinist, born in Cuba, according to his website. His family practiced their Christian faith while living in Cuba, which brought them into conflict with the communist and officially atheist government. His family immigrated to the United States when Jorge was 10.
His mom wanted him to pursue a musical career, the website said, and he studied music as a teen. He planned to become a physician working in the mission field, but during his second year at the University of Illinois College of Medicine, he felt compelled to take up the violin full-time and use music to spread the Gospel, the website said.
His medical training taught him that the human body – the heart, its other physiological systems – has a rhythm of its own.
"Life, in one of its most basic forms, is rhythm and music has a rhythm in it. We are drawn to it because of that," he said.
He has performed at Carnegie Hall and recorded a number of albums, many featuring his interpretations of classic hymns and inspirational music.
He's also performed in 110 countries, he said, and in most cases he doesn't speak the language. But he's able to reach audiences through the music.
"It's a great privilege and joy to me to use music to make people happy, and encourage them," he said.
He last appeared in Moses Lake in February 2020. The "Healing Music" concert tour, going on now, will include appearances throughout Washington and Oregon.
Jorge uses the proceeds from his concerts in part to support a number of charitable projects, including support for orphans and underprivileged children in India, Bangladesh, Myanmar and Nepal, as well as a music school in Chattanooga, Tennessee. His ministry supports Christian outreach efforts in Cuba and other communist countries, including concerts.
He is an adjunct professor in the fine arts department at Gardner-Webb University, a private Christian college in Boiling Springs, North Carolina.
The Moses Lake Seventh-day Adventist Church has been under construction since about 2007.
Pastor Clinton Meharry said the interior framing should be completed this winter and spring, along with the rough-in for the plumbing and fire suppression systems. The next step will be rough-in for the electrical and heating-cooling systems, Meharry said.
"We're making progress," Meharry said.
The project has received donations throughout, including matching two $25,000 donations in November and December 2021. With the match, the congregation raised $108,000 in about two and a half months, he said.
But the permitting process has contributed to the delays.
"It took quite a while to get permits for the indoors," he said.
Cheryl Schweizer can be reached via email at cschweizer@columbiabasinherald.com.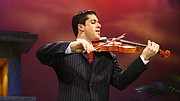 Recent Headlines
---