'A voice for citizens': Wanke reflects on 32 years on the Ephrata City Council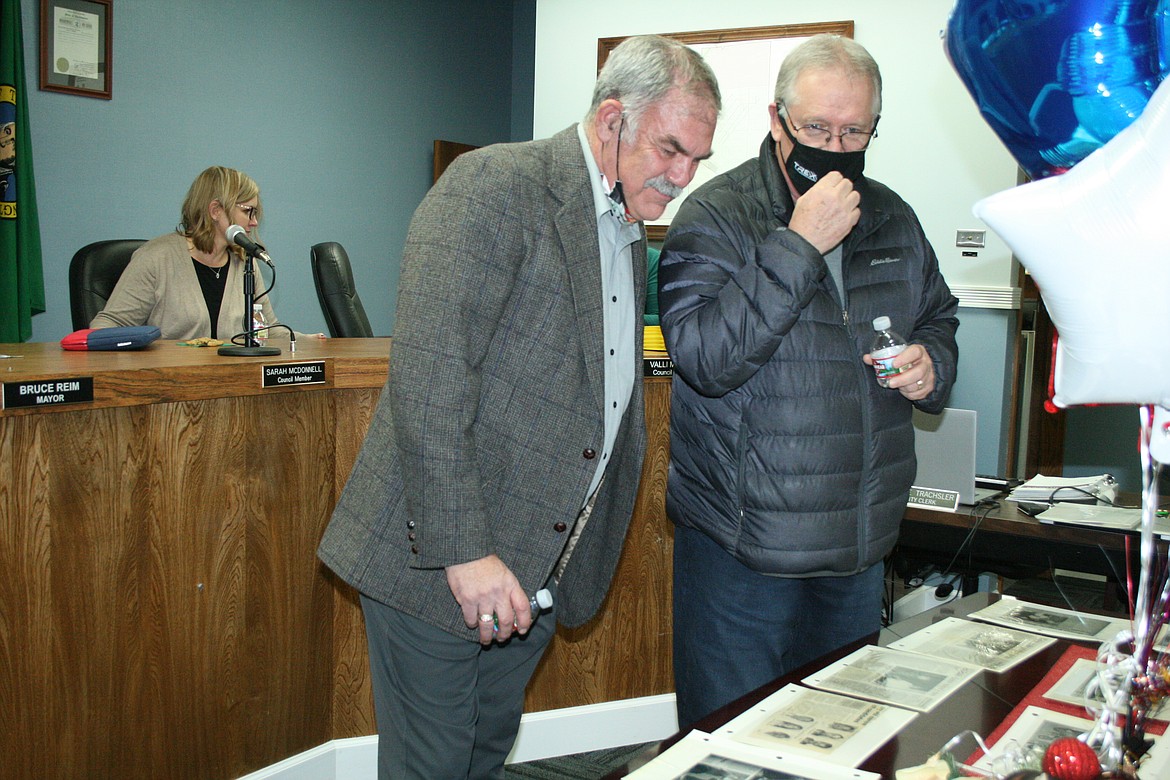 Retired Ephrata City Council member Mark Wanke, left, and former city employee Dennis Ohl look at pages from a scrapbook detailing Wanke's 32 years on the council during a reception Dec. 15.
Cheryl Schweizer/Columbia Basin Herald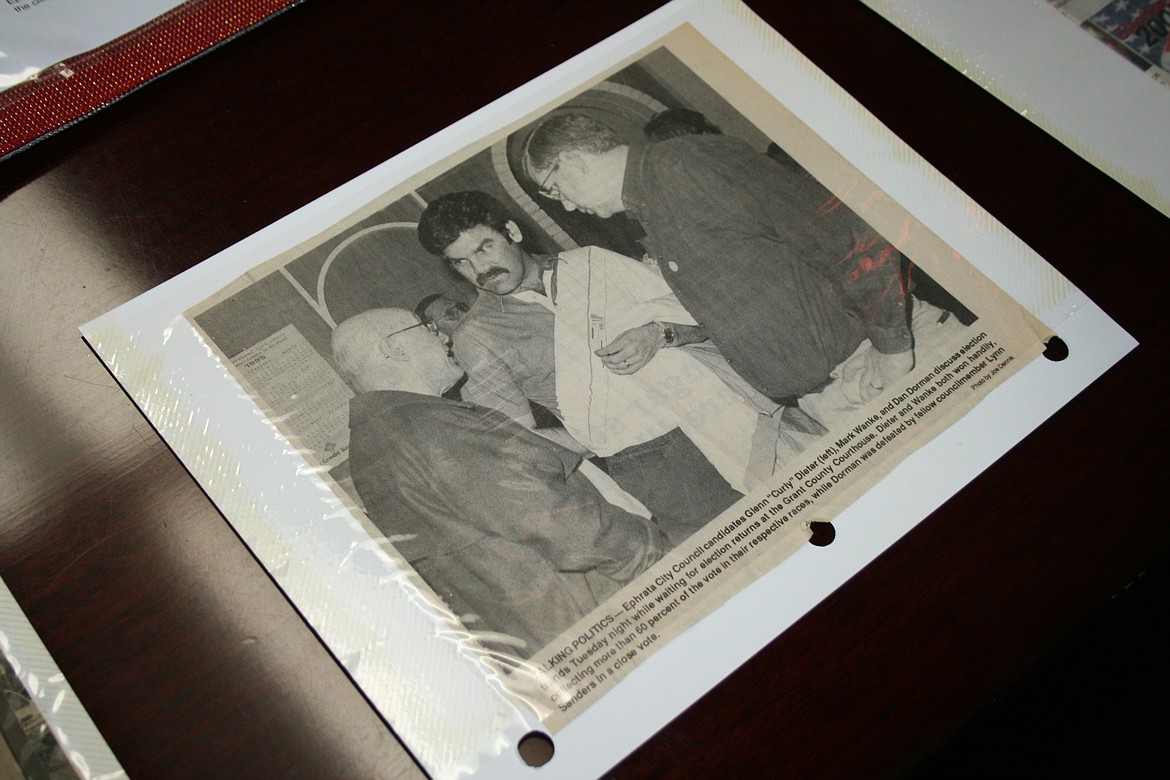 A page from the scrapbook kept by retired Ephrata City Council member Mark Wanke.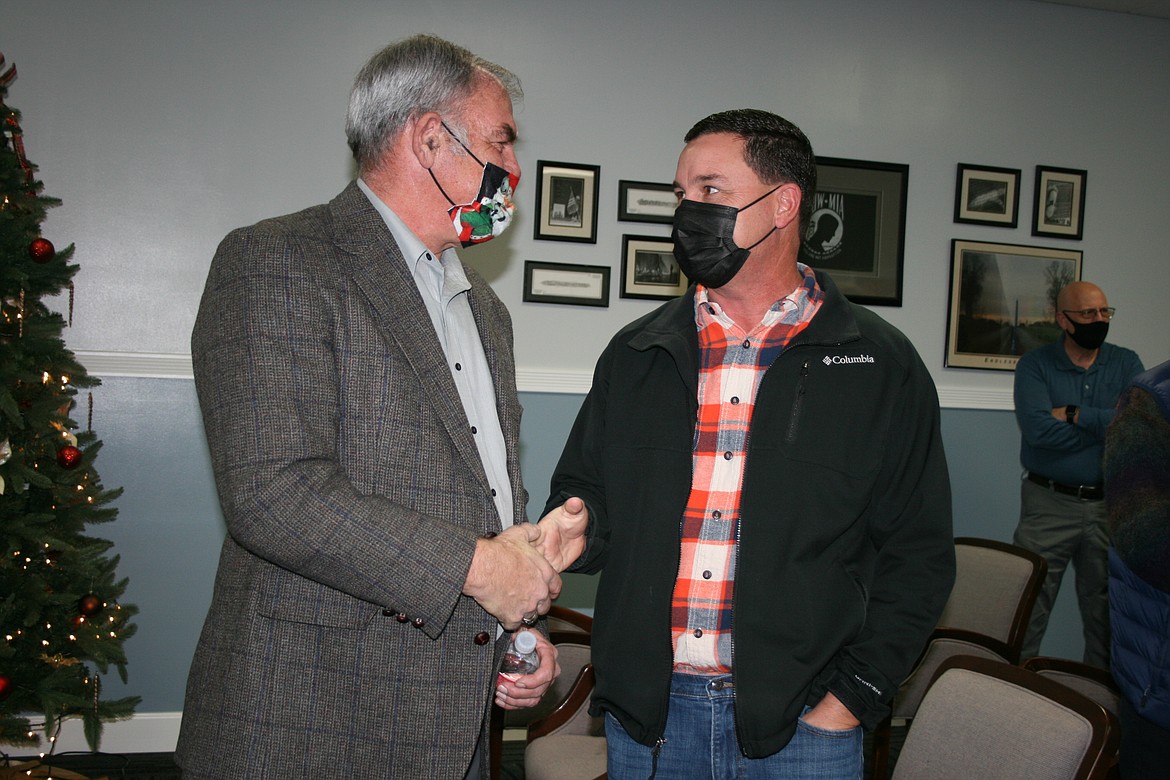 Mark Wanke, left, is congratulated by nephew Jeff Cleveringa for his years on the Ephrata City Council during a reception Dec. 15.
Previous
Next
by
CHERYL SCHWEIZER
Staff Writer
|
January 12, 2022 1:00 AM
EPHRATA — Mark Wanke first ran for the Ephrata City Council in 1989.
"I wanted to be a voice for the citizens," he said.
Wanke and his wife Carrie took along their son and daughter, about 4 and 8 at the time, and campaigned door to door, he said.
"Our son was in the wagon," Wanke remembered.
He won that race, and the races thereafter. Wanke retired from the council in December after 32 years. It was a good time to leave, he said.
"We're in good shape financially, and it's time for new ideas," he said. "My wife says it's time to do something else."
Wanke has been a member of the Ephrata Lions Club for 45 years, he said, and he has always liked the Lions motto, "We Serve." That's always been the basis of his approach to his job on the council, he said.
He estimated he worked with six mayors in 32 years, and more council members than he could count. Like Wanke, most of them were motivated by the desire to help the city, he said.
"They wanted to get things done," he said.
Many council members had the idea they could make changes once they were elected, but one of the lessons of city government was change and progress required working with others, he said.
Wanke said governing the city of Ephrata came with some challenges. Ephrata is the county seat and is home to a number of federal agencies, like the Bureau of Reclamation, and local entities, like the Grant County Public Utility District headquarters. There's less industry and business than in Quincy or Moses Lake, and that has an impact on the tax base.
As a result, council members and city officials had to make do with the funding available and find other sources to pay for projects. Wanke said the most challenging part of city government was the city officials and the council had projects they wanted and needed to do, but didn't have the money.
The fun part of city government was dealing with those challenges, and figuring out how to get things done. He cited the city's sewer system as an example.
The sewer plant needed upgrades, and the city didn't have enough to pay for the entire project. City officials found a program that allowed Ephrata and two other communities – one of them Royal City – to upgrade the sewer plant in a way, which became an example for other cities, he said.
He also gave credit to the people of Ephrata, who approved tax measures and supported fee increases designed for city improvements
"They have been real supportive," he said.
Wanke said he feels good about the city's accomplishments during his time on the council. City officials and the council worked to upgrade streets that were in poor repair. They worked to replace water lines way over their expected life. The Ephrata Fire Department received needed upgrades. He worked on downtown revitalization and Safe Routes to School projects, among others.
He was a volunteer for the Ephrata Fire Department, as well as volunteering 11 years on Grant County Fire District 13.
He met a lot of talented people along the way, he said, both in and out of Ephrata.
"I will put our city staff against any other staff. They're just top-notch," he said.
He has served on the Grant County Health District board, the Grant Transit Authority board and the Lodging Tax Advisory Committee, which allocates the county's hotel-motel taxes. He's been active in city associations on the state level. He was part of an organization of city officials throughout Grant County who met periodically to address common issues.
The group's members helped each other out, he said, citing a time when Wilson Creek needed its crosswalks painted, and Ephrata city officials provided assistance.
"That's what we're there for," he said. "We came together to help each other. It's just a really fun group."
There were more projects, like the walking trails established around town, and working as the city's representative on the Ephrata School District's truancy board. It was important, all along the way, to pursue projects that helped the city, he said.
"Ephrata is just a fabulous small town to be a part of," he said.
He said he's glad to have served on the council, and for Ephrata residents.
"I'm just feel honored to have been a part of it," he said.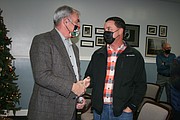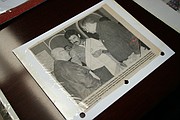 Recent Headlines
---