The rising cost of eating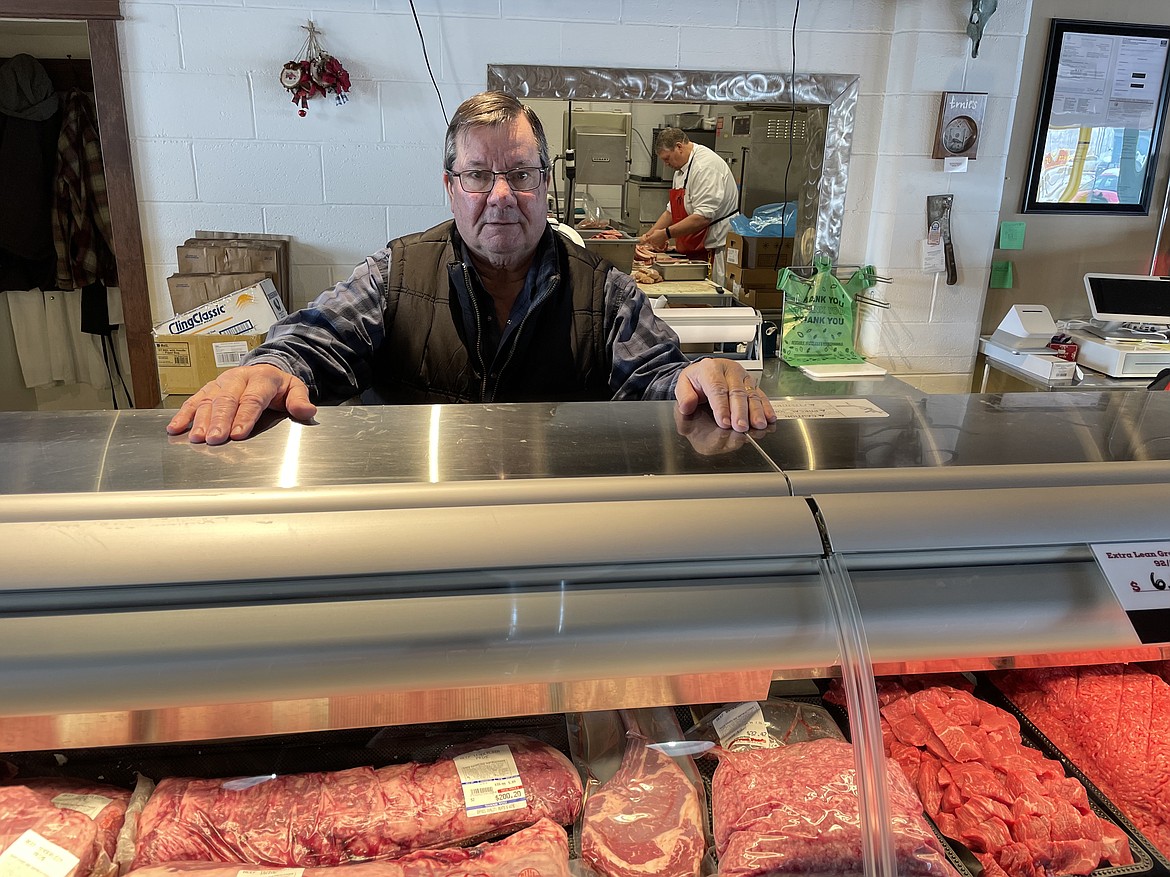 Ernie Lang, co-owner of Ernie's Quality Meats and Wine in Moses Lake, stands behind the meat counter of his butcher shop.
Charles H. Featherstone/Columbia Basin Herald
by
CHARLES H. FEATHERSTONE
Staff Writer
|
January 11, 2022 1:07 AM
MOSES LAKE — The sticker price read $250.
Which might be about the right price for a pair of Apple's AirPods Pro. But for roughly seven-and-a-half pounds of beef tenderloin prime, well, it's enough to make anyone consider the wisdom of eating vegetarian.
"It's been steady for the last four years or so," said Ernie Lang, co-owner of Ernie's Quality Meats and Wine on West Broadway Avenue, of the rising prices of beef. "This last year it crept up more than normal."
"It shot way up in November," Lang added.
Which is what the U.S. Bureau of Labor Statistics data for November's consumer price index — a monthly snapshot of retail prices paid by consumers across the country — said when published in mid-December.
According to BLS consumer price index data, prices for meat, poultry, dairy and eggs rose nearly 13% in November 2021 compared with prices the previous year, behind gasoline prices — which rose 58% — and used cars — which rose 31% — during the same period.
However, more specific BLS consumer price data reveals beef prices rose even more, posting a 21% increase in November when compared with the previous year, largely due to a 26% increase in the price of beef roasts and a 25% increase in the price of uncooked steaks.
Washington State University Extension economist Shannon Neibergs said the price rises are the result of a near perfect storm of high demand for U.S. meat both domestically and abroad, as well as diminished herd sizes resulting from last summer's widespread drought across the western United States.
"There are strong market conditions across the world and record-level exports, and that helps support both demand and price," Neibergs said.
According to a livestock report published in mid-December by the Chicago Mercantile Exchange, the average price for all cuts of choice retail beef was $7.85 per pound in November, with sirloin reaching $11.51 per pound and other steaks averaging $10.23 per pound. Ground beef hovered at around $4.80 per pound, down from October highs, but still well above average for the last few years.
The U.S. Department of Agriculture expects U.S. beef exports to rise 16% in 2021 to 1.5 million metric tons — a record level. Higher corn prices also mean higher costs for feedlot owners, which they will eventually pass on to meat processors, Neibergs said.
Corn prices started the year at around $6 per bushel, well below the high in May of around $7.50 per bushel but above the roughly $4-per-bushel average of the last few years.
"Animals in feedlots are being fed high-priced corn, and feeders will try and hold on to those prices," he said.
Neibergs said this means feedlot owners will have more market power than meat processors, at least in the short term.
Around 80%-85% of the U.S. beef packing industry is dominated by four large companies — Cargill Inc., Tyson Foods Inc., National Beef Packing Company and Brazil-based JBS. Neibergs said that concentration is a contributing factor to higher beef prices, but "not the only smoking gun."
Lang said even with higher prices, he's not had any difficulty getting beef from his supplier, Painted Hills Natural Beef in Oregon.
"I don't know if it's because of the supplier we have, but we're not having any trouble," he said. "Poultry is a little shaky, and pork is no trouble."
However, Lang said the price of bacon has risen 20% in the last few months, likely in anticipation of a new California state law which mandates larger pen sizes for hogs raised anywhere, but destined for shipment to California.
"We don't know what impact that will have, but I expect higher prices," Neibergs said.
Neibergs said there will also be some disruptions nationwide as hog farmers in the Midwest, where most of the country's hogs are raised, adjust to the demands of the new California law.
"It may have more impacts as farmers develop processes to channel product to California," he said.
Lang said while bacon prices have risen, it isn't the doubling some were forecasting. He's also confident that dislocations in the pork market will only be a problem in California.
"We think," he added.
Lang also noted even with current high prices — people may need a co-signer or a mortgage for that slab of brisket — he's only seen things drop off "a tiny bit."
"I won't say it hasn't slowed things down, but it's not a huge effect," Lang said. "People want quality, and they're going to pay the price and they know it."
Charles H. Featherstone can be reached at cfeatherstone@columbiabasinherald.com.
---