Clearing the way: Soap Lake police officer enjoys plowing snow on the side
|
January 11, 2022 1:03 AM
SOAP LAKE — White Buffalo Drone Services owner and operator Jeff Gallaher is a man of many hats. In addition to the drone service he started in early 2021, he recently expanded into snow plowing, in time for a winter with plenty of snow needing to be moved.
While Gallaher owns and operates White Buffalo, but his primary job is as police officer for the city of Soap Lake.
He was a volunteer firefighter for Grant County Fire District 13 (GCFD 13) out of Ephrata for about four years prior to getting into law enforcement.
He started White Buffalo in spring 2021 to pursue his interest in drone photography. This has allowed him to use his skills for real estate agents and to help develop a drone program at the Soap Lake Police Department.
Gallaher said he had a feeling this was going to be a bad winter, so he bought the plow attachment for his truck and got to work letting people know his services were available in Ephrata, Moses Lake, Soap Lake, Quincy and surrounding areas.
He said he didn't expect to be as busy as he has been. A lot of his business has come from family and friends, and referrals from those family and friends, he said.
On Thursday, the morning after areas in the Columbia Basin received 12 to 24 inches of snow, Gallaher said he was plowing from 4 a.m. until 10 p.m. and receiving four to five calls every hour.
Gallaher said his strategy to plowing comes down to talking with customers to see what has worked in the past for them, what they want cleared, what they want to do differently and what the layout of the location is.
Currently, his main objectives are working on building a reputation and a base of happy customers while gaining more experience.
He has enjoyed plowing enough to plan to continue next winter and change the name of his company to just White Buffalo, to include both businesses.
"Basically, as long as I have this plow and this truck. If I don't, I'll get another truck for a plow or a different plow for a different truck, and I'll continue to do it," he said. "I've loved it."
He has found he enjoys running his own business and may not stop with drones and plowing; he has other ideas to try in the upcoming year.
"It's really nice and refreshing to be able to not only do my normal job of protecting the streets, and going home and being like, OK, now I have these jobs where I can go do photography or you know, when this happens, I can go out and help people who are plowed in or snowed in and help them get back to their normal lives," he said.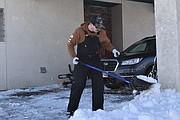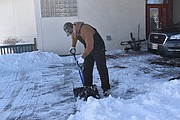 Recent Headlines
---