Winter blast: Snowstorm causes closures, delays, traffic snarls
|
January 7, 2022 1:07 AM
MOSES LAKE — Ronda Vance had a one-word estimate for the amount of snow in the Columbia Basin Wednesday night into Thursday morning.
"Enough," she said.
Vance was removing the snow berm from the entrance to the parking lot outside her business on Fourth Avenue Thursday morning. She was one of many business owners clearing snow from sidewalks. And the staff at Paris Nails took advantage of a slow day to build a snowman on the sidewalk.
Homeowners, too, were out with snow shovels and snow blowers, clearing driveways and walkways.
City workers pushed snow to the center of Third Avenue with a grader, with front-end loaders removing the piles from the street.
Officially, Moses Lake and Ephrata each reported 6.5 inches of snow Wednesday night, according to the National Weather Service office in Spokane.
"Certainly some good snow," said Ken Daniel, meteorologist with the Spokane NWS office.
But the Columbia Basin escaped the big snowstorm.
"Wenatchee got hammered," Daniel said.
The Wenatchee area received 15-24 inches of snow, depending on the location, he said.
Some freezing rain and snow was expected Thursday night, followed by some rain Friday and gusty winds.
"Be ready for some blowing snow," Daniel said, although the rain should lessen the chances of substantial amounts of blowing snow.
Friday's high in Moses Lake was expected to be about 41 degrees, but high temperatures were forecast to drop about 10 degrees by Saturday.
The snow Thursday closed schools and some city offices, closed libraries from Oroville to Kennewick, and snarled the drive to work.
The Ephrata, Quincy, Moses Lake, Othello, Royal, Soap Lake and Wahluke school districts canceled classes, and Wilson Creek switched to remote instruction. Big Bend Community College officials had a delayed opening, and some classes were canceled or moved online.
The Ephrata City Hall was closed and Othello city offices worked with a reduced staff.
All branches of NCW Libraries and Mid-Columbia Libraries were closed Thursday. The NCW Libraries system includes all public libraries in Grant County, and the Mid-Columbia Libraries includes a branch in Othello.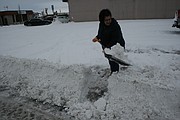 Recent Headlines
---