Three for the show: Country trio Taylor Red to perform in Moses Lake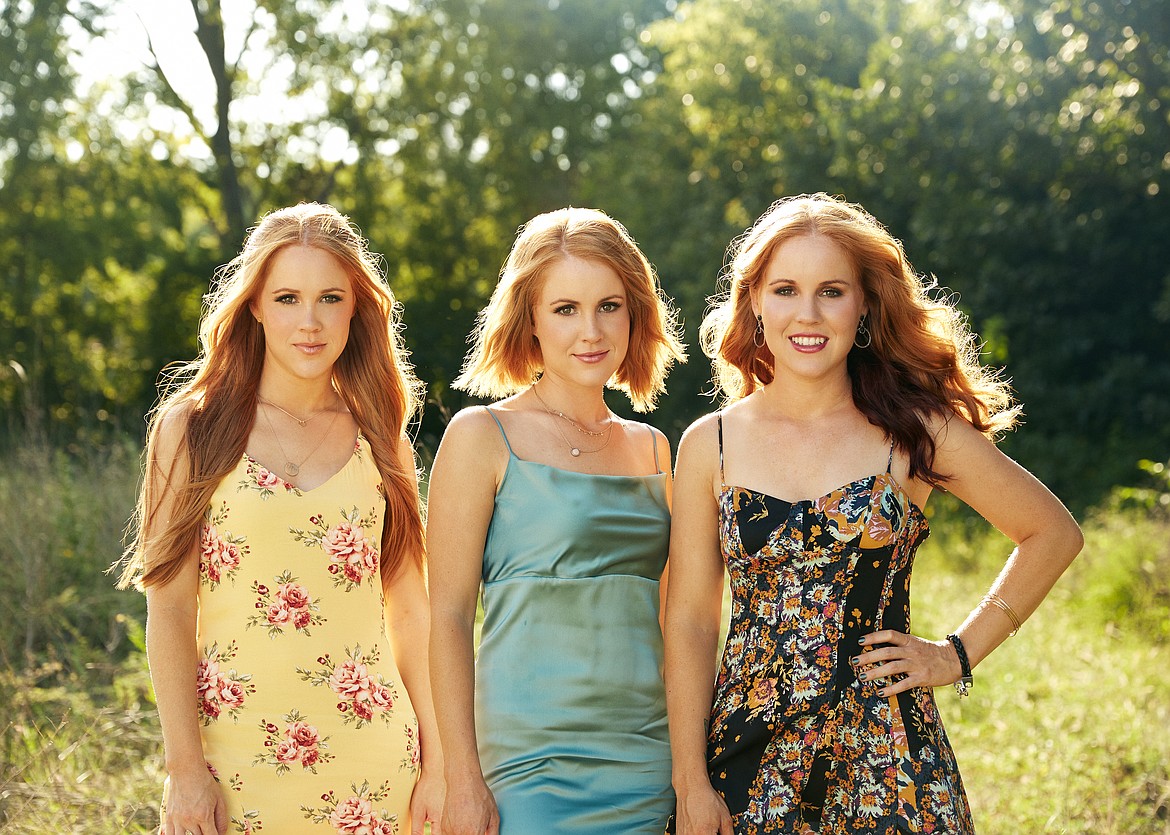 Identical triplet sisters Nika, Natalie, and Nicole Taylor, known professionally as Taylor Red, will perform Jan. 13 in Moses Lake.
Courtesy photo
by
CHERYL SCHWEIZER
Staff Writer
|
January 7, 2022 1:00 AM
MOSES LAKE — Three-part harmony comes to the Moses Lake Alliance Church at 7 p.m. Jan. 13 when the trio Taylor Red performs in concert. It's the second concert of the season for the Central Basin Community Concert Association.
The church is located at 1100 N. Grape Drive. Typically, CBCCA concerts are held at the Wallenstien Theater on the Big Bend Community College campus, but the theater is under renovation.
Francie Irwin, CBCCA president, said the church has room for more than 300 people.
"It comfortably seats 350," Irwin said.
The first concert of the season also was held at the church, and Irwin said the audience could hear the piano and violin without the aid of microphones.
"I was just so impressed with the quality of the acoustics," she said.
Identical triplet sisters Nika, Natalie and Nicole Taylor have been performing professionally since 2010, but they began playing together as children. The Taylor sisters have released three studio albums.
Their sound is influenced by 1990s country, according to their biography, particularly solo artist Shania Twain and the trio The Chicks. But they have been influenced, as well by classic country artists like Johnny Cash and Dolly Parton, and classic rockers like Tom Petty and the Eagles.
The trio performs original music and instrumentals – they play a mean "Foggy Mountain Breakdown" and "Orange Blossom Special" – as well as their own interpretations of popular country songs.
They have achieved online success with more than 400 videos on the popular site TikTok, with videos featuring everything from practical jokes to games to visual puns to their own songs. According to their biography, they have more than seven million followers on TikTok.
"We're quite excited to be able to bring them to Moses Lake," Irwin said, in part because they are familiar to young people.
Nika Taylor is the lead vocalist and plays guitar; Natalie Taylor sings harmony and plays keyboard, violin, bass and mandolin. Nicole Taylor also sings harmony and plays bass, guitar and drums.
The sisters have performed domestically and internationally, in more than 1,000 live shows, and have opened for a number of country performers from Diamond Rio to Ray Stevens.
"It should be an incredibly exciting concert," Irwin said.
Tickets are $25 for adults, $10 for students and $55 for a family, and will be available at the door. Tickets for music students are $5 per student, which Irwin said includes band and choir students, as well as people taking individual lessons.
The CBCAA season returned for 2021-22 after being suspended in 2020-21 due to the COVID-19 pandemic.
The remaining two concerts in the season are scheduled for March 22 and April 22.
The March 22 concert features the duo "Branden & James," with vocalist Branden James backed by cello player and vocalist James Clark.
"America's Sweethearts" will perform the season finale April 22. The trio takes most of its music from the Great American Songbook, focusing on the World War II era but singing songs from the 1930s through the 1950s.
The CBCCA has been sponsoring concerts in the Columbia Basin since 1954, and for most of that time was a subscription series. But the coronavirus pandemic made it difficult to sponsor a subscription drive, Irwin said.
Season tickets do come with a perk, reciprocal agreements for concerts sponsored by other community groups that use the same booking company, Live on Stage. Season ticket holders can attend concerts free of charge in Wenatchee, Richland, Shelton, Longview, Bremerton, Centralia and Everett.
Cheryl Schweizer can be reached via email at cschweizer@columbiabasinherald.com.
Recent Headlines
---