Basin community donates to woman's end-of-life care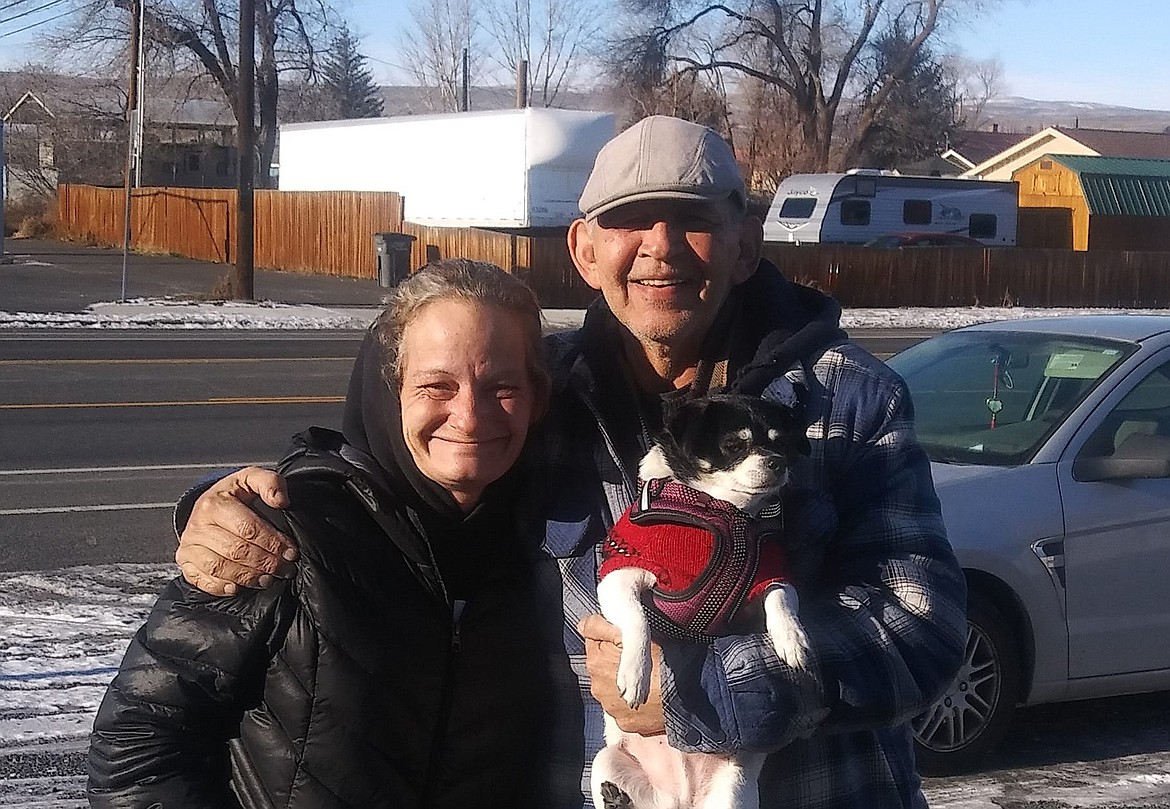 Shawna Kluge, left, poses for a photo with Richard Balck. Black, holding his rescue dog Teddy, is a recent transplant to Moses Lake and donated $1,500 to Kluge for Brandi Del Monte's end-of-life expenses and the spaying of the dog she leaves behind.
Shawna Kluge/Courtesy photo
by
REBECCA PETTINGILL
|
January 3, 2022 1:03 AM
In merely two days, the Columbia Basin community stepped up for a neighbor in need and donated to cover the end-of-life expenses for Brandi Del Monte, plus more.
Del Monte, 43 – a shelterless woman who frequented the corner of Division Street and state Route 28 in Soap Lake – was receiving comfort care in hospice and died Thursday. Shawna Kluge wanted to raise money for Del Monte's cremation and the cost to transport her remains back to her family in Kansas.
Kluge reached out to the Herald on Wednesday, just a day after the "Loving your neighbor" story ran, to say nearly all $2,000 of the goal was raised. Along with raising the money needed for the end of life expenses, a local funeral home offered its services and a local woman offered a brand new urn for the family.
"I am completely blown away and blessed by the kindness of a stranger," Kluge wrote in a social media post on Wednesday.
Richard Black, a new transplant to Moses Lake, saw the Herald's article and covered a large portion of the remaining goal amount and gave money toward getting Del Monte's dog, Shelby, spayed. The total donation was $1,500.
Black met Kluge in Soap Lake to deliver the donation personally with his rescue dog Teddy in tow.
"He is a blessing not only in my life, but in the life of Brandi's family in Kansas," Kluge also wrote in the post.
"My family and I would love to thank everyone for their donation they have put towards my Aunt Brandi's final expenses and trying to get her home to Kansas," Del Monte's niece Katlyn Harper said. "I'm so very thankful for not only meeting Shawna, but for all the help she has given us in this whole process. Shawna has been such a blessing hiding in the skies. My family here in Kansas and I are truly so blessed with all her help and care she has given to not only Shelby, but my aunt well over the years. We can't thank her enough for everything. She's truly a wonderful person for taking the time out of her already busy life with her rescue duties to help out with both Shelby and my aunt Brandi."
Kluge was emotional when talking to the Herald about how much the generosity and kindness from the community meant to her. This week was exceptionally challenging for Kluge as she took care of her animals at The Rock Bottom Rocker Pet Pantry in the bitter cold at the same time her rescue partner Wendy Hernandez was hospitalized.
Kluge says Del Monte's family is accepting donations toward any unpaid medical expenses from Del Monte's stay at MultiCare Deaconess Hospital in Spokane or Hospice House of Spokane, where she died. It is still too early to tell what the costs will be, but the family's biggest concern of getting their loved one home was covered through the generosity of people they may never meet in person.
"As we are getting closer to reaching our first goal of $2,000 there are so many unknown expenses we are looking at," Harper said. "We're not sure what will be left over from her long hospital stay and the stay at the hospice house. I would love to give a special thank you to Richard Black for making a large donation to help us almost reach our goal. I believe as of right now we're about $150-$200 away. I am so grateful to Mr. Black and to everyone that has taken the time to donate and even share the fundraiser on Facebook. It has shown us all that there are still caring and loving people in this crazy world of ours today."
To donate, visit www.facebook.com/donate/625188512129651.
As for Shelby, she and her recently born nine puppies, five females and four males, are doing great. Some members of the community reached out to adopt her and Kluge is determining if any will be a good fit. Videos of the puppies can be found on Kluge's rescue Facebook page, The Rock Bottom Rocker Pet Pantry.
Recent Headlines
---