Rev. Klockers: If a person has just one job to do, can they get it right?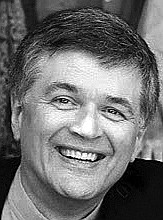 by
Rev. WALTER KLOCKERS
|
February 17, 2022 1:00 AM
I give you a new commandment, that you love one another. Just as I have loved you, you also should love one another." John 13:34
In the sport of American football, there is an on-field position called the long snapper. This player has a single job to do. He hikes the ball through his legs to someone behind him for field goals, extra points, and punts.
The job of long snapper isn't a glamorous one.
If you follow the Seahawks, you likely recognize the names of Russell Wilson (quarterback), Rashaad Penny (running back), Tyler Lockett and DK Metcalf (wide receivers).
How about the long snapper?
I would venture to guess that not many fans know the name Tyler Ott. He has been with the club since 2017. In recognition of his fine play, Tyler Ott was handsomely rewarded. In 2019, he signed a contract with the Seahawks through the 2022 season for roughly $4 million.
In the year 2021, Tyler Ott was recognized as the best at his position in the National Conference of the National Football League, by being invited to play in the Pro Bowl. So, he is really good at doing that single thing.
My first impression was that a $4 million contract for his specialty sounded absurd. However, the long snapper plays a crucial role in every game, and the National Football League is a multi-billion-dollar industry. Yet, as strange as it sounds, as a measure of success, his name should rarely be spoken.
Why is this? Well, if the name Tyler Ott were mentioned, it would likely be because he made a mistake. It could be a bad snap that sailed over the punter's head, or being off the mark for a holder to catch the ball, resulting in a botched extra point or field goal. One such error could cost his team the game.
So, it's best that he does not draw attention; Tyler Ott knows what needs to be done, does an excellent job in accomplishing the task and largely goes unnoticed.
The long snapper seems like a simple job, but reality says otherwise. It requires a unique skill set that the whole team relies upon.
When the ball is hiked, the long snapper must apply ample spin, so the ball does not wobble like a wounded duck. It needs to cut through the air with some zip, and be delivered into the hands of someone who is kneeling on one leg (a holder for extra points and field goals) or standing, (a punter) positioned many yards behind him.
That's not an easy thing to do with accuracy and consistency. Tyler Ott must accomplish this every single time in the company of 300-pound giants.
So, Tyler Ott does that one thing. Yes, it is more challenging than first imagined, but it is still just one thing.
Jesus gives us the commandment to love one another. That's just one thing to do. How hard can that be?
As it turns out, quite challenging. Why? It is because in our midst are tribalism, hate, distrust, self-righteousness, and condemnation of what differs from us.
We are like sheep, and we may follow influential shepherds that promote these things.
In my opinion, it makes no difference is we are liberal, conservative, or feel we stand on middle ground. To some degree, we are all sheep. Yes, there are those who may loudly bleat their denial, but the act itself can be exacting proof of what is so strongly rejected.
For the Christian, when we can muster enough strength and courage to overcome these things, our name need not be known; but in our actions the name of Jesus certainly should be.
Jesus did that one thing on the cross -- he sacrificed for us, and has called us to sacrifice for others.
For the non-believer, believe in goodness for the sake of humanity, if that works for you.
All of this requires that we drop our prideful, self-righteous, defensive postures, and act in kind ways toward those who may differ from us.
Yes, it is hard to do. Yes, we are all imperfect and to some degree hypocritical in our efforts. Still, strive to do that one thing – and in those instances when you manage to succeed, rejoice.
Walter is pastor of Immanuel Lutheran Church in Moses Lake and has served as parish pastor for more than 30 years.
Recent Headlines
---