A glass of comedy: Masquers Theater to present 'Beer for Breakfast'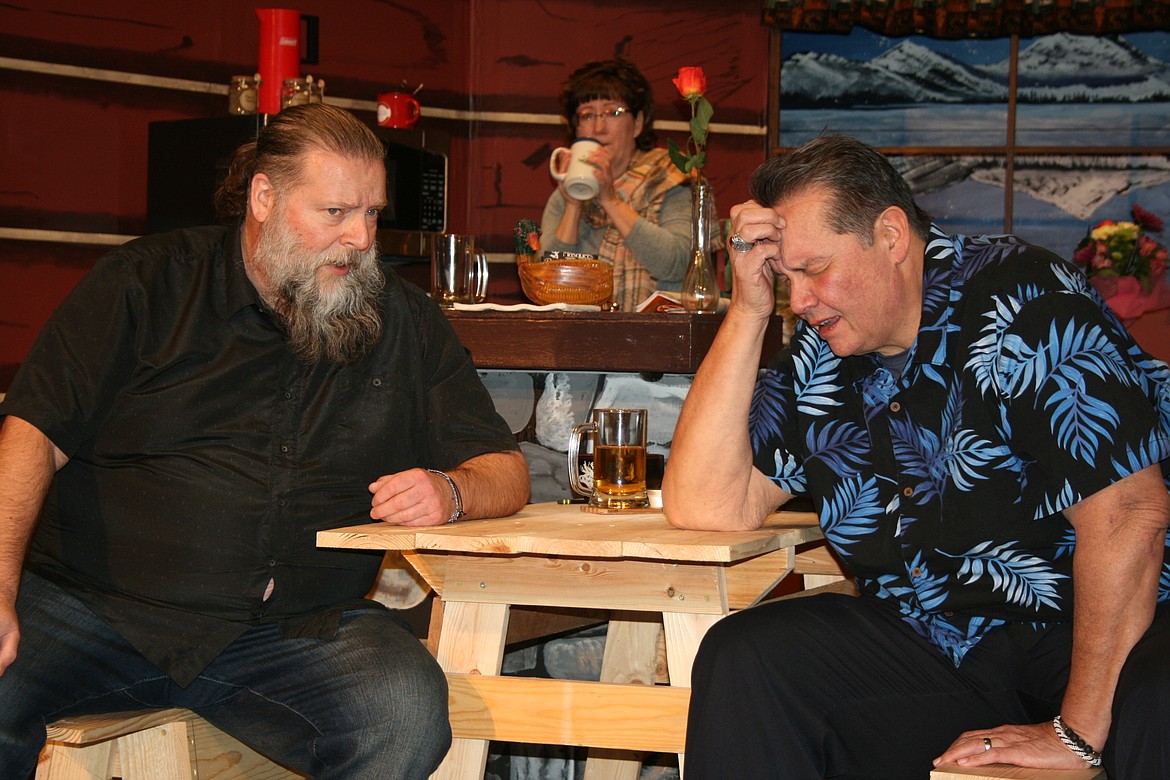 Jessie (Rosalee Chamberlain, left) reacts to chugging a drink while Richard (Jason Noble, second from left), Mark (Clifford Bresee, second from right) watch, and TJ (Benji Turley, right) keeps chugging during rehearsal Tuesday for the Masquers Theater production of "Beer for Breakfast."
Cheryl Schweizer/Columbia Basin Herald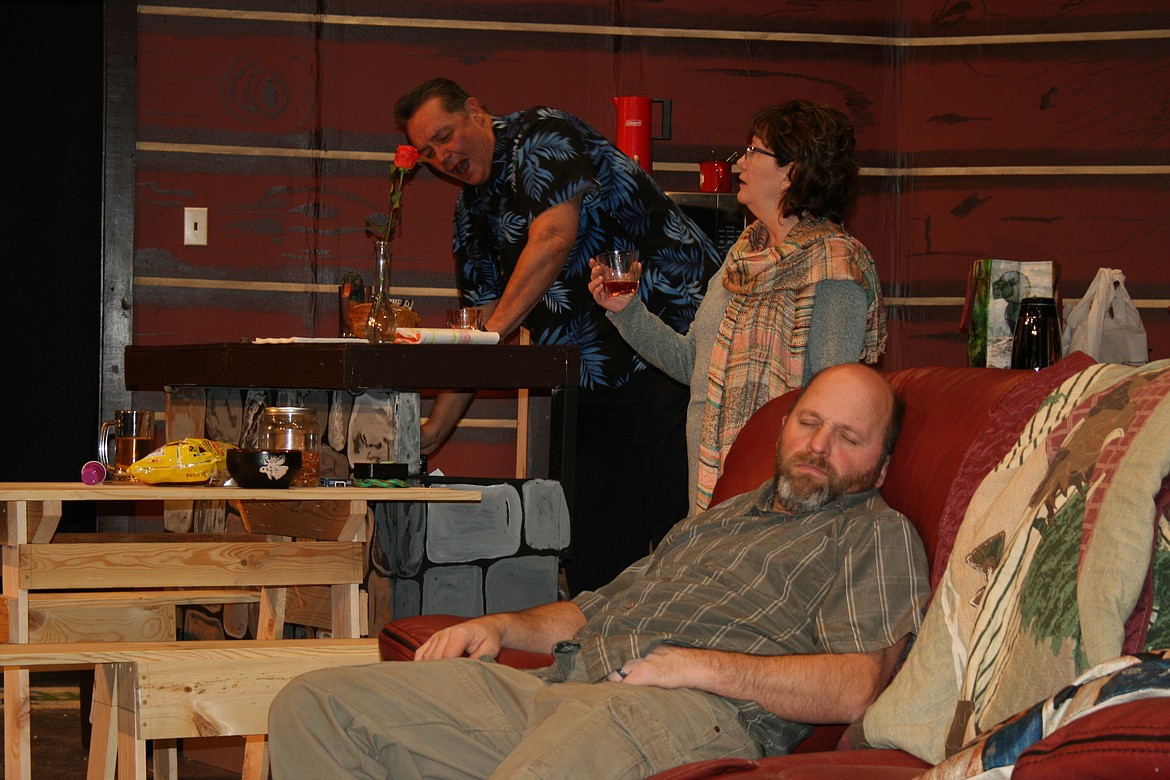 TJ (Benji Turley, left) and Jessie (Rosalee Chamberlain, center) share a drink while Richard (Jason Noble, right) snoozes at rehearsal Tuesday for the Masquers Theater production of "Beer for Breakfast."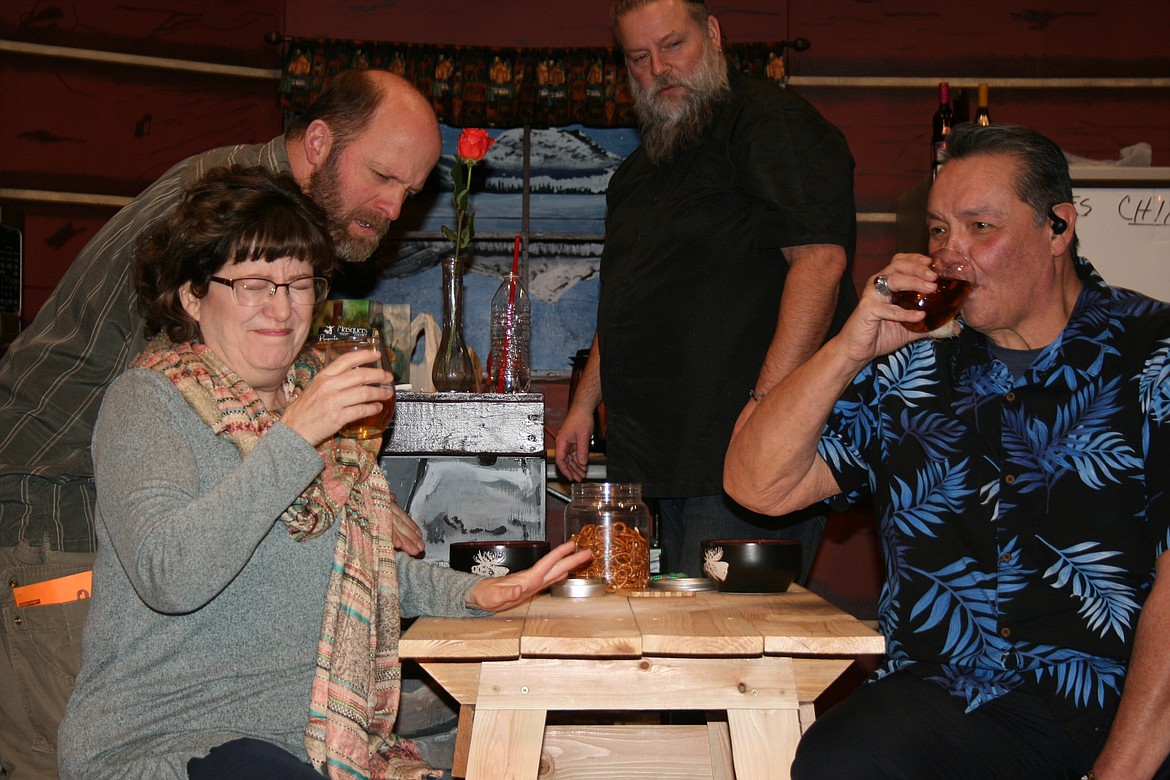 Jessie (Rosalee Chamberlain, left) reacts to chugging a drink while Richard (Jason Noble, second from left), Mark (Clifford Bresee, second from right) watch, and TJ (Benji Turley, right) keeps chugging during rehearsal Tuesday for the Masquers Theater production of "Beer for Breakfast."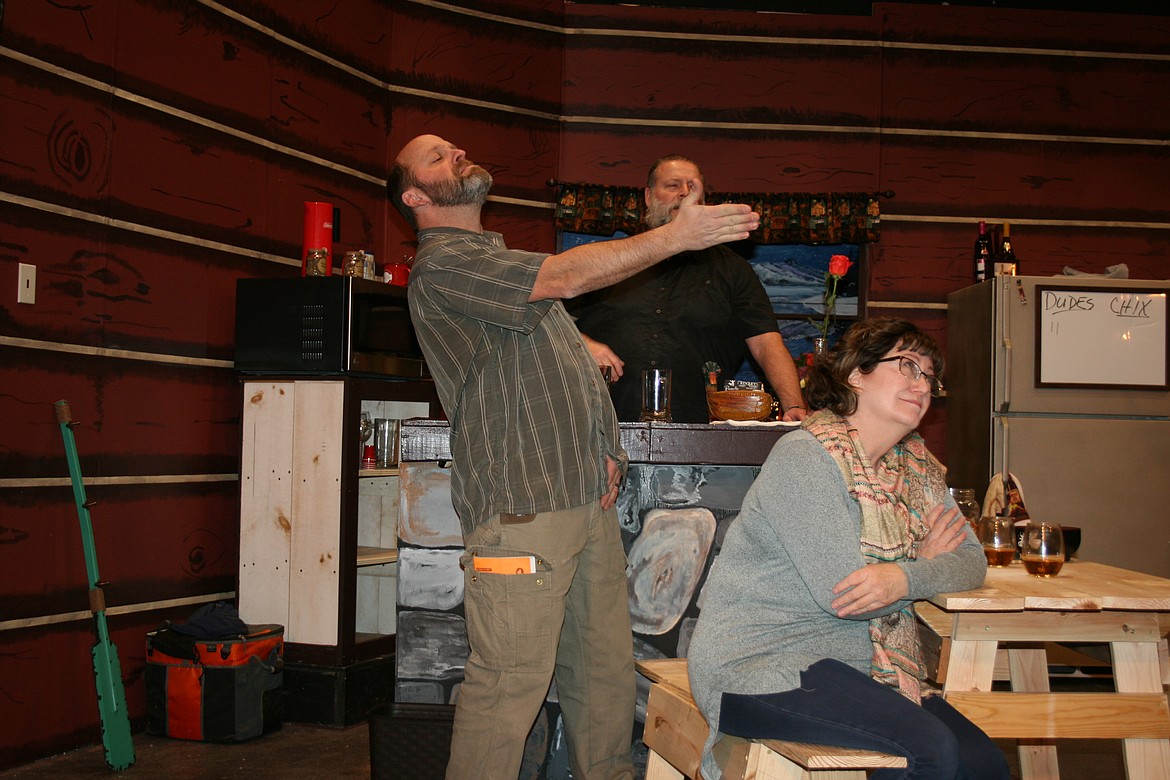 Richard (Jason Noble, left) makes a point to a skeptical Jessie (Rosalee Chamberlain, right) while Mark (Clifford Bresee, background) watches during rehearsal of the Masquers Theater production of "Beer for Breakfast" on Tuesday.
Previous
Next
by
CHERYL SCHWEIZER
Staff Writer
|
February 4, 2022 1:00 AM
SOAP LAKE — The tale of three old friends, an all-night battle of the sexes and the impact of passing time comes to the Masquers Theater stage starting Feb. 11.
"Beer For Breakfast" will run for three weekends at the theater, 322 Main Ave. E. in Soap Lake.
The curtain rises at 7:30 p.m. Friday and Saturday, Feb. 11, 12, 18, 19, 25, 26, and 2 p.m. Feb. 13, 20 and 27.
Old college buddies Mark (Clifford Bresee in the Masquers production), Richard (Jason Noble) and TJ (Benji Turley) haven't seen each other in a long time.
"Twelve freaking years," Turley said. "My line is, '12 freaking years.'"
They're ready to spend some time together, eat food that's bad for them and drink way too much, just like they were kids again. But the fourth member of their quartet is AWOL, and his wife Jessie (Rosalee Chamberlain) arrives instead.
Time has taken its toll – one of the guys is coming back from a stroke and another has lost his job. And it's a mystery why Jessie showed up. With their getaway cabin snowed in, it's not long before an argument ensues between the guys and Jessie over who is the superior sex.
Jessie sure knows a lot about old cars, old music and late-20th century trivia. She even has an opinion on whether corn chips are a vegetable. They have corn in them, after all.
Director Pat Rosman said he was recruited by the Masquers managers to direct a play, and chose "Beer for Breakfast" because he thought it was funny.
"I like comedies. I like slapstick and vaudeville," Rosman said.
But along with the comedy are some observations on the passing of time, Bresee said.
"There's a surprising moment in the play that is serious and reflective. And it's got a life lesson in it," Bresee said.
Bresee, Turley and Chamberlain are Masquers veterans. Noble said he had never auditioned for anything prior to trying out for "Beer for Breakfast." But he liked the idea of the play, he said, which addresses a lot of themes in life, from getting older to coming back from adversity.
Turley said his first exposure to Masquers came when he was new to town, and a couple of his acquaintances asked him to try out for a small part in the company's production of "Pajama Game." The Masquers cast and crew became friends.
"I fell in love with this place," Turley said.
He was attracted to "Beer for Breakfast" from the beginning.
"The title was catchy in itself," he said.
Bresee has been part of the Masquers troupe for years, he said, including directing plays and serving on the board of directors. But he hadn't acted in a Masquers play in a long time. "Beer for Breakfast," with its four-person cast, seemed like a good opportunity to get back on stage, he said.
Chamberlain said she always tries out for the plays the company produces in winter, if there's an appropriate part.
"It's what I do to keep the winter blues away," she said.
Tickets can be purchased on the Masquers website, masquers.com.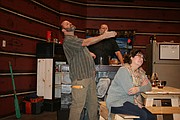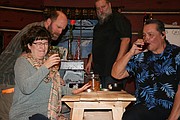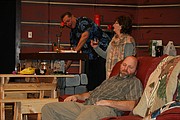 Recent Headlines
---