Larson Rec Center opens its doors to the public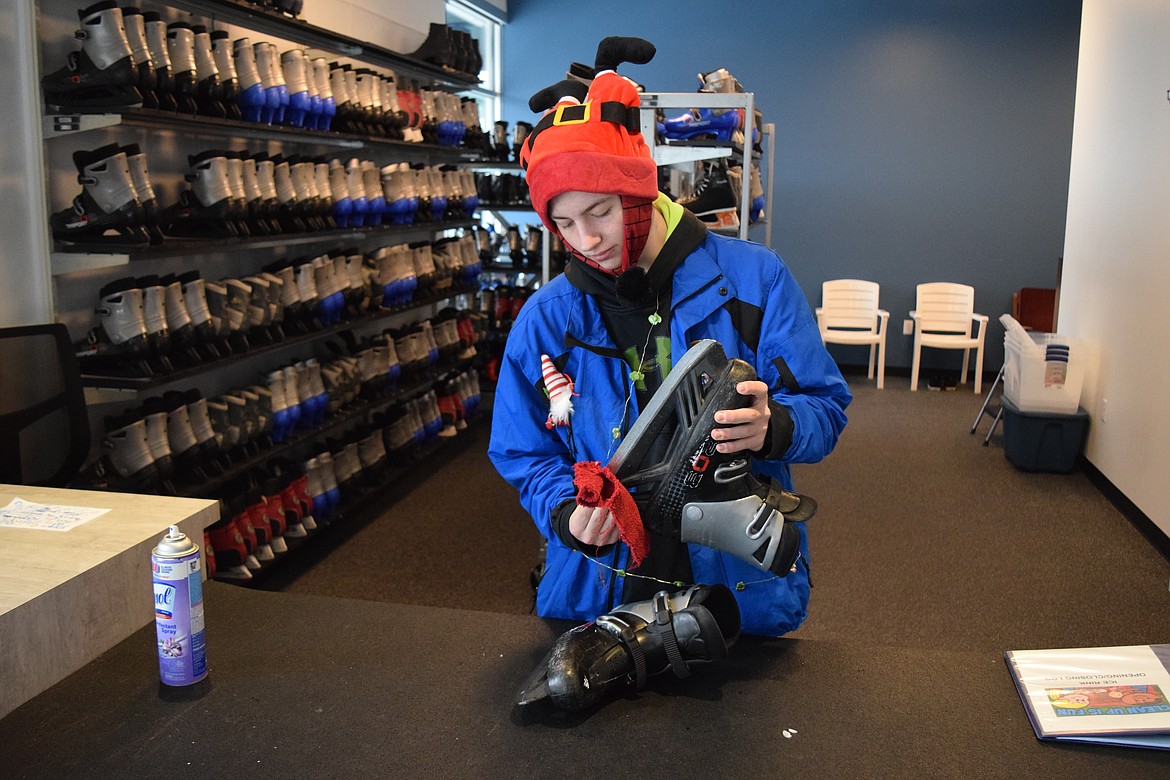 Talon Guel cleans ice skates in the rental office of the Larson Recreation Center on Thursday. The center now has roughly 300 pairs of ice skates, according to Ice Rink Manager Todd Gregory. "You get some days that are really busy and sometimes we run out of skates," Gregory said.
CHARLES H. FEATHERSTONE/COLUMBIA BASIN HERALD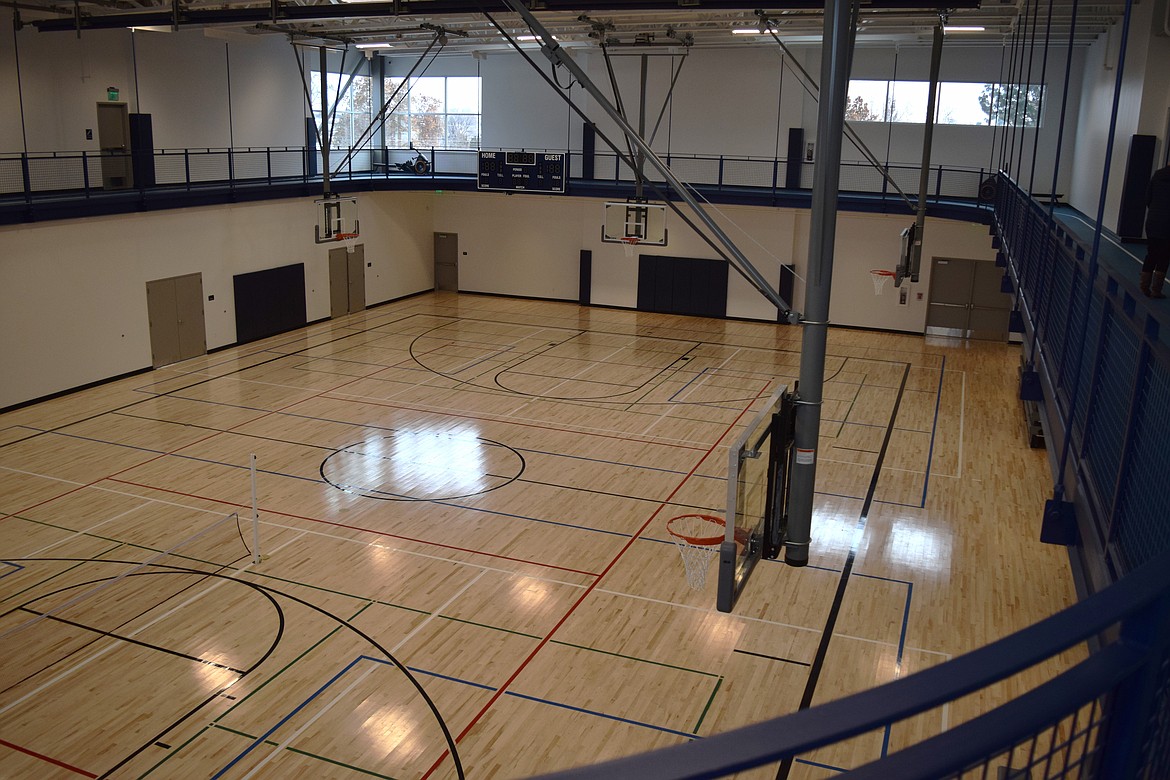 The floor of the Larson Recreation Center gym is marked for full-court basketball (black), half-court basketball (blue), full-court volleyball (red), half-court volleyball (white) and pickleball (green).Pickleball was designated as the Washington state sport earlier in 2022.
City of Moses Lake Recreation Supervisor Carrie Hoiness and Interim Director of the Parks, Recreation and Cultural Services Department Dollie Boyd stand on the walking/running track overlooking the gym in the city's new Larson Recreation Center, which opened on Thursday. Boyd and Hoiness are just two of many city staff that worked to bring the community center to fruition.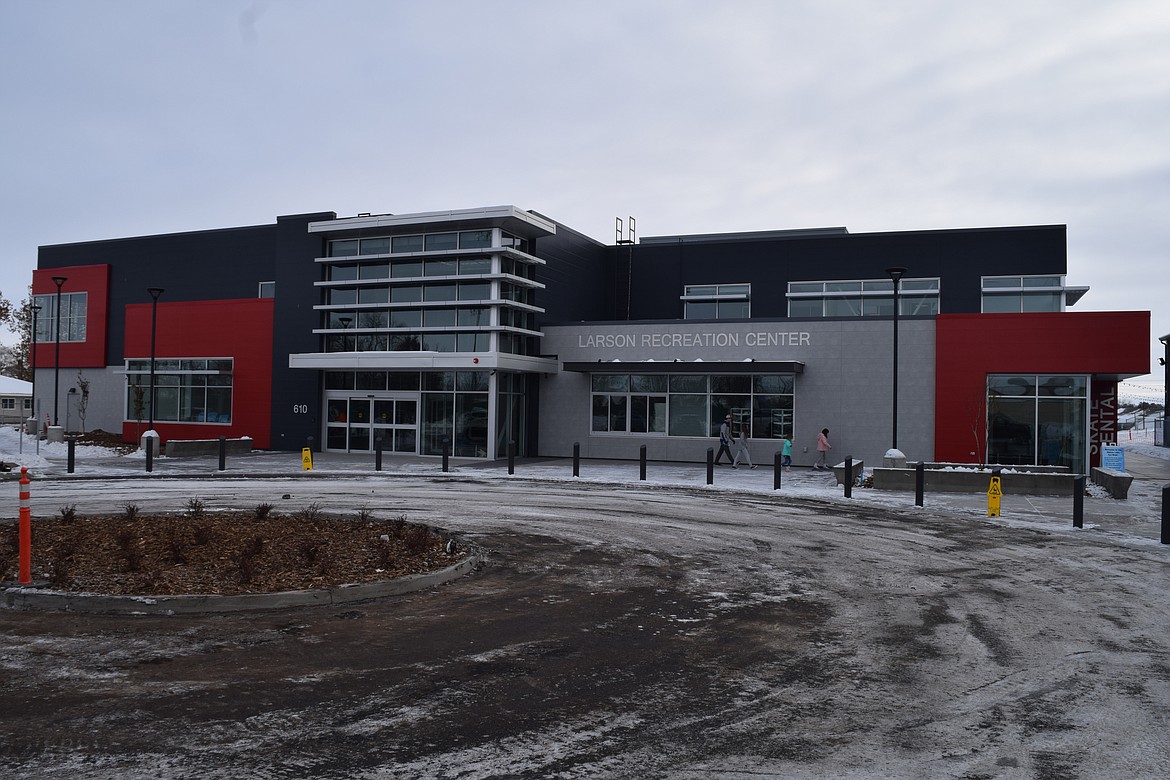 The City of Moses Lake's newly completed Larson Recreation Center opened on Thursday with a soft opening.
Previous
Next
by
CHARLES H. FEATHERSTONE
Staff Writer
|
December 22, 2022 4:46 PM
MOSES LAKE — As she toured the city of Moses Lake's new Larson Recreation Center, Arin Swinger had one request.
"It would be cool if you could start a list," Swinger told Recreation Superintendent Carrie Hoiness as she talked with a couple of friends about playing pickleball. "So people can connect."
City staff thought that was a worthwhile idea.
"That's something that we'll definitely implement," Hoiness said. "So, as you come in, just suggest it and we will all start doing that and try to coordinate people playing together."
It's been a busy day for questions at the city's newest building, as Hoiness and Interim Director of the Parks, Recreation and Cultural Services Department Dollie Boyd walk around the new facility, which opened on Thursday.
The Larson Recreation Center isn't formally open yet, Hoiness explained. People will have an opportunity to spend the next five weeks trying the facility out for free before the new center — complete with a multipurpose gym, indoor running and walking track, skating rink, workout center with free weights and exercise machines, locker rooms, classroom spaces and a kitchen — opens its doors to paying customers on Feb. 1, 2023.
"We already have some adult programs going on," Hoiness said. "We had dodgeball, and we've already had Zumba. Adult dodgeball, that's a big hit."
The facility, also now hosts the city's Parks, Recreation and Cultural Services Department, which moved from the building it shares with the Moses Lake Police Department at 411 S. Balsam Street near the civic center complex. Boyd said while there are still a few bills to pay, Larson should come in under the $10 million budgeted for its construction.
"We're still operating within our contingency budget," Boyd said. "It's kind of a miracle."
Currently, the rec center — which will be open Monday-Friday from 8 a.m. to 7 p.m. through the end of December — daily has drop-in basketball from 8-9 a.m., pickleball from 9:30-10:45 a.m., volleyball from 11 a.m. to 1 p.m., and an open gym from 1 p.m. to closing. Both Boyd and Hoiness described the current operating hours as a soft opening intended to allow people to view the facility and try it out before committing to buying a pass.
Come Jan. 2, Hoiness said the Larson Recreation Center will begin its regular hours of operations — Monday-Friday from 6 a.m.-9 p.m., Saturday from 7 a.m.-8 p.m., and Sunday from 10 a.m.-6 p.m. — while passes are now on sale but won't be needed until Feb. 1.
The facility is available for group rentals, though outside classes — like Zumba — may require a fee to the instructor in addition to the purchase of a center pass, Hoiness said.
"You will be paying whoever is organizing the class for that program," she said.
The Larson Recreation Center is also providing a whole new area to store and rent ice skates, Hoiness said. However, because of the ice rink, Boyd explained visitors to the center will need to be careful when they walk around outside because city crews cannot use de-icing materials like rock salt to clear the sidewalks.
"Of course, you don't want to melt the ice," she said. "So we're trying to mitigate the ice and snow out here without using chemicals and we're cautioning people to be very careful when they come in."
According to Todd Gregory, manager of the ice rink, the new facility is a significant improvement over the previous rental area.
"It's a lot better than it was," he said. "We've got 72 brand new skates, so we probably have around 300 now."
"The rink is popular. Not so much on super cold days, but you get some times that are really busy. And we'll run out of skates," Gregory explained.
Charles H. Featherstone can be reached at cfeatherstone@columbiabasinherald.com.
Want to play?
For additional information the Parks, Recreation and Cultural Services office is available. Call them at 509-764-3805 or visit the center's website at www.cityofml.com/495/Larson-Recreation-Center.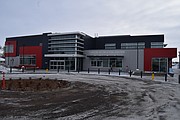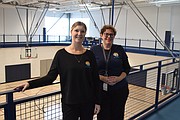 Recent Headlines
---