'This is such a wonderful season'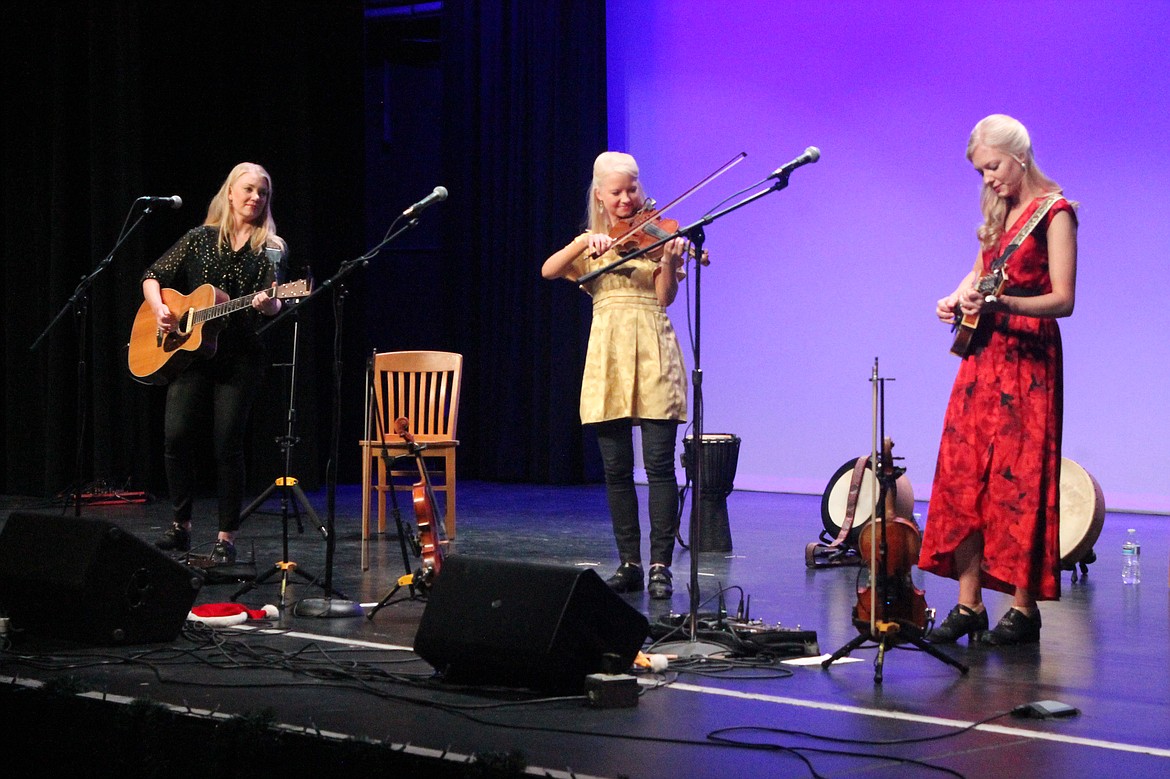 The Gothard Sisters (from left) Greta, Solana and Willow, play a medley of holiday tunes Tuesday at the Wallenstien Theater in Moses Lake.
JOEL MARTIN/COLUMBIA BASIN HERALD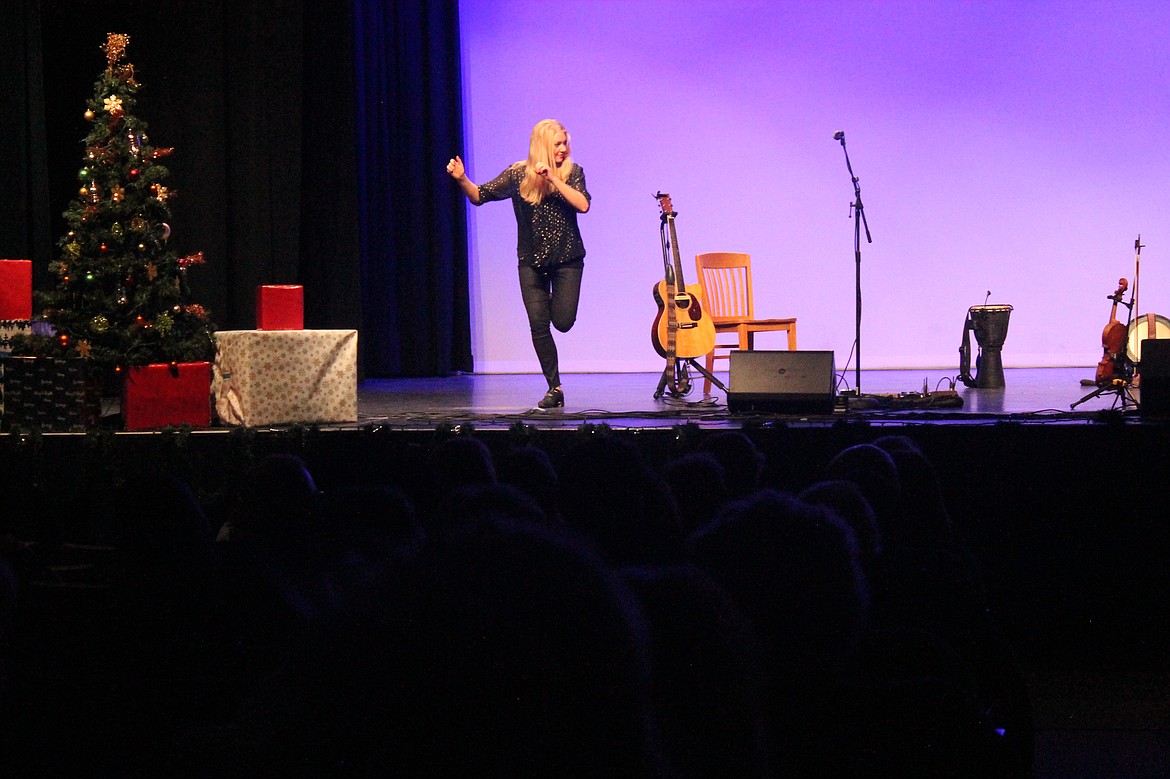 Greta Gothard kicks up her heels, trying to stay ahead of her sister Willow at Irish step dancing. The performance was part of a concert sponsored by the Central Basin Community Concert Association.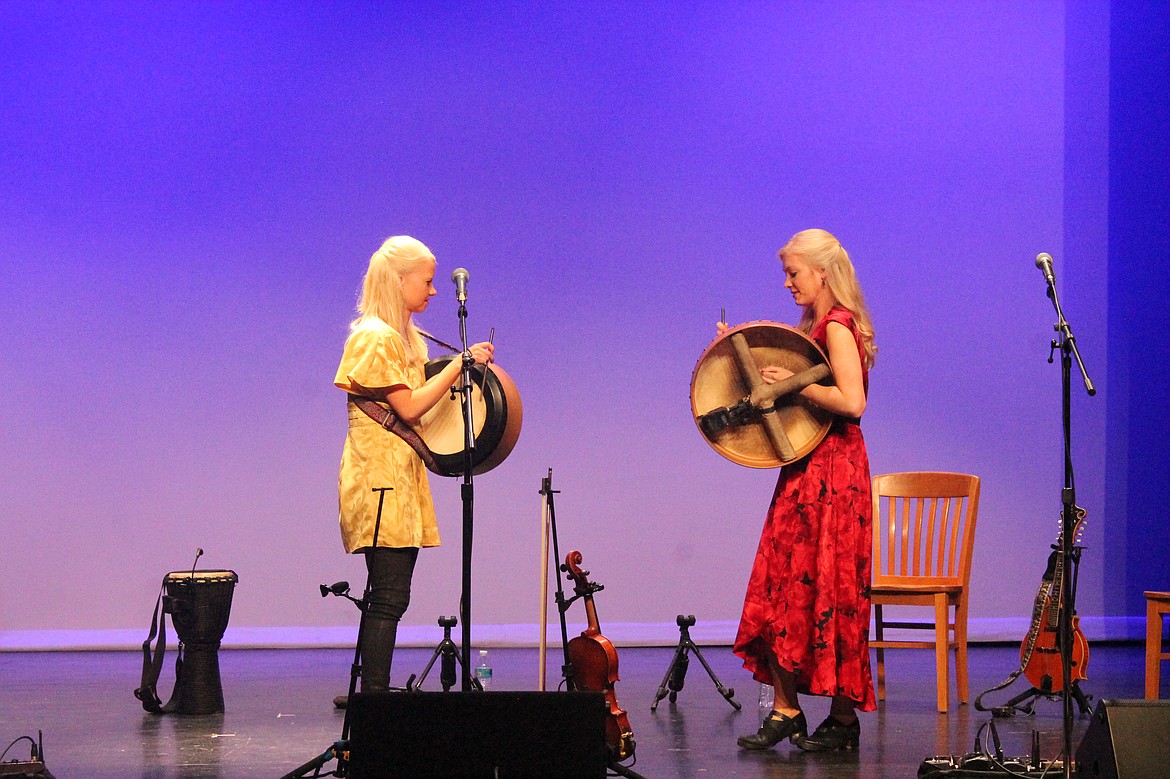 Solana, left, and Willow Gothard face off in "Double Bodhrans" at the Wallenstien Theater Tuesday. The bodhran is a traditional Celtic goatskin drum played with a single stick.
Previous
Next
by
JOEL MARTIN
Staff Writer
|
December 19, 2022 1:30 AM
MOSES LAKE — The Wallenstien Theater took on a Celtic glow Tuesday evening, as the Gothard Sisters, Greta, Willow and Solana, brought their Christmas concert to Moses Lake.
"This is such a wonderful season. I always love December when it comes around," said Solana, the youngest of the trio.
The concert, sponsored by the Central Basin Community Concert Association, consisted of some traditional Christmas carols, a few reels and instrumentals and some original songs, all with an Irish and Scottish flavor. There was also a dance and drum battle, a couple of audience participation singalongs and a fun little bit with hats.
The Gothard sisters grew up in Edmonds, north of Seattle, and have been performing all over the country, with tours in Europe and Japan, for more than 10 years. Greta, the oldest, played guitar. Willow played the mandolin and a traditional Celtic handheld drum called a bodhran (pronounced "bow-ron.'), played with a single stick striking the drum with both ends. Solana played the pennywhistle, bodhran and djembe drum, as well as lead vocals. All three sisters played the violin.
The performance began with the traditional "Angels We Have Heard on High," and moved into a pair of Irish tunes. The sisters then played an original composition entitled "Dragonfly."
"This song is about the excitement and risk of making decisions," Solana said by way of introduction. "You can choose to take this path or this path. Making those decisions is just part of the adventure of life. So we thought a dragonfly would represent that well, l because if you watch (dragonflies) flying, it seems like they're always making little decisions, to go forward and backward or up or down."
"Dragonfly" marked the first appearance of the bodhran, played by Solana.
"It's such a fun little drum to play," Greta said. "I remember the first time that I heard someone playing a bodhran. I thought it was the coolest sound. So I started looking around for who could teach me how to play the bodhran. There aren't that many teachers, but the guy that I found to teach me was actually amazing at it. He gave me a few lessons and I worked on it for a little while, got okay at it. And then the three of us were playing with a rock band in Portland at Christmastime one year, and the drummer for that band had an extra bodhran that he wasn't using, and he just gave it to Solana. So then we had two bodhrans under one roof. I quickly taught Solana everything that I knew on the bodhran, which she learned in about a week, and then she just went with it and got very amazing at that drum."
Willow took up her bodhran for the next tune, a rhythmic duet between her and Solana. At one point she mockingly confiscated Solana's stick, whereupon Solana continued playing with her bare hand.
That sisterly banter continued through the performance. In the second set, the sisters took up a dance and drum duel, with Willow tapping out an accelerating beat while Greta and Solana tried to keep up with Irish step dancing.
The music ranged from wistful and haunting airs to high-energy reels punctuated with fiddle and mandolin breakdowns. The many Christmas carols, familiar to all, took on an otherworldly sound, borne on Solana's sweet, almost feather-like voice.
On a couple of songs, the sisters solicited the audience's help, which led to the auditorium filled with clapping at designated spots in an Irish pub song called "Wild Rover."
"It's a song about a guy who can't stop spending all his money on whiskey and beer," Solana explained. "In the song, he's returning to his hometown, and he's just promised his parents he's going to stop drinking. But will it last? We'll find out." (Spoiler: It didn't.)
Next, the sisters announced a fiddle tune that could only, apparently, be played while wearing a particular hat. Solana and Willow took turns swiping the hat from each other and continuing to play, until finally Greta brought out hats for all three (color-coded to match their dresses) and they finished as a trio.
The performance nominally concluded with a high-voltage "Christmas Reel," but the standing ovation from the audience led the ladies to return for an encore, a singalong with the audience of "Jingle Bells."
"I liked it," said 11-year-old Abigail Materyan of Moses Lake, who plays piano and violin herself, at intermission.
"I really liked the drums and the flute," said her sister Liya, 9, who also plays piano. The girls were there with their mom, Nataliya.
"I loved the trio and duet of violins," Nataliya said. "I love getting kids to fall in love with music."
Joel Martin may be reached at jmartin@columbiabasinherald.com.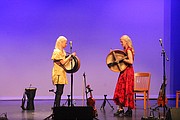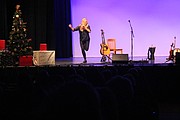 Recent Headlines
---