Tips for cops and kids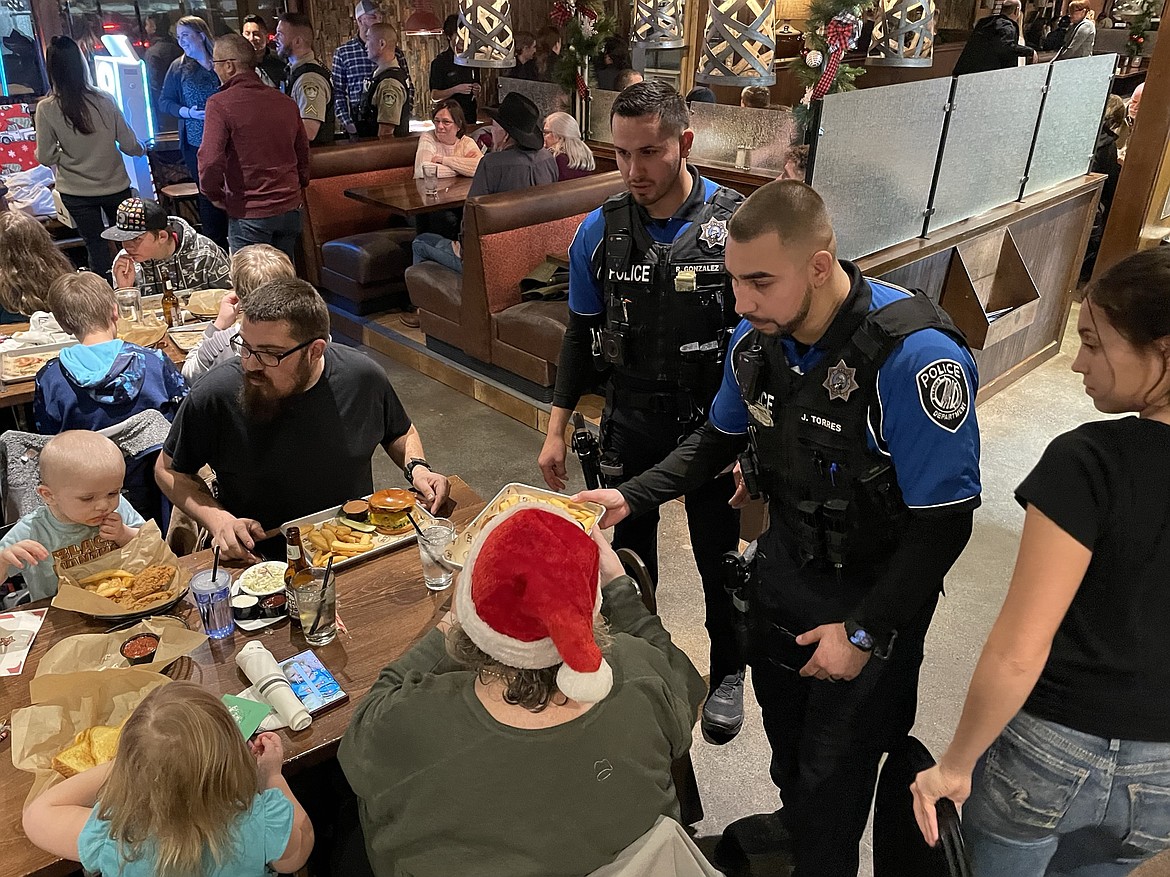 Warden Police Department officers Ricardo Gonzalez (top) and Joel Torres serve customers at Rock Top Burgers and Brew Wednesday evening as part of the eatery's annual Tip-A-Cop fundraiser, which helped the WPD, Moses Lake Police Department and the Grant County Sheriff's Office raise money for this year's Shop With a Cop.
CHARLES H. FEATHERSTONE/COLUMBIA BASIN HERALD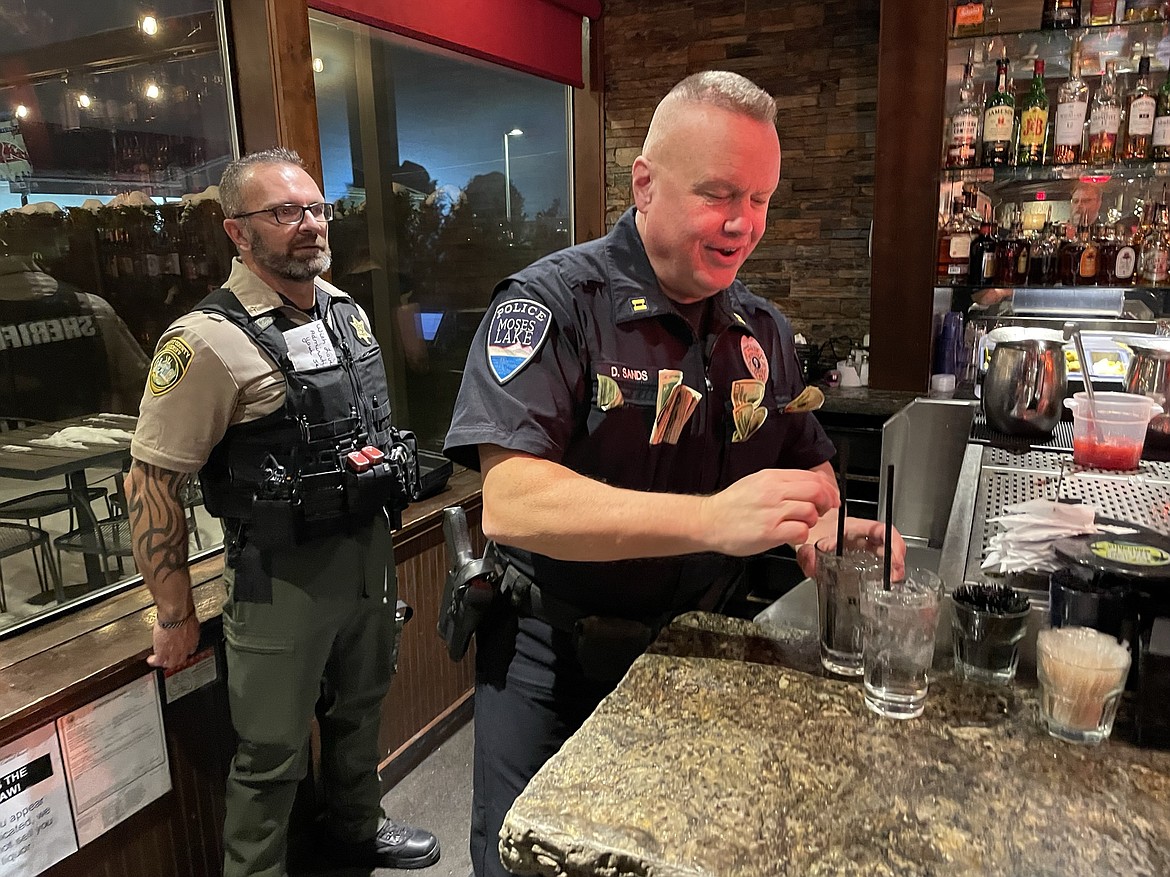 Moses Lake Police Department Capt. David Sands, standing in front Grant County Sheriff's Office Chief Deputy for Investigations Gary Mansford, prepares a glass of water for a customer during the Tip-A-Cop fundraiser on Wednesday.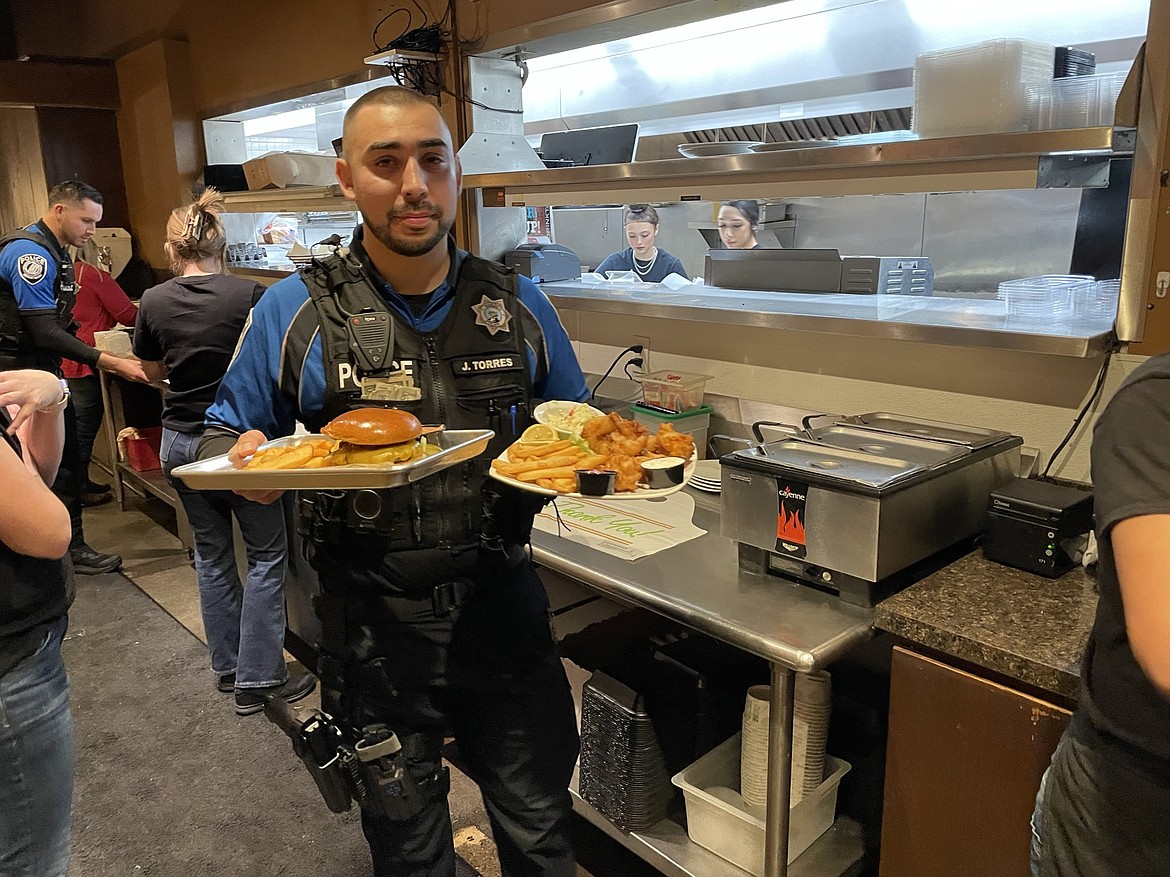 Warden Police Department Officer Joel Torres carries out an order from the kitchen at Rock Top Burgers and Brew on Wednesday.
Previous
Next
by
CHARLES H. FEATHERSTONE
Staff Writer
|
December 9, 2022 1:30 AM
MOSES LAKE — There was hardly a place to park at Rock Top Burgers and Brew Wednesday evening as diners gathered to have law enforcement officers from three local agencies take their orders, get their drinks, and bus their tables – all to help some needy families get a little Christmas cheer.
"We were trying to come up with a fundraising idea to help Shop With a Cop," said Rock Top Marketing Coordinator Lindsey Crothers. "And one night this kind of just came into play. And now this is our fifth annual and it's become a tradition."
Officers with the Grant County Sheriff's Office, the Warden Police Department and the Moses Lake Police Department, as well as law enforcement students at the Columbia Basin Technical Skills Center, all lent their time and efforts collecting tips as part of the three-hour Tip-A-Cop fundraiser for each agency's Shop With a Cop program, which takes kids from needy families out on shopping sprees for toys and clothes for themselves and for their families.
"I love being here," said GCSO Detective Katrina Ball. "This is my time off, and this is where I want to be, helping. It's for kids, and for families that are less fortunate."
Crothers said Rock Top staff agreed to donate all tips, both cash and card receipts, from the evening, and some law enforcement officers walked around with currency stuffed in their uniforms. In the past, Crothers said Tip-A-Cop usually brings in around $5,000, which this year will be split between the three agencies.
Warden Police Officer Joel Torres, 25, who was busy carrying plates all evening, said he wanted to be a police officer ever since he was a kid. In high school, he said he was a Police Explorer, and that while the job is mostly everything he imagined it would be, there's more paperwork than he expected.
"It's pretty fun," he said of Tip-A-Cop. "It's busy. I don't think I'd be able to work at a restaurant. It's very … busy."
Everett residents Pauline Suon and her father Sam just stopped in for burgers in beer on their way back to the West Side and didn't expect to find themselves being served by a good portion of Grant County's active-duty law enforcement.
"We just came for the beer after a long drive and we're like, let's go and just hang out and see what's happening," Suon said. "We didn't know the police officers were here. So that was a pleasant surprise."
MLPD Chief Kevin Fuhr made his way between the tables and booths, chatting with guests. Being out and about in the community is one of the parts of the job Fuhr said he really enjoys.
"I love this stuff. This community stuff is absolutely what it's all about," Fuhr said. "I mean, we're rubbing shoulders with community members and having a good time. And it's a core value, service, and this is one of our ways to serve."
Charles H. Featherstone can be reached at cfeatherstone@columbiabasinherald.com.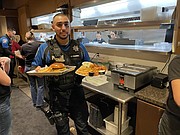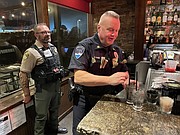 Recent Headlines
---