Hankins resigns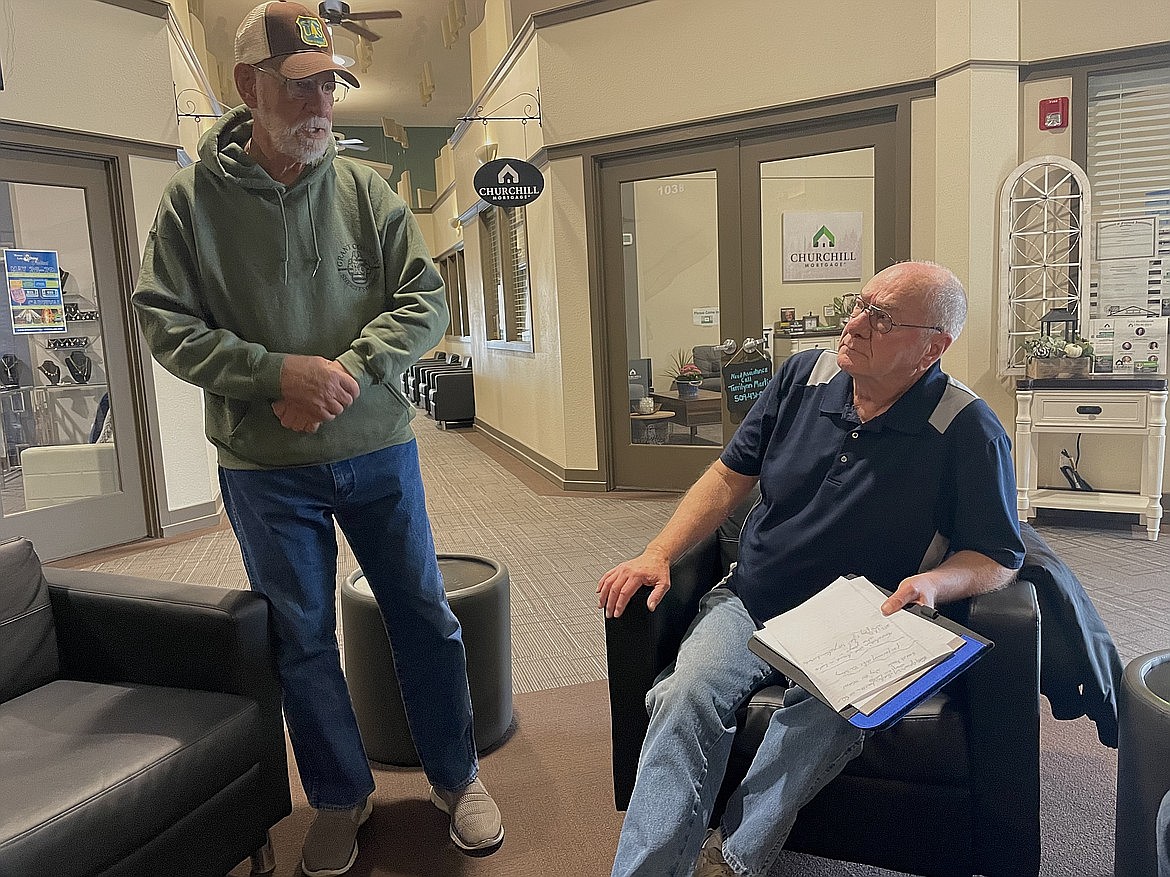 Moses Lake resident Steve Czimbal, left, speaks with now-former Mayor Dean Hankins during a "Meet the Mayor" coversation in the Smith-Martin Building in downtown Moses Lake in late April. Hankins has resigned as of Monday morning.
FILE PHOTO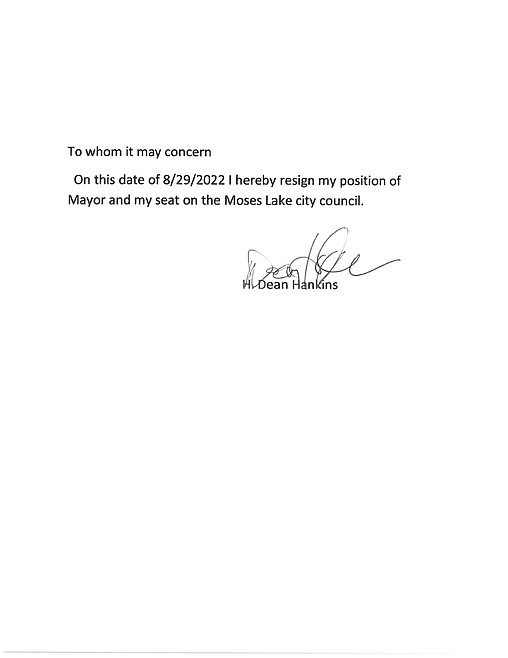 Now-former Moses Lake Mayor Dean Hankins submitted this brief resignation letter on Monday.
Previous
Next
by
CHERYL SCHWEIZER
Staff Writer
|
August 30, 2022 1:16 PM
MOSES LAKE — Moses Lake Mayor Dean Hankins has announced his resignation as mayor and as a member of the Moses Lake City Council.
"This morning we received a letter of resignation effective today (Monday)," wrote Moses Lake City Manager Allison Williams in response to an email from the Herald. "Don Myers will step in as mayor, per our council procedures."
Williams did not say if Hankins had cited a reason for his resignation.
Hankins' resignation leaves a vacancy on the city council, and Williams wrote that city officials will be accepting applications to fill the position.
"The city council will interview and appoint a candidate to fill the remainder of Dean Hankins' term, which expires next year," Williams wrote.
The person appointed to the seat would be required to run for reelection in 2023.
Hankins was appointed to the council in April 2018 following an unsuccessful run for a council seat in 2017. He was defeated by former council member Mike Riggs.
Hankins then ran unopposed for a full term in 2019.
Hankins was selected as Moses Lake mayor in January by a vote of the other council members. Since Moses Lake has a city manager, the mayor doesn't have any regular administrative duties. Hankins was chair of the city council and presided over council meetings. He also was head of the city for ceremonial purposes.
Hankins is a retired physician assistant and Air Force veteran.
Myers has been on the council since 2015, defeating incumbent Jason Avila. He ran unopposed for reelection in 2019.
All city council seats are at-large, meaning any qualified voter living within the city limits can apply. Washington law includes some requirements for city council members; they must be registered voters and have lived in the city for at least one year, according to RCW 35A.12.030. Council members cannot hold other public offices or work for the city, according to state law.
Lynne Lynch, public information officer, said the application process to fill Hankins' seat is still in the works. Once city officials have decided on an application process, a list of qualifications will be posted on the city's website, www.cityofml.com.
Correction: Hankins resigned Monday. This information has been incorporated in the article above.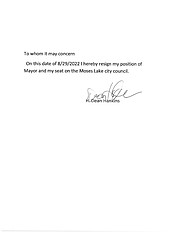 Recent Headlines
---