Cougars to play in Las Vegas Clash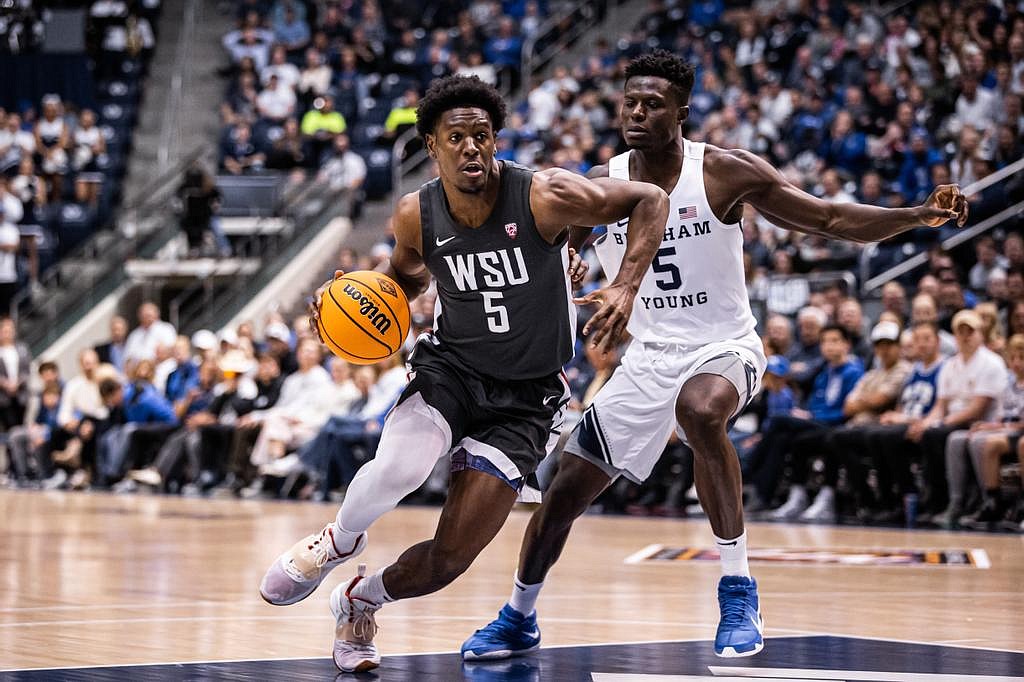 Cougar guard TJ Bamba advances the ball up the court against BYU in the NIT semifinals. Bamba and the Cougars will head to Las Vegas this December to face UNLV.
COURTESY PHOTO/WSU ATHLETICS
by
HERALD SPORTS STAFF
Herald Sports Staff
|
August 24, 2022 5:27 PM
PULLMAN — The Washington State Cougars will head to the MGM Grand Garden Arena in December for a matchup against UNLV in the Las Vegas Clash.
The game, which is set to tip off at 1:30 p.m. on December 10, is part of a doubleheader between the Cougs and Rebels followed by Arizona facing off against Indiana.
"We are excited to participate in the Las Vegas Clash," said WSU Men's Basketball Head Coach Kyle Smith. "This is an opportunity for us to go on the road and compete against a quality opponent in Las Vegas. It will give our kids a good prep for our conference tournament."
Smith led Washington State to 22 wins in the 2021-2022 season, as well as the school's first postseason berth in over a decade – making it to the NIT semifinals in New York. Combined with returning starters TJ Bamba and Mouhammed Gueye, the Cougars bring in a top-40 recruiting class.
""With our strong finish last year and our growth as a program, we have made a commitment to playing in nonconference events that will get us ready for the Pac-12 and NCAA," Smith said. "The Las Vegas Clash is a perfect fit for our philosophy. To be associated with storied programs like UNLV, Arizona, and Indiana in a high-profile event is a tribute to the hard work that our players have put into the program."
Tickets for the game will be available starting August 27 at 10 a.m. on www.axs.com. The tickets cost $49 and allow entry for both games.
Recent Headlines
---