Wildcats win first exhibition match, sweep EWU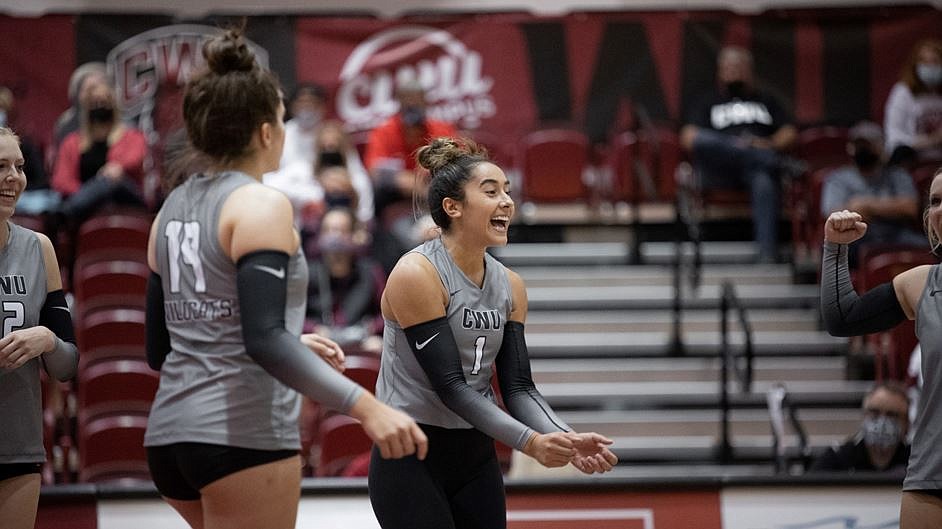 Setter/outside hitter Tia Andaya celebrates with her during a match. The GNAC Newcomer of the Year finished with 10 kills and 17 assists in CWU's exhibition match.
COURTESY PHOTO/CWU
|
August 18, 2022 4:23 PM
CHENEY — With volleyball season around the corner, the Central Washington Wildcats faced off against Eastern Washington, sweeping the Eagles 3-0 for the exhibition win.
The matches finished 25-19, 25-17 and 25-21 in favor of the visiting Wildcats.
"It was good to compete and see some work pay off in certain areas," CWU Head Coach Mario Andaya said. "The competitive energy was high so that's always fun to see."
Tia Andaya's 10 kills and 17 assists were both team highs, finishing with a hitting percentage of .692 after going 10-13 on hits. The 2021 Great Northwest Athletic Conference Newcomer of the Year winner also had one ace, two blocks and five digs.
Following Andaya in the stat sheet were Kylie Thorne and Ashley Kaufman, who finished with eight and seven kills, respectively. Shaunessy Fisk's 10 digs were a team-high in the win and went 13-13 on service receptions.
Over the three sets, Eastern only surpassed a .100 hitting percentage once, a .159 in the second set.
The first set began with EWU taking an early 4-0 lead before the Wildcats stormed back to take the team. An 8-1 run gave Central an 18-13 lead, and the Wildcats kept scoring. The set was ended after a service ace by Rachel Lambrecht and a kill by Marianna Payne for a 1-0 lead in favor of Central.
Central opened the second set with a 4-1 lead before Eastern came back to tie at 7-7. Going back-and-forth, the Wildcats were able to go on a run helped by a kill from Kaufman and an ace by Sydney Remsburg, making it a 19-13 Central lead. Andaya clinched the set on a kill after a kill and an ace by Kaufman.
Eastern began the third set on a tear, taking a 17-12 lead into the later stages of the set. Following a service error, Central was able to go on a 6-0 run to retake the lead, and two errors combined with a kill by Andaya gave the Wildcats a 21-19 lead. The set was clinched with points by Lambrecht, Thorne and two Eastern errors for a 25-21 set win, and a 3-0 match win.
The Wildcats return to the court on Saturday, facing off against Portland State in another exhibition match. First serve is set for 5 p.m. in Portland.
Recent Headlines
---