Primary election results certified, recount possible in Grant County Commission race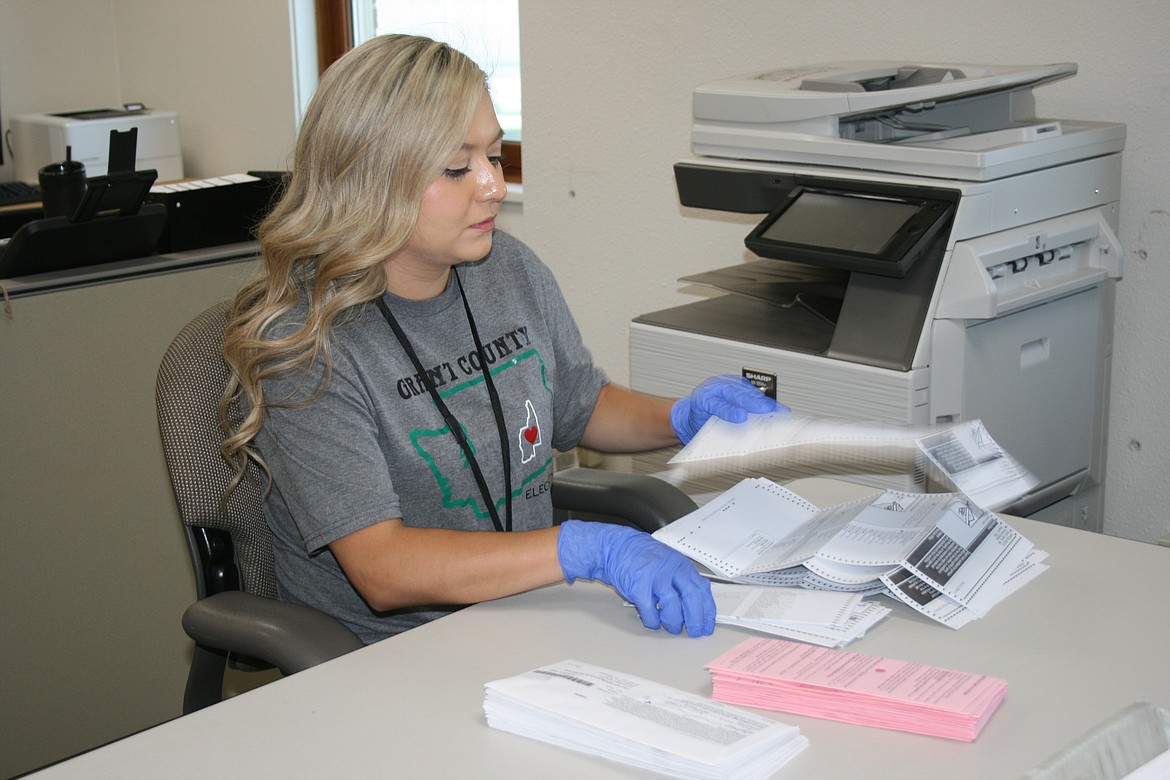 Aleanah Lopez counts primary election ballots Aug. 2. Primary election results were certified Tuesday.
File photo
by
CHERYL SCHWEIZER
Staff Writer
|
August 18, 2022 1:00 AM
EPHRATA — Terry Thompson, incumbent Adams County Commissioner, will be challenged by Mike Garza in the November general election. The race for Grant County Commissioner may be headed for a recount, at the request of one of the candidates and paid for by that candidate.
Primary election results were certified Tuesday.
In commissioner races, only voters in the commission district vote in the primary election.
In the three-way Grant County Commission race, incumbent Cindy Carter received 2,585 votes to 1,012 votes for Jeff Foster. Dan DeLano received 908 votes.
Grant County Auditor Michele Jaderlund said Wednesday that the auditor's office had received an inquiry from the DeLano campaign asking for information on pursuing a recount. The race doesn't qualify for an automatic recount, Jaderlund said, so a recount would require the candidate to pay for it.
The cost is 25 cents per ballot, she said. A candidate has until tonight at 5 p.m. to request a recount.
Garza received 318 votes to 287 votes for Thompson in the Adams County Commission primary. Thompson and Garza were the only candidates in the race.
Incumbent Adams County Sheriff Dale Wagner will be challenged by Matthew Carlson. Wagner received 1,513 votes in the primary to 1,184 for Carlson.
Joe Kriete will face Joe Harris in the race for Grant County Sheriff. Kriete received 7,794 votes to 5,050 for Harris. James Baker received 3,961 votes and was eliminated from the race. The job was left vacant when former sheriff Tom Jones announced he would not run for reelection.
Incumbent Grant County Clerk Kim Allen will face challenger Marla Roduner in the general election. Allen received 10,543 votes to 3,454 for Roduner; Ulises Infante, the third candidate in the race, received 2,227 votes and was eliminated.
Jaderlund will advance to face Richard Stevens in the general election. Jaderlund received 13,197 votes to 4,069 for Stevens. Incumbent Grant County Assessor Melissa McKnight will advance to the general election against challenger James Liebrecht. McKnight received 14,197 votes to 3,124 for Liebrecht.
Adams County Assessor Veronica Rodriguez ran unopposed and received 2,201 votes; Adams County Auditor Heidi Hunt received 2,307 votes and also was running unopposed.
Incumbent Adams County Treasurer Kayla Meise ran unopposed and received 2,223 votes. Katie Sloan, incumbent Adams County Clerk, received 2,199 votes in an unopposed race. Incumbent Adams County Prosecutor Randy Flyckt ran unopposed and got 2,050 votes.
Kevin McCrae is the incumbent Grant County Prosecutor and ran unopposed. He received 13,683 votes. Incumbent Grant County Treasurer Darryl Pheasant, running unopposed, received 12,828 votes. Craig Morrison, incumbent Grant County Coroner, ran unopposed and received 14,275 votes.
Cheryl Schweizer can be reached via email at cschweizer@columbiabasinherald.com.
Recent Headlines
---