Wildcat volleyball picked second in preseason poll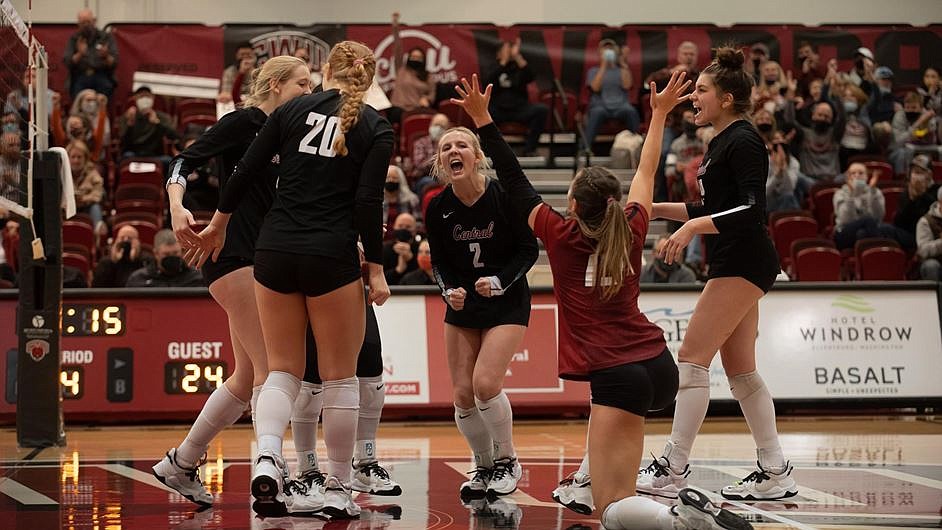 The Central Washington Wildcats were picked to finish second in the Great Northwest Athletic Conference, the GNAC announced on Wednesday.
COURTESY PHOTO/CWU/JACOB THOMPSON
by
HERALD SPORTS STAFF
Herald Sports Staff
|
August 11, 2022 3:11 PM
ELLENSBURG — CWU volleyball was picked to finish second in the Great Northwest Athletic Conference on Wednesday, the GNAC announced.
Coming off a 2021 season where the Wildcats finished with a 17-9 overall and 12-6 in GNAC play, CWU also advanced to its ninth-consecutive Division II West Regionals.
The Wildcats finished the 2021 regular season with a 6-1 record and had a 3-1 victory over Chaminade in the West Regional.
Returning for the Wildcats is the American Volleyball Coaches Association All-American and GNAC Newcomer of the Year Tia Andaya - who posted 2.27 kills, 5.07 assists, 2.24 digs and .54 blocks per set a year ago. First Team All-GNAC outside hitter Ashley Kaufman also returns, averaging 3.32 kills and 2.27 digs per set in 2021. Locking down the defensive unit is the 2021 GNAC Defensive Player of the Year Hannah Stires, who had a GNAC-high 4.68 digs per set a year ago.
Leading the polls was Western Washington, who won the conference title in 2021, with a leading 98 points. Following Central were Alaska Anchorage and Siman Fraser, rounding out the top four teams.
The season will begin with the Hawaii-Alaska Challenge in Honolulu on August 19.
GNAC Volleyball Rankings
No. 1 Western Washington (98 points)
No. 2 Central Washington (89 points)
No. 3 Alaska Anchorage (74 points)
No. 4 Simon Fraser (70 points)
No. 5 Seattle Pacific (61 points)
No. 6 Alaska (50 points)
No. 7 Northwest Nazarene (43 points)
No. 8 Montana State Billings (25 points)
No. 9 Saint Martin's (22 points)
No. 10 Western Oregon (18 points)
Recent Headlines
---