Firefighters keep battling Vantage fire, Lind fire out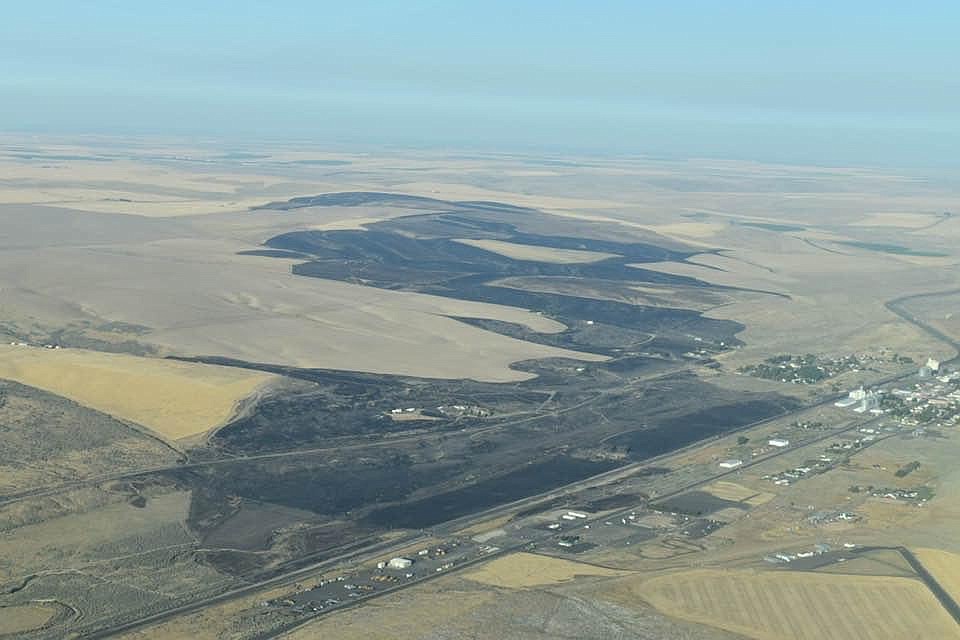 Fire damage to roughly 2,500 acres south of Lind. Contained on Friday, the fire broke out on Thursday and prompted officials at one point to issue an evacuation order for the entire town.
COURTESY PHOTO/TOM DENT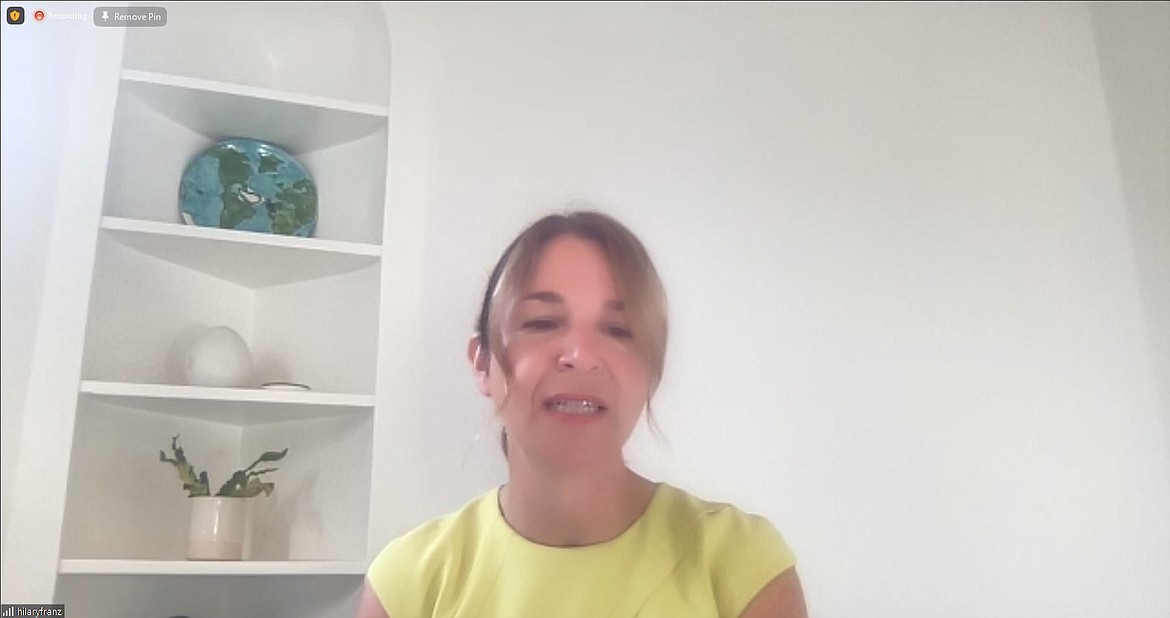 Washington Department of Natural Resources Commissioner Hilary Franz discusses the state's fire season during a press conference Friday morning. Franz said spring rains have added fuel to the landscape in the form of brush growth that has dried over the summer, making for potentially dangerous fire conditions.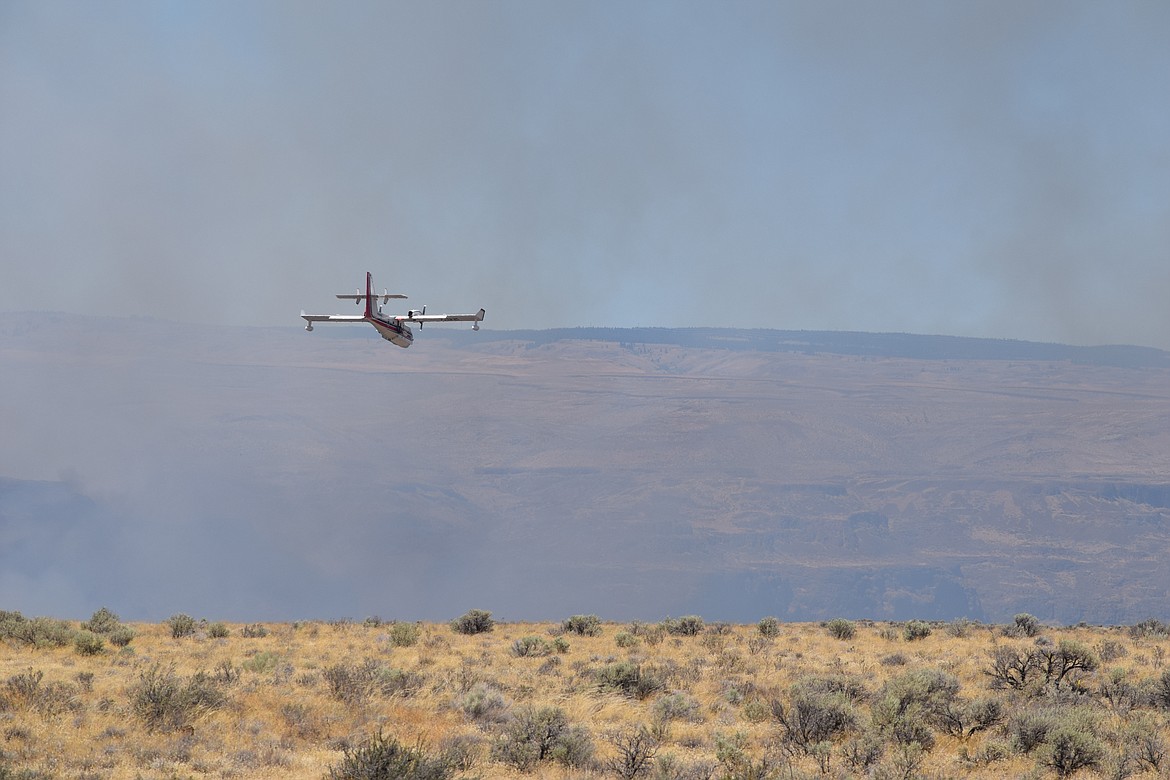 Multiple aircraft have been called in to fight the Vantage Highway fire north and west of Vantage, on the west side of the Columbia River. Firefighting officials said the fire, which began last week, is about 75% contained as of Monday afternoon.
Previous
Next
by
CHARLES H. FEATHERSTONE
Staff Writer
|
August 8, 2022 5:38 PM
GRANT COUNTY — While the fire that threatened the Adams County town of Lind has been extinguished, firefighters still continue to battle a fire in the hills north of Vantage and have that blaze 75% contained, according to a spokesperson for the Washington Department of Natural Resources.
"That's good news," DNR spokesperson Janet Pearce said of the Lind fire. "It was contained as of Aug. 4."
The Lind fire consumed roughly 2,500 acres south of town, according to Adams County Sheriff Dale Wagner, destroyed six homes and eight garages and outbuildings. The fire, which broke out Thursday, prompted local officials to issue an evacuation order last Thursday for the entire town. However, the evacuation order was eventually restricted to residents in the southern portion of Lind, and was fully lifted on Friday when the fire was contained, Wagner said.
"The Adams County Posse assisted with security and guarded the burnt out buildings over the weekend," Wagner said. "One individual was found doing something he shouldn't have."
Wagner said he would release more details about the incident later.
According to the National Wildfire Coordinating Group, a joint operation overseen by major federal land management agencies such as the U.S. Forest Service, the Department of Interior, a collection of state agencies and the Federal Emergency Management Agency, reported that firefighters continued to battle the Vantage Highway fire. The fire, which erupted on Aug. 1 near Vantage, has burned more than 32,000 acres north of I-90 and west of the Columbia River in Kittitas County.
That fire is currently 75% contained, Pearce said. Crews in Kittitas County are also battling the 5,800 Cow Canyon fire, which is currently 30% contained, in both Kittitas and Yakima counties.
During a Friday press conference, DNR Commissioner Hilary Franz said that, while the losses in the Lind fire and challenges of fighting fire in Central and Eastern Washington were unfortunate realities, the state has been lucky in comparison to prior years.
"We've been able to get on fires very, very quickly…," Franz said. "We've had 293 fires, but we've only had four significant ones on the landscape in the last few days."
In comparison, the state saw moare than 1,800 fires last year, with 220 of those happening in the month of April 2021 alone. Franz said that is largely because the state had a wetter spring than usual which helped prevent fires earlier in the year. DNR staffing is also up higher this year she said, which has helped with responding to blazes when they arise. Faster response times are important to prevent the spread of fires, especially with windy conditions in the areas that have seen the most fires this year, especially with the extra greenery that becomes fuel that was the result of this spring's rains.
DNR Meteorologist Matthew Dehr, who specializes in forecasting fire conditions - said he expected dry conditions to continue through early Tuesday, but that thunderstorms would be more and more likely as the week progresses.
"A low pressure (system) that has been sitting off the coast for about 10 days now is forecast to make its way towards Washington in the Tuesday to Wednesday timeframe," Dehr said. "Now, my main concern for that is thunderstorms and gusty winds. The gusty winds will preced the thunderstorms, which again will probably create some critical fire weather - some red flag warnings again - across the east side of the state."
Still, Dehr said DNR officials are hoping the storms bring sufficient rain to cool off current fires and prevent additional ones from occurring.
Rep. Tom Dent, R-Moses Lake, flew over both the Lind and Riparia fire areas Monday morning, and took several photos. The Riparia fire scorched about 5,000 acres in Whitman County near Central Ferry, southeast of Washtuchna, along the Snake River.
"It looks like people don't have their houses," Dent said of the Lind fire. "It's ugly. Fires are ugly."
Charles H. Featherstone can be reached at cfeatherstone@columbiabasinherald.com. R. Hans Miller contributed to this report.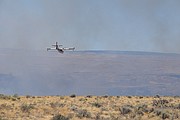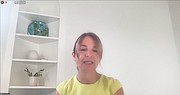 Recent Headlines
---